Gift Guide: Kitchen Essentials
November 23, 2018
2 Comments
Gift Guide: Kitchen Essentials lists highly recommended tools straight from the 2teaspoons kitchen!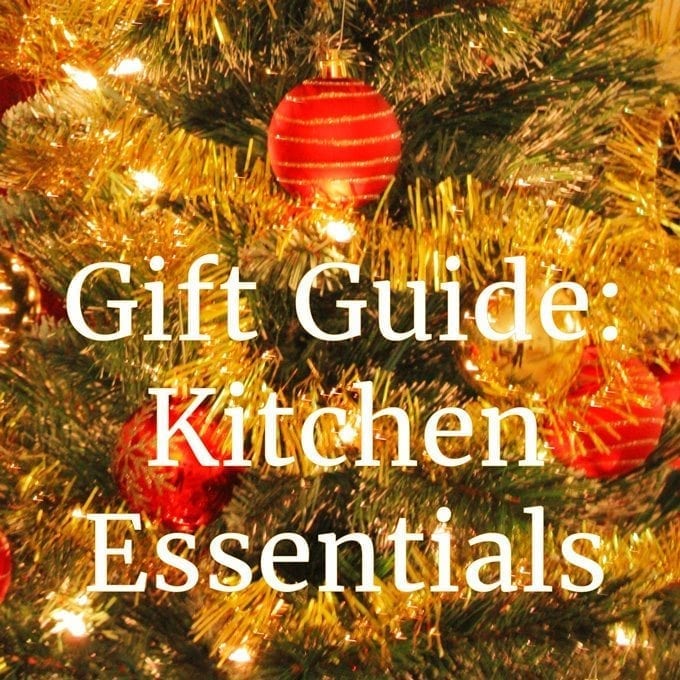 Tap any photo to Pin
Often the forgotten ingredient, every chef needs a set of durable, high quality tools to run an efficient kitchen. Rather than focus on the latest gizmos, the guide below lists essential and highly recommended tools from the 2teaspoons kitchen. This is not a sponsored post — I own, use, and love every whisk, pan, and appliance on the list below. Finding good kitchen tools is not easy, so feel free to share your favorite tools in the comments!
Under $10:

Wooden Spoons
: The original kitchen essential — safe for cast iron, stainless steel, and nonstick cookware. Use them to stir, serve, and taste (no judgements here ;-))
OXO Flat Whisk
: This flat whisk seriously upped my gravy and sauce game. It's flat design makes whisking in a saucepan a breeze.
OXO Whisk
: I use this whisk for everything from salted caramel to pancakes to tamale pie.
 Simple, comfortable to hold, and well-made.
OXO Silicone Spatula
: Although I own many spatulas, I always reach for this one first. It's rigidity is perfect – just enough to get into tight spaces, but not so much that it leaves food behind. Truly the baby bear of spatulas — its just right. The head and the neck are a solid piece of silicone, making for a sturdy spatula that is easy to clean since there are no gaps between the head and the neck to trap food.
Wilton Muffin Pan
: Perfect for cupcakes, cheesecakes, and muffins, I have this muffin pan in both regular
 and mini
 sizes. Mini cheesecakes are adorable!
Victorinox Paring Knife
: I use this knife for cutting small things, including preparing brussels sprouts and peeling apples. Simple, well-made, and the right price.
Cut Resistant Gloves
: Especially useful for grating large blocks of cheese. They've saved my knuckles more than once when the block of cheese broke as I was grating it.
OXO Pastry Cutter
: I use this for pie crust, pizza dough, and homemade pasta. Its also a handy way to gather up diced veggies, minced garlic, and fresh spices from my cutting board.

OXO Metal Turner/Spatula
: One solid piece of metal, this spatula won't bend or break. Its perfect for scraping those delicious brown bits from the bottom of your pan. My most used kitchen item.
Fish Bone Tweezers
: These are surprisingly useful. Great for removing bones from wild salmon, but I've also used these to peel off stubborn foil liners on peanut butter jars. Way better than using my nails.
$10-$20:
Microplane Zester/Grater
: Perfect for grating parmesan cheese to zesting lemons. Grates more finely than a box grater to avoid the bitter white pith of citrus fruits.
Loaf Pan
: Metal loaf pans like this one are key for getting that golden brown exterior on breads.
Cuisipro Stainless Steel Measuring Spoons
: Fit easily into spice jars due their oval (not round) shape. The etched labels will never fade, and are a worthwhile upgrade from worn-out plastic versions.  They also come in a less traditional set of measurements
that includes a 2teaspoons – what's not to love there 🙂
Amco Stainless Steel Measuring Cups
: I've been using these measuring cups for nearly a decade and they still look brand new. The labels are etched right into the metal handles and will never fade.
Wilton
or Nordic Ware
Cookie Sheets: I use these all the time for baking cookies, making crispy chicken tenders, and roasting veggies. Eventually, when they develop a lot of "character" I also use them for photo backgrounds.
Vacu Vin Wine Saver with 2 Vacuum Stoppers
: Simple and effective. No need to charge it or fill it with batteries, just pump it a few times for an air tight seal on any wine bottle.
Alpha Grillers Garlic Press and Peeler
: Heavy duty and easy to clean. Even comes with a sleeve for removing the sticky garlic peels before crushing. I find it very helpful for recipes that involved a lot of minced garlic.

Stainless Steel Reusable Coffee Filter
: This is a great way to cut down on waste and avoid buying expensive Chemex filters.
Stainless Steel Salt & Pepper Grinder
: My favorite salt grinder; also works well for pepper. Doesn't leave a dusting of salt on the table every time you set it down.
Lodge Cast Iron Skillet
: I keep this skillet on my stovetop and use it almost everyday to make tamale pie, pulled pork hash with eggs, blueberry pancakes, mushroom mozzarella burgers, and simple buttery toast. Only improving with age, this is a skillet your grandpa would be proud of. Made in the USA.
Nordic Ware Springform Pan
: I've used this for cakes, cheesecakes, and even ice cream cakes. Seals well and pops open easily when you need to remove your cake. No more turning the pan upside down to get the cake out!
Stainless Steel Universal Lid
: I use this lid on my cast iron skillets, saucepans, and any other pans that lost or never had lids.
Wusthof Kitchen Scissors
: I use these scissors for everything in the kitchen. The blades are sharp enough to cut chicken and the gripper in the middle has helped me open countless sauce bottles. So great that I bought a second pair (for when the first one is dirty).
Le Creuset Wine Opener Corkscrew: I love the simple, robust design and that its easier to use than the classic T shaped waiter's corkscrews. Just keep turning the handle and the cork pops right out.
Pyrex Baking Dishes
: I have this dish in 9×13 (3 quart)
, 8×8 (2 quart square)
, and as a loaf pan (1.5 quart)
, and love all of them. They are great for brownie, casseroles tamale pie, and everything in between.
$20-$35:
Silpat Non-Stick Silicone Baking Mat
: A reusable alternative to parchment paper. It acts as a barrier between your cookie and the hot metal baking sheet, preventing the bottom of cookies from getting too brown before fully cooking. Also great for sticky caramel recipes, as it prevents the caramel from gluing the cookie to the baking sheet.
OXO Smooth Edge Can Opener
: Opens cans without jagged edges. I first discovered this at my in-laws house and immediately purchased one for my kitchen – its perfect for preventing cuts.
Nordic Ware Bundt Pan
: My mom, her mom, and myself all use Nordic Ware cake pans. They make wonderful cakes and last generations.
Pyrex Bowls with Lids
: One of the first things I got when I started building my kitchen, pyrex bowls are beautiful, durable, and functional. The lids let you store anything without having to transfer it to another container. As an added bonus, the largest bowl is big enough to hold a batch of soup from my crockpot
.

Pyrex Storage Containers with Silicone Lids
: I pack lunch in these pyrex containers every day. The silicone lids seal in soup and yogurt without leaking, and are safe for the microwave.
Kuhn Rikon Stainless Steel Spider Skimmer
: I use this large wire mesh metal spoon for making sure everyone gets the best part of the soup, and for removing my veggies from an ice bath.
Hamilton Beach Rice Maker
: I love the convenience of this rice maker. Add rice and water, walk away, and come back to perfectly cooked rice. Every time. It even keeps the rice warm until you're ready to eat.

$35-$50:
Victorinox Chef's Knife
: I use this knife to cut everything from veggies to pizza. It's versatile, durable, and sharp. Don't buy a knife set. Instead get a chef's knife a paring knife, and bread knife. Together these cover 99% of cutting jobs.
Victorinox Serrated Bread Knife
: Cuts crusty baguettes and fluffy white breads like a champ. Just be careful, it's super sharp!
OXO Food Scale
: Weighing ingredients is the key to better baking. It's very easy to read, with a pull-out display that shows both ounces/lbs and grams. It also has a button that zeros the scale so you can weigh the food without including the weight of the plate or bowl. I use this scale everyday.

Chemex Coffeemaker
: Recognized for its beautiful design by the Museum of Modern Art, Chris convinced me that we should buy this coffeemaker around the same time I started this blog. The coffee tastes wonderful and as an added bonus it doesn't  contain any plastic parts. Also, its the coffee maker preferred by James Bond.
Peugeot Pepper Mill
: I went through several pepper mills until I landed on this wonderful find. It has an adjustable grind fineness and never drops any large peppercorns. If you've ever struggled to find a pepper mill that can give you fine ground pepper, this one is definitely worth the expense.
KitchenAid Ice Cream Maker Attachment:
 I've used this to make mind-blowingly delicious cherry, strawberry, raspberry and vanilla ice cream.
Hamilton Beach Crockpot Slow Cooker:
 I've had this for over 10 years and it's still going strong. I mainly use it to make soup, but it's also great for chicken, roasts, and even desserts!
$50+:

Cuisinart Saucepan
: I use this pan to make sauces, gravy, hot fudge, and weekly batches of oatmeal. Its heavy bottom allows it to absorb and distribute heat more evenly, helping to prevent your food from burning.
KitchenAid Spiralizer Attachment with Peel, Core & Slice
: This attachment is amazing. It can peel vegetables and turn them into noodles. I've used it with zucchini (great under meatballs), carrots, sweet potatoes, and butternut squash, all with delicious results.
All-Clad Stainless Steel Pan
: Versatile and durable, it can go from the hot stove to the cold sink without any problems.  I use it often for sautéing veggies.
Chef's Choice Knife Sharpening Station
: All knives get dull. This is an easy and effective way to sharpen them again. I use this all the time.
Breville Blender
: This blender is a powerhouse at a fraction of the price of a Blendex or Vitamex blender. It is strong enough to grind peanuts into homemade peanut butter, give soups a smooth, silky texture, or even make riced cauliflower.
KitchenAid Standmixer
: I've loved this stand mixer every day since Chris bought it for me. And we both love all the cookies, candy, frosting, bars, cheesecakes, and pizza it can make.

Items on my wishlist:
While I don't (yet) own these, I think they look pretty great. Chris, are you reading this? 🙂

OXO Silicone Flexible Turner/Spatula
: Keeps nonstick pans scratch free!
Lodge Dutch Oven
: A reliable alternative to the Le Creuset at a fraction of the price. Dutch ovens are perfect for cozy roasts and soups.

OXO Non-Stick Pan
: Cuts down on oil and butter. It's also great when cooking delicate foods such as eggs or fish.

Instant Pot
: It's pretty much impossible to exist in the foodie blogosphere without pining for one of these. It promises to cook tender roasts, comfy soups, and much more in a fraction of the time.
Totally Bamboo Butcher Block Cutting Board
: There is nothing quite as a great as chopping crisp veggies or cutting crusty bread on a butcher block cutting board. I've been eyeing this one for a while – I love my current one so much I use it as both a cutting surface and a photo background. 
Cuisinart Food Processor
: This has been on my wishlist for years. Maybe this year will be the year!
Some of the links above are affiliate links, which pay me a small commission at no extra cost to you! 
SaveSave
SaveSave
SaveSave
---
---