Skinny Apple Spice Cake with Caramel Sauce
November 15, 2013
11 Comments
So. I picked a lot of apples.
I made apple pie, apple kuchen, and ate a few raw, and I still had more apples! Whatever to do?
Then, inspiration. Apple spice cake covered in melty caramel sauce. Mmmmmmm!
And, I had to try a fabulous way of cutting calories and fat. It's stunning how much healthier the cake is, and the cake is still delicious.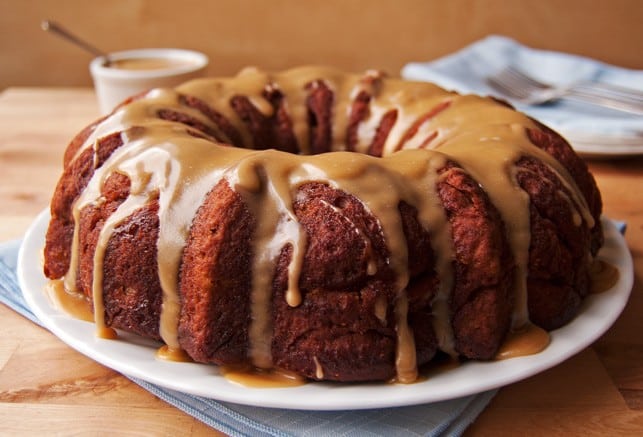 Beyond of course being packed full of apples, this apple cake recipe is healthy for a couple of fantastic reasons:
Using applesauce instead of oil cuts the calories and fat drastically!  For every 1 cup the difference is astonishing!  By substituting the 1 ½ cups in this recipe you cut 2730 calories and 336 grams of fat from the cake!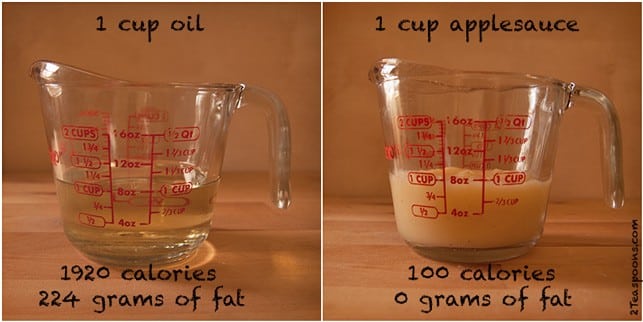 Using 1 cup less sugar than a traditional apple cake slashes an additional 770 calories off the cake!  Most apple cake recipes call for 1 ½ cups of white sugar, but I found that using only a ½ cup still produces a very sweet cake, especially when topped with the decadent caramel sauce I'll get to later in the post.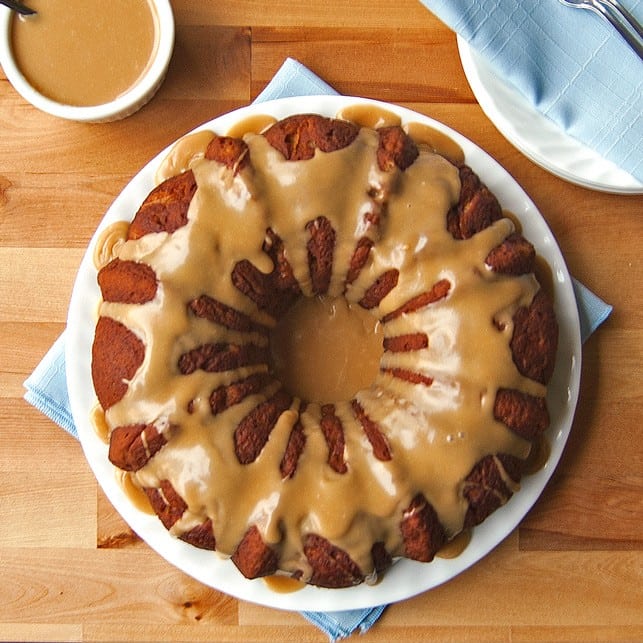 Drumroll please!
And the grand total of calorie and fat removed from the original recipe are:
 3500 calories and 336 grams of fat removed from the whole cake!  That means if you cut this cake into 12 generous slices there are 300 calories and 28 grams of fat less per slice than if you made the original recipe!!!  I redid this calculation 20 times because I almost couldn't believe it!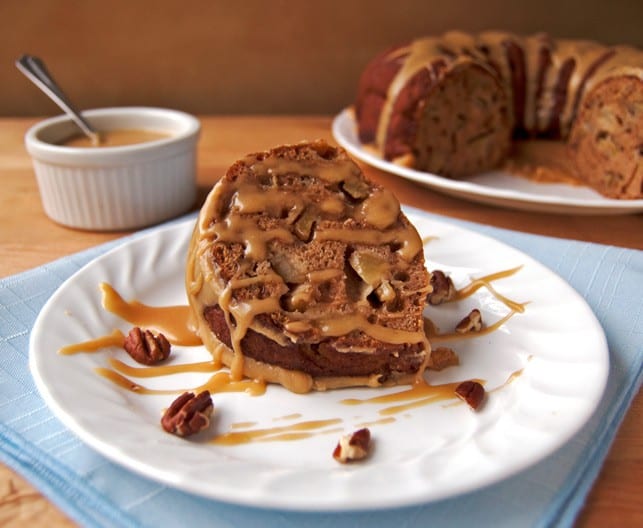 This is definitely cause for celebration in my book!  Extra caramel sauce for everyone! Wait, maybe that's not the point, but at least we can feel great about enjoying a nice slice of apple cake 🙂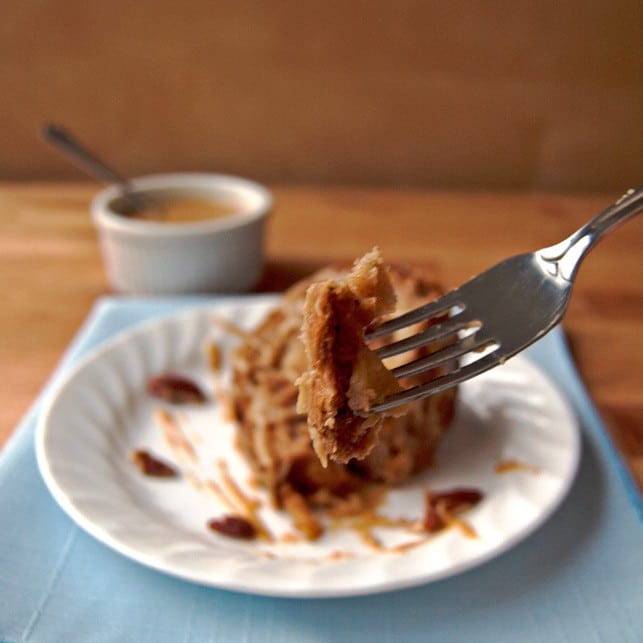 Now for the decadent part of this recipe…the homemade caramel sauce!  I highly recommend making this caramel sauce as is and enjoying every spoonful you eat with gusto.  It is creamy and smooth, with a rich taste that you'll keep trying with a spoon so many times you may need to make a second batch for the cake…or maybe that's just me 🙂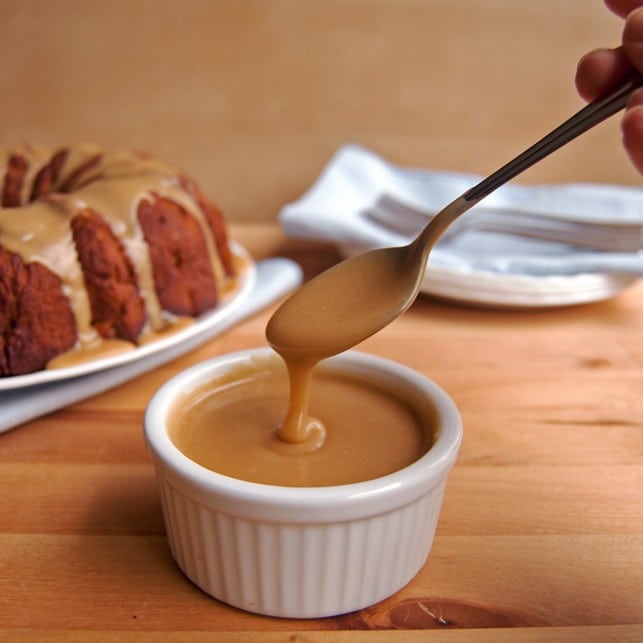 I decided to make mine a salted caramel sauce by adding extra salt at the end!  I thought the saltiness really made the sauce taste richer, while cutting the sweetness down a bit.  I recommend trying the salt, but the classic caramel goes great with the apple cake too!  Drizzle the caramel generously over your slice and enjoy!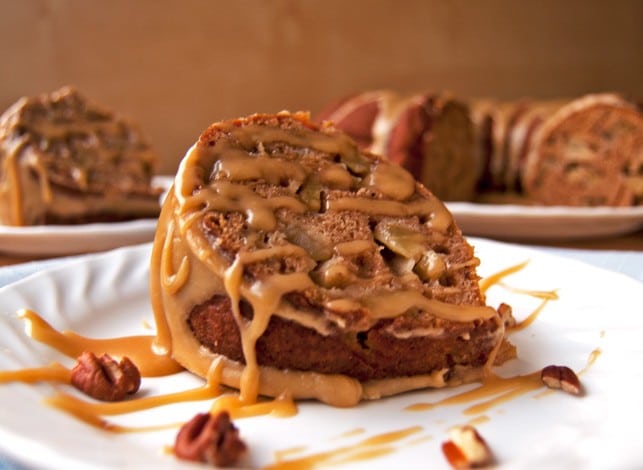 ---
Skinny Apple Spice Cake with Caramel Sauce
Skinny, low-fat apple spice cake packed with fresh apples and covered in rich, melty caramel sauce
Ingredients
CAKE
1 ½

cups

unsweetened apple sauce

3 ½

cups

diced apples

about 4 medium apples
CARAMEL SAUCE
1

cup

confectioner's sugar

Optional: Extra salt to taste 🙂
Instructions
Preheat oven to 325 degrees.

Prepare bundt pan with oil and flour or coat pan with a baking spray that contains flour.

Cake: Combine applesauce, sugars, vanilla and eggs in mixer until everything is fully combined. In a separate bowl combine flour, spices, baking soda and salt. Slowly add flour mixture to applesauce mixture until fully combined. Fold in apples with a wooden spoon or spatula.

Pour batter into bundt pan and bake until a toothpick comes out clean, about 30 minutes. Let cake cool in pan for another 10 minutes on a wire rack. Gently remove cake from pan and allow to cool completely on wire rack.

Caramel sauce: In a small sauce pan melt butter on medium-low heat, then stir in brown sugar, half and half, and a dash of salt until sugar is completely dissolved. Remove from heat and let cool to room temperature. Once cool, whisk in confectioner's sugar until smooth. If you want to jazz up the recipe and make salted caramel sauce add salt to taste here until desired saltiness is reached.

Drizzle ¾ of caramel sauce over entire cake. Use remaining caramel sauce to drizzle extra on each piece as they are served. Enjoy!
---
---
---