Sausage & Mushroom White Pizza
April 9, 2014
2 Comments
This past weekend Chris and I went to visit our friends near Boston, pretty much one of my favorite cities in the whole world! I went to undergrad at Boston University and still feel the same excitement and awe when I visit Boston as I did as a 17-year-old senior visiting the campus for the first time.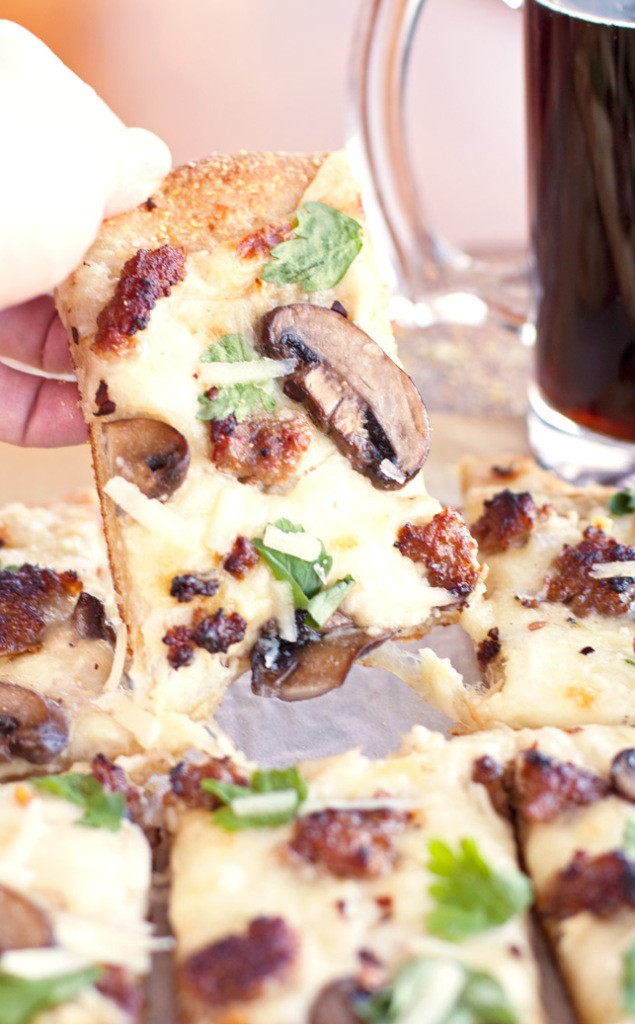 I fell in love with the feel of Boston. It has so many fun attributes of "Big City" life, restaurants, shows, restaurants, public transit, restaurants, walkability, did I mention restaurants? At the same time it also has a homey, winding street, (mostly) low building feel to it. I love walking down Beacon Street lined with brownstone apartments, Newbury Street lined with small shops, and along the esplanade lined with the Charles River. My 17-year-old self immediately decided Boston was definitely the city for her, and I have spent much of my time since graduation figuring out how to move back there. 🙂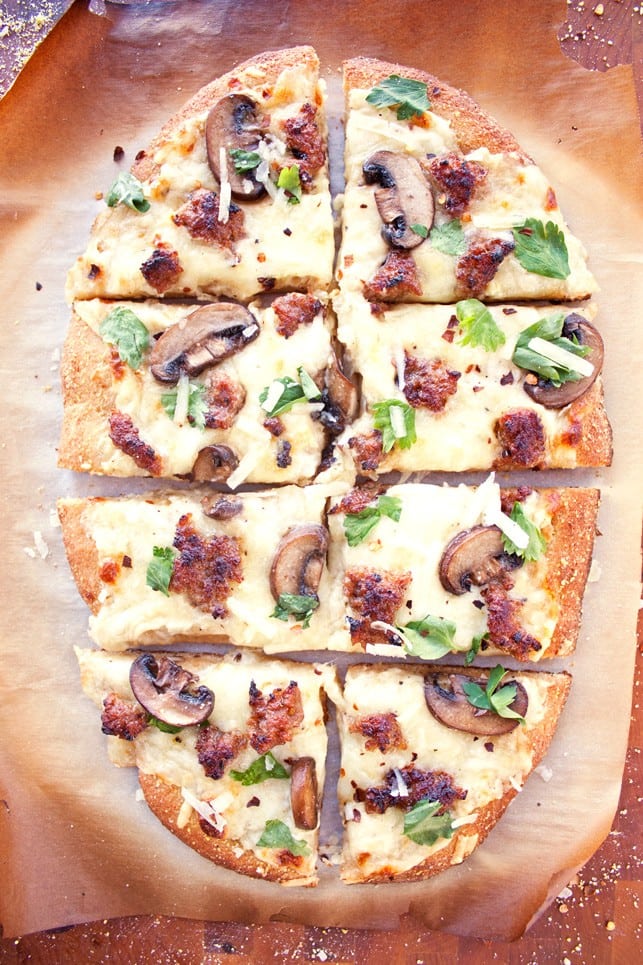 To celebrate the beginning of spring weather I decided to bring my friends a citrusy, fruity gift of sweet, tangy lemon rolls and sparkling strawberry wine. To ensure maximum freshness I made the lemon rolls in our apartment then let them rise in the car while we drove to Boston (hurray for a sunny backseat!). Once we arrived we threw them in the oven and voila! 30 minutes later we were all eating fresh, warm lemon rolls and drinking bubbly, sweet strawberry wine! Yummy! 🙂 I'll definitely be baking these rolls again. Stay tuned for my recipe (and photos!) soon 🙂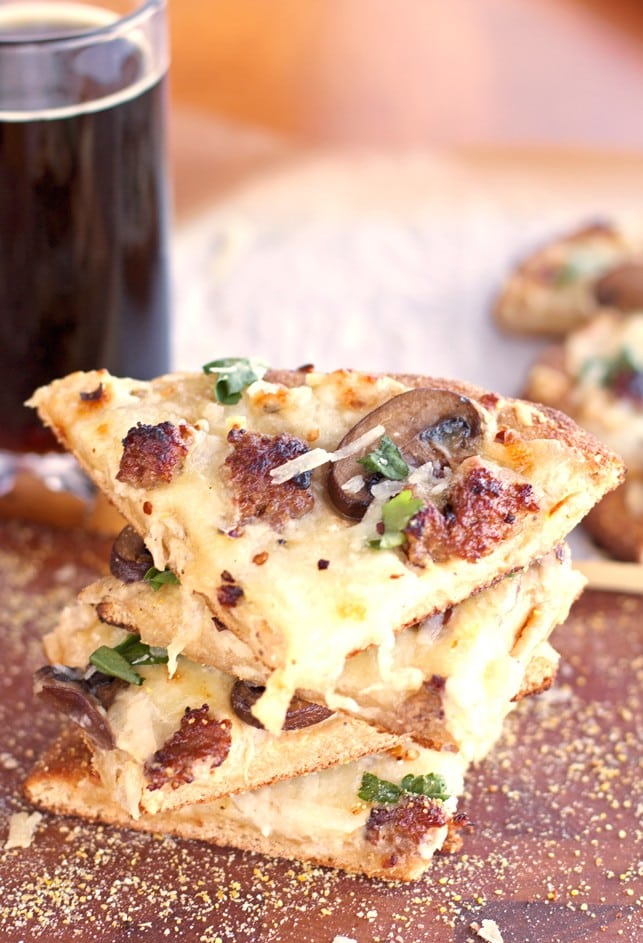 Today I'm sharing a delicious healthy white pizza recipe topped with spicy sausage and mushrooms! I absolutely love sausage and mushrooms together. I know they are traditionally paired on a tomato sauce based pizza, but since I pretty much always prefer creamy white pizzas I decided to whip up a super easy, super creamy, super dreamy cream sauce and give it a try!
I was not disappointed. The cream sauce complements the hot Italian sausage perfectly, but it would also go with sweet sausage if you prefer to keep your pizza milder.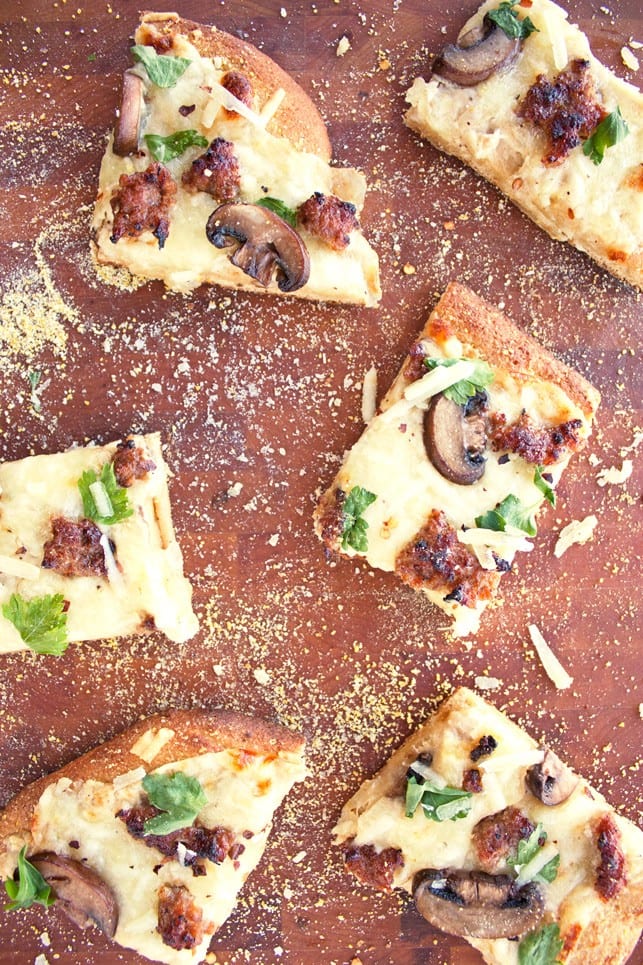 As an added bonus the pizza is also healthy! It has
a) a hearty whole wheat crust and
b) a thick cream sauce made from light cream cheese and skim milk!
You could even use turkey or chicken sausage if you wanted to up the healthy factor even further!
This pizza is healthy and creamy and spicy oh my! It will definitely please both your waistline and your taste buds! Serve this pizza with a nice cold beer and enjoy!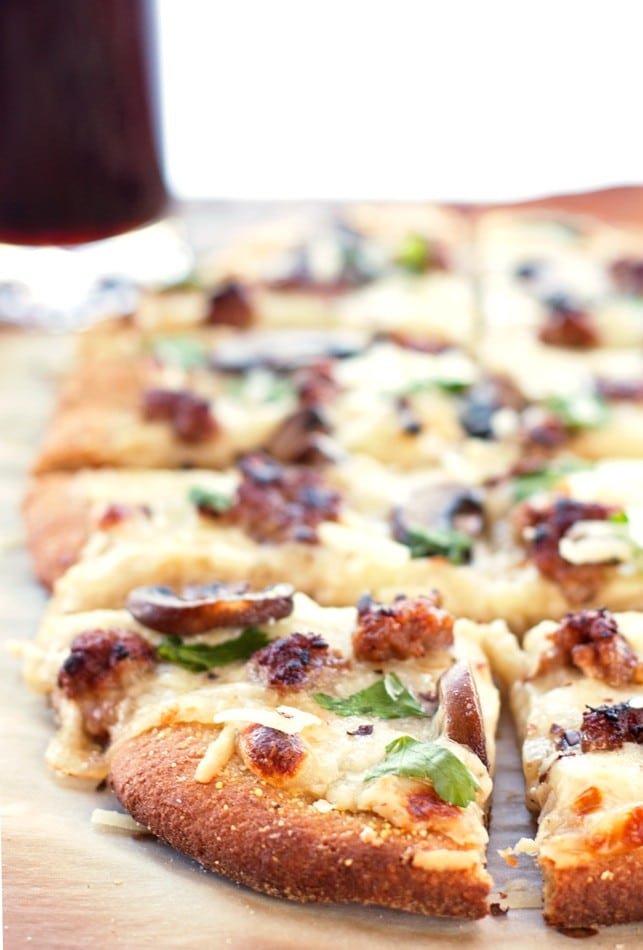 ---
Sausage & Mushroom White Pizza
Creamy white pizza topped with spicy sausage and sautéed mushrooms
Ingredients
1

pizza dough crust that uses about 2 cups of flour

split dough in half after the first rise*

8

ounces

fresh mozzarella cheese

thinly sliced or shredded

8

ounces

of mushrooms

sliced

3

cloves

of garlic

minced

3

tablespoons

of butter

divided

2

ounces

light cream cheese

optional garnish: parsley and parmesan
Instructions
Prepare pizza dough according to recipe and divide after first rise.*

Place pizza stone or pan inside oven and preheat to 500 degrees for 30 minutes.

Remove sausage from casing (if you have sausage links) and cut meat into bite-sized pieces. In a skillet brown sausage over medium heat until fully cooked, about 12-15 minutes. Drain on a paper towel lined plate. Set aside.

While sausage is browning, in a separate skillet melt one tablespoon of butter on medium heat. Add sliced mushrooms and a ½ teaspoon of salt and cook until soft and all water has evaporated, about 8 minutes. Remove mushrooms from skillet and set aside.

Melt 2 tablespoons of butter over medium heat in the same skillet used to sauté the mushrooms. Saute onions, garlic and ½ teaspoon salt until soft, about 10 minutes. Add 2 tablespoons of flour and stir to coat onions and garlic. Turn heat down to low and slowly pour milk into skillet, whisking constantly. Once all the flour has dissolved simmer sauce until pizza sauce consistency, about 5-10 minutes. Add cream cheese, nutmeg, salt, and pepper and stir until cream cheese is fully melted and evenly distributed. Set aside.

Roll both pizza doughs out on a cornmeal surface. Cover the pizza crusts in a layer of the cream sauce then top evenly with a layer of mozzarella cheese. Top both pizzas evenly with sausage and mushrooms.

Transfer pizza to pan or stone and cook until cheese melts and crust turns golden brown, about 10 minutes per pizza. I cooked the pizzas one at a time. If you want to do both together, you'll probably need to cook the pizzas a little longer. Keep on eye on them.

Let cool for 5-10 minutes, sprinkle with parsley and parmesan, cut and serve!
Recipe Notes
*I recommend Naturally Ella's crust recipe. You'll need a total of about 2 hours to prepare the crust: 30 minutes to make the dough, 60 minutes for the first rise, and 20 minutes for the second rise.
---
---
---