Healthy Crispy Oven-Baked Buffalo Chicken Tenders
November 19, 2017
No Comments
These healthy baked buffalo chicken tenders are an easy, healthier alternative to fried tenders. My readers have made a lot of good suggestions on my Healthy Oven-Baked Chicken Tenders (thanks!), and I thought I'd make another, spicier version covered in buffalo sauce 🙂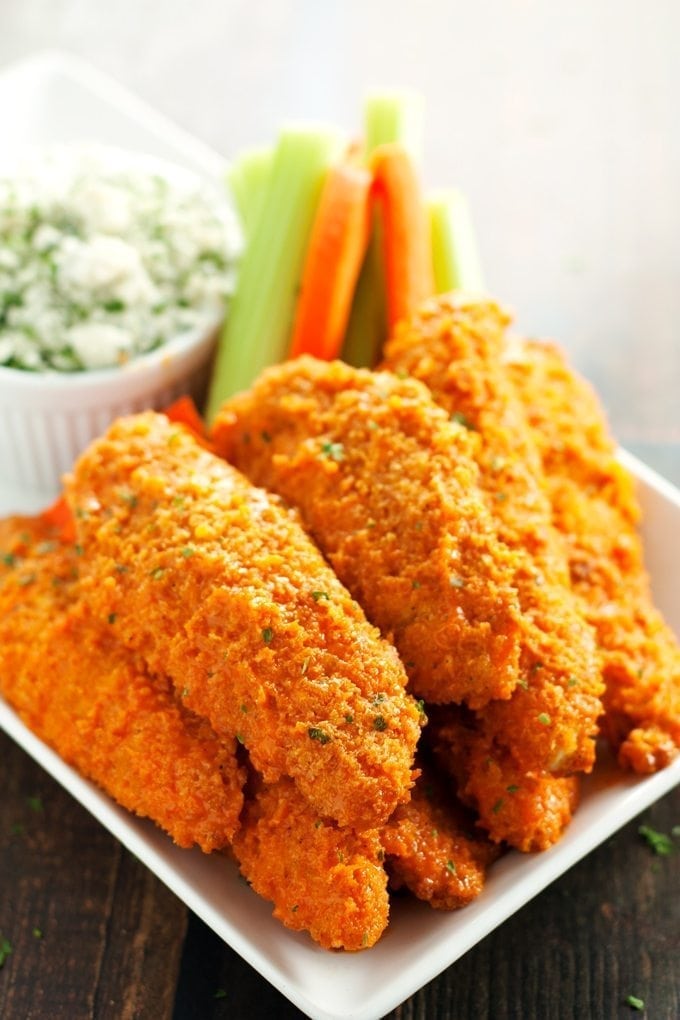 Tap any photo to Pin
This version has some additional spices in the coating that add a little extra flavor. And its tossed in buffalo sauce! For more ideas be sure to checkout the suggestions my readers have made (you lovely people you!).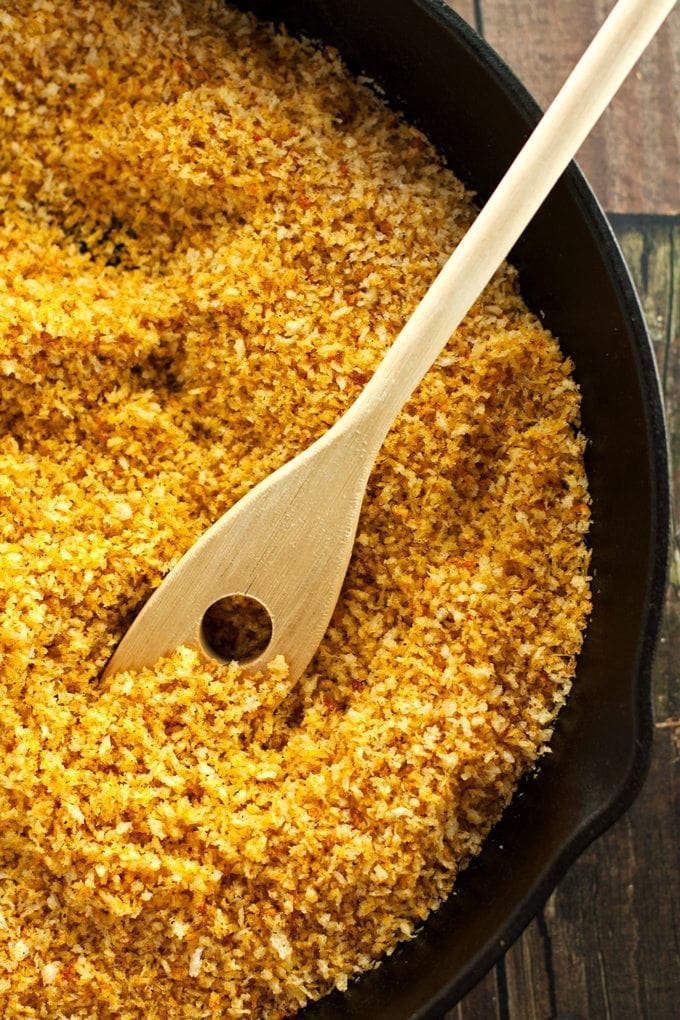 The key to getting that "this could be fried" flavor is toasting the breadcrumbs. Toasting the breadcumbs ensures the tenders are coated with a golden, crunchy texture, and adds a lot of flavor to that crispy outer coating. If you need your tender fix faster, you could skip this step, but it's totally worth doing.
I was able to find actual chicken tender shaped chicken pieces at the grocery store. They were already cut to the right size, which I found a little easier to work with. Of course, any boneless, skinless chicken breast or thigh pieces will work too!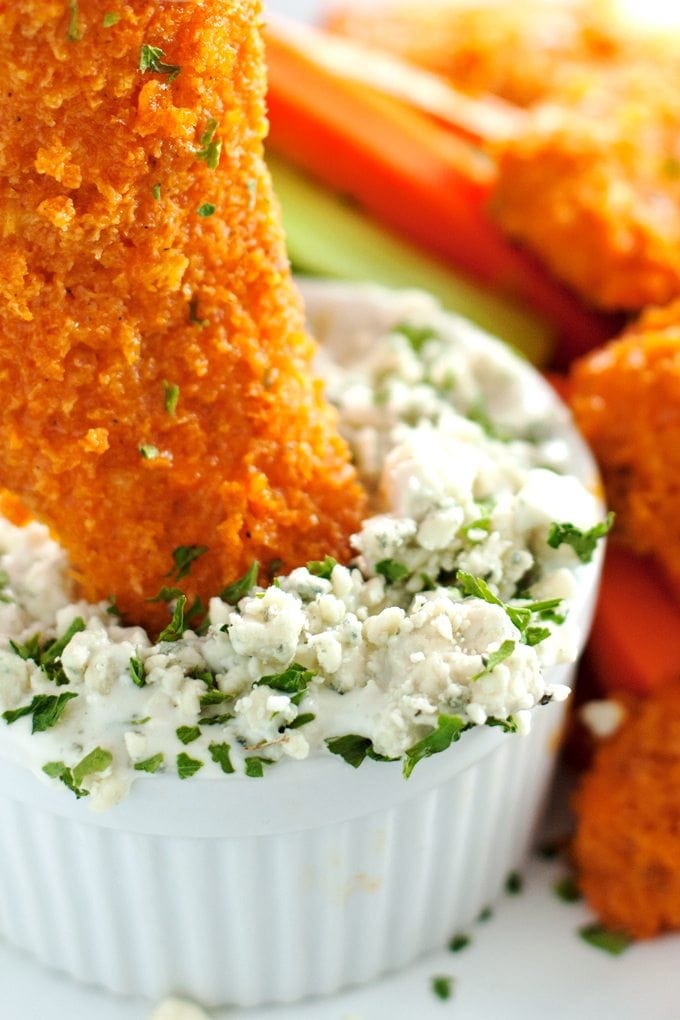 I set up an assembly-line to coat the chicken: first the flour, then the egg-mixture, followed by the bread crumbs, and the baking sheet. You can use a bowl to hold each ingredient, but I find that a plate also works well for the flour and the bread crumbs. I use a flat-bottom sandwich container for the egg mixture. Any container with a flat-ish bottom and sides should also work well.
I place the tenders on a wire rack that sits on the baking sheet. This contraption keeps the tenders up and out of any drips, and allows the air to circulate all around the tenders, and (most importantly) preserves their breadcrumb crunchyness. If you don't have a wire rack, many of my readers have found that a broiler pan is a good substitute. If you don't have either a wire rack or a broiler pan, you can use a regular pan and flip them halfway through.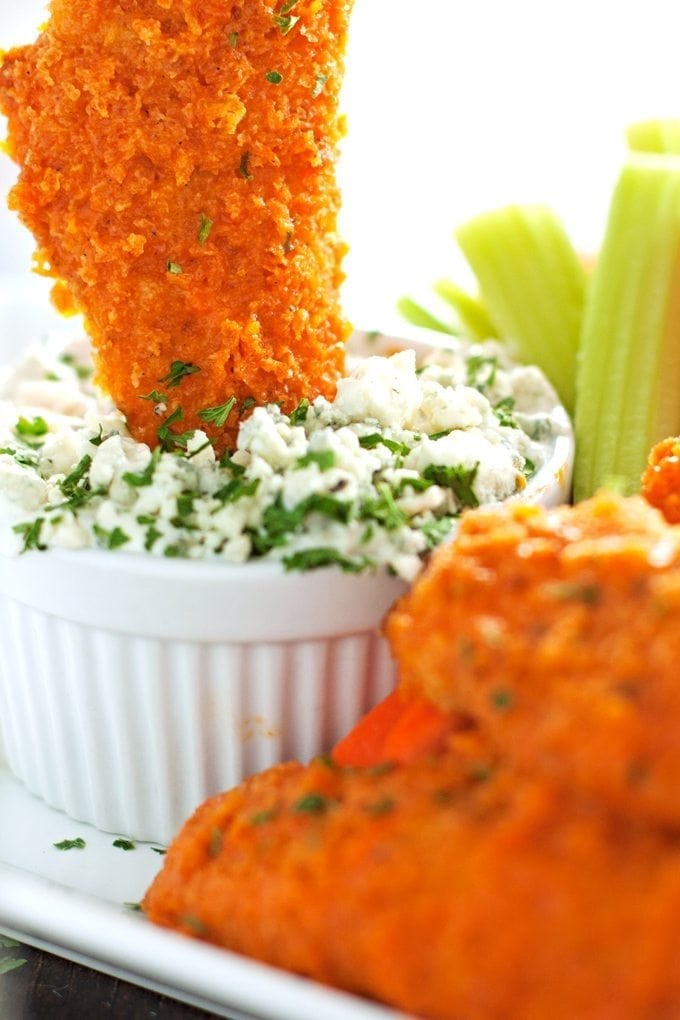 To coat the tenders with the buffalo sauce I put them all in a big mixing bowl and pour in the sauce. Gently stirring will get you most of the way there. If you are feeling a little adventurous (I was!), you can also take the bowl in both your hands and use an upward circular motion (make a big circle away from you, up, then towards you) to toss the tenders. Or just use your hands 😉
Serve with blue cheese or ranch dressing and plenty of celery and carrots sticks! Enjoy 🙂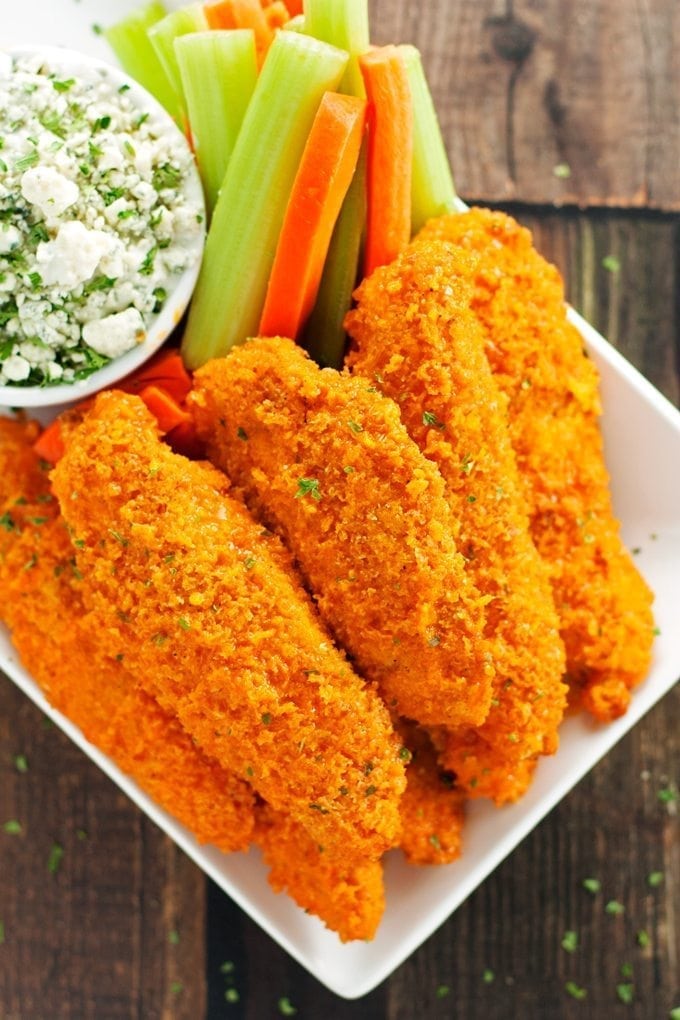 ---
Healthy Oven-Baked Buffalo Chicken Tenders
Delicious, crispy, juicy, buffalo chicken tenders! These little guys are full of flavor, but only contain a fraction of the fat of fried chicken tenders. They really aren't fried, pinky swear. You won't believe it either 🙂
Ingredients
1

pound

boneless

skinless chicken breasts

1 1/4

cups

panko breadcrumbs

1/8

teaspoon

garlic powder

1

cup

buffalo sauce

more if you like your tenders saucier
Instructions
Preheat oven to 425 degrees. Place a wire rack inside a baking sheet. Spray rack with cooking spray.

Melt butter in a skillet over low heat. Add breadcrumbs and slowly stir until golden brown, about 5-10 minutes. Stir in paprika, garlic, salt and pepper. Set aside.

Set up breading station by putting three shallow bowls on counter. Fill first bowl with flour, second bowl with egg and milk, and third bowl with breadcrumbs.

Cut chicken in to tender-sized pieces. Dunk chicken in flour bowl, shake off excess, then dunk into egg mixture bowl. Roll chicken in breadcrumbs until coated thoroughly. Press breadcrumbs into chicken and place on a wire wrack.

Once all chicken pieces are breaded, spray chicken with cooking spray. Bake until chicken is fully cooked (internal temperature of 165 degrees), about 15 minutes. Let rest for 5 minutes.

Place tenders in a large mixing bowl. Pour buffalo sauce over tenders and stir gently to coat.

Serve straight up or with blue cheese, ranch, celery and carrots!
---
SaveSave
---
---