Homemade Apple Pie!
October 17, 2013
5 Comments
A delicious, homemade apple pie recipe using handpicked apples! Recipe also includes tips on how to get perfect flaky pie crust!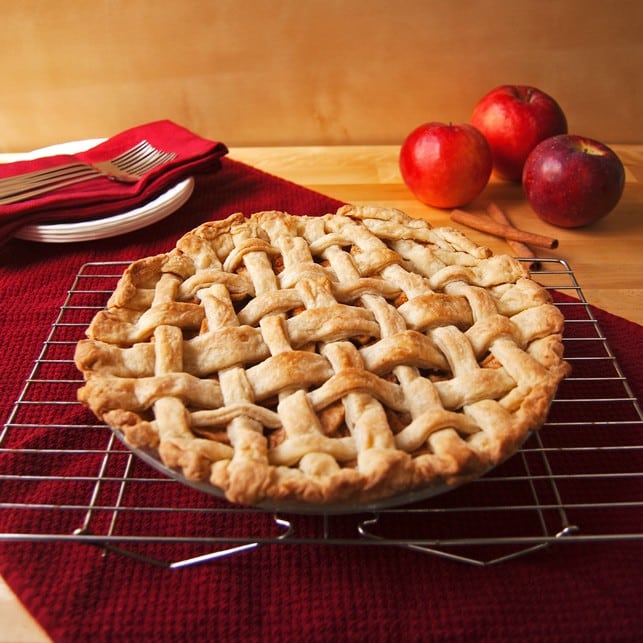 Tap any photo to Pin
What's the best thing ever to do with the apples we picked at Easy Pickin's Orchard?  Munch on them while baking them of course! One of my favorite ways to celebrate fall is to spend the day apple picking and baking those wonderful handpicked apples into a homemade apple pie 🙂
Once the crisp, sweet Mutsu apples entered our kitchen they were practically begging to be made into pie! I think a few apples even peeled themselves 🙂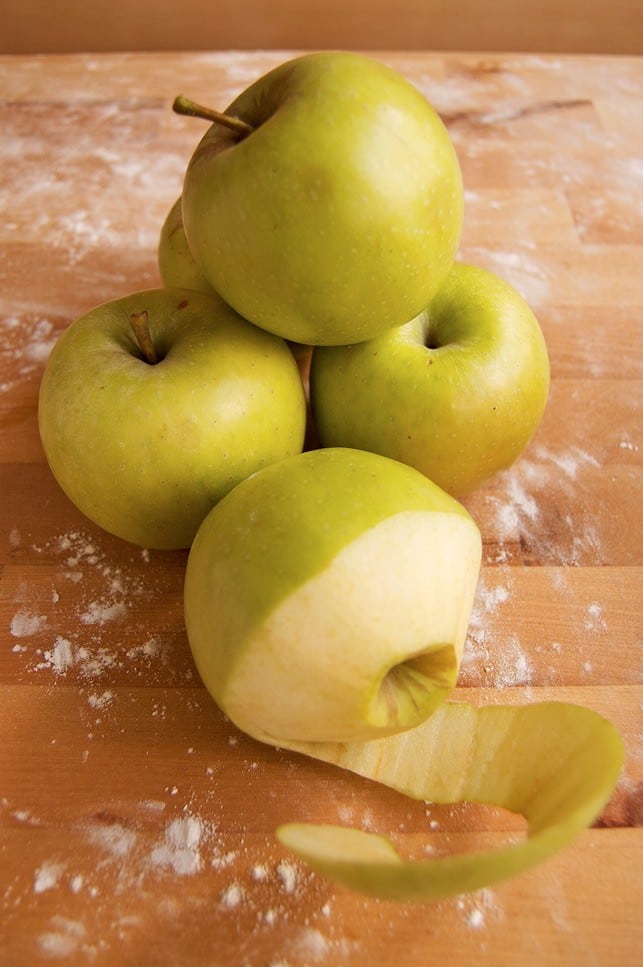 Once you have a delicious pie filling (like our apples!) it's time to focus on the crust.  The secret to making delicious buttery pie crust is all about keeping the dough cold.  REALLY COLD!  You want to make sure that the butter doesn't melt and remains in visible pieces throughout the dough-making process.  Those delicious butter specks are sent from heaven and will give the crust its light, flakey, buttery texture. Mmmmmmm.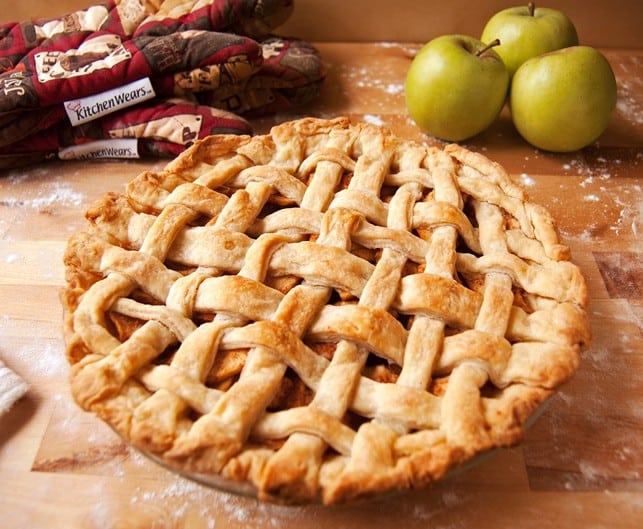 Flakey Crust Tips:
Here are a few tips I've found (some from Smitten Kitchen) that really help your crust achieve that amazing flakey texture :
Make your butter cold! Cut the butter into ½" cubes, wrap in plastic wrap, and freeze cubes for 20-30 minutes.
Use a hand pastry blender to cut the butter into the flour.  A food processor makes it too easy to accidently cut the butter into too-small pieces.  If you find the frozen butter is a little too hard to cut with the pastry cutter, just let it warm-up for a minute or two and try again.
Aim for pea-sized butter pieces. Stop hand blending as soon as the butter is in pea sized pieces, even if the dough doesn't look like it's combined.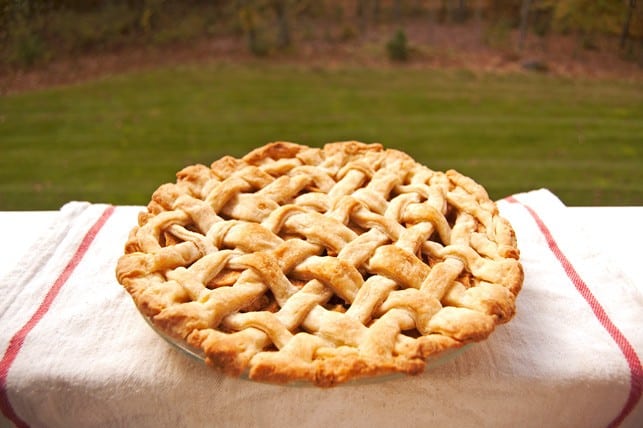 Spices and Apple Variety Tips:
Most importantly have fun baking and let your tastebuds guide your pie!
For this homemade apple pie it's fun to mix up the spices, try adding ginger, clove, or even pumpkin pie spice.  You can even up the fall-seasonal factor and try sweetening the pie with maple syrup.  Experiment with different apple types, just remember that the firmer they are the better they'll hold their shape in the pie.  Granny smith is one of my favorites to use from the grocery store. You can even try a different fruit altogether if the season (or your mood) strikes you!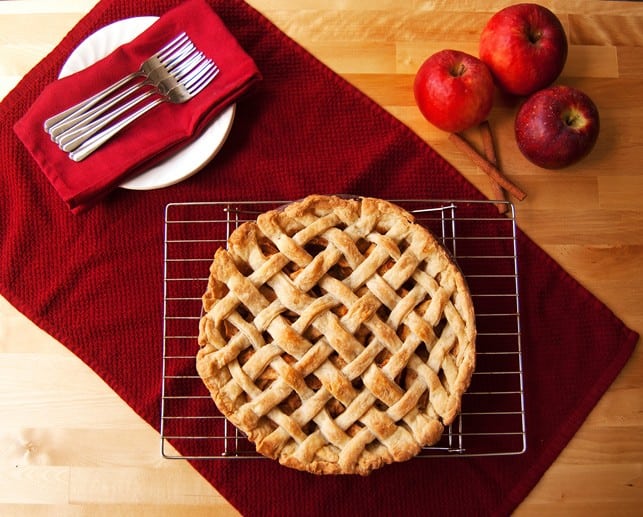 Let me know about the pies you've tried in the comments!  I'd love to hear (and taste!) your favorites 🙂
Bon Appétit!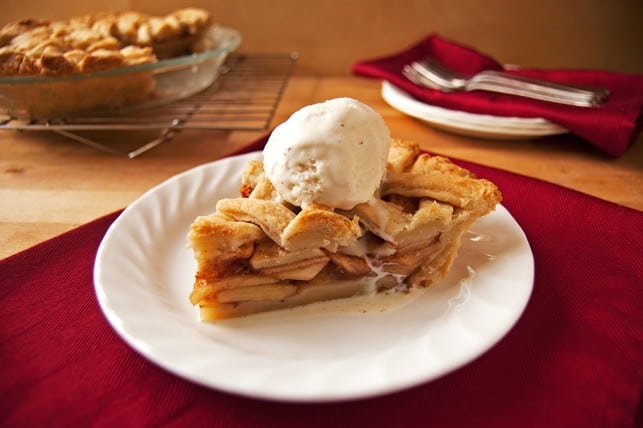 ---
A delicious, homemade, apple pie recipe using handpicked apples from Easy Pickin's Orchard!
Ingredients
2 1/2

cups

pastry flour

can substitute 2 cups + 3 tablespoons all-purpose flour + 1/3 cup cornstarch

2

tablespoons

melted butter

1/4

cup

brown sugar

packed

1

lemon

juiced and zested

2

tablespoons

cornstarch or 4 tablespoons flour
Instructions
CRUST: Cut butter into 1/2" cubes, wrap in plastic wrap, and place in freezer for 20-30 minutes. Combine flour, sugar, and salt in a large bowl and sprinkle frozen butter cubes on top. Cut butter into flour using a pastry cutter, stopping when butter is in pea-sized pieces even if dough does not look combined.

Add vanilla and 1/2 cup ice water (minus ice cubes) to the dough and gently stir. Keep adding remaining ice water 1 tablespoon at a time until the dough just sticks together when pressed between two fingers.

Divide dough in half. Kneed and flatten to form two disks of dough. Do not over kneed, you should still be able to see butter pieces throughout the dough. Wrap in plastic wrap and place in the refrigerator for at least one hour.

FILLING: Peel, core and slice apples. Toss with sugar, lemon juice and zest, vanilla, spices, and cornstarch.

Preheat oven to 375 degrees. Roll one pie crust out on a flour surface to fit a 9" pie pan. Place crust in pie pan. Pour filling into pie pan. Roll out second pie crust on flour surface. Cut pie crust into 1/2" - 3/4" wide strips**. Arrange strips on pie and weave into a lattice. Brush crust with melted butter.

Cover edges of crust with foil to prevent burning. Bake for 50-60 minutes (removing foil after 35 minutes), until crust is golden brown and filling is bubbling.
Recipe Notes
**The recipe can also be used to make a pie with a regular crust top. Just make sure to put little cuts in the center of the crust to let the steam escape!
---
SaveSave
---
---