Pumpkin Spice Cheesecake with Gingersnap Crust and Homemade Whipped Cream
October 24, 2014
12 Comments
I had an incredible time at my conference in Vancouver and am now back in DC! While I was gone it seems fall really arrived in DC, and I'm looking forward to a relaxing fall weekend. These pumpkin cheesecakes are several of the many reasons I love fall.
Plus they are little! But not too little. Actually, I think the size is just about right. One bite is just never enough, especially for these little cheesecakes. So instead, these are perfect little, cupcake sized cheesecakes – at least three-bites each, maybe more.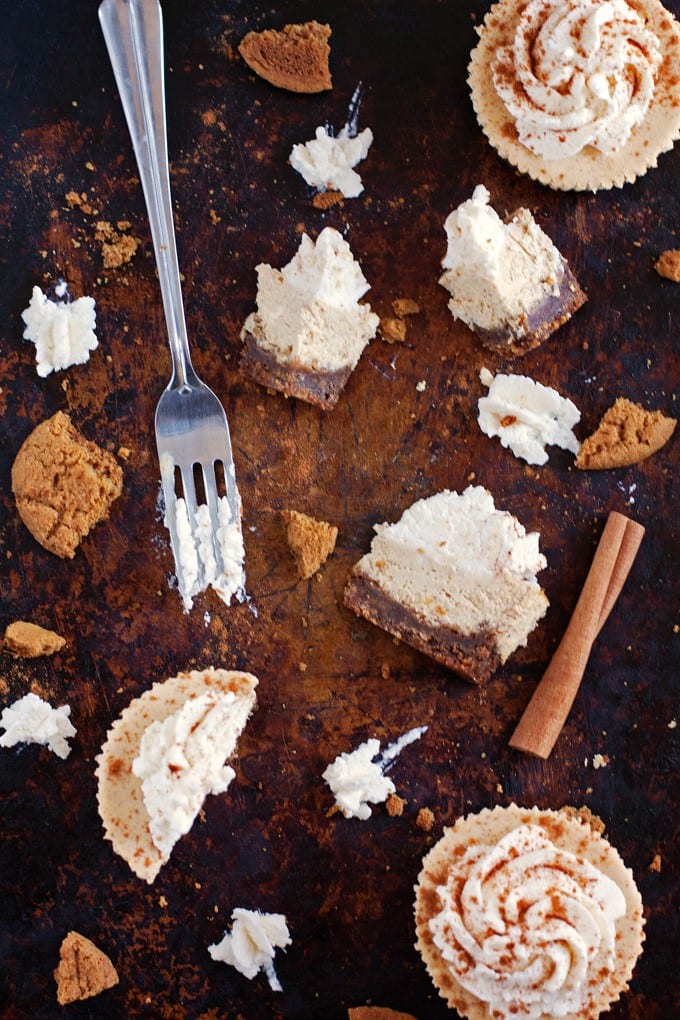 While buying ingredients for these cheesecakes, I had a mini-crisis. Should the crust be made of crushed ginger cookies? Or crushed cinnamon sugar graham crackers? After what seemed like an agonizing eternity, I decided on the ginger cookies. I just love ginger! Cinnamon sugar graham crackers would definitely be great too though, and adding some crushed pecans to the mix is also divine 🙂
After you crush the cookies and add the melted butter to the crumbs, you have to try the mixture. It was so gingery and buttery I accidently ate too much of it and had to go back out and buy another box of cookies (and more butter!)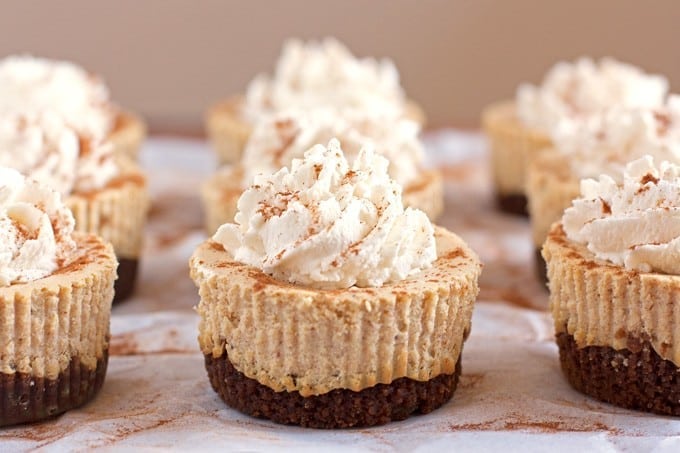 The cheesecake is tangy and creamy, with just enough pumpkin and spice to definitely taste like pumpkin spice fall deliciousness!
If you are making these for a party (like I did) you can pipe the whipped cream on these to give them a professional look. Add a sprinkle of nutmeg or cinnamon and the party guests almost won't believe you made them.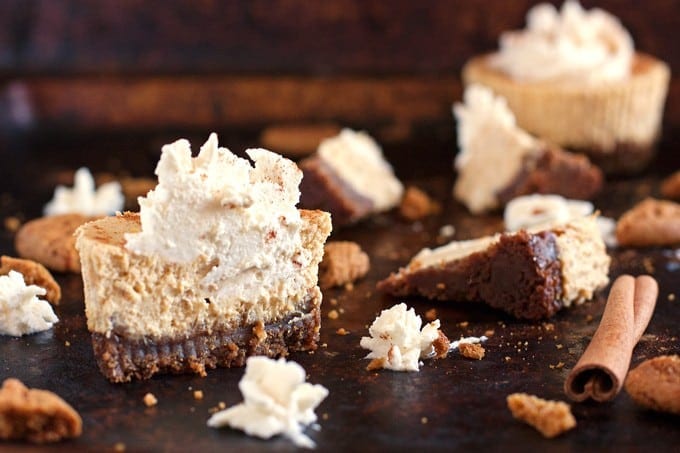 Just remember, they need plenty of time to cool, so be sure to make them ahead of time! I'd recommend baking the cheesecakes the day before and letting them cool in the frig overnight. I frosted mine with whipped cream in the morning and it held its shape great in the frig for a few days. We had cute little pumpkin dessert on hand whenever we wanted! Happy Fall!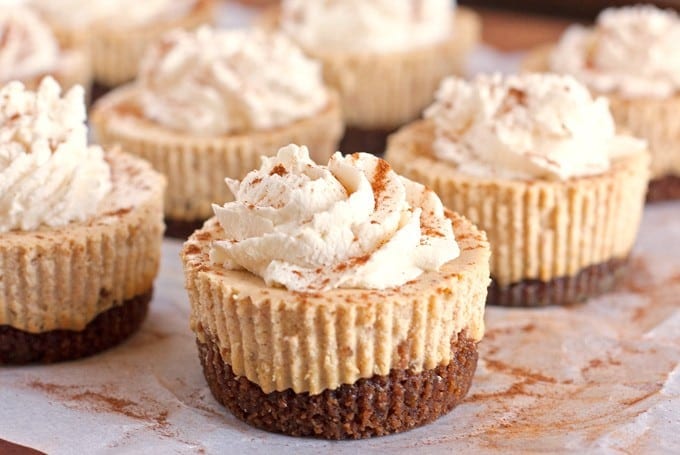 ---
Pumpkin Cheesecake with Gingersnap Crust and Homemade Whipped Cream
Creamy, tangy pumpkin spice cheesecake with buttery gingersnap crust and homemade whipped cream!
Servings
14
-16 Cheesecakes
Ingredients
CRUST
2

cups

ginger snap cookies or graham cracker crumbs

about 10 oz by weight
CHEESECAKE
16

oz

cream cheese

softened

1

cup

100% pumpkin puree

not pumpkin pie filling

¼

cup

unsweetened yogurt or sour cream
WHIPPED CREAM
2

tablespoon

powdered sugar

sifted
Instructions
Preheat oven to 350 degrees F and line muffin tin with cupcake liners.

Pulse cookies in blender or food processor until they are crumbs. Melt butter and mix together crumbs and butter. Evenly divide crumbs into muffin cups, with about 2-3 tablespoons per cup. Press mixture into bottom of cups and bake for about 5 minutes. Set aside to cool.

While crusts are baking, beat cream cheese, pumpkin, and yogurt together with an electric mixer on medium, scraping sides as necessary until smooth and combined, about 5 minutes. Add sugar, vanilla, cinnamon, nutmeg, ginger, and clove and beat until evenly mixed. On low speed, add one egg at a time until just combined.

Once crust is cooled, evenly distribute batter between muffin tins. Bake until cheesecake is almost set -- it will still jiggle a little and may puff up, about 23-25 minutes.

Let cool for 1 hour at room temp and then at least 2 hours in the frig. I usually cool mine in the frig overnight.

Once cheesecakes are completely cooled, make the whipped cream. Make sure the heavy cream and the bowl you'll be whipping it in are very cold. Place cream in bowl and using an electric mixer with a whisk attachment, whip cream on medium until soft peaks form, about 3 minutes. Add vanilla and sugar and continue to whip on medium until it looks like whipped cream, another 1-2 minute. Apply whipped cream to cheesecakes, either piping it on with a frosting bag or applying it directly with a knife or spoon. Sprinkle with cinnamon or nutmeg and serve chilled.

Cheesecakes can be kept in frig for 2-3 days in an airtight container. Whipped cream will be freshest if you make and apply it as the cheesecakes are served, but will keep its shape on the cheesecakes in the frig.
---
---
---