Healthy Buffalo Chicken Pizza
November 5, 2013
1 Comment
The impossible choice: pizza, or wings? Can you ever decide?  Now you don't have to! You get to have your wings and eat your pizza too!
I transformed these delicious baked chicken tenders (you won't believe they aren't fried) into a zingy, cheesy, buffalo chicken pizza!  As a super added bonus this pizza is healthy!  It not only uses baked chicken tenders, but also has a whole wheat crust from Naturally Ella.   I divided the crust into two crusts after the first rise, because one big crust was too hard to get onto the pizza pan. (If you have any tips on how to do this better, let me know in the comments!) It could also be fun to make these into personal pan pizzas too!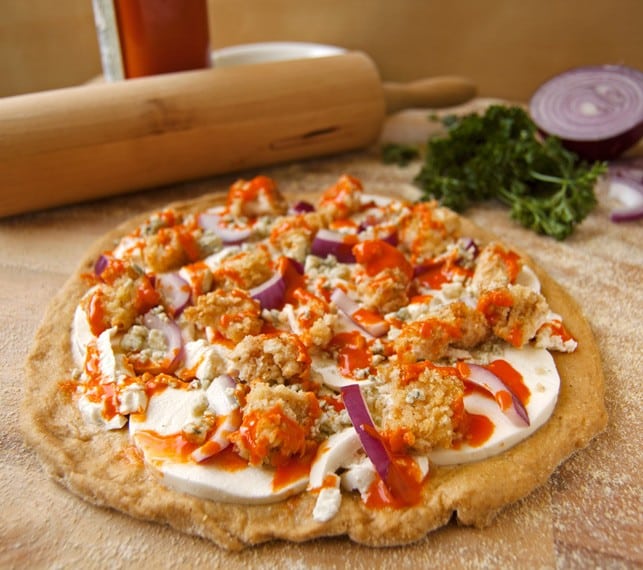 Once the dough and toppings are ready, start by covering the pizza crust in a layer of soon-to-be melty mozzarella cheese.  This gooey cheese layer is the back bone of any great pizza! Mmmmmmm  🙂
Top the soon-to-be melty mozzarella cheese with chicken, blue cheese, hot sauce and red onions.  I like to make sure each bite of pizza has a little bit of each of the toppings.  Because buffalo chicken and blue cheese are divine together.  But you already knew that.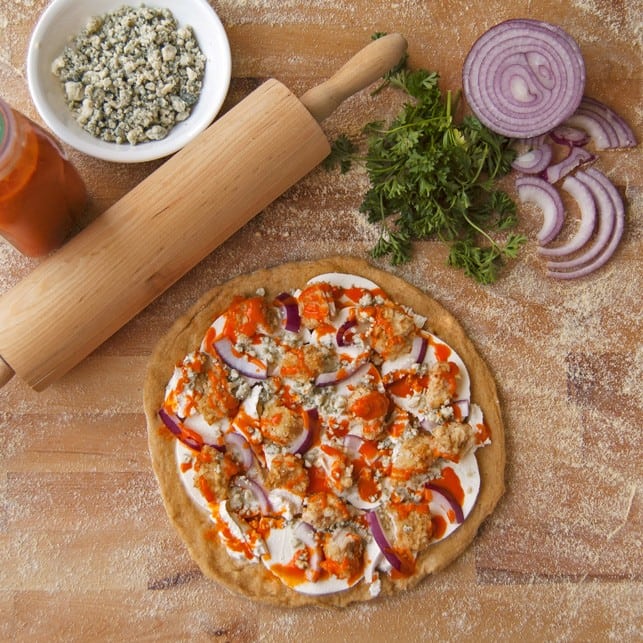 Fellow pizza and wing lovers rejoice! With this recipe you get to eat both and even be healthy too!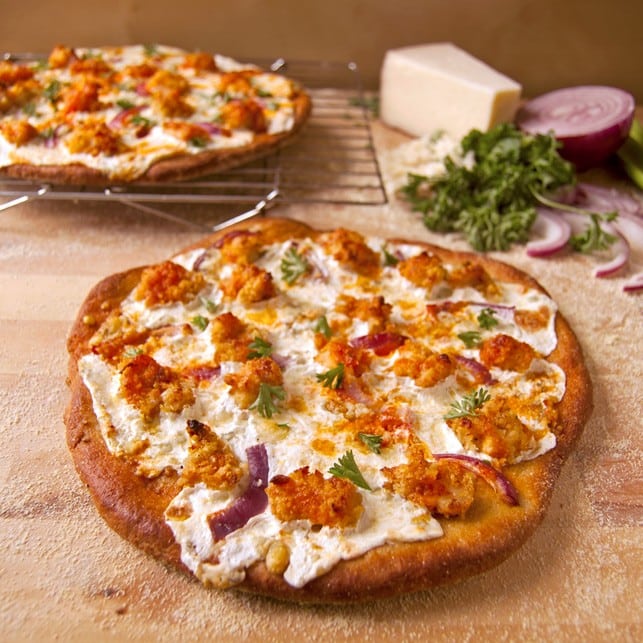 ---
Healthy Buffalo Chicken Pizza
Baked chicken and whole wheat crust make this buffalo chicken pizza a healthy pizza option – Never choose between pizza and wings again!
Ingredients
1

pizza dough crust that uses about 2 cups of flour

split dough in half after the first rise*

4-8

ounces

chicken

cubed and cooked**

12

ounces

fresh mozzarella cheese

thinly sliced or shredded

2-4

tablespoons

buffalo sauce***
Instructions
Prepare pizza dough* and chicken** according to recipes (the links are in the post).

Preheat oven with pizza stone or pan inside to 500 degrees for 30 minutes.

Roll both pizza doughs out on a cornmeal surface. Brush with olive oil. Cover the pizza crusts in a layer of mozzarella cheese, use all cheese equally distributing it over both pizzas.

Top both pizzas with chicken, blue cheese, and red onion spreading each topping out. Drizzle desired amount of buffalo sauce on pizza. If you like a mild pizza use less buffalo sauce.

Transfer pizza to pizza pan or stone and cook until cheese starts to get melty and golden brown, about 10 minutes per pizza. I cooked the pizzas one at a time. If you want to do both together, you'll probably need to cook the pizzas a little longer. Keep on eye on them.

Let cool for 5-10 minutes, cut, and serve with buffalo sauce and blue cheese dressing!
Recipe Notes
*I recommend Naturally Ella's crust recipe linked in the post above.
**I used the 2Teaspoons homemade chicken tenders linked in post above. However, you can use boneless chicken breasts or precooked chicken tenders. Just cook chicken and cut into bite-sized pieces.
***You can make your own buffalo sauce with 1 tablespoon hot sauce, 1 teaspoon butter, and a pinch of cayenne pepper. Just simmer until butter is melted and sauce is combined.
---
---
---