Chocolate Peanut Butter Banana Cake
July 17, 2014
16 Comments
Hi Everyone! The past month has been full of exciting changes for us, and I'm eager to share them with you. I'll be blogging all about it and of course sharing plenty of delicious new recipes!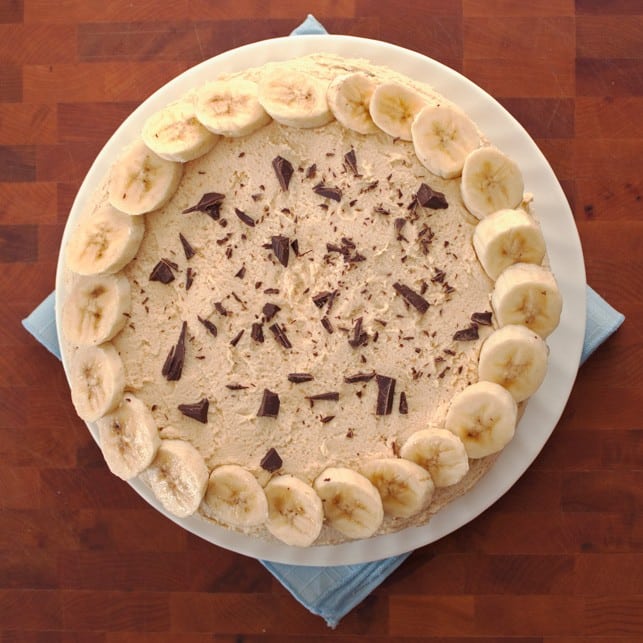 Exciting news #1: We're moving to DC!
I won a fellowship down in DC that starts in September and we're making our plans to relocate there as I type! I'll definitely miss Connecticut (my home for the past eight years), but am super excited about exploring all DC has to offer. Also, I absolutely love recommendations…Comment below or send me a message with all your DC must-sees (and must-tastes!)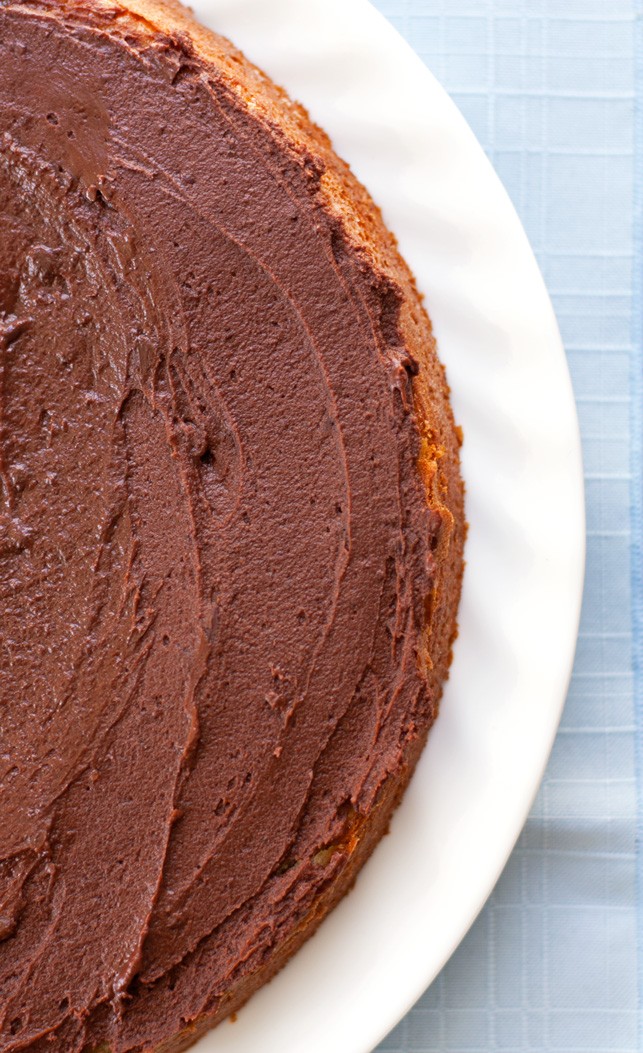 Exciting news #2: We're spending July in Santa Barbara!
Chris got accepted to a four week conference/workshop on the UC Santa Barbara campus and I was able to come along with him 🙂
We've been exploring the area and enjoying the fantastically temperate weather. The highs in Santa Barbara are 68-78 degrees year round! Year round! That means it's the same wonderful temperature inside and outside all year long…it's pretty much the best thing ever 🙂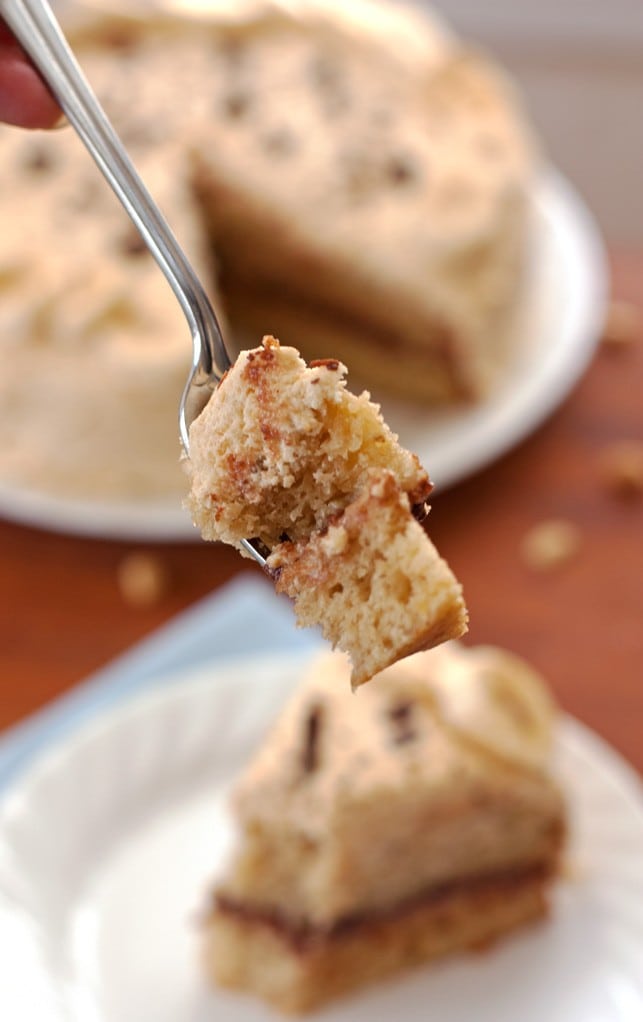 Exciting news #3: We're going on vacation!
With all of these changes, Chris and I have been super busy (Chris even has workshop sessions on Saturday morning here in CA!) and we are definitely both in need of a vacation. I'm planning a TBD vacation for somewhere in the Northeast during the second week of August. Destination and plans coming soon!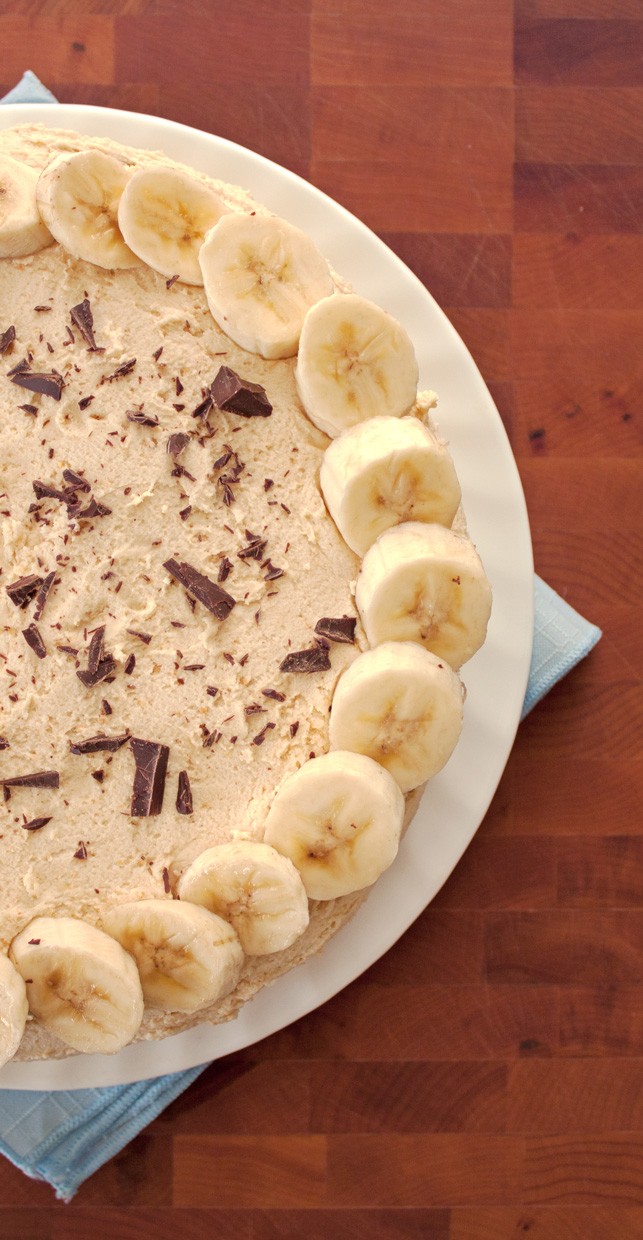 Over the next few posts I'll share more details with all of you, but enough of that for now…Let's get to the food! This Chocolate Peanut Butter Banana Cake is delicious and versatile. Its fluffy cake texture and dark chocolate fudge ganache filling makes it a rich, decadent dessert. Its banana and peanut butter flavors totally make it a perfect, eye-opening breakfast. You get to have your cake and eat it for breakfast too! 🙂
Enjoy!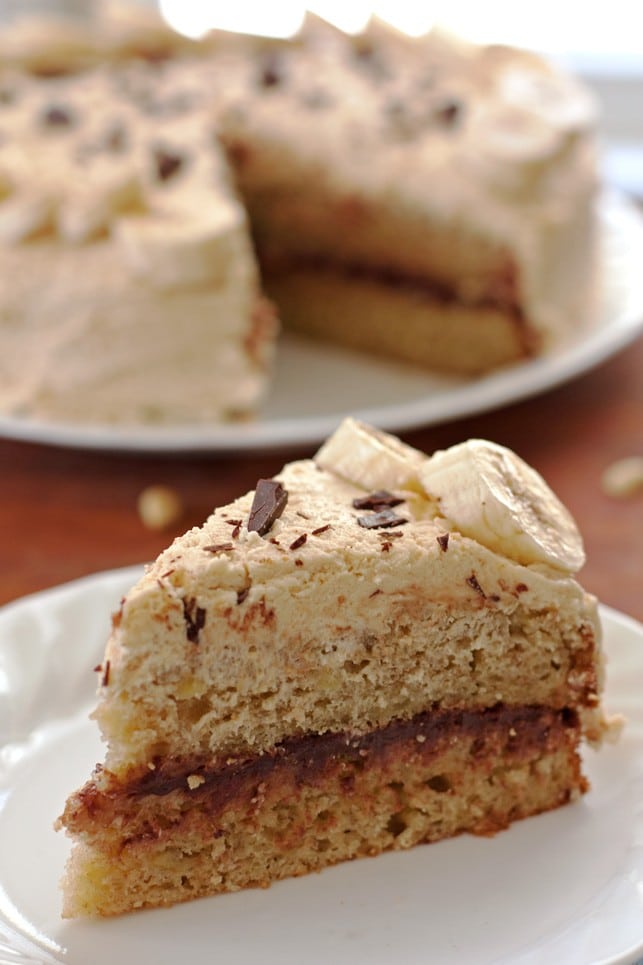 ---
Chocolate Peanut Butter Banana Cake
Moist, fluffy banana cake topped with creamy peanut butter frosting and filled with rich, chocolate fudge ganache!
Ingredients
CAKE
1

cup

plain unsweetened yogurt

I used greek

1 ½

cups

mashed ripe bananas

~3 large ripe bananas
FILLING
4

ounces

dark or semi-sweet chocolate

best quality you can find!
FROSTING
½

cup

creamy peanut butter

I used natural unsweetened peanut butter
Instructions
Preheat oven to 350 degrees F. Grease and flour two 9" round cake pans and set aside.*

In a medium bowl whisk together flour, baking soda, and salt. Set aside.

Using a stand mixer or handheld electric mixer on medium high cream the butter until fluffy, about 1 minute. Add sugar and continue to beat on medium until smooth, about 3 minutes. Beat in one egg at a time. Gently stir in yogurt and vanilla, then stir in bananas. Slowly add dry ingredients until just combined.

Equally distribute batter between the 2 prepared cake pans.* Bake until toothpick comes out clean, about 20-25 minutes. Allow cakes to cool in pan for 10 minutes then cool completely on a wire rack. Once cakes are cooled completely make filling and frosting.

FILLING: Chop the chocolate and place in a medium bowl. Heat cream in a sauce pan until hot to touch, no need to simmer. Pour cream over chocolate and stir until chocolate melts completely and blends with the cream. Stir in vanilla and salt. Cool until desired consistency is reached for cake filling, thick and fudgy but still spreadable. Spread ganache equally over the top of the bottom layer of the cake. Place other layer on top.

FROSTING: Using a stand mixer or handheld electric mixer on medium high cream together butter and peanut butter until fluffy, about 3 minutes. Add vanilla and a pinch of salt. While mixer is on medium, gradually add powdered sugar until desired fluffiness is reached. Frost cake and decorate with optional chocolate shavings, crushed peanuts and banana slices. Dig in!
Recipe Notes
*I only own 1 round cake pan so I made all the batter, baked half of it in my prepared cake pan, and cooled the cake in the pan for 10 minutes (as directed). I then washed, re-greased, and re-floured the pan and repeated the process for the second half of the batter.
---
---
---