Sautéed Zucchini
September 6, 2014
9 Comments
I love farmer's markets! One of the most delicious aspects of my new apartment is that it's located only 1 block from a huge farmer's market. Yep, 1 teensy little block.
Every Sunday morning I grab my reusable grocery bags and head over to the 40 booths bustling with couples, babies, and puppies! Last week I had breakfast there, and ended up with a local, roasted mushroom taco and a buttery, flakey, almond croissant. It was a breakfast of farmer's market shopping champions!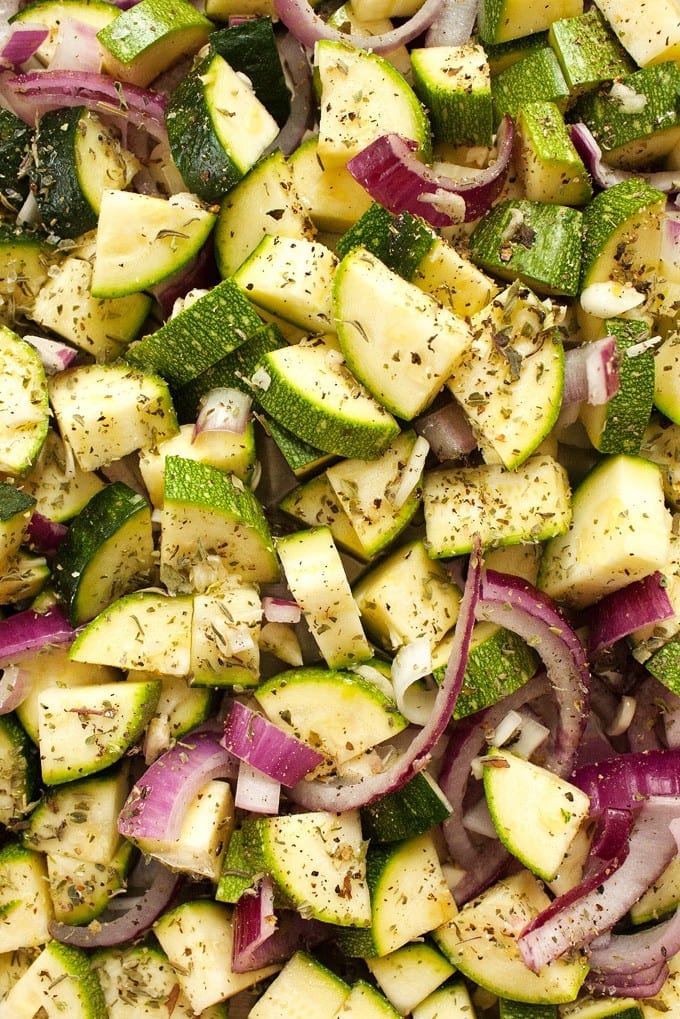 My favorite part of any farmers market is always the samples. The peaches are so juicy, sweet, and delicious right now! Every farmer seems to be selling and sampling equally delicious peaches. One even had peaches without a pit! I'm not sure how I feel about stone-less stone fruit but it sure was tasty. I also found fantastic little cantaloupes at one of the booths too. They are about the size of a softball, and they taste exactly the way I imagine cantaloupe should taste…sweet, flavorful, and not the least bit hard or watery.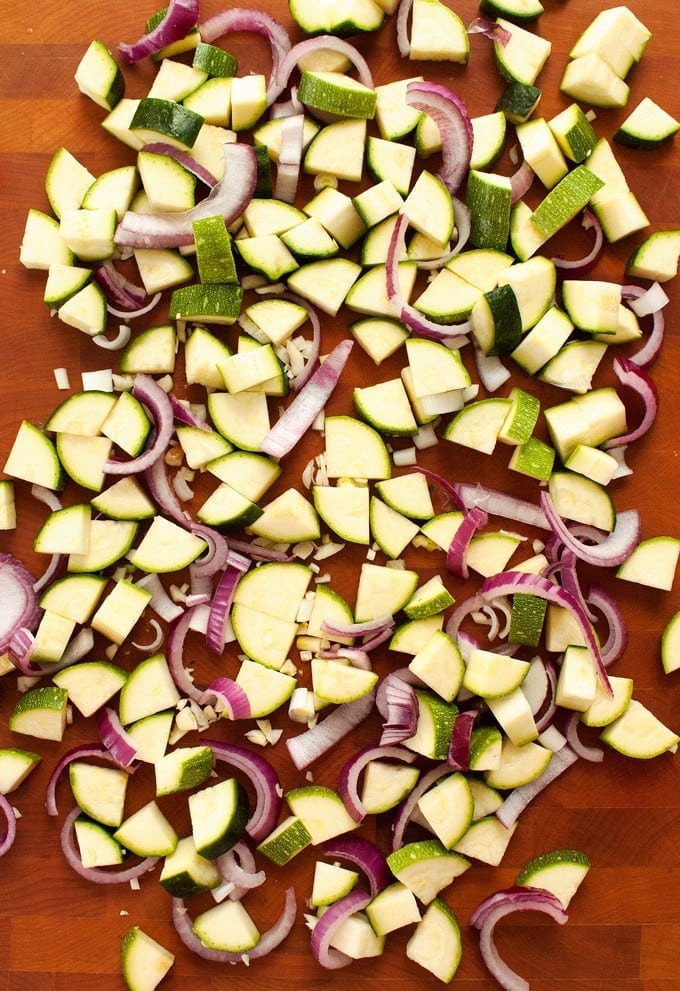 This farmers market also samples fresh prepared foods like gazpacho, local smoked salmon dip, citrus ginger beets, and every pickle flavor I can imagine…even a super spicy one that makes you run from booth to booth searching desperately for something creamy to sample to make your mouth stop burning all the time wishing you had packed your water bottle. Sampling can be a risky business. Consider yourself warned 🙂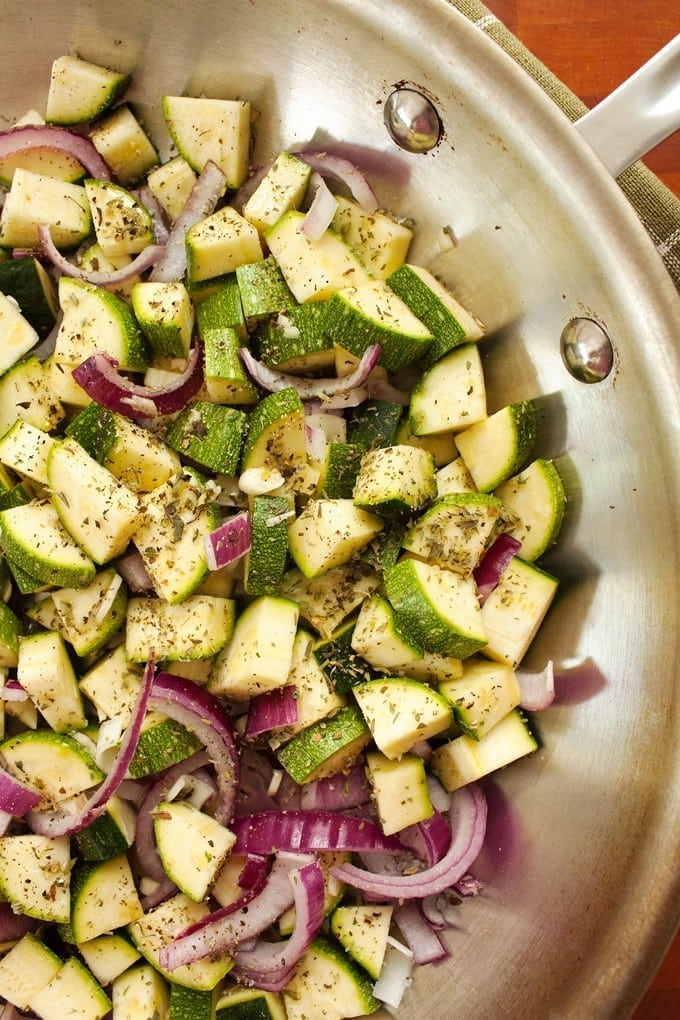 This week I picked up some beautiful zucchini to make one of my favorite veggie recipes…Sautéed Zucchini!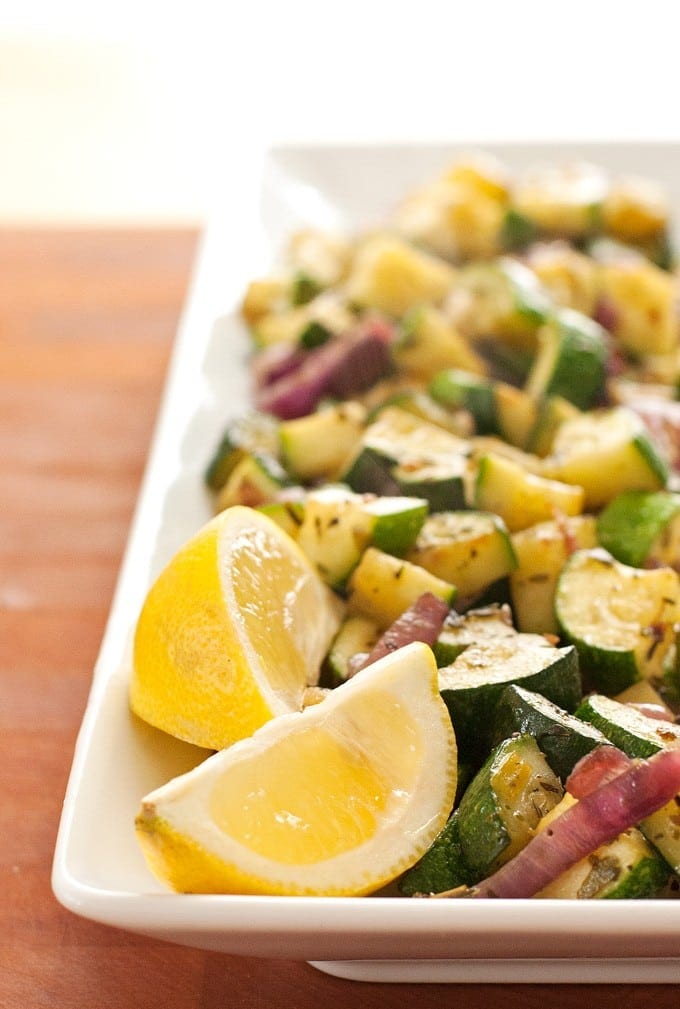 This is such a simple dish to make. And it's sooo good.
I just sautée the zucchini with red onion, garlic, herbs, salt, pepper, and olive oil. Than add a little lemon juice and voila! Instant farm fresh side dish! The herbs and spices are versatile, so experiment with what you have around your pantry, garden or farmer's market. I usually use green herbs like Herbes de Provence, thyme, basil, and/or oregano, and it's always been delicious! Enjoy 🙂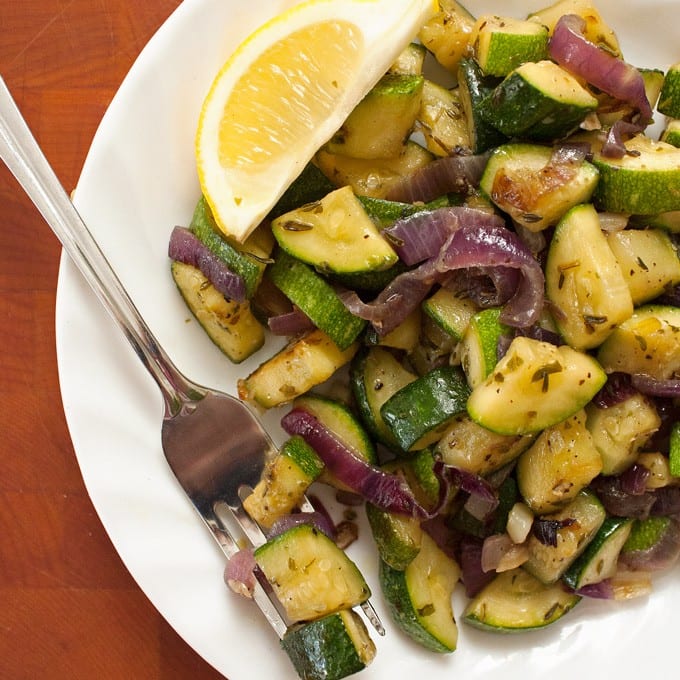 ---
Farm fresh zucchini sautéed until golden with red onion, garlic, herbs, and olive oil. A quick, easy, and delicious veggie side dish!
Ingredients
1

lb

zucchini

chopped into bite sized pieces

3

cloves

of garlic

minced

1

teaspoon

dried Herbes de Provence*
Instructions
Toss zucchini, onions, and garlic in oil, herbs, salt, and pepper.

Sauté on medium-high heat stirring occasionally until zucchini is golden, about 10 minutes.

Serve with lemon wedges and enjoy!
Recipe Notes
*Use 1 tablespoon if using fresh herbs
---
---
---