Mom's Apple Kuchen Apple Cake
October 25, 2013
10 Comments
My mom is hands-down the best baker I know.  She is constantly baking for pretty much every event imaginable.  I'm not just talking about family and friends here.  She bakes for church events, festivals, community centers, fundraisers, holiday events, parties for co-workers…She is baking over 200 cupcakes for a community center Halloween party next week.  And she'll probably decide to bring a couple batches of cookies too.  Seriously people.  She is quite the baker.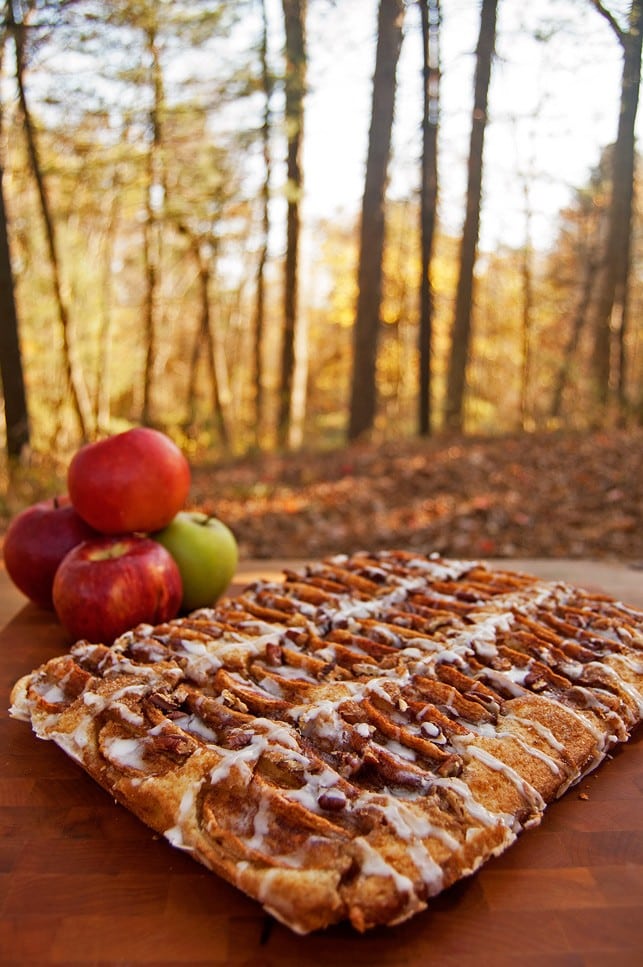 She came to visit me last week!  Hurray!  As usual, we ended up chatting about cooking and baking.  She just loves being in the kitchen creating wonderful food, and judging from the fact I'm writing a food blog you can probably tell it rubbed off on me.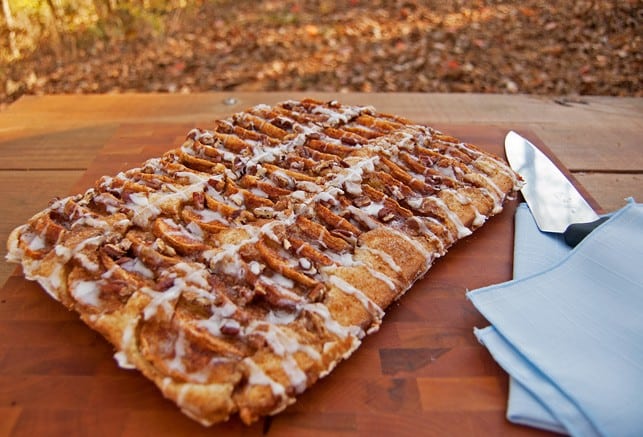 During her visit I was super excited about experimenting with the apples I picked at Easy Pickin's Orchard.  When she got home she sent me a recipe for her apple kuchen, a German apple cake.  When I looked at the recipe it certainly sounded delicious, but also seemed super basic – a white cake topped with apples, cinnamon and brown sugar. I wondered why she felt so strongly about this recipe for my apples.  But once I baked it I totally understood.  This is one of those oh my god, I can't eat enough pieces, this is absolutely amazing cakes!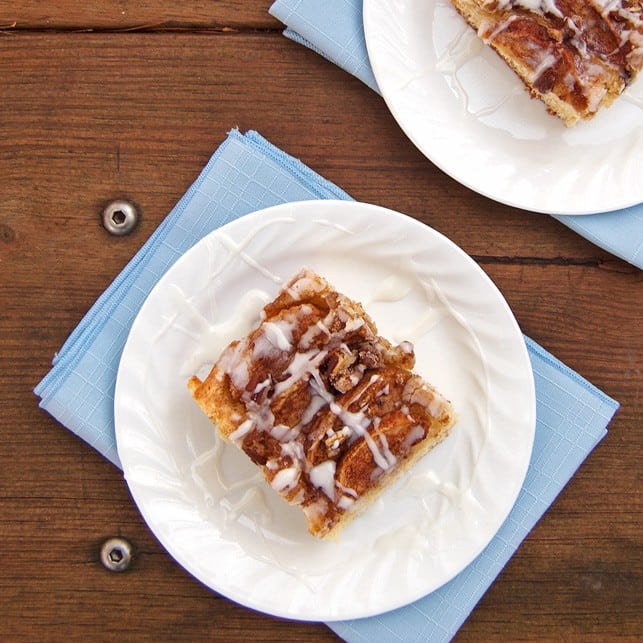 The cake is fluffy and light, the apples are slightly tart, and the sweet glaze brings it all together.  But the real star of this dessert is an amazing, apple-saturated layer of cake that forms right between the apples and the cake. It's just heavenly!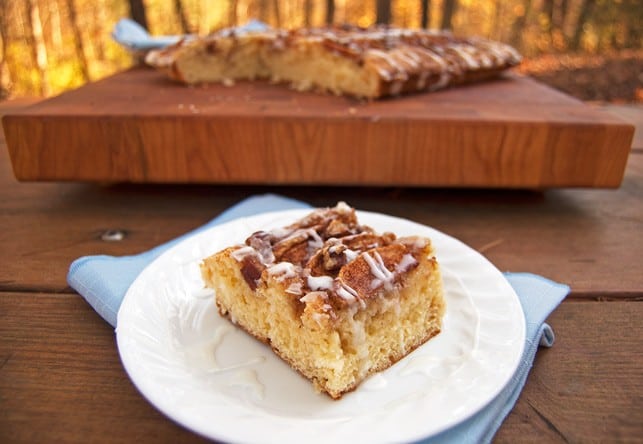 As a bonus this cake also keeps well and is delicious for breakfast the next morning.  Win-win really!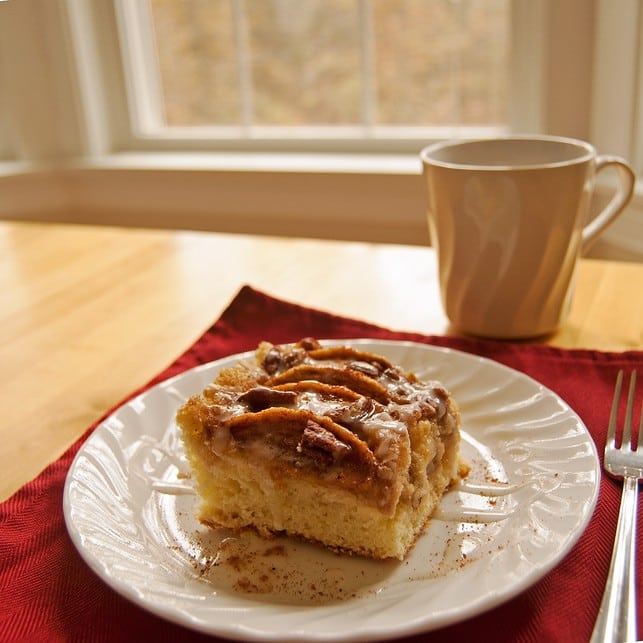 The level of deliciousness of this cake will pretty much blow your mind.  You've got to make it.  Thanks mom for this fantastic recipe!  I love you!
---
Mom's Apple Kuchen Apple Cake
A fluffy, sweet, super simple German apple cake - perfect for fresh picked apples!
Ingredients
1 1/2

Cups

Granulated Sugar

1

Cup

Margarine or Butter Softened

2

Teaspoons

Baking Powder

2 ½

Pound

Bag of Apples

about 10 Medium Apples Peeled and Sliced

3/4

Cup

Brown Sugar + 2 Tablespoons Brown Sugar

½

Cup

Chopped Nuts

optional

1

Cup

Confectionary Sugar and Dash of Milk or Premade Frosting
Instructions
Mix the first six ingredients in a large bowl. Press dough into a well greased (or lined with parchment paper) 13 X 9 X 2 jelly roll pan.

Mix the apples with about 1 teaspoon of lemon juice. Add 2 tablespoons of brown sugar and ½ teaspoon of cinnamon.

Lay the apples in rows on top of the dough. Press the apples into the dough.

In a small bowl combine ¾ cup brown sugar, 1/2 teaspoon cinnamon, ½ cup granulated sugar and chopped nuts for the topping. Set topping aside.

Bake in preheated 350 degree oven until cakes starts to expand, about 15 minutes.

Sprinkle topping evenly on the cake. Return cake to the oven and bake until lightly golden brown, about 15-20 minutes. Cool cake in pan on a cooling rack.

When completely cool drizzle cake with a sugar glaze. This can be made from confectioners sugar and milk or slightly melted frosting.
---
---
---