Homemade Tuna Noodle Casserole
November 19, 2013
8 Comments
Chris and I arrived in Minnesota at the beginning of November for a visit with his family. True to its Minnesota fame, it immediately started snowing.
In Connecticut, the winter sky likes to eject freezing rain more often than fluffly little snowflakes, so I did the usual Connecticut thing and put my windshield wipers up to keep them from freezing to the windshield. I guess no one does that here, at least not anyone in my husband's family.
"Your car give up already?" Chris' Dad teased when he got home from work, holding his hands in the air like mock windshield wipers and saying in a wimpy-esque voice, "No no I can't take it anymore".
"Nope" I said. "My car is tough. It's the boy-scout of cars. You know, Be prepared."
He laughed, and I left my windshield wipers up.
With the situation handled (the snow, not my father-in-law) I decided that the first thing to make in Minnesota just had to be a creamy, comforting casserole. Or hot dish. Whatever name you call it, it is delicious!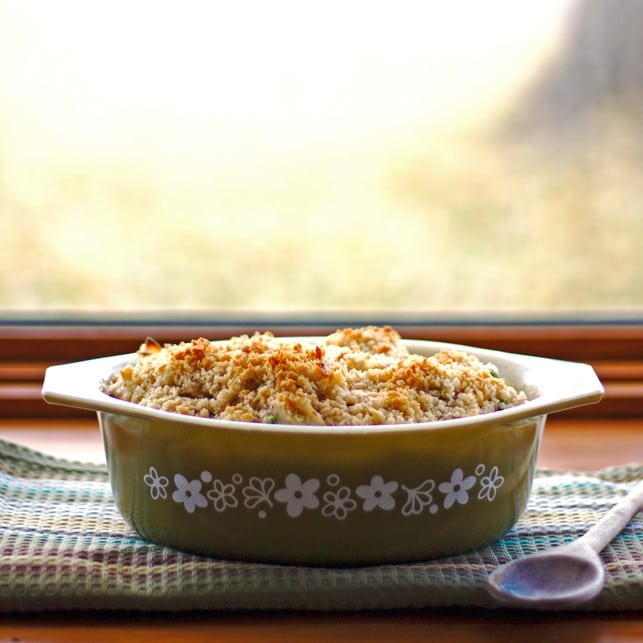 This yummy tuna noodle casserole was originally created by Pinch My Salt. Nicole adapted the traditional version she loved as a kid to better suit her adult taste buds.  Instead of using the canned cream of mushroom soup, this recipe uses simple ingredients that have a surprisingly fantastic effect in the casserole.  You can taste the individual flavors of each ingredient, while still getting that creamy, comforty, combined texture of the traditional version. Delicious!!!!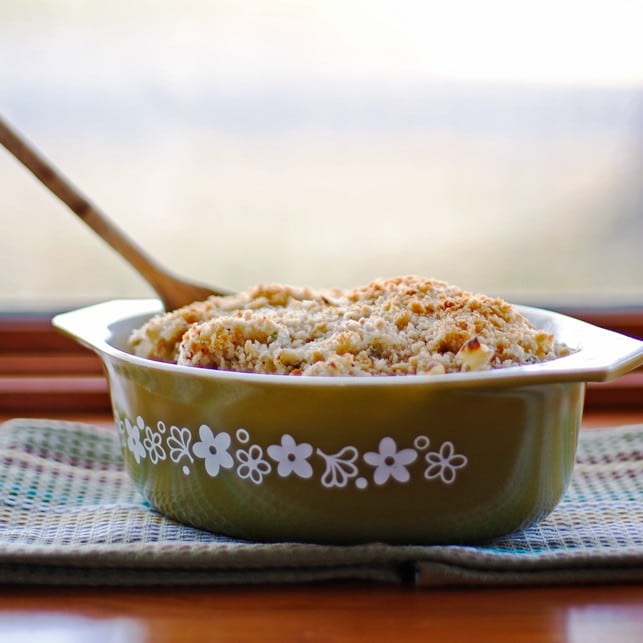 I used cremini mushrooms (aka baby bellas) for this casserole, which gave a great mushroomy flavor to the dish.  I know that white mushrooms and cremini are often used interchangeably in recipes, but have always had a preference for the slightly stronger tasting cremini.  I wondered what made these two mushroom types so similar yet still different enough to justify my preference.  So I investigated!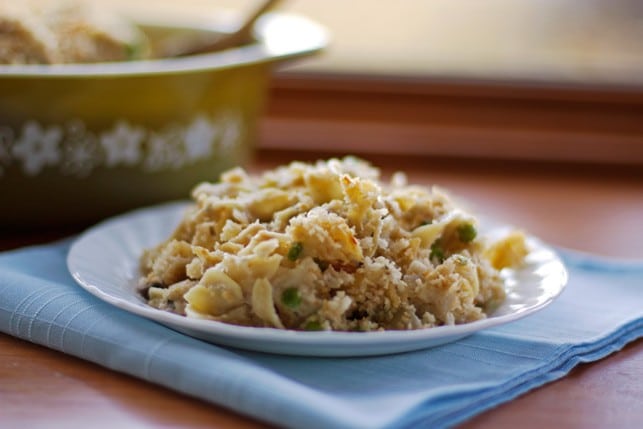 My effort paid off when I found out that white, cremini, and even portabella mushrooms are actually all the same type of mushroom! They are just grown to different ages. The white mushrooms are the youngest, while the portabella mushrooms are the oldest. This makes the cremini mushrooms the middle child and explains why they are also called "baby bellas", which is just short for "baby portabellas"!
Definitely make this yummy dish for yourself, or your in-laws.
Even Chris' Dad was impressed.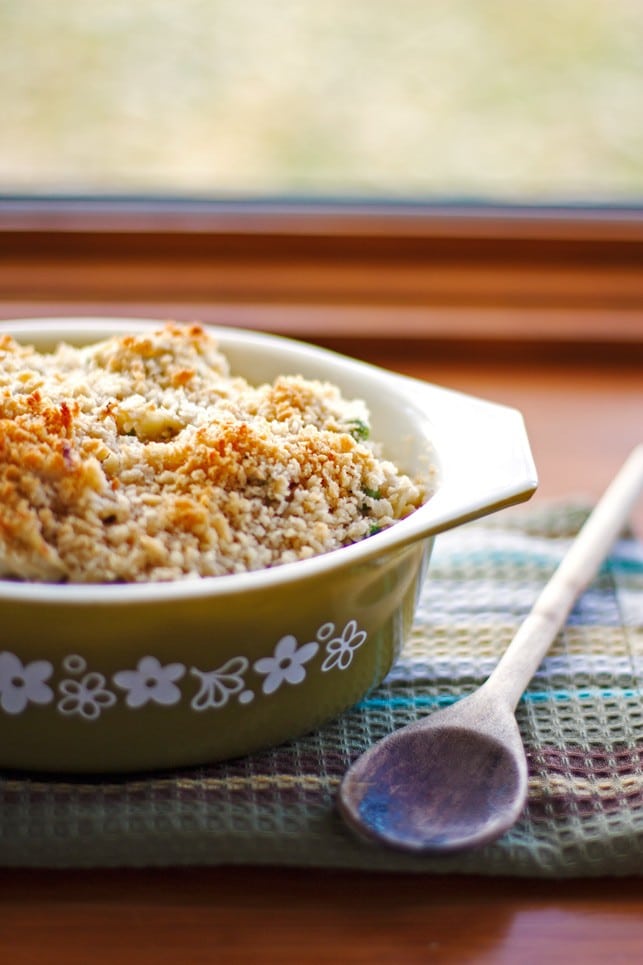 ---
Homemade Tuna Noodle Casserole
Homemade Tuna Noodle Casserole, made without canned soup. A delicious upgrade to the creamy, comforty, casserole you enjoyed as a kid!
Ingredients
CASSEROLE:
1

medium onion

finely chopped

8-10

* ounces cremini or white button mushrooms

finely chopped

1

stalk of celery

finely chopped

1

teaspoon

chopped fresh thyme or 1/2 teaspoon dried thyme

6

tablespoons

all-purpose flour

2 5

ounce

cans of tuna

drained and fluffed into small pieces

6

ounces

shredded cheddar cheese
TOPPING:
1 ½

cups

panko breadcrumbs
Instructions
Preheat oven to 375 degrees. Butter two 1 ½ quart baking dishes or one 13x9-inch baking dish.**

Cook noodles: Bring a large pot of salted water to a boil. Add egg noodles and cook until tender, about 5 minutes. Drain, rinse with cold water, and set aside.

Heat milk in microwave or on stove top until just warm then set aside.

Heat 4 tablespoons of butter in a large skillet over medium heat. Add onion, mushrooms, and celery with a generous amount of salt, and cook until all the water from the veggies has evaporated, about 15 minutes. Add thyme and cook stirring constantly until fragrant, just a few seconds. Add flour and cook stirring constantly for about 1 minute. At this point everything should be coated in flour and mixture may be very dry.

Slowly pour in milk, whisking until there are no clumps. Stir constantly until sauce thickens then turn off heat. Salt and pepper to taste.

Cook peas: Microwave peas until defrosted, about 2 minutes.

Toast breadcrumbs: Melt 3 tablespoons butter in a large skillet on low heat. Add breadcrumbs and stir slowly and constantly until toasted, 5-10 minutes.

Assemble casserole: Pour the sauce, peas, and tuna over the noodles and stir until everything is fully coated in sauce. Add cheese and stir until cheese is pretty equally distributed. Pour noodles into casserole dishes and top with breadcrumbs.

Cook and enjoy: Bake until casserole is fully heated and bubbly, about 20 minutes for half a batch or 30 for full batch. Let sit for 5-10 minutes before serving. Enjoy!
Recipe Notes
*I used an entire 10 ounce package of mushrooms, but I've seen some packages come in 8 ounces, which I'm sure would work great too.
**I used two 1 ½ quart baking dishes, baking one casserole that day for dinner then baking the second fresh the next day. If you'd like to bake the entire recipe in one dish it will fit into a 13x9-inch baking dish.
---
---
---