Blueberry Pancakes
September 13, 2017
No Comments
Fluffy, hearty blueberry pancakes covered in maple syrup – this recipe is the perfect way to start your morning!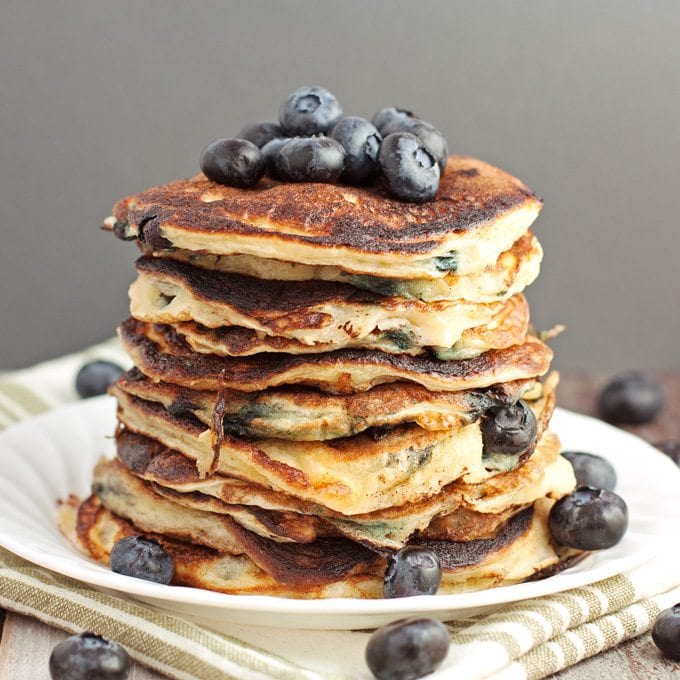 Tap any photo to Pin
I just came back from a wonderful week visiting my in-laws – sunny 70 degree days spent with family. As with all great gatherings, the company was only made better by the food we shared.
We spent the days grilling steaks, burgers, and brats, and finding delicious ways to eat the fresh tomatoes and carrots from the garden. At night we sat around a fire roasting marshmallows and making memories. I couldn't have asked for a better finale to our summer.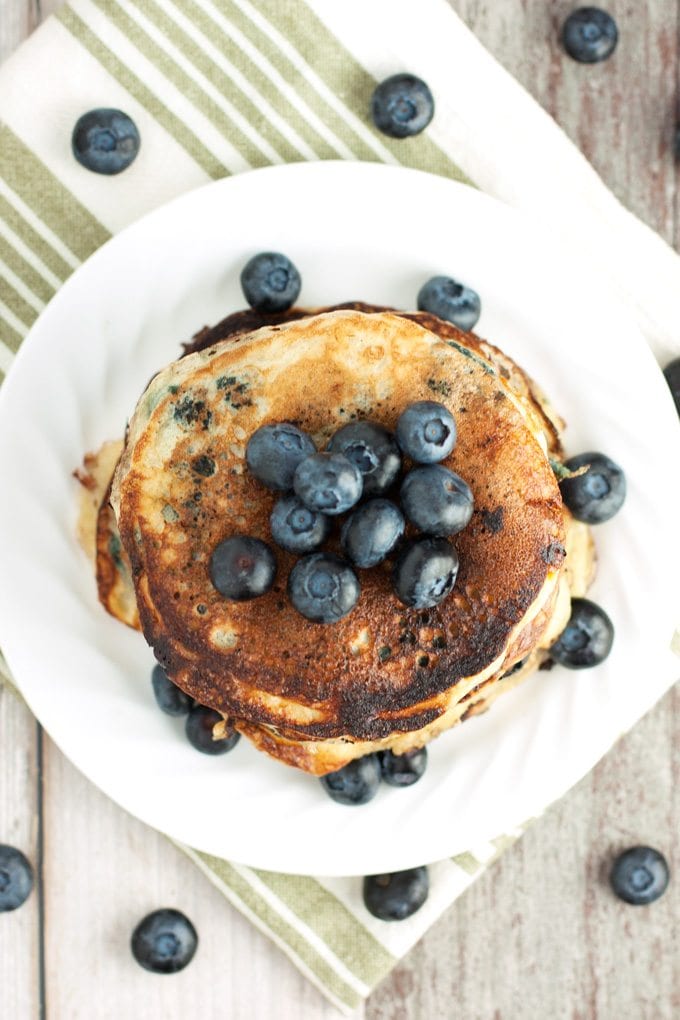 As fall begins, I find my mind (and tummy!) thinking about the wonderful flavors that accompany the season – apples, pumpkin, cinnamon, nutmeg, and of course maple! This pancake recipe is a perfect way to kick-off the season!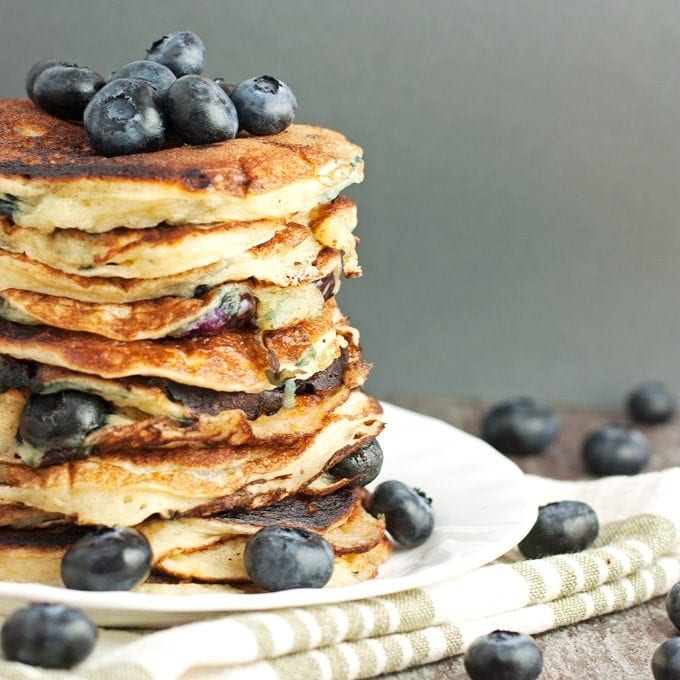 Being a bit of a maple syrup connoisseur, I highly recommend splurging for real maple syrup. I personally prefer grade B, but it is sometimes hard to find. Grade A, which is a little lighter in color and flavor, is also delicious. I recommend warming the syrup before serving. The warm syrup will soak into the pancakes and help keep them warm on the plate. A delicious win-win in my book!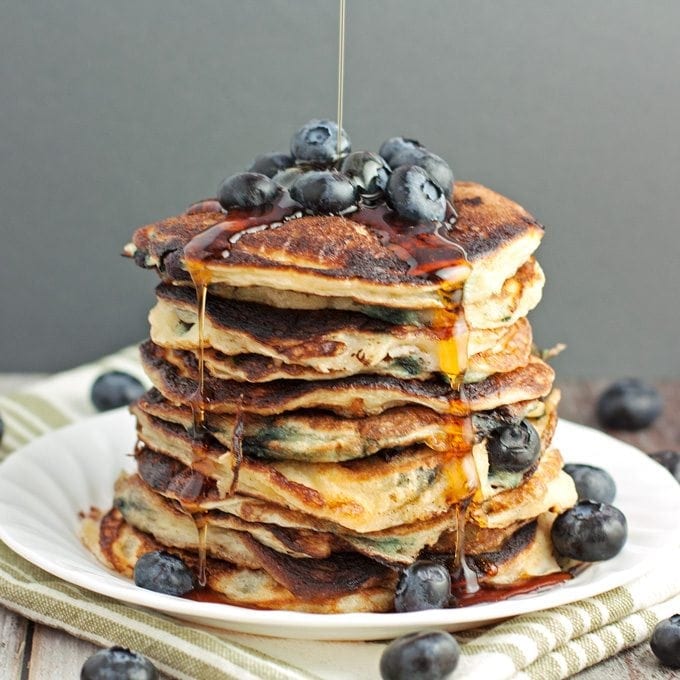 Once yogurt has been added to the dry ingredients, be careful not to over mix or your pancakes will lose the fluffy, airy texture provided by the yogurt.
My cast iron skillet blackened the pancakes a little. To get lighter looking pancakes, use a nonstick skillet. Just make sure to still use plenty of butter to give them a crispy texture and that delicious butter flavor 🙂
Love maple syrup as much as me? Read about my adventures at a Maple Syrup Farm.
No yogurt or sour cream on hand? Check out my buttermilk pancake recipe. (Spoiler: you don't even need to have buttermilk in the fridge!)
Buttermilk Pancakes with Bourbon-Maple Syrup
Feeling a little zesty? Try out these Lemon Pancakes from The Pioneer Woman.

---
Fluffy, hearty blueberry pancakes covered in maple syrup.
Ingredients
1

teaspoon

vanilla extract

2

cups

nonfat plain greek yogurt or sour cream

1

cup

of blueberries + extra for topping the pancakes

Butter for the pan and for serving
Instructions
In a small bowl whisk together eggs and vanilla, set aside.

Whisk together flour, sugar, baking soda, and salt in a large bowl. Gently stir yogurt into flour mixture, until just combined. Gently whisk egg-vanilla mixture into flour mixture, being careful not to over mix.

Heat griddle or skillet on medium-low, using plenty of butter to coat the griddle. Test if the griddle is hot by sprinkling a few drops of water onto the surface. If the drops sizzle, the griddle is hot enough.

Once griddle is hot and the butter is melted, scoop a little less than ¼ cup batter onto the griddle. Add more scoops, leaving about 2 inches between each pancake. Immediately sprinkle pancake with blueberries so they are evenly distributed throughout the pancake.*

Cook pancakes until the batter starts to bubble and edges firm up, about 3 minutes. Gently flip and cook until other side is also golden brown, about 2 minutes. Repeat until all your batter is cooked into pancakes.

You can keep your pancakes warm on an oven-proof dish in a low temperature oven.
Recipe Notes
* Sprinkling the blueberries onto each pancake directly ensures more equal distribution of blueberries. If you prefer, you can instead gently fold the blueberries directly into the batter at the end of step 2.
---
---
---