Meatballs
September 18, 2016
3 Comments
Hearty, meaty, tomato-y, cheesy, awesome, classic – Meatballs covered in homemade tomato sauce and smothered with melted cheese.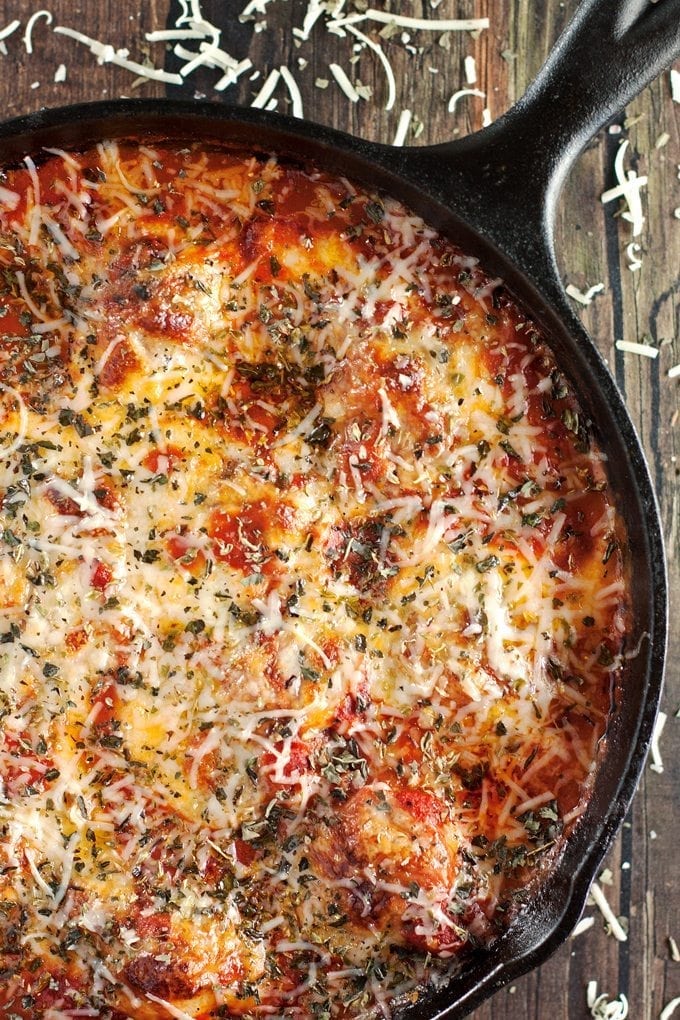 Tap any photo to Pin
Hearty, meaty, tomato-y, cheesy, awesome, classic – Meatballs covered in homemade tomato sauce and smothered with melted cheese 🙂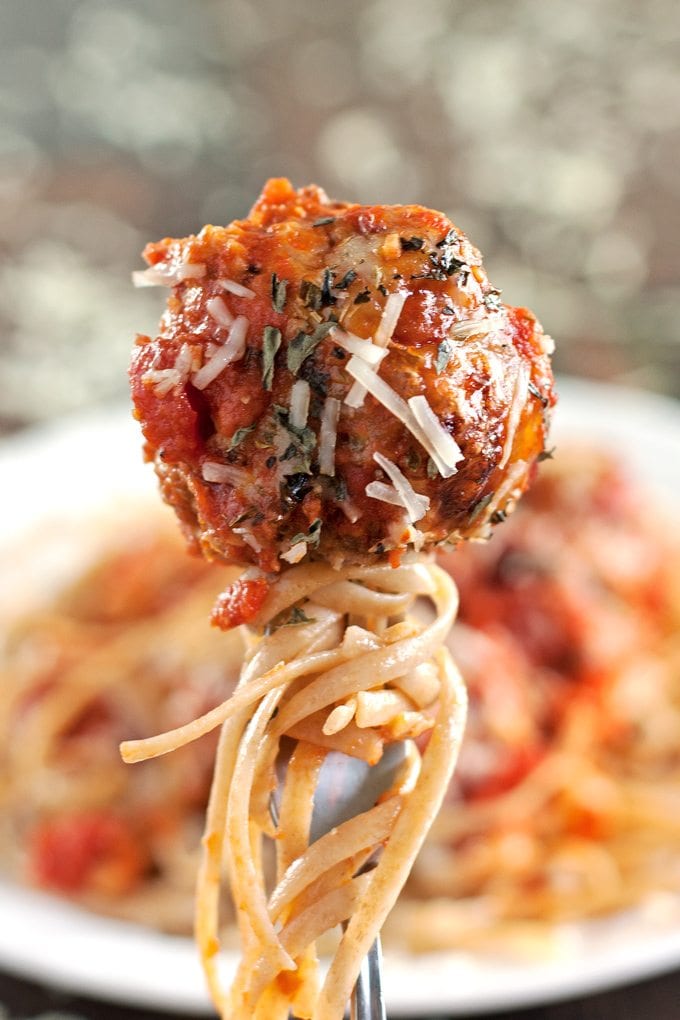 We finally dropped below the mid 90s in DC! It's definitely not cold yet (although my Minnesota relatives have been getting frost on their car windows already), but I'm so excited for anything that resembles colder weather that I celebrated by making a mountain of meatballs. That's how everyone celebrates, right?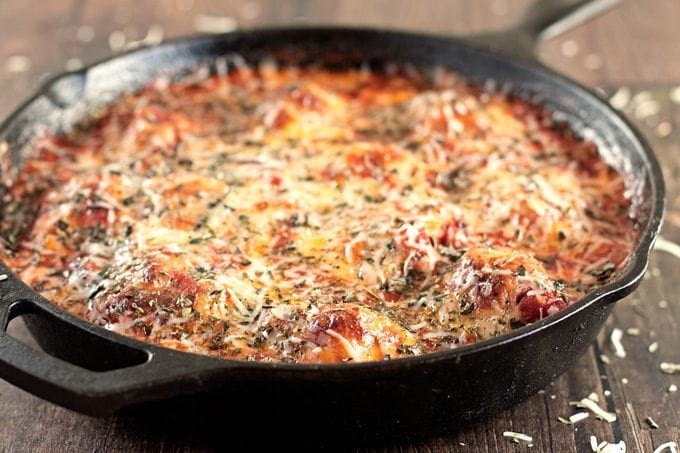 These meatballs are comforting, beefy and cheesy! Speaking of cheese, is there ever enough cheese? With three different cheeses, these meatballs do their best to find out. I like the creamy texture of fresh mozzarella combined with a little flavor kick from a cheese like gruyere or muenster. Feel free to substitute any melting cheeses – look to your favorite pizza for inspiration! For the third and final cheese, I topped the finished dish with grated parmesan, but any hard and salty cheese would work.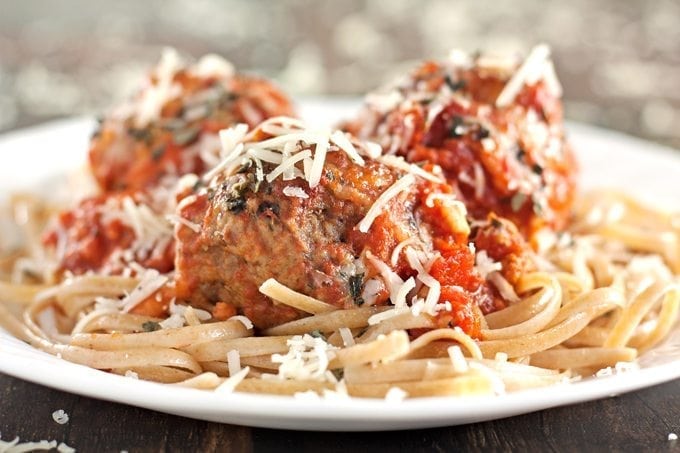 The ground beef and cheese are of course married together with a delicious tomato sauces. I like to use the canned tomatoes, unsalted, as a base to make my own sauce. Mostly because this way I can add just as little much salt as I like. Don't hesitate to make this recipe a little easier by pouring in a reasonable-looking amount (probably about one 24 ounce jar) of your favorite off the shelf pasta sauce.
Enjoy!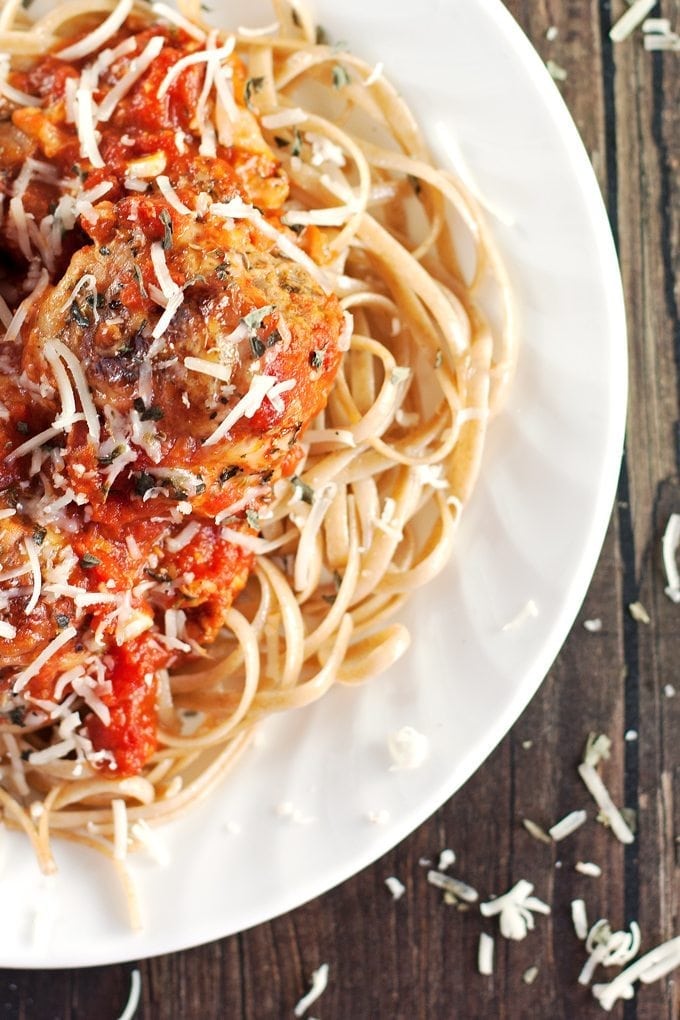 ---
Hearty meatballs topped with homemade tomato sauce and smothered in melted cheese.
Ingredients
Meatballs
2

teaspoons

Worcestershire sauce

2

teaspoons

dried oregano*
Sauce**
28

ounce

can of crushed tomatoes

4

cloves

of garlic

minced
Toppings
4

ounces

by weight fresh mozzarella

thinly sliced

½

cup

2 ounces by weight shredded provolone, gruyere, or muenster
Optional (but recommended) Add-ons
parmesan cheese

grated or shredded

fresh or dried oregano

basil, and/or thyme
Instructions
Preheat oven to 450 degrees

Grease a 9x13 baking dish or a cast iron skillet 10 or 12 inches in diameter

Mix breadcrumbs and milk in a large bowl. Let sit for 5 minutes.

Crumble ground beef over milk and bread crumbs. Add egg, Worcestershire sauce, and spices. Mix ingredients together with hands. Form into ~12 meatballs (~2 tablespoons each) and arrange on the prepared baking dish. Bake until the meatballs are crisp on the outside, about 20 minutes. The inside will not be fully cooked yet.

In a medium bowl make sauce by combining tomatoes, garlic, olive oil, and salt and pepper. Once meatballs are browned (end of previous step) pour sauce over meatballs, cover dish with aluminum foil and continue baking until meatballs are fully cooked, about 25 minutes.

Remove foil and add the cheese, evenly distributing over the entire pan. Bake until cheese is melted and golden brown, about 15 minutes.

Serve over cooked spaghetti, top with herbs and parmesan cheese, and enjoy!
Recipe Notes
*You can substitute 2 tablespoons of Italian seasoning instead of oregano, basil, and thyme. Fresh oregano, basil, and thyme can also be used, just increase amount to ¼ cup chopped each.
**24 ounce jar of your favorite pasta sauce can be substituted for the homemade sauce
---
SaveSaveSaveSave
---
---