Lemon Garlic Green Beans with Toasted Pine Nuts
May 12, 2014
6 Comments
Happy Day After Mother's Day! I hope everyone had a lovely day with family, friends, and hopefully some great food!
This green bean recipe is definitely one of my "It's dinner time and I haven't thought about what to make yet" vegetables. Chris and I often pair it with crispy gnocchi or pizza but for me it works with anything carb-y or anything heavy or anything you like really 🙂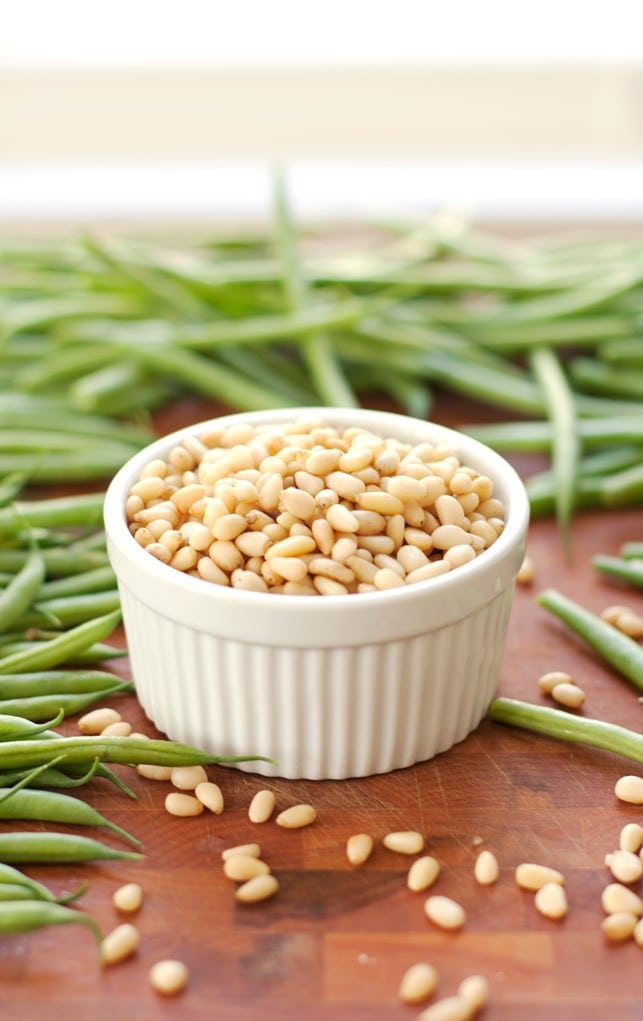 At one time in his life, I had a friend who did not like to eat anything green.
I didn't understand how this could be possible, so I made him these green beans, and now?
You guessed it — green beans for the win!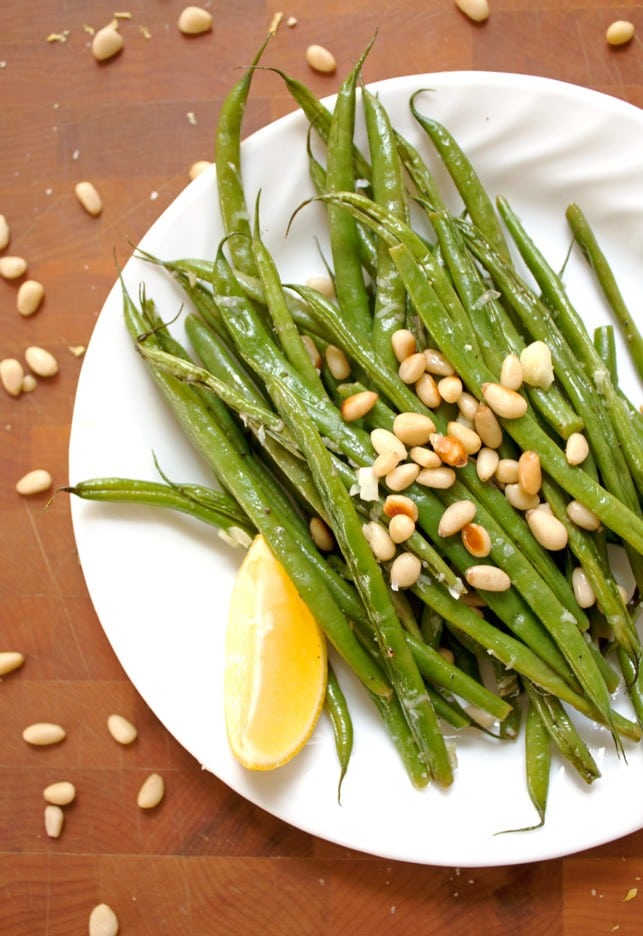 Green bean season is just beginning and the green beans are fresh and snappy. I love getting them at the local farmers market. . . sometimes I even get to try one right there 🙂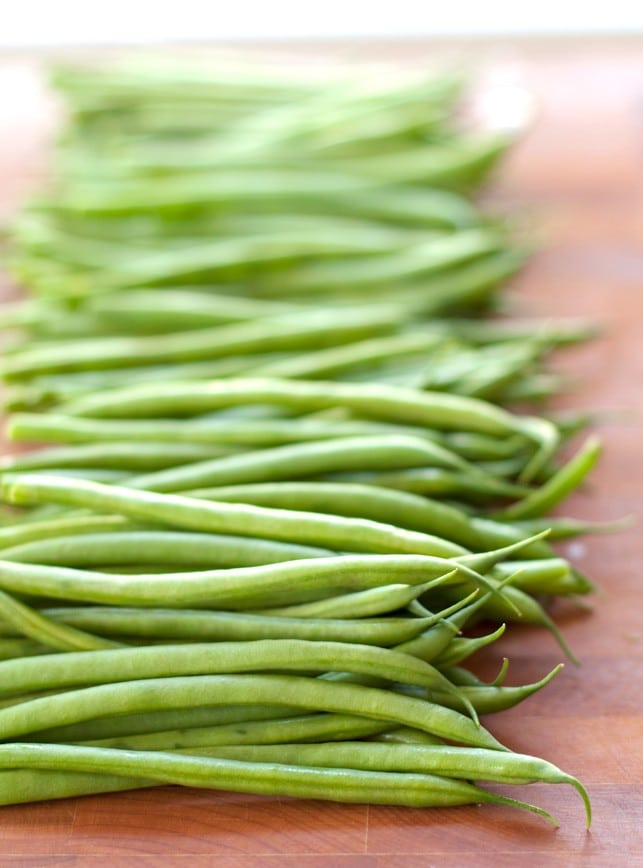 Fresh beans from the grocery store are delicious too. My favorites are the haricot verts (French for "green bean", crazy right?) They are cute and delicious — never stringy. They're especially great if you cut the tips off. I've been getting mine at Trader Joe's for years, but I've been starting to see them at other grocery stores too. Whatever you decide, I highly recommend fresh green beans over frozen or canned. You'll taste the difference. Trust me.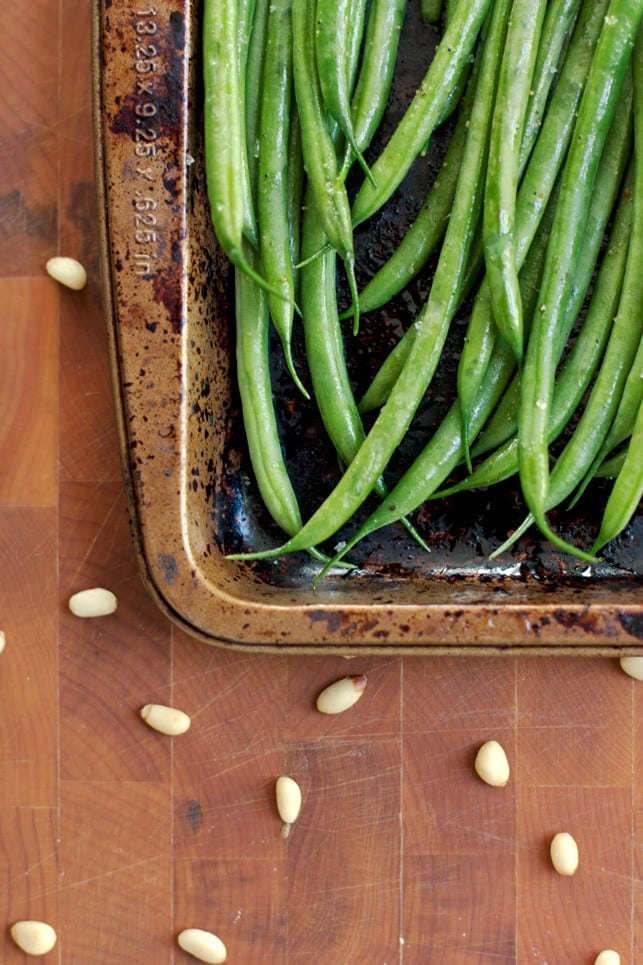 I top these green beans with toasted pine nuts, sautéed garlic, and bright tangy lemon juice. The pine nuts really give this dish a creamy, slightly crunchy texture, while the garlic and lemon adds a tangy burst of flavor.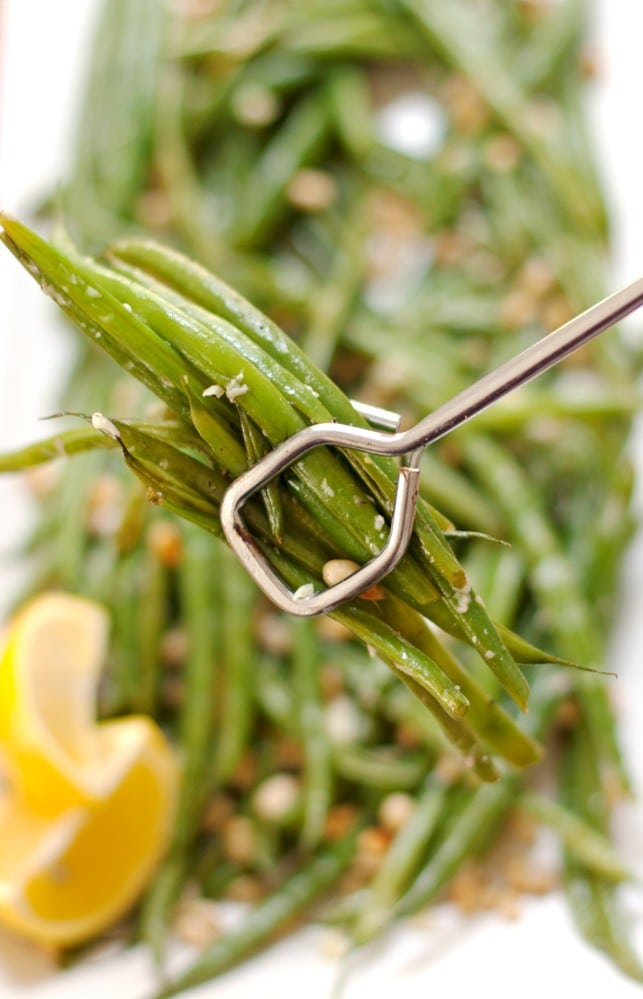 I often finish the green beans with a quick sprinkle of shredded parmesan or other hard cheese. (If you shop at Trader Joe's, you have to try the Syrah soaked toscano – it grates like a parmesan, but is a little softer and has a deliciously salty, rich flavor. This is not a sponsored post but oh my god it's an amazing cheese 🙂 ).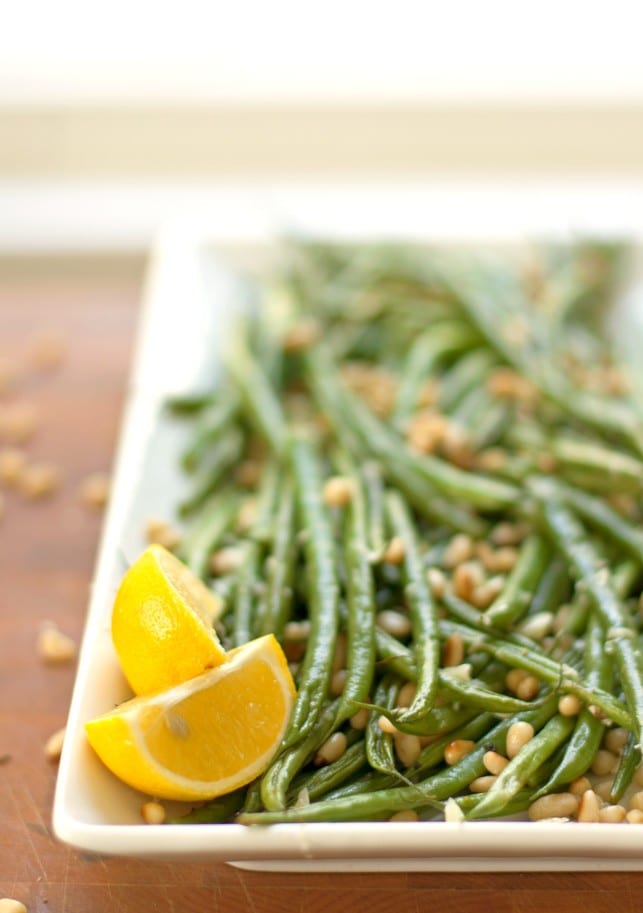 ---
Lemon Garlic Green Beans with Toasted Pine Nuts
Green beans with toasted pine nuts, sautéed garlic, and bright tangy lemon juice
Ingredients
1

lb

16 ounces green beans

3

cloves

of garlic

minced
Instructions
Preheat oven to 375 degrees F

Toss green beans with olive oil, salt and pepper. Arrange in a single layer on a baking sheet and cover with aluminum foil. Bake until tender, about 15-20 minutes.

While the green beans are baking, sauté garlic in a non-stick or slightly greased skillet on low heat until soft and slightly brown, about 3 minutes. Set aside. In the same skillet turn the heat up to medium and toast pine nuts until slightly brown, about 2 minutes. Set aside.

When green beans are done toss with lemon juice, and top with garlic, pinenuts and optional cheese. Serve immediately.
---
---
---