Roasted Brussels Sprouts with Maple Pancetta Bacon Glaze
December 19, 2013
No Comments
The upside of spending a week in San Francisco for work is that a weekend trip to Napa is pretty much required. Chris and I had 2 solid packed days of farm-to-table dinners and vineyard-to-glass wine tastings, including one in an Authentic Tuscan Castle!
Our two amazing farm-to-table dinners were at The Conservatory at Greystone, a fantastic student chef restaurant that's part of the Culinary Institute of America, and  JoLe, a husband-wife owned restaurant in Calistoga.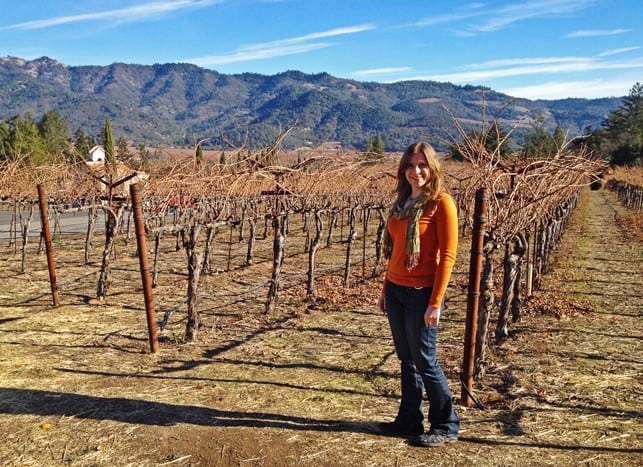 I love the fresh produce California has this late in the year. At The Conservatory our six course tasting menu ended with a frozen lemon soufflé made from same-day, chef hand-picked meyer lemons from the restaurant's farm right across the street. I just have to say that again – the meyer lemons were hand-picked by the chefs from their farm across the street! Woohoo! The soufflé was creamy, tart, and perfect 🙂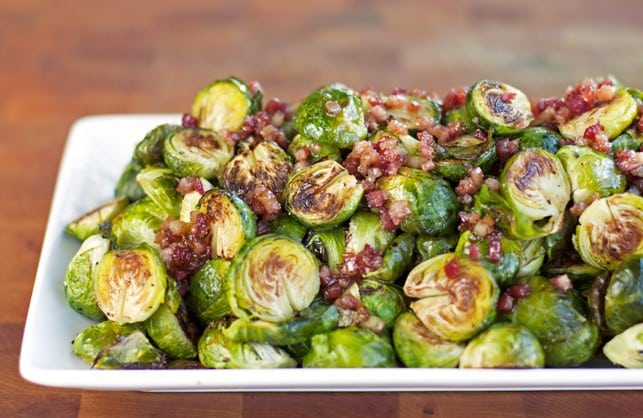 Brussels sprouts are still in season in Napa Valley, picked fresh from the farm and brought straight to my plate. They are delicious and, although I eat them year round, I love it when I find them fresh on their stalk!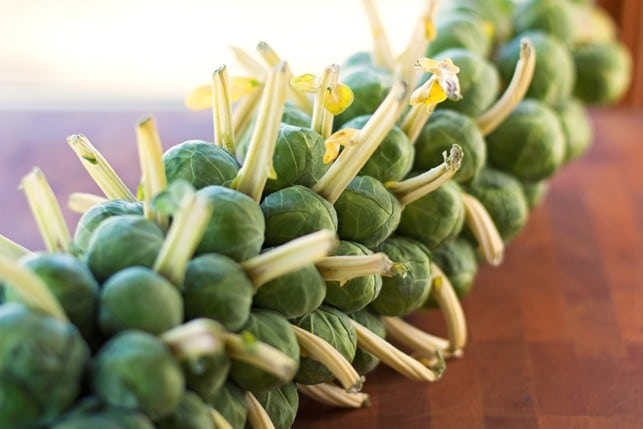 Aren't they cool?
I know what you may be thinking. Brussels sprouts? Those horrible sulfur-tasting vegetables my mom tried to make me eat? Seriously?  To which my answer is a resounding YES! Brussels sprouts really are delicious! That horrible sulfuric taste only happens when they get overcooked. I want to proclaim it from rooftops! If you cook them right they will have a delicious nutty flavor that you'll want to proclaim your love for too 🙂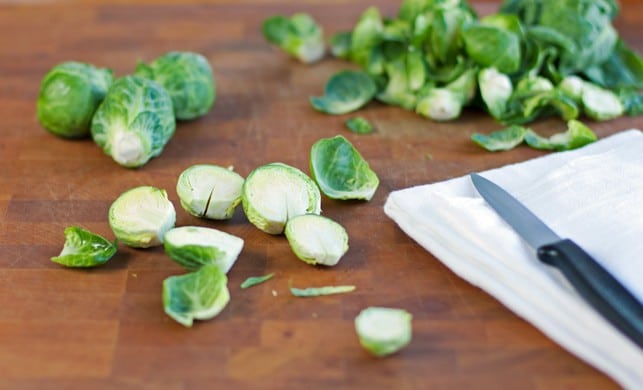 My go-to method for cooking Brussel sprouts is to roast them in a 425 degree oven. I prep them by cutting them in half lengthwise, scoring the inside of the stem, and removing any super coarse/loose outer leaves. I then toss them in olive oil, salt and pepper and cook them for 20 minutes in that 425 degree oven. I usually can't stop myself from eating them straight out of the oven, but sometimes I muster enough restraint to toss them with fun ingredients that accent their nutty flavor.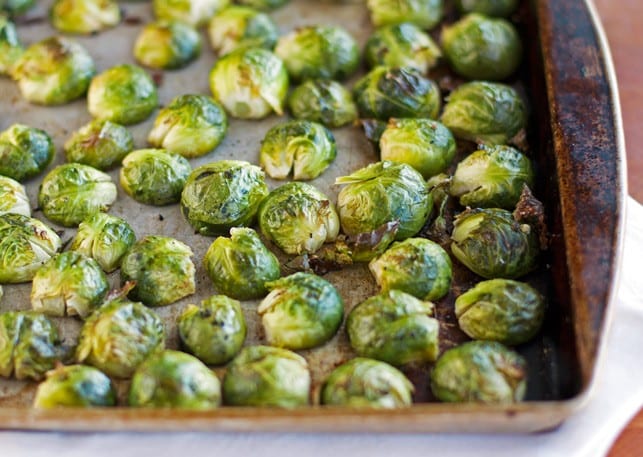 Today, I topped them with a rich maple-pancetta glaze. Sweet maple and the salty pancetta plus the nutty, hearty flavor of the Brussels sprouts. Oh yes!
Pancetta is Italian bacon and the basis for delicious creamy carbonara sauce. If you can't find pancetta, slab bacon or even bacon strips cut up will work too. Just remember that if your bacon has flavors added to it you'll taste it in the final product. I think a nice apple hickory smoked bacon taste could be quite yummy 🙂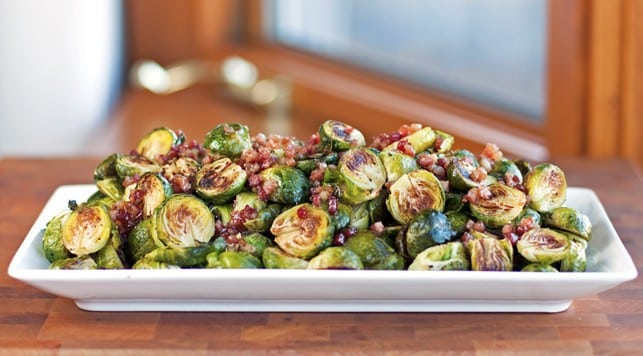 ---
Roasted Brussels Sprouts with Maple Pancetta Bacon Glaze
Roasted Brussels sprouts covered in sweet maple syrup and salty pancetta or bacon!
Ingredients
2

ounces

pancetta or center cut bacon

2

tablespoons

real maple syrup

preferably grade B

¼

cup

white or red wine vinegar**
Instructions
Brussels Sprouts: Preheat oven to 425 degrees. Prepare Brussels sprouts by cutting lengthwise, scoring stem, and pulling off any super coarse outer leaves. Toss sprouts in olive oil and sprinkle with salt and pepper. Arrange sprouts cut side down on baking sheet or roasting pan. Roast sprouts in oven until fully cooked and browned, about 20 minutes.

Glaze: Dice pancetta into small pieces. Sauté pancetta in a skillet, stirring frequently until fully cooked, about 5 minutes. Add maple syrup and vinegar and let simmer stirring often until reduced by half, about 2-5 minutes.

Pour glaze over roasted Brussels sprouts and enjoy!
Recipe Notes
*I used 1 stalk of Brussels sprouts which was about 3 lbs after trimming
**balsamic vinegar can be substituted just use it sparingly to taste, probably about 1-2 tablespoons
---
---
---