Spoon-tender beef barley soup — like your grandma used to make. 🙂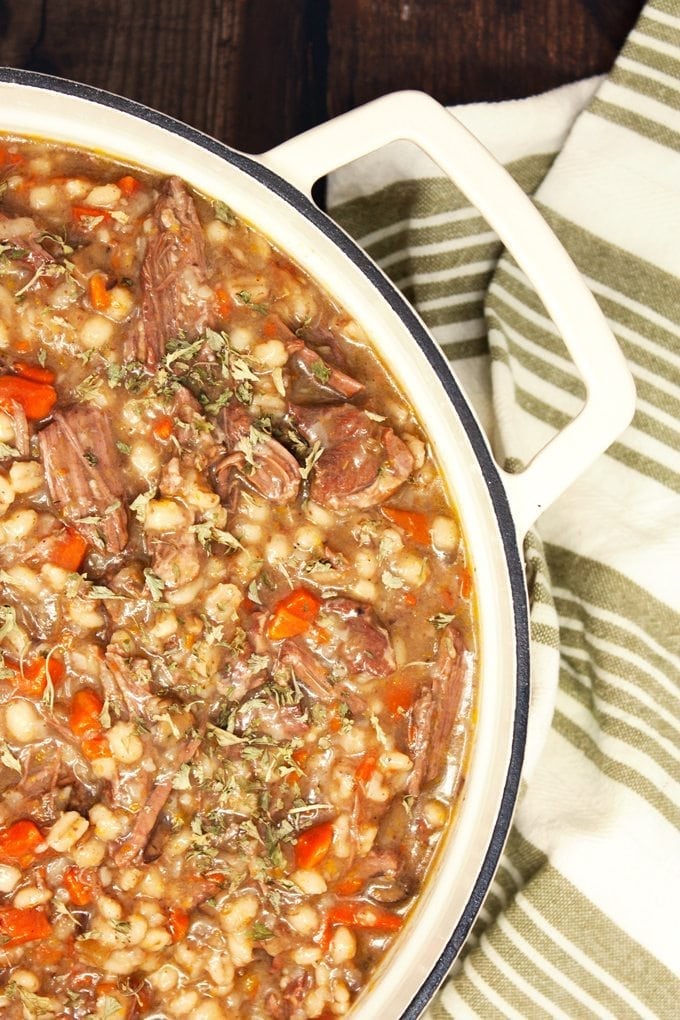 Click here to Pin this recipe
This was my favorite soup growing up. My Nana (my mom's mom)  used to make a rendition of this soup when we would visit her for Sunday dinner. This soup was (at my request) always the appetizer. Years later, my  mom made a slightly modified version for us. The version below is my own modifications of my mom's version — I added the mushrooms and shredded potatoes.
I think the part of this soup I love the most is the barley. It has such a great texture that's so different than the usual noodle textures found in most soups. It can be bit hard to find — be sure to check the bulk section of your grocery store. People have been eating barley for over 10,000 years; lets keep that tradition going 🙂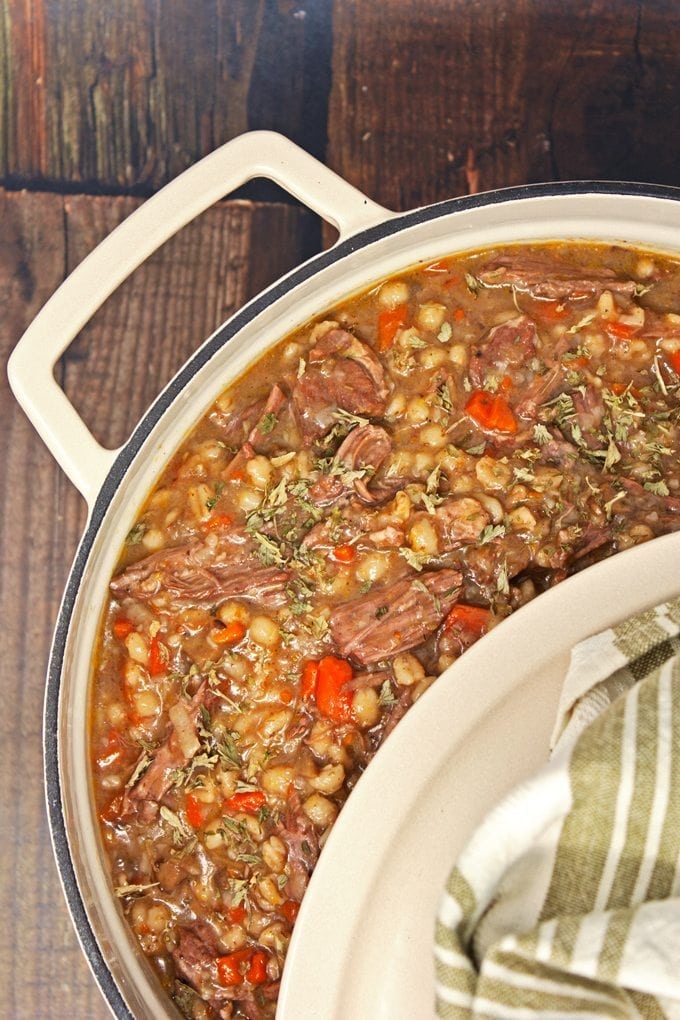 And the beef is so tender! I was able to find a chuck roast (on sale, even!) already cut into chunks for this recipe. I wanted to the make the chunks a bit more bite-size, so once they were cooked and tender, I pulled the big chunks out of the soup and shredded them by hand. You also might be able to shred them in the pot using a fork — if you try that method let me know how it goes!
Although I live too far from my mom to continue the Sunday dinner tradition, I continue making this soup for my family. The version of the recipe below has been distilled through three generations — enjoy!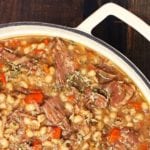 Beef Barley Soup
Spoon-tender beef barley soup -- like your grandma used to make.
Ingredients
1.5-2

lb

beef chuck roast cut into chunks

or stew beef

salt & pepper

4

tablespoons

oil

divided

1

cup

diced celery

1

cup

diced onion

2

cups

diced carrots

~1 lb

2

cups

diced mushrooms

8-10 oz by weight

10

cups

beef broth*

2

large potatoes

diced or shredded (~1/2 lb)

1

cup

barley
Instructions
Salt and pepper beef on all sides

Heat 2 tablespoons oil on med-high heat in soup pot or dutch oven.

Sear meat on all sides. Remove from pot and set aside.

Add remaining 2 tablespoons oil to pot.

Add celery, onion, carrots, mushrooms and cook until golden brown and soft, stirring occasionally, about 10-15 minutes.

Add meat and broth to pot, bring to boil, and simmer on low covered, until beef is fork tender, about 2 hours.

Shred beef into bite-size pieces. I prefer to remove the beef and shred it on a plate. Return beef to pot.

Add potatoes to pot and continue simmering, covered, until potatoes are tender, about 30 minutes.

Add barley to pot and simmer, covered, until barley is cooked, about 45 minutes.

Enjoy 🙂
Recipe Notes
*I used 10 cups water and 4 tablespoons Better then Bullion Beef Base
SaveSave
SaveSave
SaveSave
SaveSave