Salted Dark Chocolate Pecan Cookies
June 7, 2015
2 Comments
Okay, so this cookie is soooo good.
Let me break it down for you:
my favorite chocolate (dark)
+ my favorite nuts (buttery pecans)
+ a crack of salt
= the best cookie ever.
Wait a second. A crack of salt!!??
Yes friends, a crack of salt.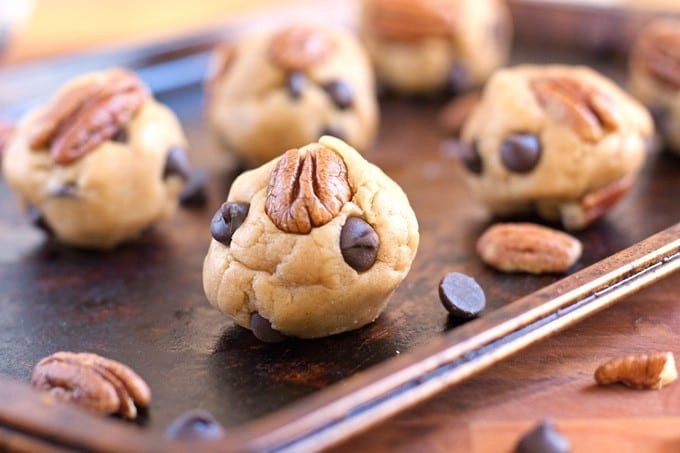 Now, you may be one of the many "sweet foods should not be salted" skeptics I've met out there. I have converted many of you to the dark & salted side already.
If you don't think this is your thing, you really need to try it. But let me try to explain: The salt doesn't make the cookie salty. Instead, it enhances the other flavors of the cookie. It cuts down a little on the sweetness and makes the entire cookie taste richer and buttery-er. Now doesn't that sound yummy?
But you don't have to take my word for it. Trust your taste buds!
If you are still steadfast against the salt, its okay, I'll let you skip that step.
OR! Better idea! Salt half and do a taste-test! That way, if you really truly honestly, no fingers crossed, don't like it, you still have super yummy, unsalted cookies to eat. Everybody wins!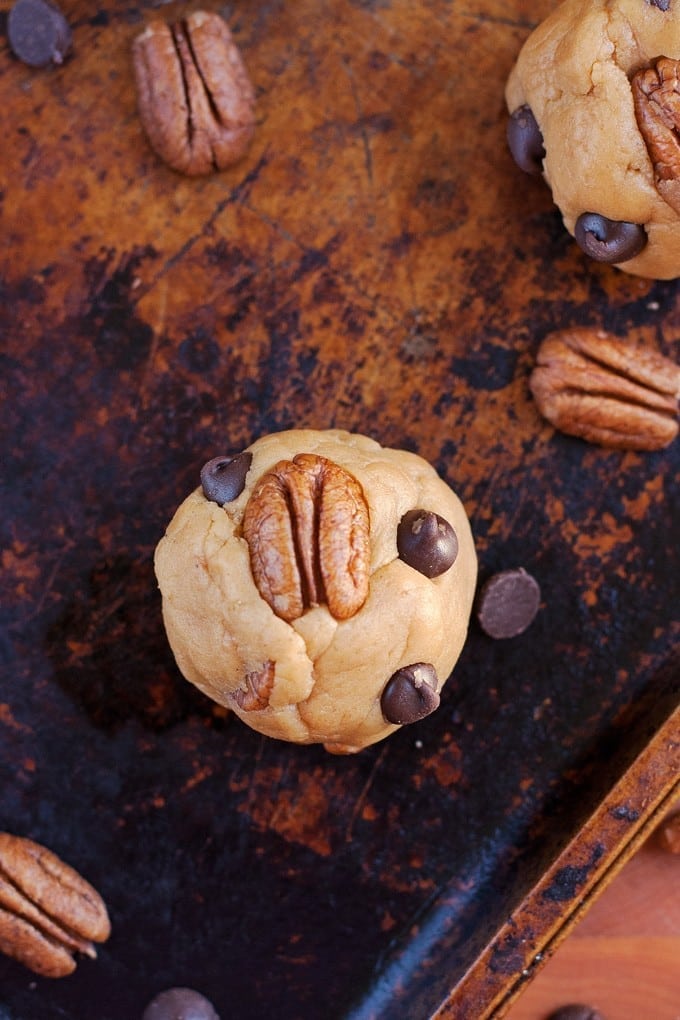 One quick tip for this recipe: Instead of measuring the flour and sugar using measuring cups, use a food scale and weigh them. I did a quick test and weighed the flour I would have used with the measuring cups and found that I would be adding 33% more flour to the recipe than if I weighed it. 33% more!!!! That is a lot of flour.
Because less flour = chewier cookies = more yum!
Your measuring cups might be better than mine, but for the best cookies I recommend weighing both the flour and sugar.
Don't risk the cookie – weigh your flour and sugar!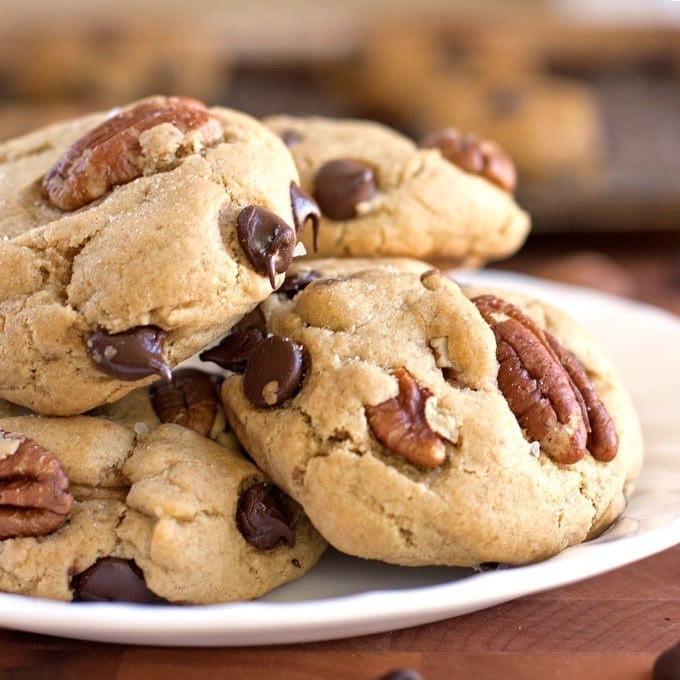 ---
Salted Dark Chocolate Pecan Cookies
Chewy cookies packed with rich dark chocolate and buttery pecans, and topped with a crack of sea salt
Servings
12
-16 large cookies
Ingredients
3/4

cup

unsalted butter melted

1 1/2 sticks

½

cup

dark chocolate chips
Instructions
In a large bowl combine flour, baking soda, cornstarch, and salt. Set aside.

Melt butter and place in a medium bowl. Whisk in white and brown sugar until completely dissolved. Whisk in egg and egg yolk. Stir in vanilla.

Pour butter-sugar-egg mixture over flour mixture, and gently stir until dough forms. Fold in pecans and chocolate chips. Refrigerate dough for at least 30 minutes.

Preheat oven to 325 degrees F.

Using your hands, roll dough into ¼ cup dough balls. Arrange on cookie sheet 4 inches apart. Bake until just set, about 15 minutes. Sprinkle with sea salt and let cool on cookie sheet for 5 minutes, then cool completely on a wire rack.
---
SaveSaveSaveSave
---
---