Salted Caramel Chocolate Cupcakes
October 13, 2017
No Comments
Salted Caramel Chocolate Cupcakes: Salted caramel frosting makes these chocolate cupcakes taste even richer!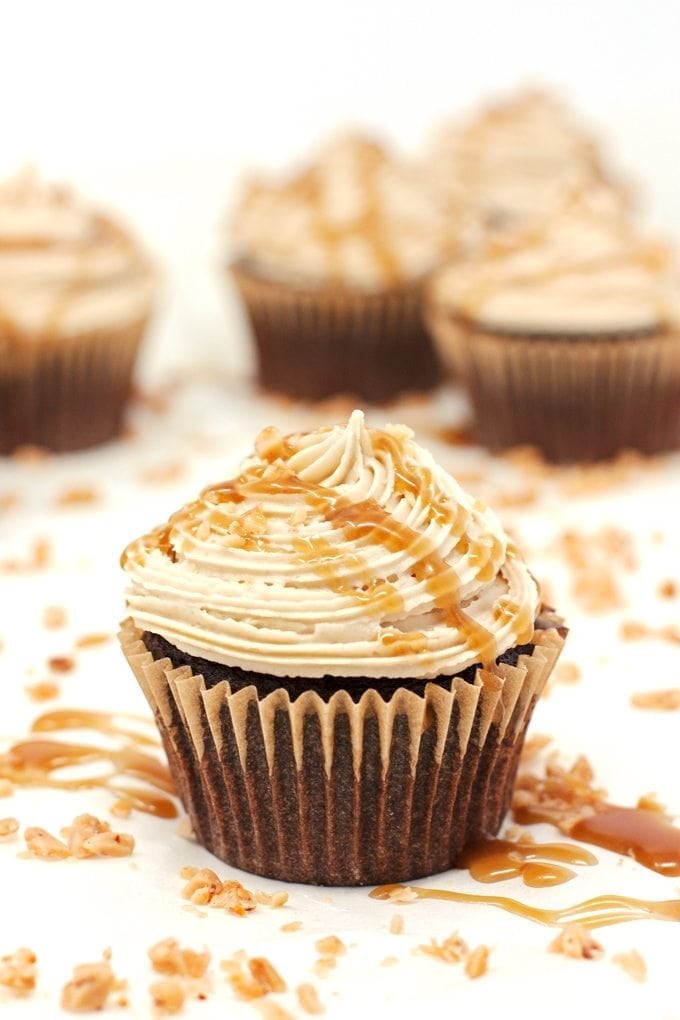 Tap any photo to Pin
As you might have noticed, I'm a big fan of salted caramel. Rather than make the caramel salty, the salt adds a richness that makes these cupcakes taste better, more complete somehow. And its awesome on chocolate cupcakes!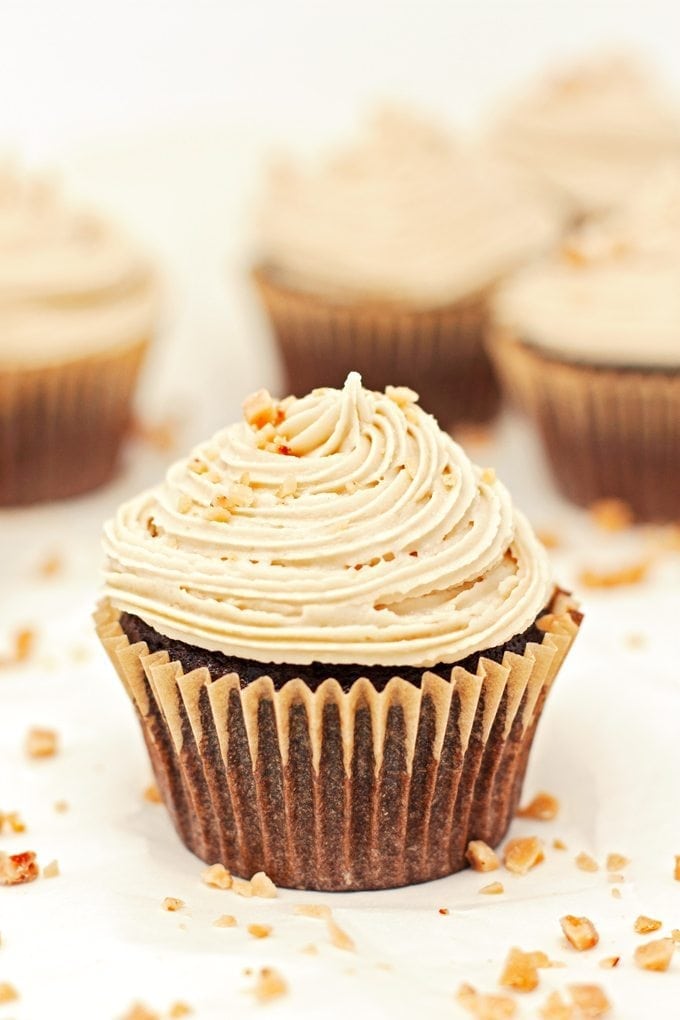 For this recipe I decided to mix the caramel sauce right in with the frosting. This way the salted caramel is infused in every bite (unless you eat all the frosting first, you rebel you). I also added some crushed toffee pieces for a bit of extra crunch, and just because they looked fun! (I just used some already-crushed Heath bar pieces I found in the grocery store, but you could make your own too). I found that I had enough leftover caramel sauce to drizzle over the top of the cupcakes.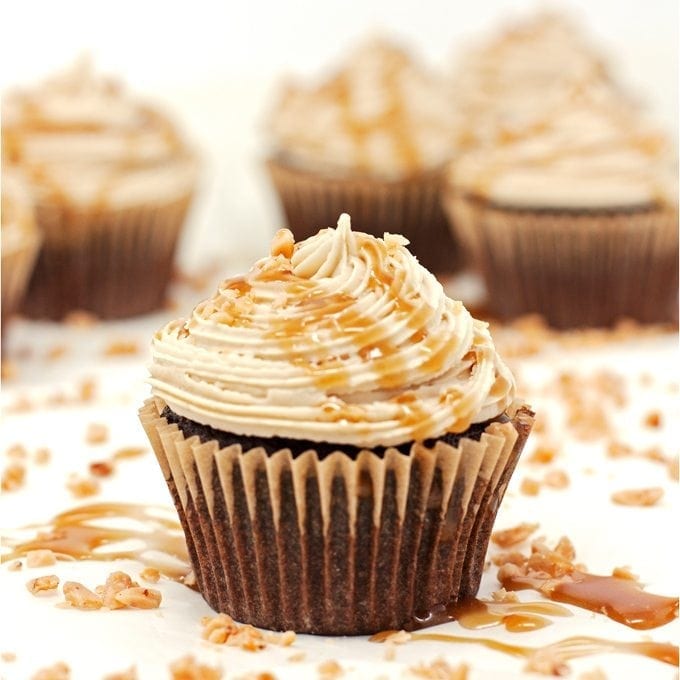 One thing to note when you are making these salted caramel chocolate cupcakes is that the cupcake batter will not fill the cupcake liners completely, that's okay! They should only be about 1/2 full, this way the batter will not spill out over the top like a muffin. You'll instead get nice rounded tops that look pretty when frosted.
Want more delicious cupcake photos? Check out my other recipes:

---
Salted Caramel Chocolate Cupcakes
Chocolately, salted caramel is very fall, very rich, and very delicious 🙂
Ingredients
Cupcakes (makes 12 cupcakes)
2

tablespoons

heaping cocoa

1/4

butter milk

or regular milk with a little white vinegar
Frosting
1

cup

caramel sauce

from above

3-3.5

cups

confectioners sugar

also called powdered sugar

3

tablespoons

heavy cream
Optional toppings
extra salted caramel sauce

crushed toffee pieces

I found precrushed Heath bars at the grocery store
Instructions
Cupcakes
Preheat oven to 350 degres. Line muffin tins with cupcake liners.

Combine flour, sugar, and salt in a large mixing bowl.

Melt butter in saucepan, add cocoa and stir together.

Add boiling water to saucepan, continue boiling for 30 seconds, then turn off heat.

Pour chocolate liquid over flour mixture and stir lightly to cool.

In a separate bowl, combine buttermilk, beaten eggs, baking soda, and vanilla. Pour this mixture into flour/chocolate mixture and stir until combined.

Pour batter into lined muffin tin (each cupcake mold should be about 1/2 full) and bake 18-20 minutes until toothpick comes out clean.

Cool completely on a wire rack, keeping them in the muffin tin for the first 5 minutes.


While cupcakes are cooling, make salted caramel sauce and frosting.

Frost cupcakes and add optional toppings.
Salted Caramel Sauce
Melt butter on med-low heat in saucepan.

Add brown sugar and cream into saucepan, whisking constantly until sugar complete dissolves, about 2-3 minutes.

Remove from heat and let cool to room temperature, about 30 mins
Frosting
Once salted caramel is cooled, beat 1 cup of caramel sauce (from above) with 2 cups confectioner's sugar and 3 tablespoons heavy cream using a stand mixer or handheld mixer with a whisk attachment.

Add additional sugar slowly until frosting reaches desired consistency. If frosting gets too thick, add a splash of heavy cream.
---
SaveSaveSaveSave
---
---