Halloween Spider Cupcakes!
October 11, 2013
2 Comments
Halloween is almost here!!!  And to someone that loves Halloween as much as me it is definitely officially the Halloween season, which starts the day after Labor Day, right? So it's the perfect time to make Halloween Spider Cupcakes!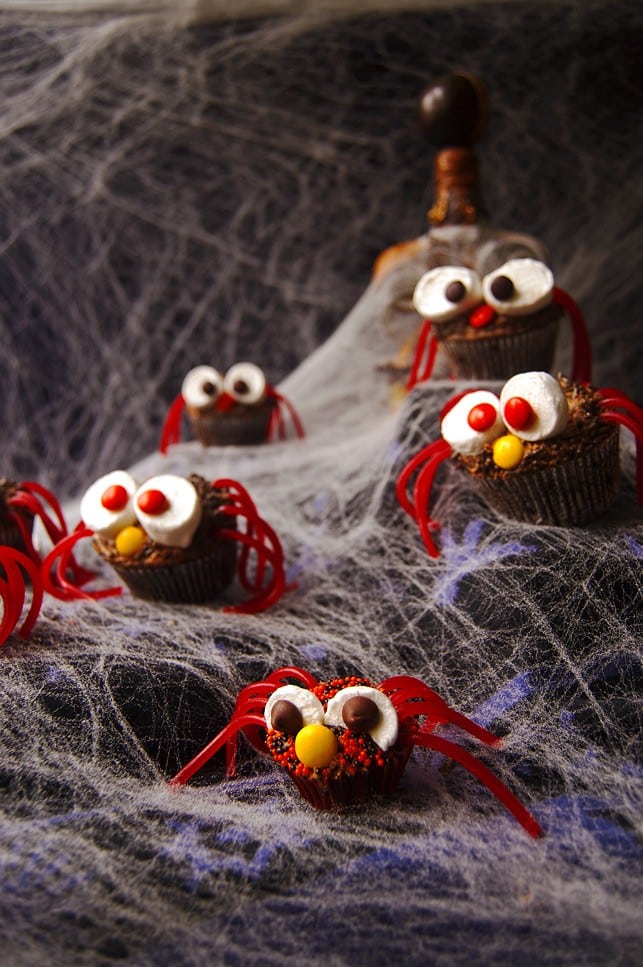 I used The Best Chocolate Sheet Cake. Ever. recipe as the batter for these little guys!  I just changed the frosting to be light and fluffy, so it would stay on the cupcakes better.
Once I finished baking and frosting and eating and baking and frosting again
I gave them a creepy spider texture using sprinkles, and added marshmallows, Reese's Pieces, chocolate chips, and red liquorish to put the finishing touches on these spooky little critters.
And they all definitely have personality.
The fearless (fearmore?) leader of the two zombie spiders.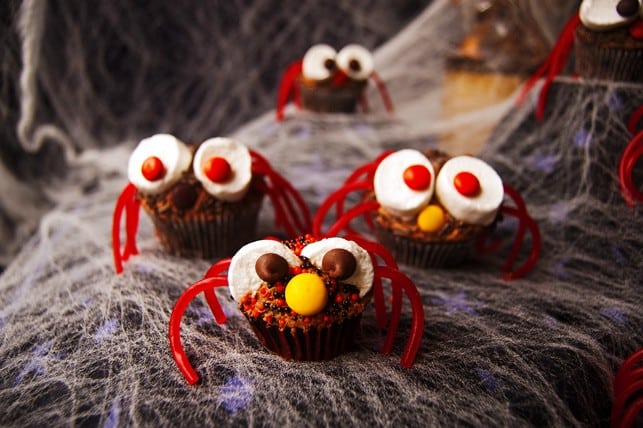 The guy on right (like I really needed to point him out…) is definitely the crazy uncle spider, hobbling along on his 7 good legs.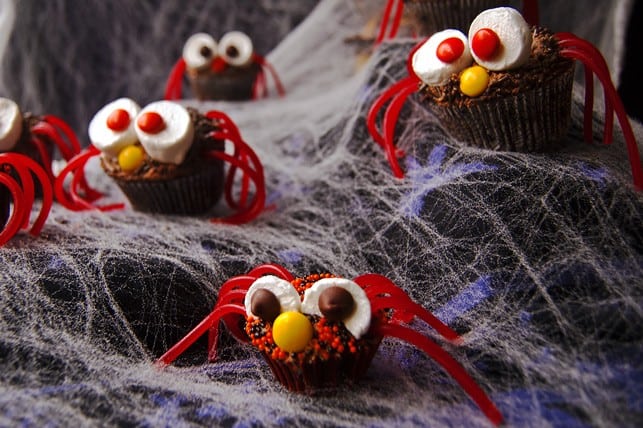 And this little guy in the back totally looks like a deer caught in headlights.  I can almost hear him whispering really softly to the others,
"Oh no! Don't move! Did you see all the spiders?!?! We're surrounded by spiders!!!!!"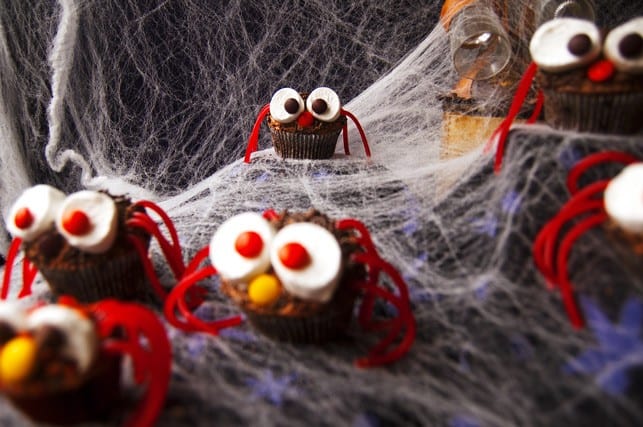 ---
Halloween Spider Cupcakes!
Delicious creepy critters perfect for a Halloween monster mash!
Ingredients
CUPCAKES:

batter from pioneer woman's best chocolate sheet cake. ever.

4

Tablespoons

heaping Cocoa

1/2

cup

Buttermilk

you can substitute regular milk with a little white vinegar

2

Tablespoons

heaping Cocoa

1 1/2

cups

Powdered Sugar

Red liquorish

pull and peel works well
Instructions
Preheat oven to 350 degrees. Line muffin tins with cupcake liners.

Cupcakes: Combine flour, sugar, and salt in a large mixing bowl. Melt butter in a saucepan, add cocoa and stir together. Add boiling water to saucepan, allow to boil for 30 seconds, then turn off heat. Pour over flour mixture and stir lightly to cool. In a separate bowl, combine buttermilk, beaten eggs, baking soda, and vanilla, then stir into flour/chocolate mixture until combined. Pour batter into lined muffin tin. Bake regular sized cupcakes for 18-20 minutes and mini cupcakes for 10-12 minutes. The cupcakes are done when an inserted toothpick comes out clean. Cool completely on a wire rack, keeping them in the muffin tin for the first 5 minutes.

Frosting: Cream softened butter with an electric mixer. Add cocoa, vanilla, and powdered sugar. Blend until fully combined and creamy. Use milk to thin frosting to desired consistency.

Decorations: Frost cooled cupcakes and cover with sprinkles. Assemble eyes by cutting marshmallows in half and placing Reese's Pieces or chocolate chips in the center of each marshmallow half. Attach eyes and nose with frosting. Cut liquorish to desired spider leg length (I used about 1/3 length of a pull and peel liquorish per leg). Make eight small holes using a toothpick where you want the spider legs to be and insert liquorish into these holes. Happy Halloween!
---
---
---