Salted Caramel Apple Muffins with Pecan Streusel
September 30, 2014
14 Comments
It's finally cool enough to turn on the oven. Or at least the oven is no longer directly competing with my air conditioner. The oven usually wins, especially in my little apartment kitchen, but now the open window provides reinforcements! So the a/c and I are celebrating the cooler weather.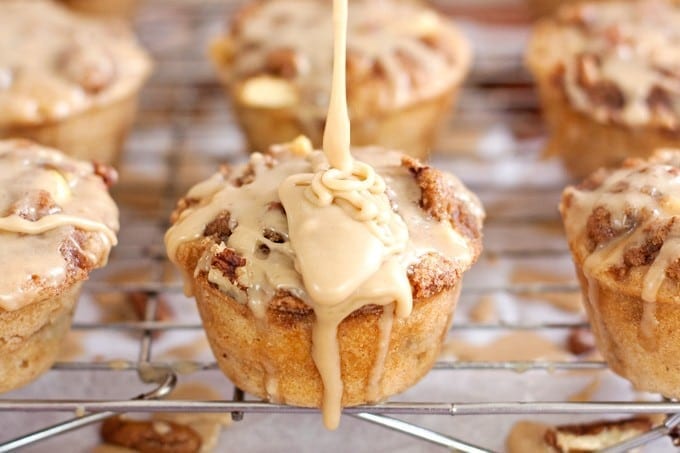 These apple muffins are great way of getting into the season. They are chock full of apples and they have just the right amount of spices to make the kitchen smell like autumn. Cinnamon, ginger, apple cider, caramel…they are the perfect complement to the cooling days and rich colors that make fall special.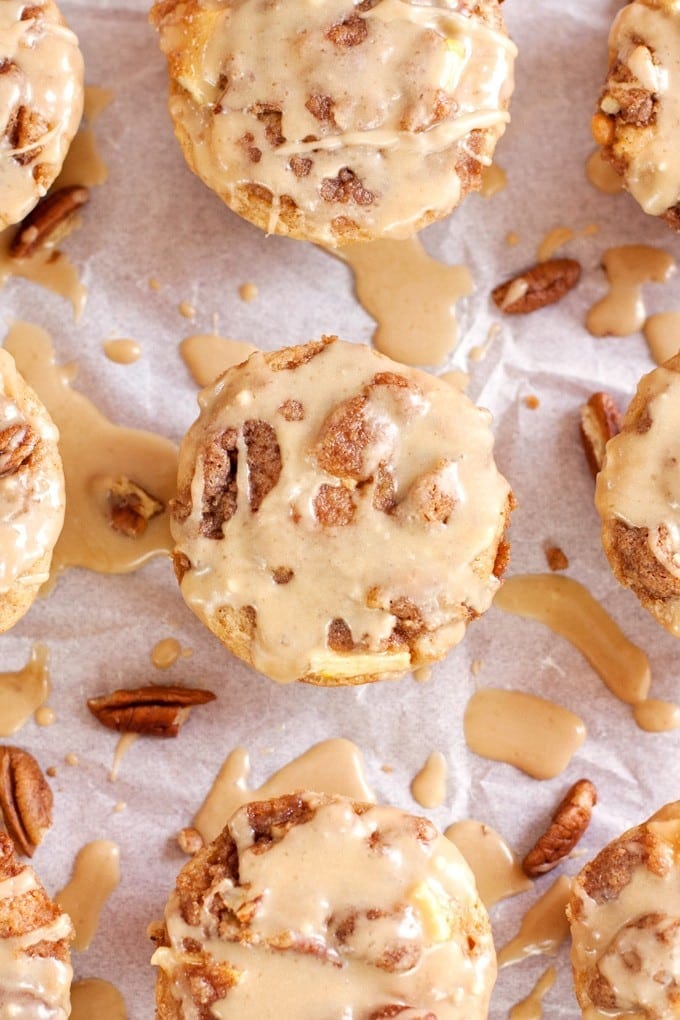 I snuck in butter-y pecans by topping the muffins with a pecan streusel. It adds a delicious nutty texture and rich taste to the muffins. Mmmmmm!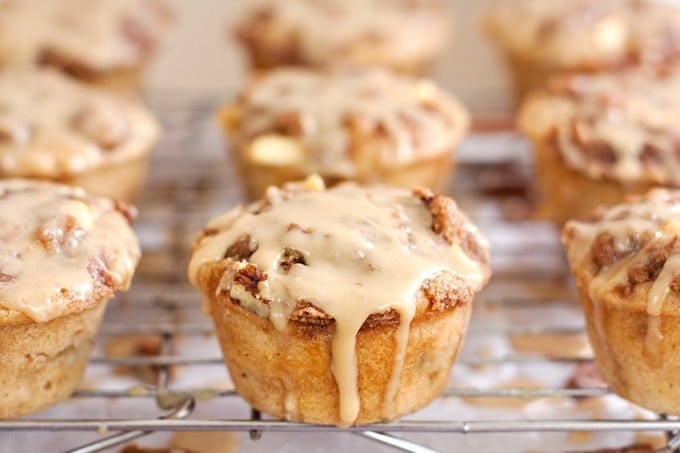 I then thought to myself, what could I possibly add to these moist cinnamon-y muffins, packed with apples, and topped with buttery pecan streusel? How could I possibly make these have even more fall decadence? By topping them with caramel of course! Or maybe even salted caramel! 🙂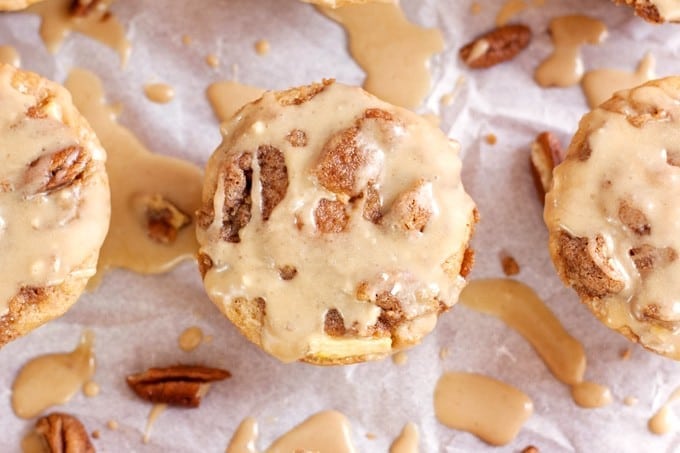 This caramel sauce is quick and easy and comes out super creamy and smooth. I highly recommend adding the extra salt. It makes the caramel taste richer, while cutting the sweetness down a bit, but classic caramel goes great on apple muffins too!  Just let your taste buds be your guide!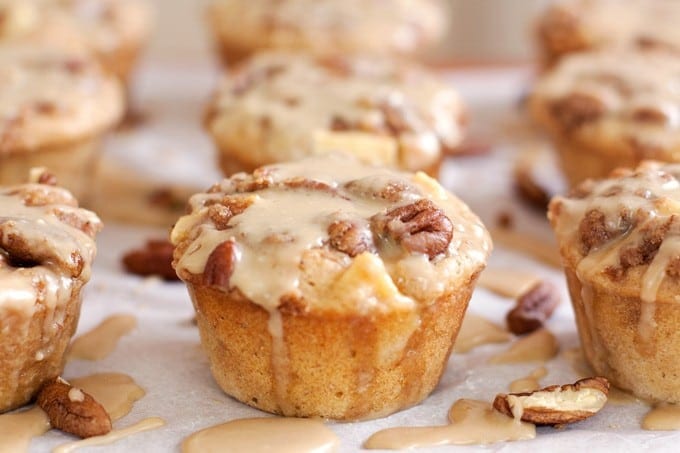 Just drizzle (or pour 🙂 ) the caramel sauce of your choosing generously over your muffins and enjoy!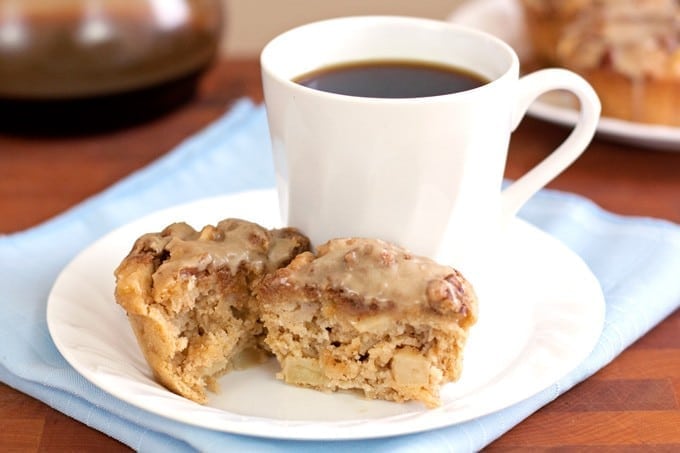 ---
Salted Caramel Apple Muffins with Pecan Streusel
Moist apple cinnamon muffins, topped with butter-y pecan streusel and drizzled with rich salted caramel sauce
Ingredients
Muffins
2

cups

apples

peeled, cored and diced (1-2 apples)

2

teaspoons

baking powder

6

tablespoon

melted butter
Pecan Streusel
¼

cup

cold butter cut into small pieces
Caramel Sauce
1

cup

confectioner's sugar
Instructions
Preheat oven to 350 degrees F. Grease and flour muffin tin or line with cupcake liners.

To make topping, stir together sugar, flour, and spices. Sprinkle cold butter over sugar-flour mixture and combine with fingers until small crumbles form. Add pecans and combine with fingers. Place in frig until ready to top muffins.

In a large bowl whisk together dry ingredients (flour, sugar, baking powder, and spices). In a medium bowl whisk together wet ingredients (buttermilk, butter, apple sauce, and eggs). Pour wet ingredients over dry and gently stir. Fold apples in and then equally distribute batter between muffin cups.

Top muffins evenly with crumb top. Bake until toothpick comes out clean, about 20 minutes. Cool on wire rack.

To make caramel sauce, melt butter on med-low heat. Whisk in brown sugar, half and half, and salt, continuing to whisk until sugar fully dissolves. Remove from heat and let cool to room temperature. When both muffins and caramel are done cooling, whisk powdered sugar into caramel sauce, salt to taste, and drizzle over muffins. Enjoy!
---
---
---