Print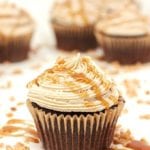 Salted Caramel Chocolate Cupcakes
Chocolately, salted caramel is very fall, very rich, and very delicious :-)
Cupcakes (makes 12 cupcakes)
Salted Caramel Sauce
1/2

cup

butter

1

cup

brown sugar

1/2

cup

heavy cream

pinch

of salt

to taste
Optional toppings
extra salted caramel sauce

crushed toffee pieces

I found precrushed Heath bars at the grocery store

chopped nuts

pretzels

sea salt
Cupcakes
Preheat oven to 350 degres. Line muffin tins with cupcake liners.

Combine flour, sugar, and salt in a large mixing bowl.

Melt butter in saucepan, add cocoa and stir together.

Add boiling water to saucepan, continue boiling for 30 seconds, then turn off heat.

Pour chocolate liquid over flour mixture and stir lightly to cool.

In a separate bowl, combine buttermilk, beaten eggs, baking soda, and vanilla. Pour this mixture into flour/chocolate mixture and stir until combined.

Pour batter into lined muffin tin (each cupcake mold should be about 1/2 full) and bake 18-20 minutes until toothpick comes out clean.

Cool completely on a wire rack, keeping them in the muffin tin for the first 5 minutes.


While cupcakes are cooling, make salted caramel sauce and frosting.

Frost cupcakes and add optional toppings.
Salted Caramel Sauce
Melt butter on med-low heat in saucepan.

Add brown sugar and cream into saucepan, whisking constantly until sugar complete dissolves, about 2-3 minutes.

Remove from heat and let cool to room temperature, about 30 mins
Frosting
Once salted caramel is cooled, beat 1 cup of caramel sauce (from above) with 2 cups confectioner's sugar and 3 tablespoons heavy cream using a stand mixer or handheld mixer with a whisk attachment.

Add additional sugar slowly until frosting reaches desired consistency. If frosting gets too thick, add a splash of heavy cream.

Add salt to taste.