Peppermint Chocolate Cupcakes
December 21, 2013
3 Comments
I love birthdays!  They are great reasons to celebrate the important people in our lives. We get to step back , focus on the birthday person, and show them how special they are to us. Hurray! I glaze over that one-year-older part 🙂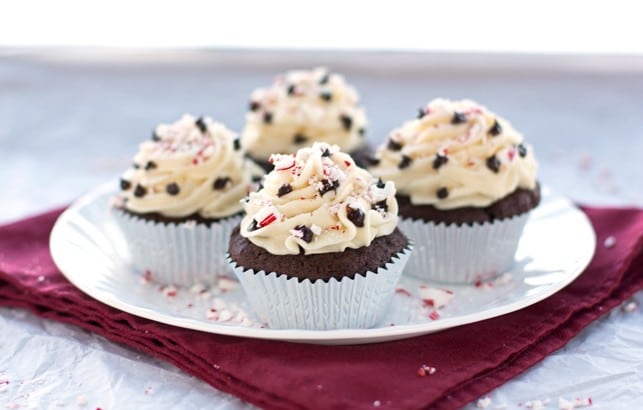 When Chris was growing up, every year his mom surprised him and each of his three siblings with a special birthday cake decorated with the characters and toys they loved. There were cowboy cakes, clown cakes, a Darkwing Duck cake, mermaid cakes, a Barbie cake, and even a multilayer 3D truck cake!
This year we decided to turn the tables and surprise her for a change. So,
Twas the night before (her) birthday,
And all through the house,
neither Mom nor Dad were stirring …
but our Kitchen-Aid was!
Chris and I baked these delicious peppermint chocolate cupcakes in the stealth of night, and set them out by the coffee maker. I'm like the Santa of cupcakes! Without the big red suit. And no beard. Actually, maybe the Mrs. Claus of cupcakes is better. Yeah, lets go with Mrs. Claus 🙂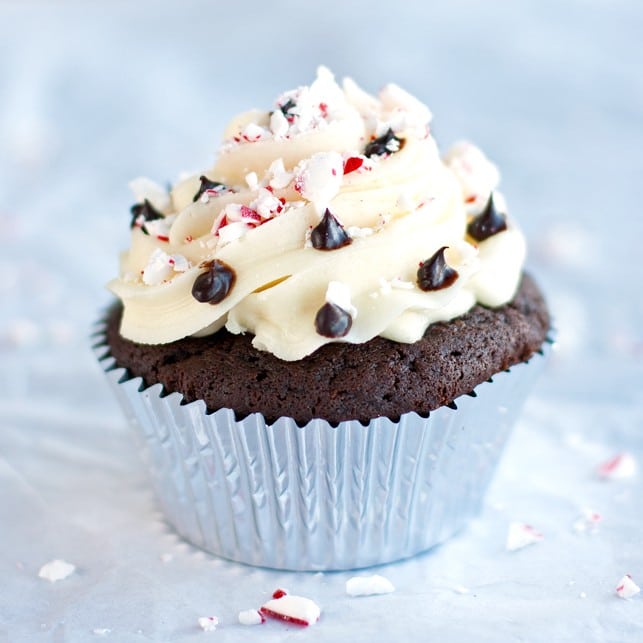 These delicious cupcakes are inspired by Sally's Baking Addiction, and the wonderful flavors of the holiday season!  I didn't have instant coffee or a lot of semisweet chocolate on hand, and getting them in the middle of the night seemed a little crazy (like that ever stopped me before), but this time I just substituted in more cocoa powder and some mint chocolate chips I had left over from my mint chocolate cheesecake brownies. The result was rich, chocolaty cupcakes with a subtle taste of peppermint. I also tweaked the frosting a bit and added peppermint until I was moaning happily from the result 🙂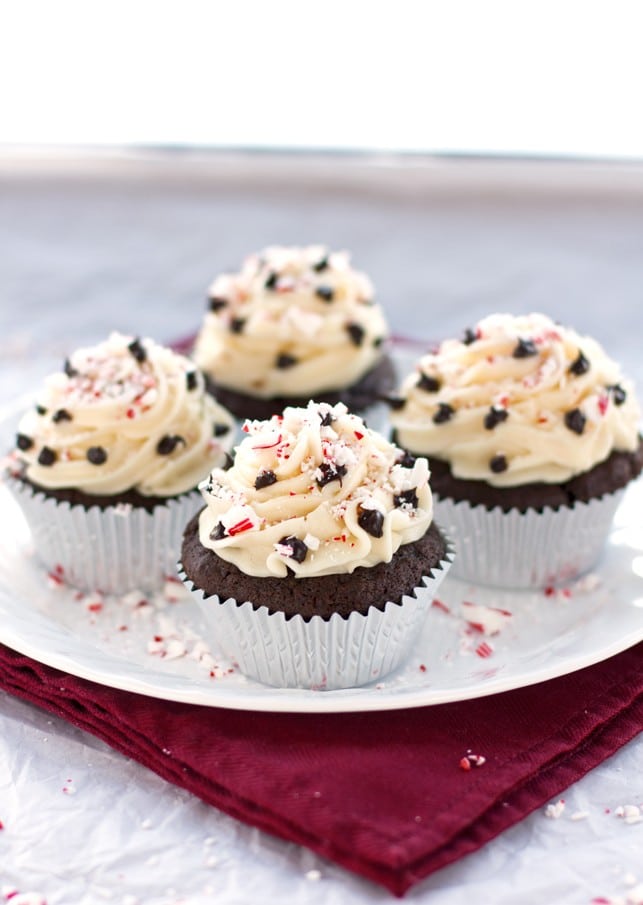 These cupcakes are mother-in-law pleasing and perfect for the holiday season! Merry Almost Christmas and Happy Recent Birthday Debbie 🙂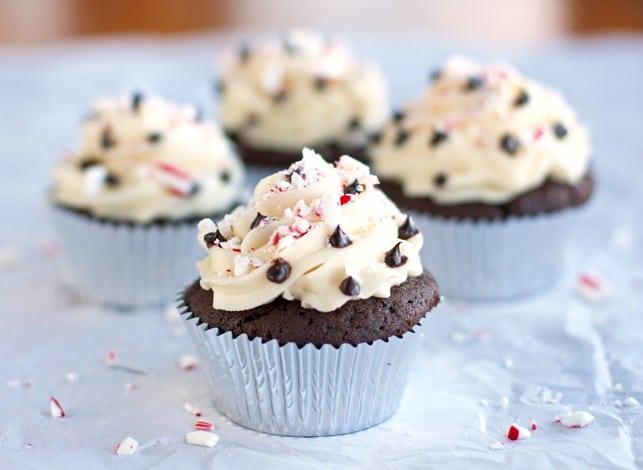 ---
Peppermint Chocolate Cupcakes!
Fudgy peppermint chocolate cupcakes topped with creamy peppermint buttercream frosting, melted chocolate and crushed candy canes
Ingredients
CUPCAKES
2

ounces

mint chocolate chips**

1/2

cup

+ 1 heaping tablespoon unsweetened cocoa powder

3/4

teaspoon

baking powder

1/4

cup

light brown sugar

1

teaspoon

vanilla extract

1/2

teaspoon

peppermint extract
PEPPERMINT FROSTING
1

cup

butter

softened to room temperature

2 1/2

cups

powdered sugar

splash of heavy cream

half and half, or milk****

2

teaspoons

vanilla extract

2

teaspoons

peppermint extract
TOPPINGS
4

ounces

semi-sweet chocolate chips or baking chocolate

melted
Instructions
Preheat oven to 350 degrees.

Melt the butter and chocolate together in the microwave on medium power stirring every 30 seconds or on low heat on the stovetop. Once fully melted stir in a heaping tablespoon of unsweetened cocoa powder. Set aside to cool.

In a medium bowl combine remaining cocoa powder, flour, baking soda, baking powder and salt. In a large bowl whisk together eggs, sugar, brown sugar, vanilla and peppermint. Whisk the butter/chocolate mixture into the large bowl then stir in buttermilk. Gradually add flour mixture and stir until just combined, batter will be very thick.

Line a muffin tin with 12 cupcake liners. Spoon batter evenly into the 12 cupcake liners in the muffin tin. Bake until toothpick comes out clean when inserted, about 18 minutes. Cool cupcakes completely before frosting.

Make Frosting: Beat softened butter on medium speed with a standmixer or electric mixer until smooth and creamy, about 3 minutes. Add powdered sugar, a splash of cream, vanilla extract, peppermint extract, and a pinch of salt and beat on high until frosting is fluffy, about 1-3 minutes, scraping down sides when necessary. Add more cream if frosting is too thick or more powdered sugar if frosting is too thin. Once frosting has reached desired consistency add more peppermint extract and/or salt to taste if necessary.

Once cupcakes are completely cooled fill frosting bag with frosting and pipe onto cupcakes. Drizzle (or use another frosting bag to dot) melted chocolate on cupcakes. Sprinkle with crushed candy canes and serve!
Recipe Notes
*if using unsalted butter add ¼ teaspoon salt to batter
** semi-sweet baking chocolate or chocolate chips should also work great!
***You can make your own buttermilk by combining ½ cup milk + ½ tablespoon white vinegar and letting it sit for 5 minutes.
****The heavier the cream/milk you choose the creamier the frosting will be.
---
---
---