Salted Dark Chocolate Cocoa Almonds
May 27, 2014
7 Comments
I love it when my mom visits; she always has so much energy! We had a fantastic time chatting away at the mall on Sunday and doing some much needed summer clothes shopping.
My family has a long tradition of combating hunger with the sword of deliciousness and Mom came well prepared. As I've mentioned before, my mom is an expert baker of many things and the triple chocolate chip cookies, oatmeal cookies, and Chex-mix she brought lived up to her high standard. Hunger didn't stand a chance 🙂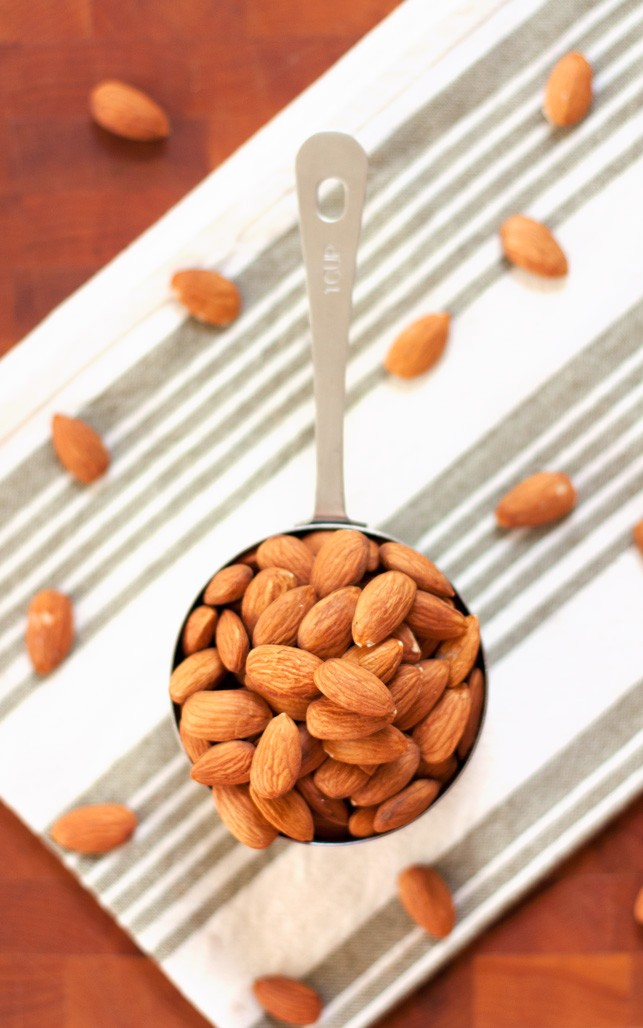 Today I'm sharing with you a tasty, easy, and healthy snack that is perfect for recharging post-shopping trip, post-workout, or even post-dinner 🙂
So just how tasty, how easy, and how healthy are these Salted Dark Chocolate Cocoa Almonds? Let me count the ways!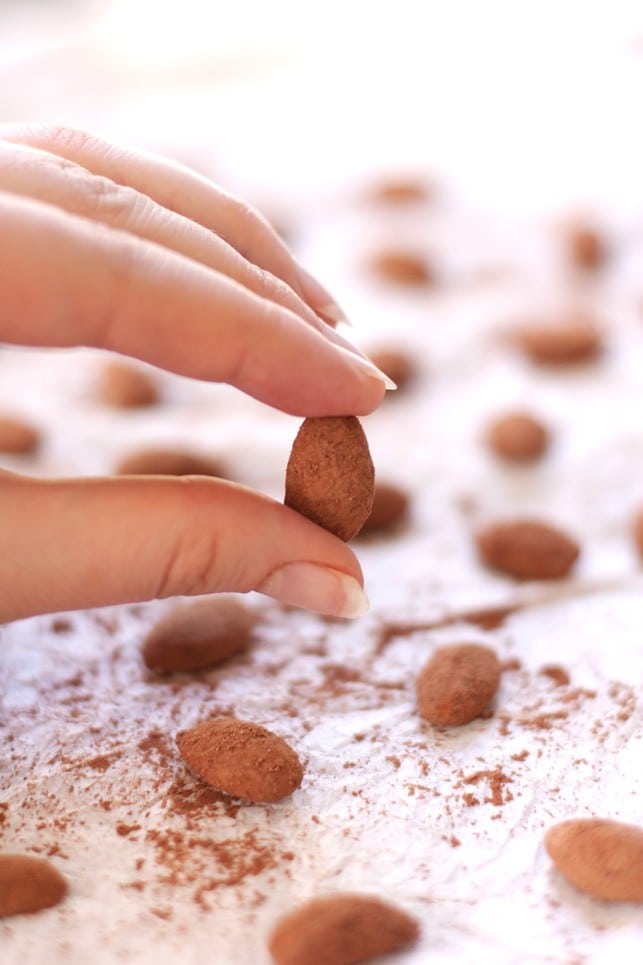 Tasty – Each almond is coated in a layer of cocoa powder. It's perfect for satisfying your sweet tooth, your chocolate tooth, and your decadent tooth all in one little almond crunch.
Easy – The almonds are both easy to make and easy to eat. voila, instant snack! No baking all day in a hot kitchen for you (or me).
Healthy – Last, but certainly not least, these decadent Salted Dark Chocolate Cocoa Almonds are healthy. They're lightly dusted with low calorie, low fat, and unsweetened (i.e. zero sugar) cocoa powder, sweetened just a little with only 5 calories worth of honey per serving, and naturally packed with protein.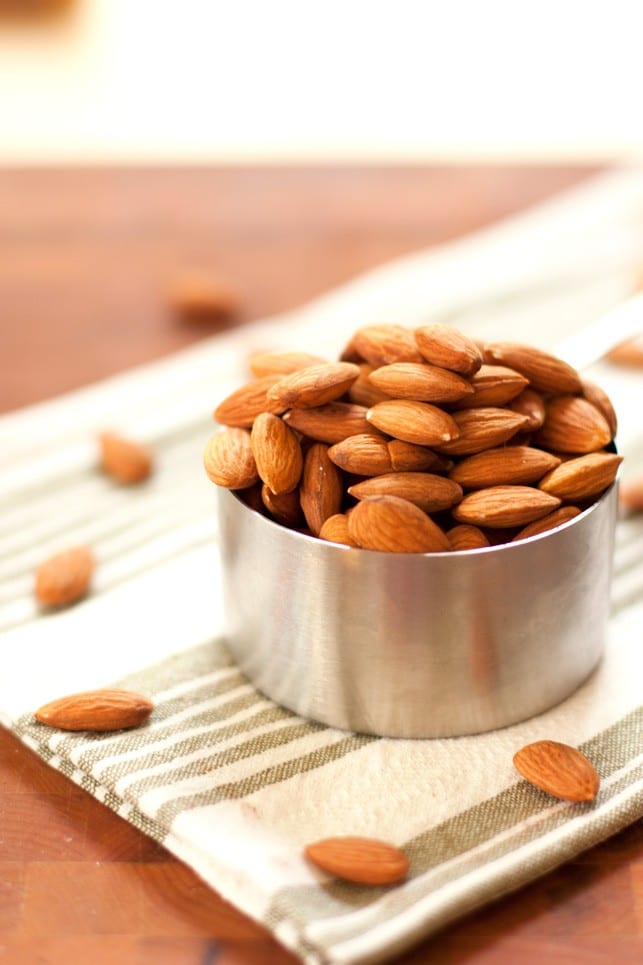 You're only 5 short minutes away from a seriously fantastic snack! What are you waiting for?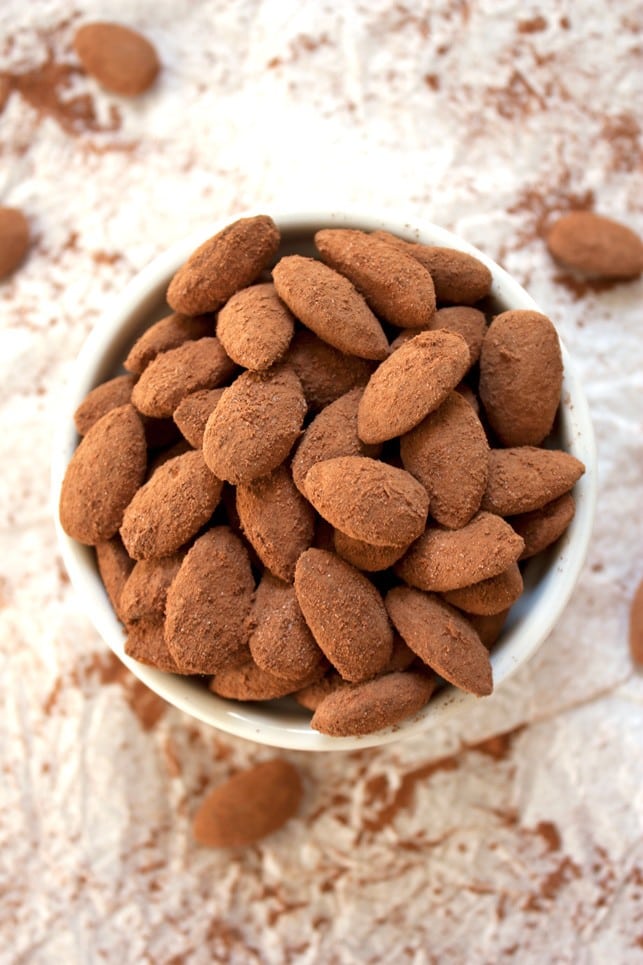 ---
Salted Dark Chocolate Cocoa Almonds
A decadent, healthy snack ready in only 5 minutes!
Ingredients
2

tablespoons

unsweetened cocoa powder

1

teaspoon

vanilla extract
Instructions
Sift cocoa powder and salt together, place in a large zip lock bag, and set aside.

Heat honey and vanilla on low heat until honey is thinned but not warm. Turn off heat. Add almonds and stir to evenly coat almonds with the honey-vanilla mixture.

Pour almonds into the bag full of cocoa and shake until almonds are evenly coated with cocoa. Remove almonds from bag and snack away!
Recipe Notes
*To make unsalted Dark Chocolate Cocoa Almonds, reduce salt to just a pinch.
---
---
---