Print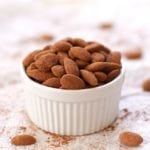 Salted Dark Chocolate Cocoa Almonds
A decadent, healthy snack ready in only 5 minutes!
1

cup

unsalted almonds

2

tablespoons

unsweetened cocoa powder

½

teaspoon

salt*

1

teaspoon

honey

1

teaspoon

vanilla extract
Sift cocoa powder and salt together, place in a large zip lock bag, and set aside.

Heat honey and vanilla on low heat until honey is thinned but not warm. Turn off heat. Add almonds and stir to evenly coat almonds with the honey-vanilla mixture.

Pour almonds into the bag full of cocoa and shake until almonds are evenly coated with cocoa. Remove almonds from bag and snack away!
*To make unsalted Dark Chocolate Cocoa Almonds, reduce salt to just a pinch.