Applejack Cookies – The Great Food Blogger Cookie Swap 2013!
December 11, 2013
12 Comments
Happy Cookie Swap Day everyone!!!
Today is the exciting unveiling of The Great Food Blogger Cookie Swap 2013 recipes! This was the first year I've participated and I'm certain it won't be my last. It was a super exciting to bake and taste delicious cookies, while helping raise $13,778.40 for Cookies for Kids' Cancer!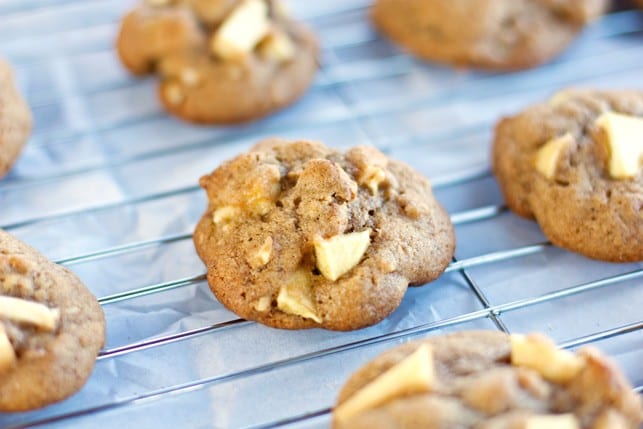 After signing up for the cookie swap I received the names and addresses of the following three other food bloggers:
I baked three dozen yummy cookies and sent one dozen to each of my assigned food bloggers. It was all done in a secret santa like style, where they didn't know who they would get cookies from or what types of cookies they would get until my package arrived.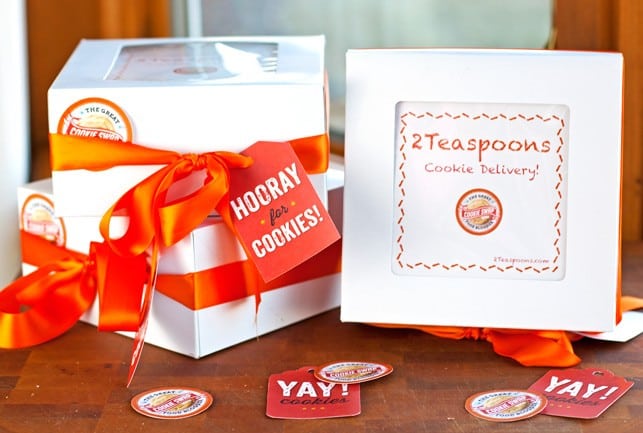 Combining the fantastic logos and tags from Love and Olive Oil with some 2Teaspoons' original artwork I decorated my cookie boxes with festive cookie swap appeal.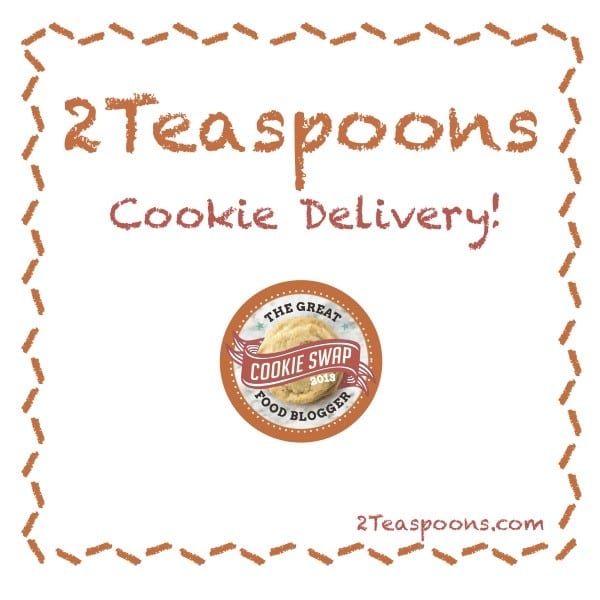 In addition to the excitement of mailing my cookies I received three different packages the next week full of delicious cookie surprises! Each of my secret santa's sent me a little information about themselves with one dozen yummy cookies!  The recipes should be up on their blogs today and a round-up of all the cookie swap recipes will be posted on The Little Kitchen and Love & Olive Oil on Monday December 16th 🙂
Gingerbread cookies – The bRUNcher
Peppermint mocha – Making Life Sweet
Taro white chocolate cookies – Bake_Something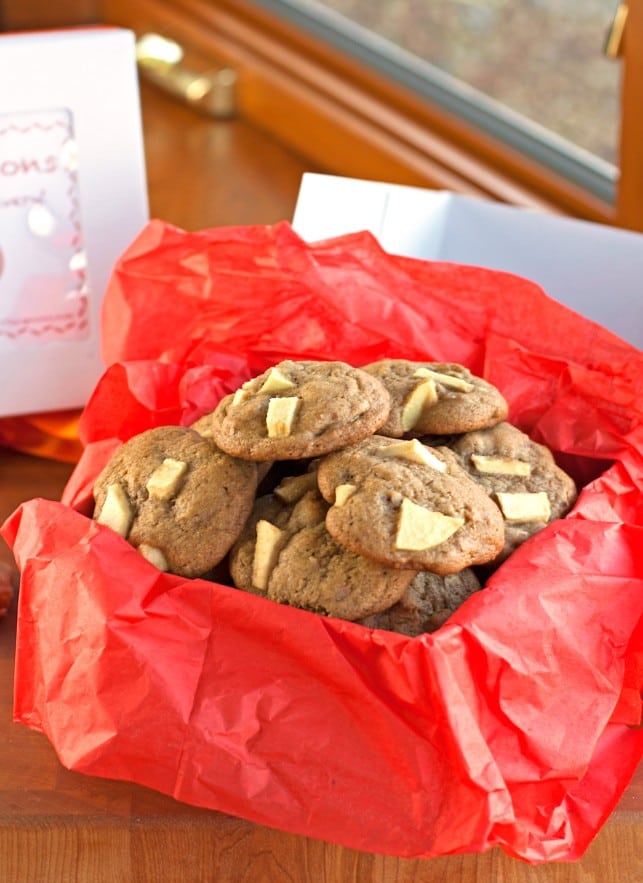 I picked a unique recipe for the cookie swap, Applejack cookies!  They are super moist and apple-packed cookies that have the taste of apple pie in a convenient cookie form. My recipe has been modified from the original Applejacks cookie recipe in Hot From the Oven: Old Fashioned Baking Recipes from the Bake House Old Sturbridge Village published in 1964. My mom and I love history and really enjoyed visiting Old Sturbridge village, a living museum in Sturbridge MA which re-creates rural New England life from the 1790's through the 1830's, when I was a kid. I even found a newspaper clipping with the original Applejacks recipe.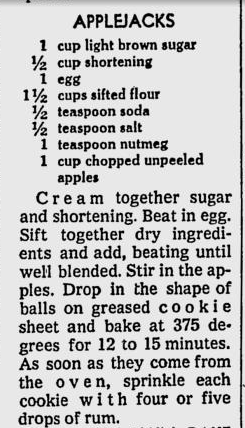 The original recipe calls for a few drops of rum on the cookies right as they come out of the oven. I opted not to do this for the cookie swap so the cookies were family friendly, but I bet the added spiced rum flavor would be fantastic with the brown sugar, cinnamon, and nutmeg!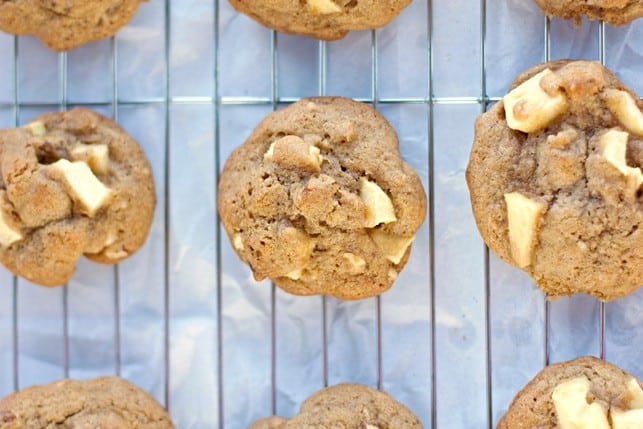 Baking for the cookie swap was a fantastic experience. I loved sharing awesome cookie recipes while raising money for the fight against children's cancer. It was super fun to meet other food bloggers and get to try their yummy surprise cookies recipes. I enjoyed selecting and baking my moist, apple-packed Applejack cookies and designing a festive, fun 2Teaspoons box to share them in!  🙂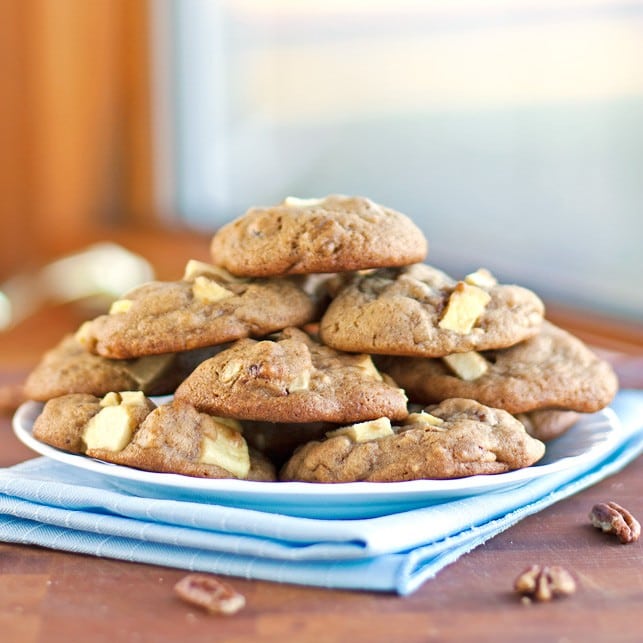 ---
Super moist, apple-packed Applejack cookies - the flavors of apple pie in a convenient cookie form
Ingredients
1

cup

finely chopped apples lightly coated with granulated sugar

½

cup

chopped pecans

walnuts, or almonds (or any combination of these)
Instructions
Cream sugar and butter together. Beat in egg. Combine dry ingredients in separate bowl, then add to wet ingredients until blended. Gently stir in apples, nuts, and raisins. Refrigerate dough for at least 20 minutes.

Place 1-2 inch balls 3 inches apart on a parchment paper covered cookie sheet or a well greased cookie sheet.

Bake in preheated 350 degrees oven for 14-17 minutes until lightly brown. Remove from oven. Cool completely on a wire rack.
---
---
---