Buttermilk Pancakes with Bourbon Maple Syrup
November 13, 2014
8 Comments
Writing about maple syrup last weekend, and the fall season in general, put maple on my mind. This bourbon maple syrup is fun twist on brunch, and there's no better way to celebrate the weekend (or almost weekend!) than with buttermilk pancakes and bacon 🙂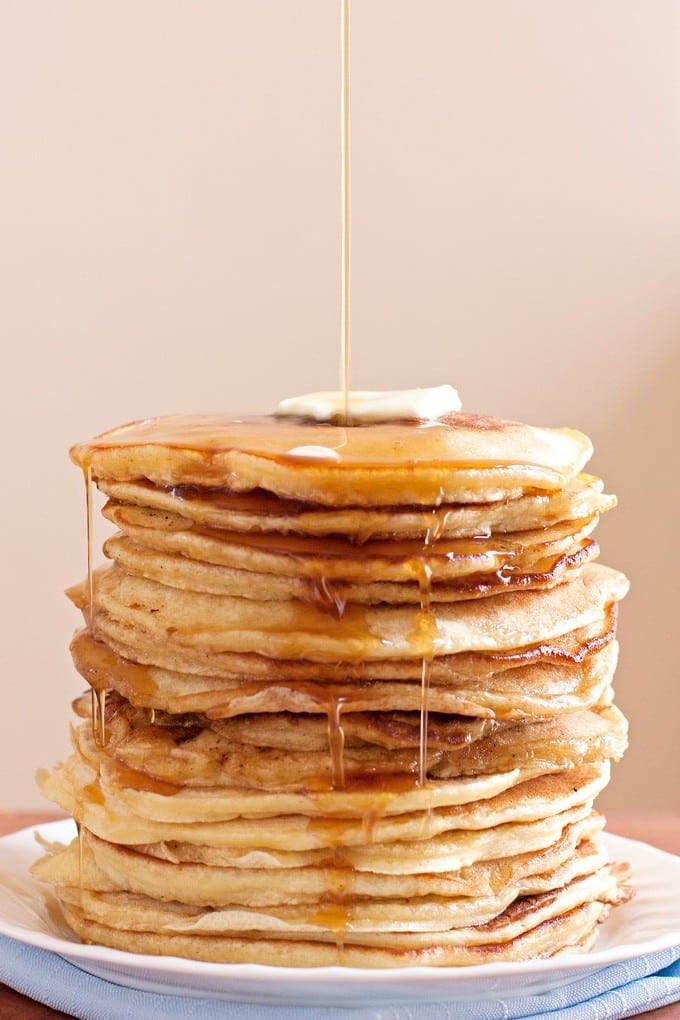 If you need to refresh your syrup supply, remember that grade B syrup is darker and tends to have more flavor than grade A. The addition of bourbon is, of course, optional, but fun and makes for interesting table conversation. If you are sensitive to the taste, add a little bourbon at a time until you reach a flavor you are comfortable with. Whether you include the bourbon or not, I always recommend warming the syrup before serving. The warm syrup will soak into the pancakes better and keep the pancakes warm on the plate.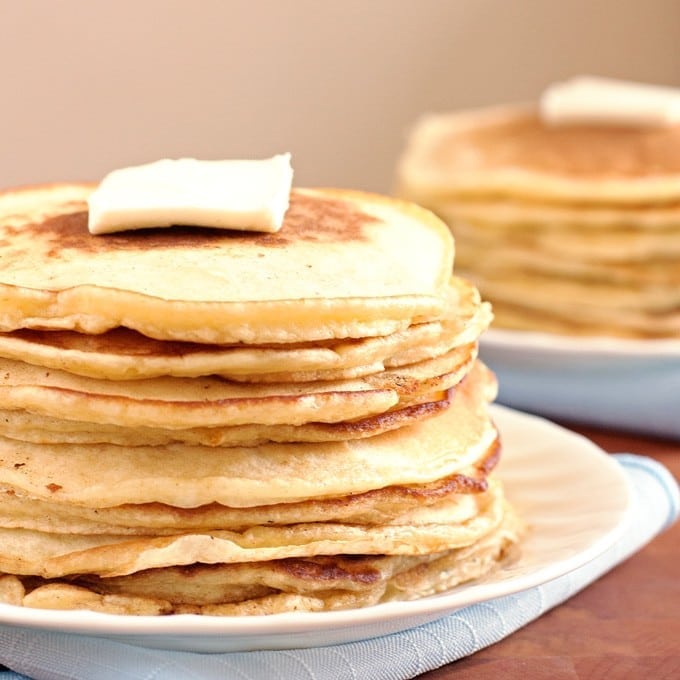 I don't use buttermilk regularly enough to keep it on hand. A useful trick to make buttermilk is to add 2 tablespoons of white vinegar to 2 cups minus 2 tablespoons of milk. Let it sit for a few minutes and you have an easy, buttermilk substitute. No trip to the store required.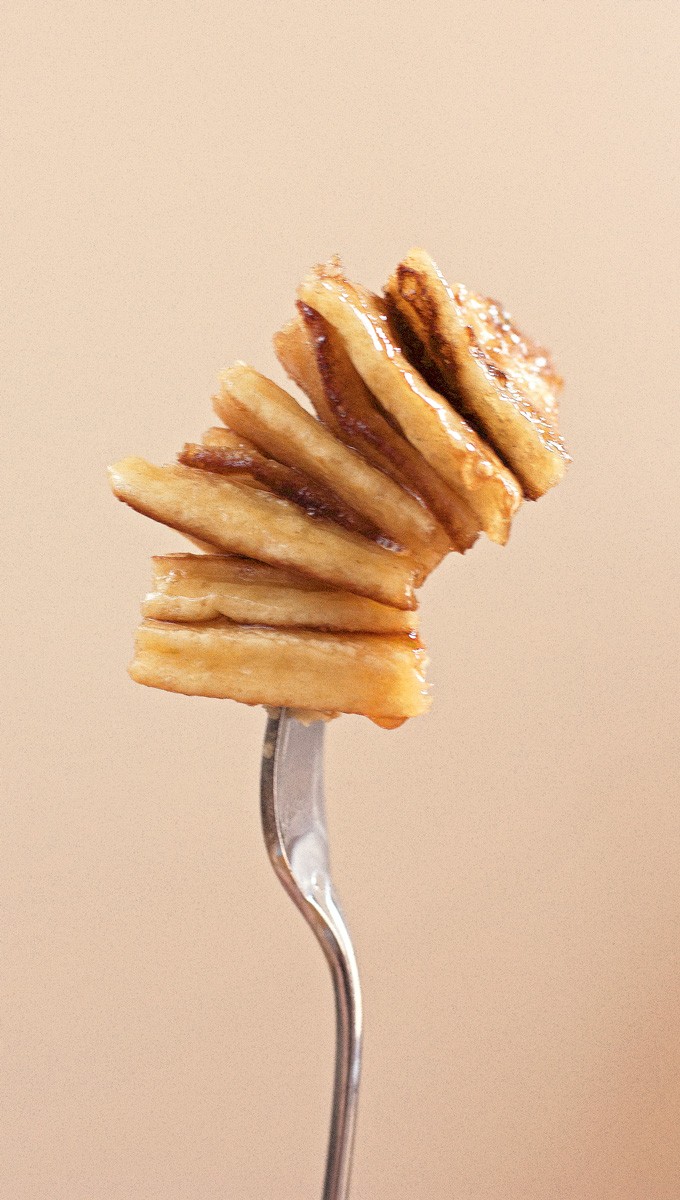 If you have a little extra time bacon is always a welcome addition, and can cook while you prepare the pancakes. I prefer to cook my bacon in the oven. I lay the bacon strips in a single layer across a roasting pan (or wire rack on a rimmed baking sheet) and place in a 350 degree oven until crispy, about 30-45 minutes. It comes out crispy and you don't have to dodge spattering grease every time you stir the bacon like you do when using a skillet. Those tiny grease spatters are surprisingly stingy.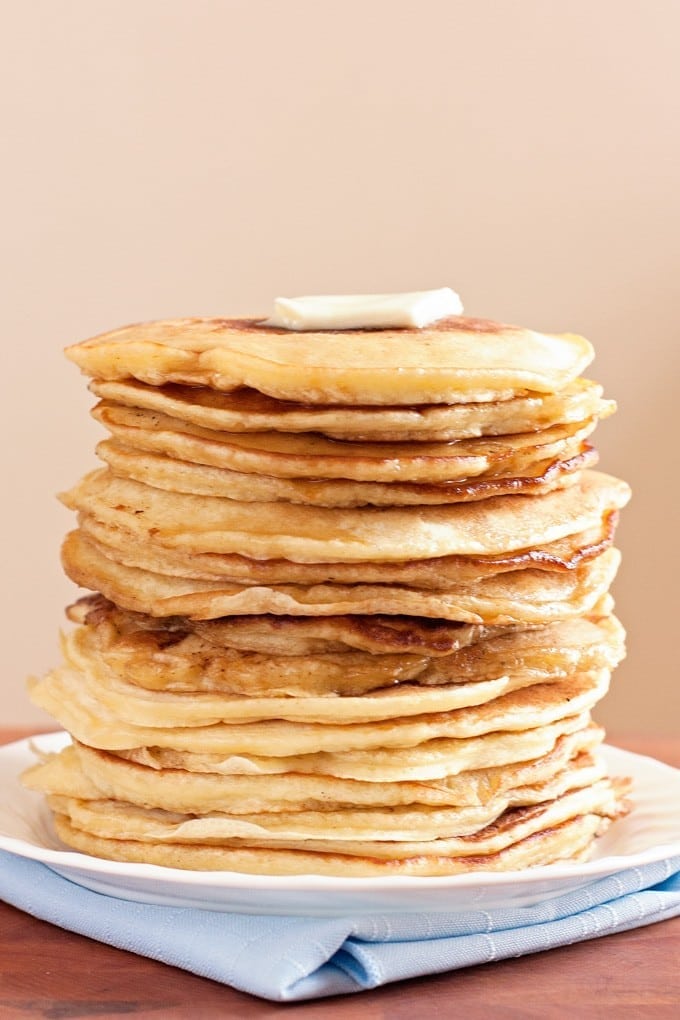 If you like, you can also make you own pancake-mix by combining the dry ingredients and storing them in a sealed container. As an added holiday bonus, place the dry mix in pretty jar, wrap it up with a bottle of nice maple syrup and you have a great gift!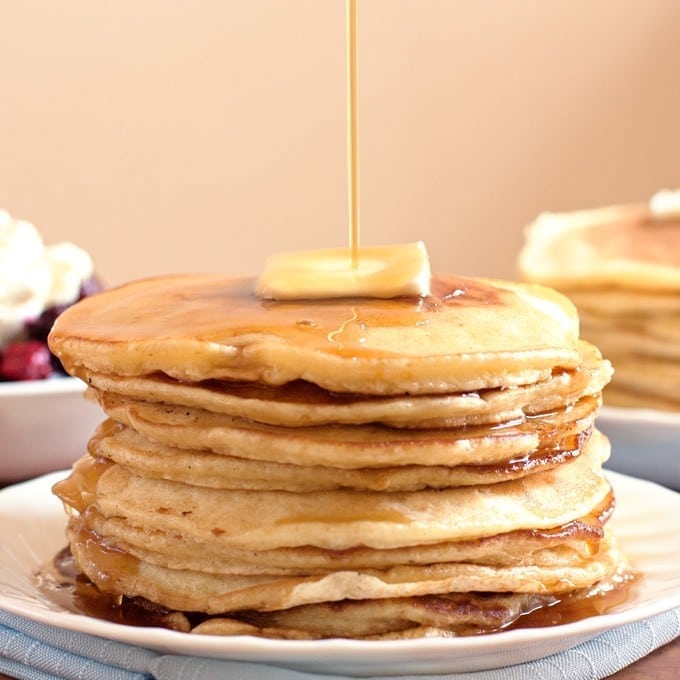 ---
Buttermilk Pancakes with Bourbon Maple Syrup
Fluffy homemade buttermilk pancakes covered in rich bourbon maple syrup
Ingredients
Pancakes
2

teaspoons

baking powder

2

tablespoons

butter

melted
Bourbon Maple Syrup
¾

cups

maple syrup

I used grade b
Instructions
Pancakes
Beat eggs and vanilla in a small bowl and set aside. Whisk together flour, sugar, baking powder, baking soda, and salt in a large bowl.

Pour buttermilk, eggs, and melted butter over dry ingredients and gently stir with a spoon or whisk, being careful not to over-stir the batter. The batter will be lumpy and bubbly at this point.

Heat griddle or skillet on medium-low with plenty of butter. Test if the griddle is hot by sprinkling a few drops of water onto the surface. If the drops sizzle the griddle is hot.

Once griddle is hot and the butter is melted, scoop ¼ cup batter onto the griddle leaving about 2 inches between each pancake. Cook pancakes until the batter starts to bubble and edges firm up, about 3 minutes. Gentle flip and cook until other side is also golden brown, about 1-2 minutes. Repeat until all your batter is cooked into pancakes. You can keep your pancakes warm in an oven-proof dish in a low temperature oven.
Syrup
In small saucepan melt butter on low. Add maple syrup and stir to combine. Slowly add in the bourbon to taste. Add a pinch of salt, stir and serve warm!
Recipe Notes
*Buttermilk can be made with white vinegar and milk: Combine 2 cups minus 2 tablespoons of milk with 2 tablespoons white vinegar, stir, and let sit for 5 minutes.
---
---
---