Print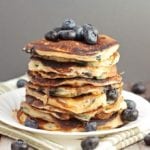 Blueberry Pancakes
Fluffy, hearty blueberry pancakes covered in maple syrup.
4

eggs

1

teaspoon

vanilla extract

1

cup

flour

2

tablespoons

sugar

2

teaspoons

baking soda

1

teaspoon

salt

2

cups

nonfat plain greek yogurt or sour cream

1

cup

of blueberries + extra for topping the pancakes

Butter for the pan and for serving

Real maple syrup

warmed
In a small bowl whisk together eggs and vanilla, set aside.

Whisk together flour, sugar, baking soda, and salt in a large bowl. Gently stir yogurt into flour mixture, until just combined. Gently whisk egg-vanilla mixture into flour mixture, being careful not to over mix.

Heat griddle or skillet on medium-low, using plenty of butter to coat the griddle. Test if the griddle is hot by sprinkling a few drops of water onto the surface. If the drops sizzle, the griddle is hot enough.

Once griddle is hot and the butter is melted, scoop a little less than ¼ cup batter onto the griddle. Add more scoops, leaving about 2 inches between each pancake. Immediately sprinkle pancake with blueberries so they are evenly distributed throughout the pancake.*

Cook pancakes until the batter starts to bubble and edges firm up, about 3 minutes. Gently flip and cook until other side is also golden brown, about 2 minutes. Repeat until all your batter is cooked into pancakes.

You can keep your pancakes warm on an oven-proof dish in a low temperature oven.
* Sprinkling the blueberries onto each pancake directly ensures more equal distribution of blueberries. If you prefer, you can instead gently fold the blueberries directly into the batter at the end of step 2.