Lemon Raspberry Cheesecake
May 4, 2014
2 Comments
Spring is in the air! New Haven is blooming with cherry blossoms and I'm craving everything that has to do with lemon – breakfast, lunch, and dinner. And Lemon Raspberry Cheesecake for dessert!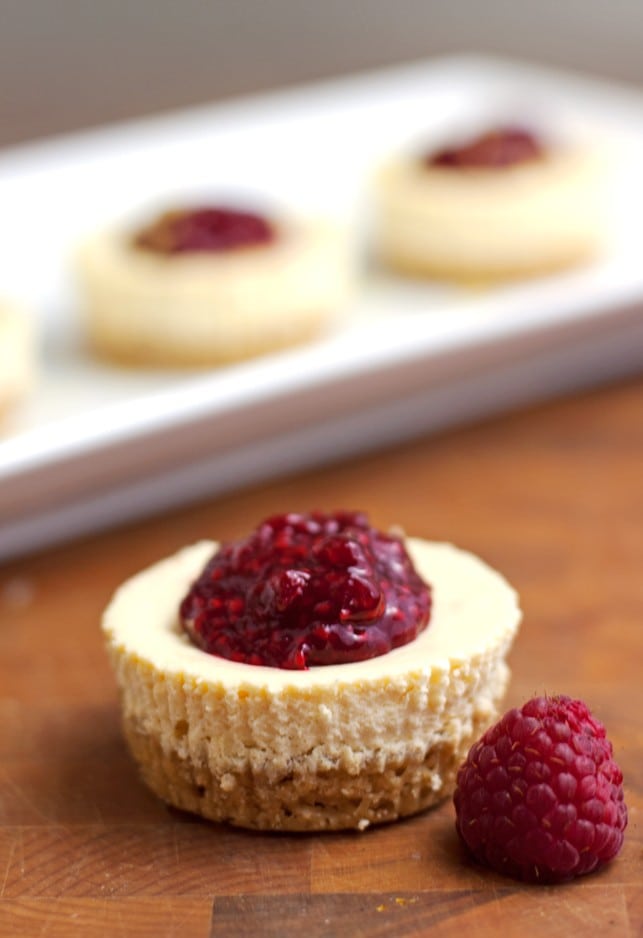 I love the creamy melt-in-your-mouth texture of cheesecake. Tart lemon goes perfectly with both the natural tang of cheesecake, and my seasonal craving 🙂
Don't worry, chocolate and strawberry. I still love you too.

These cheesecakes have a buttery shortbread crust similar to a lemon bar and are topped with a fresh raspberry sauce.
Buttery crust, creamy-tart cheesecake, and a fresh tangy raspberry sauce? I'll gladly trade my winter layers for these tasty spring ones any day.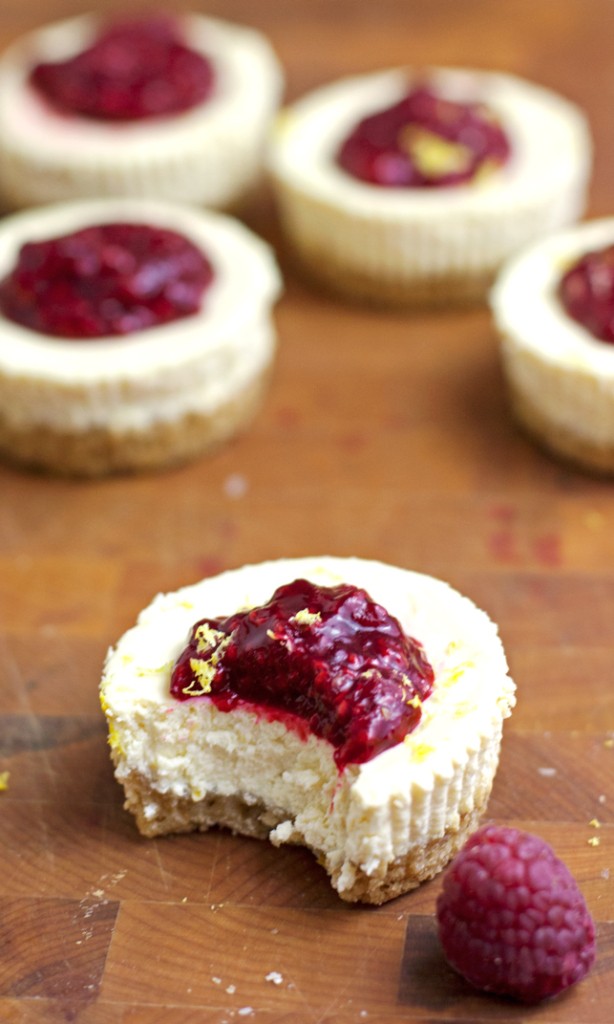 In honor of today's gloriously margarita filled Cinco de Mayo holiday, here's a few of my favorite Mexican dishes:
2Teaspoons Chicken and Black Bean Tostadas with Avocado Cream Sauce – Piled high with black beans, chicken, lettuce, tomatoes, red onions, cheese, and cilantro and drizzled with a tangy avocado cream sauce
2Teaspoons Roasted Sweet Potato Tacos – Roasted sweet potatoes tossed in chili powder and cumin paired with filling black beans, tangy goat cheese, and creamy avocados
Taco Party!– Complete taco fixins' menu with 4 different homemade salsas and guacamole
Huevos Rancheros – Start celebrating during breakfast!
Mexican Grilled Polenta Pizza – Crisp, tender polenta crust topped with homemade enchilada sauce, black beans and sautéed veggies
Tamale Pie – Moist cornbread topped with carnitas, enchilada sauce, and melted cheese
Mexican Lasagna – Layer upon layer of melty mexicany cheesy goodness
Tres Leches Cake – Moist white cake soaked in not one, not two, but THREE milks J
Mango Margaritas – Sweet mangos spice up this traditional lime and tequila marvel

---
Lemon Raspberry Cheesecake
Creamy tart lemon cheesecake, buttery shortbread crust, and a fresh tangy raspberry sauce
Servings
14
-16 cheesecakes
Ingredients
Cheesecake
16

ounces

cream cheese

softened

Zest and juice of 2 lemons
Instructions
Preheat oven to 350 degrees F and line muffin tin with cupcake liners. Combine all ingredients for crust with hands until small pea sized crumbles form. Divide crust equally between muffin cups and press down with fingers. Bake crust until slightly brown, about 10 minutes. Set aside and allow to cool completely.

Cream the cream cheese using a stand mixer or a hand mixer on medium speed until fluffy, 1-2 minutes. Add lemon juice, lemon zest, vanilla, sugar and beat until there are no cream cheese lumps, 2-3 minutes. Add one egg at a time on low speed until fully combined.

Once crust has completely cooled, equally divide cheesecake mixture between muffin cups. Bake until cheesecake is almost set (it will jiggle and puff up), about 23-25 minutes. Let cool for 1 hour at room temperature, and then an additional 2 hours in the refrigerator.

Once cheesecakes are cooled, make raspberry topping by stirring all ingredients together in a small sauce pan. Simmer on low heat until ingredients combine to form a semi-thick sauce. Set aside and let cool to thicken completely. Top the cooled cheesecakes with raspberry sauce and enjoy!
---
---
---