Roasted Salmon Spinach Salad
April 28, 2014
2 Comments
This past weekend I celebrated in NYC with friends both old and new! My close friend and his twin brother both turned 30 (I know! Crazy! Can you believe they actually have the same birthday!) 🙂 and my friend's girlfriend planned a fantastic evening of festivities! She's a fellow planner (like me and my dad!) and did a great job selecting a restaurant and making everyone feel welcome.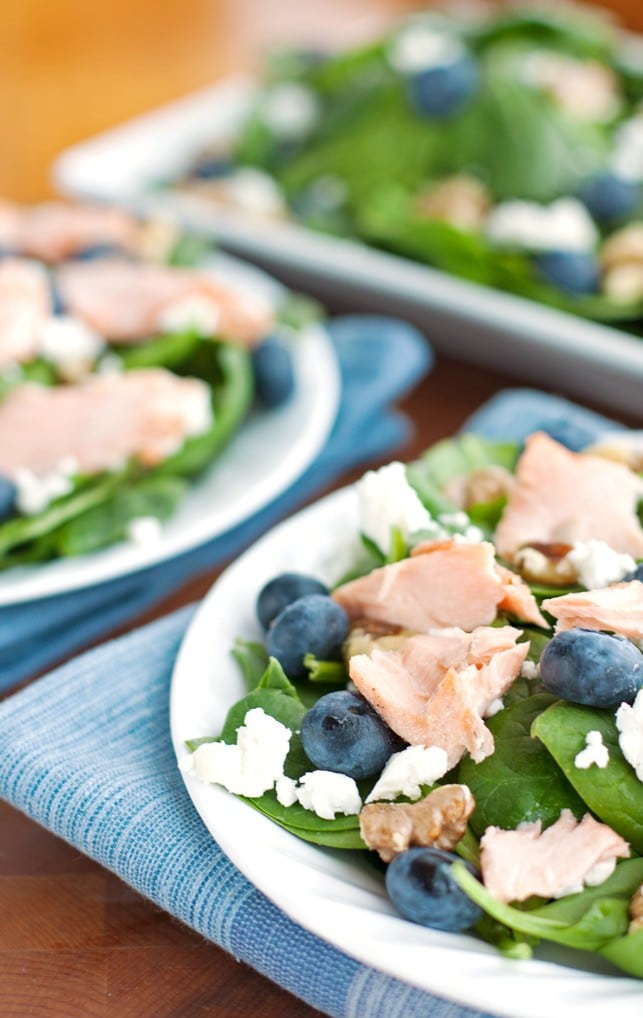 After dinner we headed over to the Russian Vodka Room, a bar offering a crazy assortment of flavored vodka. I'm a sucker for pretty much any taste bud adventure and although I did end up preferring the more basic flavors, like strawberry, pineapple, and raspberry, I had a great time bravely tasting the more adventurous flavors, like garlic and horseradish too! I've definitely never had a liquor as unusual as garlic vodka, but it was totally worth trying…just make sure your date tastes it too 🙂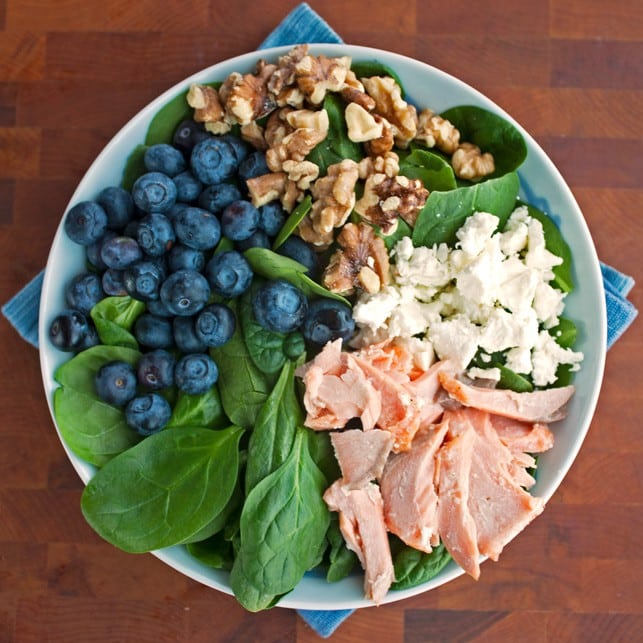 Although NYC is more known more for it's smoked salmon (aka lox paired with cream cheese on chewy NYC bagels! Yummy!) today I'm sharing a fresh salmon spinach salad recipe! It is just me or does spring and summer totally make you crave salads? The farmers markets start popping back up and are bursting with fresh, delicious local fruits and veggies! I just want to try them all! It's such a perfect time to create an epic salad 🙂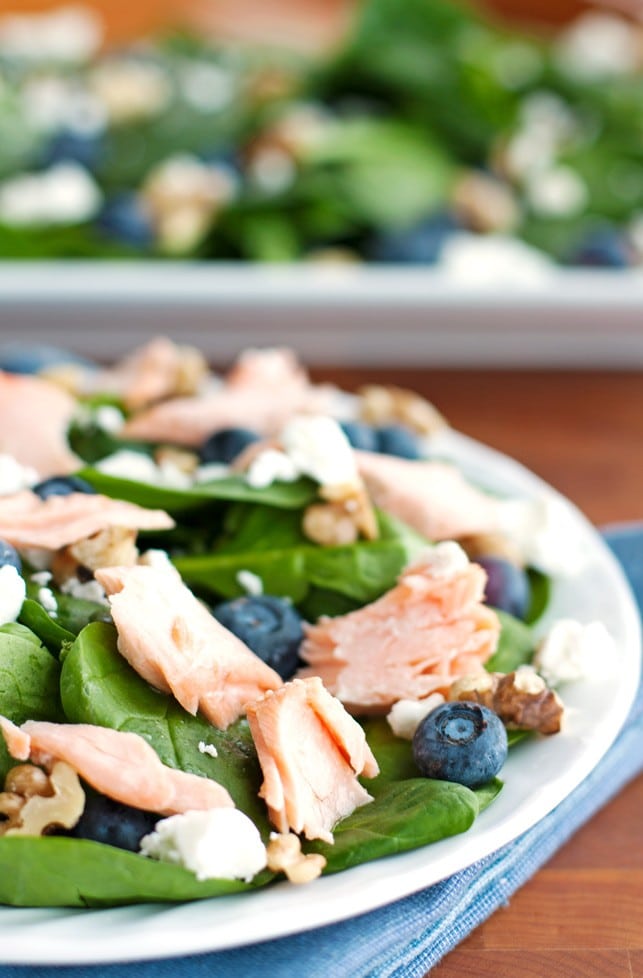 This salad totally fits the epic salad bill! It's absolutely fantastic and I plan to keep making it all spring/summer long, rotating whichever berries are in season! I can already taste this with strawberries or raspberries, I bet even juicy mango or oranges would be fantastic too! Definitely feel free to play around with this recipe. It will taste best with whatever produce is in season (since seasonal produce pretty much always tastes the best!)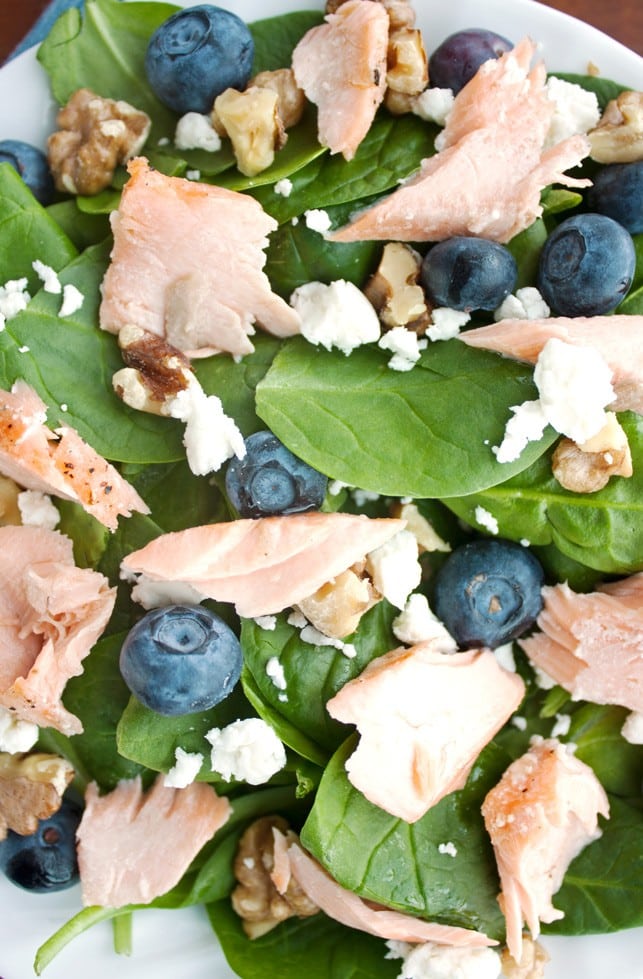 This salad has a leafy base of baby spinach and is topped with super moist slow-roasted salmon! It's then sprinkled with juicy blueberries, tangy goat cheese, and crunchy toasted walnuts! Then…oh my god…the salad dressing! I could totally drink this stuff, which may of may not have happened during this photo session 🙂 It has a rich taste, but is light and totally lacks the syrupy consistency of most store bought dressings. The tangy mustard and sweet brown sugar go amazingly with the salmon! I may even try it as a glaze the next time I roast salmon! Yummy! 🙂
Enjoy this fantastic salmon spinach salad with a gentle spring breeze and a crisp glass of white wine!  🙂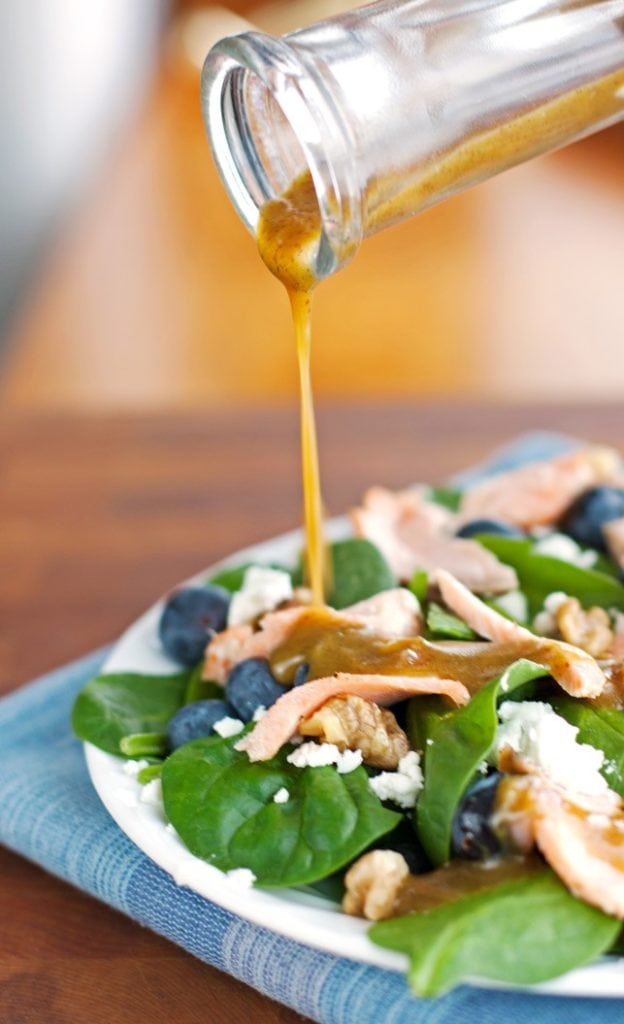 ---
Roasted Salmon Spinach Salad
Slow-Roasted Salmon Spinach Salad with Mustard Brown Sugar Vinaigrette – Bursting with flavor and packed with fresh seasonal produce!
Ingredients
Dressing
1

tablespoon

red wine vinegar or balsamic vinegar

1 ½

tablespoons

brown mustard

1 ½

tablespoons

brown sugar

½

teaspoons

shallot

minced (about ½ a shallot)
Instructions
Preheat oven to 275 degrees F

Arrange salmon in a single layer in a baking dish. Pour olive oil over salmon and rub into salmon a little bit. Sprinkle with salt and pepper and roast in oven until salmon is just cooked, about 30 minutes. Once salmon is done break into bite-sized pieces using hands or a fork. Set aside.

While salmon is roasting, toast walnuts in a pan on the stove over medium heat stirring occasionally for about 5 minutes. Set aside.

Prepare dressing by whisking together vinegar, mustard, brown sugar, and shallot until blended. Slowly drizzle in olive oil while whisking constantly until oil is fully incorporated. Salt and pepper to taste.

Assemble salads: Divide spinach equally between number of salads you are making. Cover each salad with an equal amount of salmon, walnuts, blueberries, and goat cheese. Drizzle with desired amount of dressing and serve immediately.
---
---
---