Roasted Sweet Potato Tacos – Food Bloggers Unite: Feed a Child, Nourish a Mind!
February 10, 2014
9 Comments
65% of children in South Africa live in poverty.
This is why I'm donating today's post to support The Lunchbox Fund Campaign. I'm uniting with fellow food bloggers and The Giving Table to raise awareness and support for The Lunchbox Fund with the goal to raise $5000 to feed 100 South African Schoolchildren for the entire year.
 The Lunchbox Fund identifies schools or forms partnerships with locally based NGOs or community organizations in order to evaluate and identify schools. It funds distributers to buy and deliver food, monitor the feeding scheme, implement a Project Manager, and deliver reports back to them for evaluation.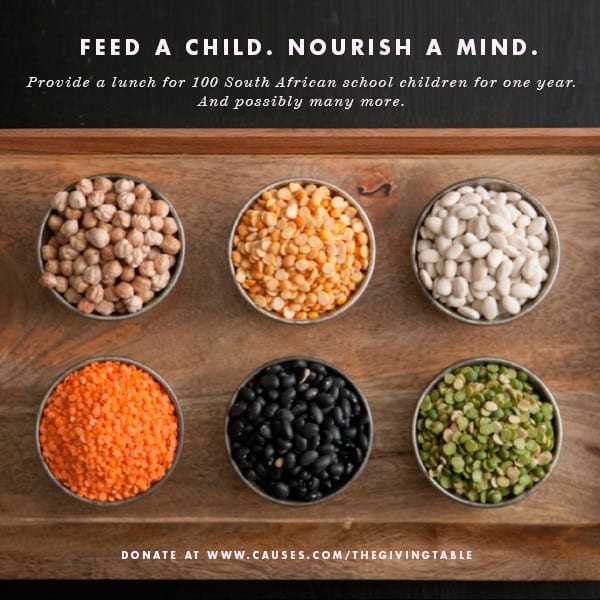 When I was growing up I loved lunch. My mom (who also loves to cook) put a lot of thought into what she packed. She filled my lunch box with sandwiches made with leftover roast meats, sharp cheddar cheese, crusty deli bread, homemade cookies, and always topped it off with a note making sure I knew she loved me and was looking forward to seeing me after school. It was a delicious, nourishing and welcome respite that fueled my young day.
Lack of food can diminish concentration, erode willpower, and strip away a child's potential. Compound that with the prevalence of HIV/AIDS or the trauma of losing parents and loved ones, without food, a child's attendance and performance at school is severely jeopardized. 
I depended on my mom to provide the nourishment I needed to succeed, but sadly not everyone has that support system. Many South African schoolchildren lack the family structure to provide that simple, nourishing lunch.
Nearly 20% of all children in South Africa are orphans, with approximately 1.9 Million of those children orphaned as a result of HIV and AIDS.
By coming together and helping to provide this meal we'll be fueling these kids to learn and motivating them to stay in school and develop the skills and means to provide a better life for themselves and the next generation.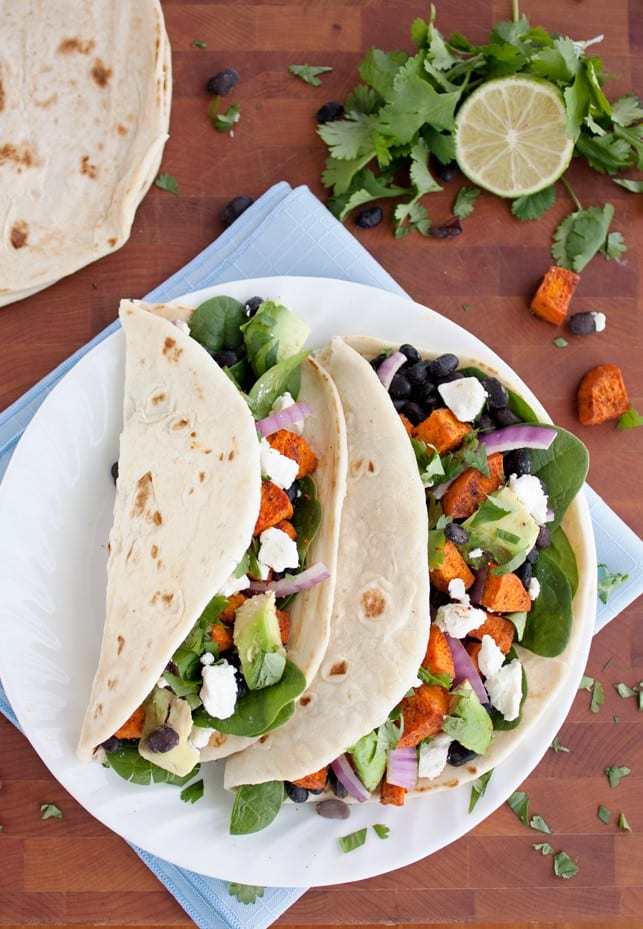 Today in honor of the Lunchbox Fund I'm sharing one of my all time favorite lunch recipes, inspired by Naturally Ella, who is also supporting the campaign. These roasted sweet potato tacos are super yummy, super easy, and super perfect to pack in your lunchbox.
The sweet potatoes are tossed in chili powder and cumin to give them a little heat, then roasted to bring out their natural sweetness. The combo will rock your world. Paired with filling black beans, tangy goat cheese, and creamy avocados, the colors and flavors of these tacos will brighten the dreariest day. Mmmmmm!!!!!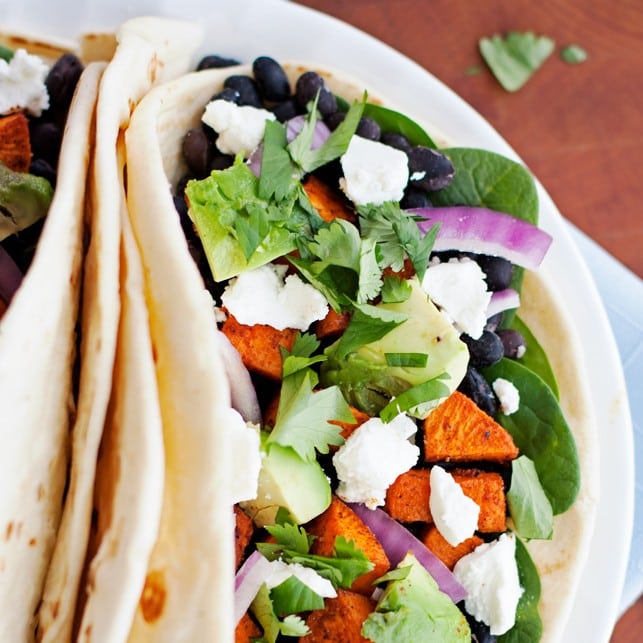 You could definitely make these with homemade tortillas, but any yummy corn or flour tortilla will be great. I found these nifty "Truly Handmade Flour Tortillas" at Trader Joe's that were out of this world! They tasted and looked handmade, but with no extra time required!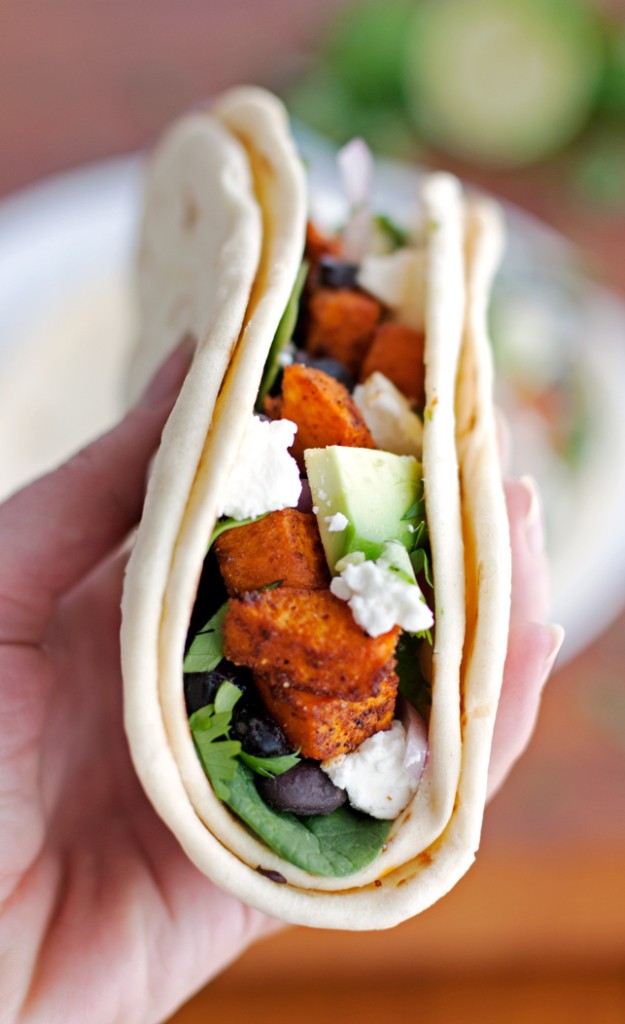 As you take a big bite of these delicious tacos I urge you to consider making a small contribution to the LunchBox Fund. As little as $10 can make a large impact on a child's life. Feed a child, nourish a mind! Happy Lunch Everyone!
Help spread the word!
The Giving Table
Twitter: @thegivingtable / #feedsouthafrica
Facebook: facebook.com/givingtable
Instagram: #feedsouthafrica
The Lunchbox Fund
Twitter: @thelunchboxfund
Facebook: facebook.com/thelunchboxfund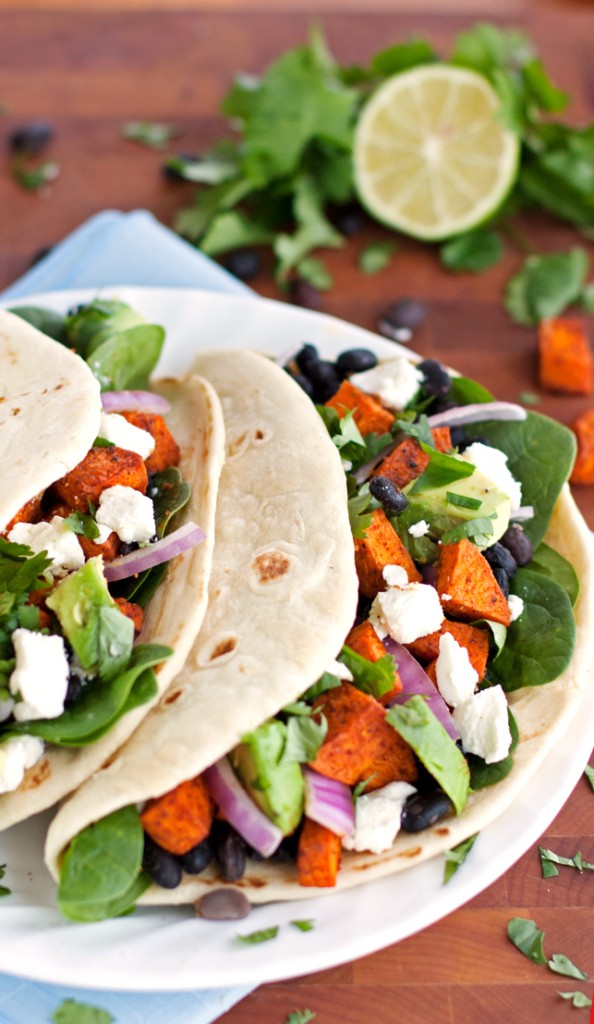 ---
Roasted Sweet Potato Tacos
Roasted sweet potatoes tossed in chili powder and cumin, paired with black beans, tangy goat cheese, and creamy avocados.
Ingredients
1

lb

sweet potatoes

peeled and diced to bite-sized pieces

3 ½

cups

black beans

two 14 ounce cans rinsed and drained

cilantro and lime juice for garnish
Instructions
Preheat oven to 400 degrees. Toss sweet potato pieces in olive oil, chili powder, cumin, salt and pepper. Arrange on a baking sheet in a single layer. Roast in oven until soft and slightly brown on the edges, about 25 minutes.

Assemble tacos by dividing ingredients up equally between each tortilla. I layered mine in the following order: <br>spinach <br>black beans <br>sweet potatoes <br>goat cheese <br>avocado <br>red onion <br>cilantro <br>lime juice
Recipe Notes
*I made six 10 inch tortillas tacos, but smaller or bigger ones can be used instead, just adjust the taco filling accordingly. You can also double up the tortilla for a more filling, hearty taco (as shown in the photos)
---
Support other participating food bloggers by visiting their sites for more information and delicious lunch recipes:
2Teaspoons
A Couple Cooks
Baker by Nature
Beard and Bonnet
Blinded by the Bite!
Bloom & Nourish
the blue roo
Bourbon and Brown Sugar
Brighton Your Health
Brooklyn Allergy Mom
Brooklyn Supper 
Cafe Magazine
Cake Over Steak
Campari and Sofa
Canned Time
Cindy's Recipes and Writings
Cookie and Kate
Corbin in the Del
Crazy Englishwoman Cooks
Cultivating the Good
curiosa di natura
Curious Cuisiniere
Delightful Crumb
Dish by Dish
Documenting Our Dinner
Dolly and Oatmeal
Eat Real Food
Eat This Poem
Em-i-lis
The Enabling Cook
Farm Fresh Feasts
Farm to Table
Flores de Oliveira
foodiEcology
FoodieCrush
Food Loves Writing
The Food Poet
Forkable
Forks Up
The Frosted Vegan
Good Food Matters 
Good Things Grow
The Gorgeous Gourmet
Greens & Seeds
Happyolks
Hip Foodie Mom
Home Cooking Memories
Homegrown & Healthy
Home Maid Simple
Hot Pink Apron 
Inherit the Spoon
Inkling Media
In Pursuit of More
Joie De Vivre
JoinMeForDinner
Joy of Cooking
Jules Speaks Gluten Free
Just Real Foods
Kate in the Kitchen
La Casa de Sweets
Letty's Kitchen
Life & Thyme
Life With the Lushers
Little Family Adventure
Local Belle
Love and Lemons
The Next Course
MealDiva
Me, Redone
Milk and Cookies
Naturally Ella
Naturally Living in the Maritimes
Noshing With The Nolands
Not Without Salt
Panfusine
Perspicacity
Piloncillo & Vainilla
Pinot Mom
Playful Cooking
Rachel's Table
The Sunday Table
Scratch Mommy
Simple Bites
Solid Gold Eats
Sweet Oven Lovin'
To Be Mindful of Beauty
Tasting Page
Turnips 2 Tangerines
Taste of Healing
Thought+Food
Twinkle Twinkle: make.your.life.shine.
The Vanilla Bean Blog
The Weekend Gourmet
What's For Dinner, Mama?
The Wheatless Kitchen
The Yellow Table
---
---