Chicken and Black Bean Tostadas with Avocado Cream Sauce
January 2, 2014
1 Comment
Minnesotans love Mexican food! It's a surprising discovery for me. When I picture Midwestern eating I imagine comforty meat and potatoes dishes. I certainly don't picture rice, beans, and unusual spices. But my in-laws (and many of their fellow Minnesotans) seem to just love Mexican food. Tacos, burritos, fajitas, Mexican bakes, you name it and they love it!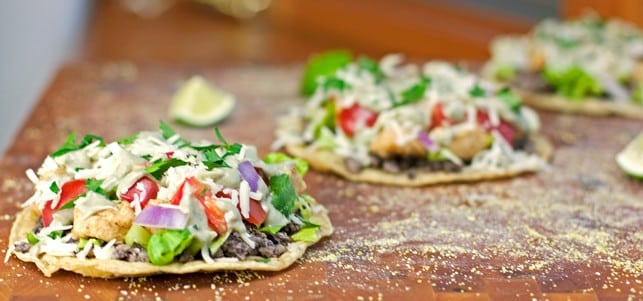 So, I designed some yummy tostadas to share with them. I towered them high with colorful black beans, chicken, lettuce, tomatoes, red onions, cheese, and cilantro. Then I drizzled them with a tangy avocado cream sauce…it's creamy, it's avocadoy, and it's absolutely divine  🙂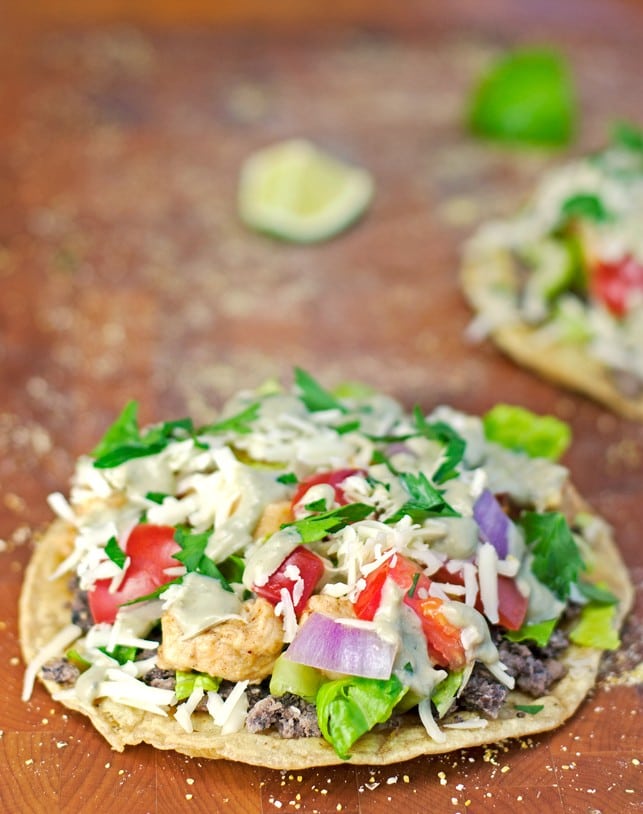 As an added bonus, I even baked the corn tortillas! So they're delicious and healthy. Always a win-win in my cookbook!
Happy New Year Everyone! Cheers to a fantastic and delicious year to come 🙂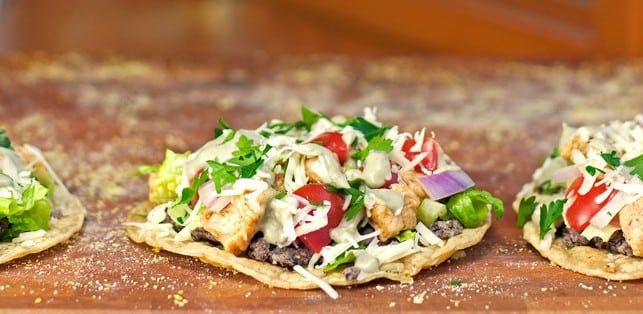 ---
Chicken and Black Bean Tostadas with Avocado Cream Sauce
Baked tostadas topped with chicken, black beans, fresh vegetables and tangy avocado cream sauce
Ingredients
CHICKEN
1

lb

boneless

skinless chicken breast, cut into small bite sized pieces

optional: ¼ teaspoon garlic powder

optional: ¼ teaspoon paprika
BEANS
3.5

cups

of black beans

2 cans drained
AVOCADO CREAM SAUCE
1/2 -1

jalapeño

diced and seeded*

½

cup

plain greek yogurt or sour cream

1

tablespoon

chopped fresh cilantro or 1 teaspoon dried cilantro
TOSTADAS
Olive oil for brushing tortillas

1.5-2

cups

of shredded cheese

4-6

leafs of romaine lettuce

chopped

fresh cilantro or parsley

chopped

optional: limes for garnish
Instructions
Chicken: Mix flour and spices in a bowl and toss with chicken pieces. Heat olive oil in a (preferably cast iron) skillet over medium heat. Sauté chicken until fully cooked stirring occasionally, about 10 minutes. Remove from heat and set aside.

Beans: Heat butter in a skillet over medium-low heat. Mix beans with spices and add them to the skillet. Stir and mash beans while they are heating in the skillet. Once the beans are heated throughout remove from heat and set aside.

Avocado cream sauce: Blend all ingredients except milk until smooth. Stir in milk until sauce reaches desired consistency (I used just a splash).

Tortillas: Tortillas are best served right from the oven so while tortillas are baking make sure all toppings are ready for assembly. Preheat oven to 350 degrees. Brush both sides of tortillas with olive oil. Arrange in a single layer on a baking sheet. Bake for 5 minutes, flip, and bake for additional 3 minutes. Once tortillas are done baking, sprinkle with salt and begin to assemble tostadas right away.

Assembly: Divide each ingredient equally between the 8 tostadas. Spread a layer of black beans on each tortilla. Sprinkle each with chicken, cheese, lettuce, tomato, red onion, and cilantro (or parsley). Drizzle with avocado cream sauce and dive in! 🙂
Recipe Notes
*for slightly spicy sauce use ½ jalapeño, for a spicier sauce use the whole jalapeño
---
---
---