Crispy Potato Gnocchi with Pine Nuts
March 9, 2014
No Comments
This past week I spent a fun day with my close friend Marisa. We've been friends for almost 20 years and can always pick up just where we left off no matter how long it's been since we've seen each other. We started our day off with a Boozy, Brooklyn Brunch! I bet you can't say that 10 times fast! Especially after you've had a Boozy Brooklyn Brunch 🙂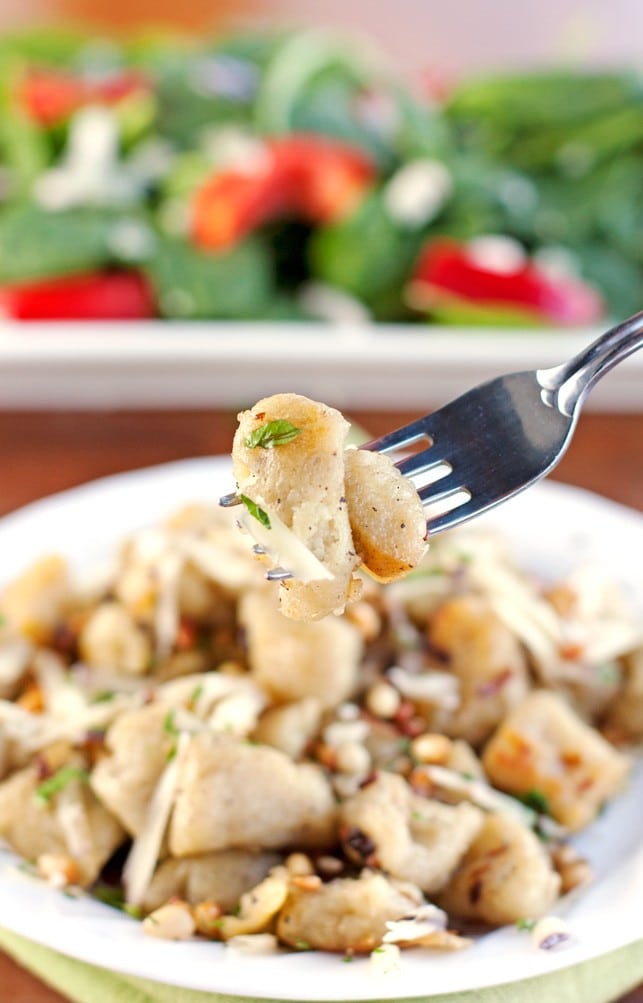 It was a perfect New York style brunch with bubbly mimosas, fresh French press coffee, delicious food, and great conversation. We both opted for the creamy polenta scramble with crispy bacon and were not disappointed. Mmmmm!!!! Afterwards we walked it all off (possibly wishful thinking!) along a beautiful path by the river. It was a fantastic day with a fabulous friend. 🙂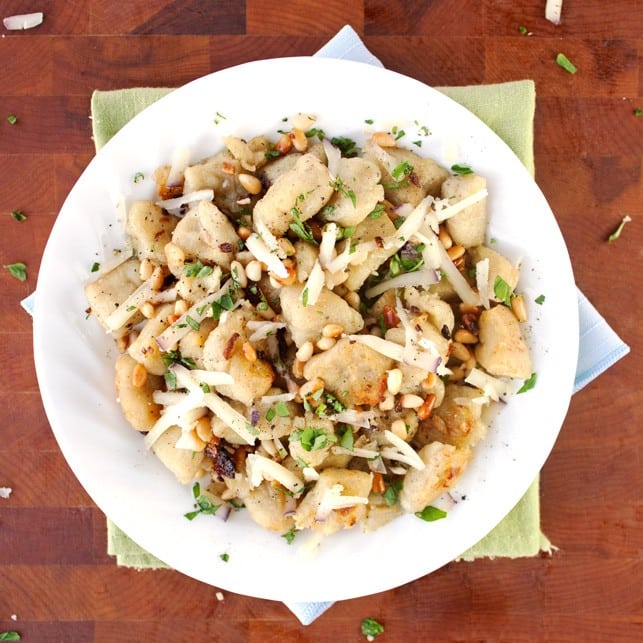 Today I'm sharing with you a lovely crispy gnocchi recipe loaded with pine nuts and sprinkled with your favorite cheese. I love potatoes in all of its forms, and with gnocchi it was definitely love at first bite. I was ecstatic to find such a creamy, dreamy, potato option at an Italian restaurant. I know there are some gnocchi doubters out there, but if you like buttery, crispy, potatoes this recipe is sure to turn you into a fellow gnocchi lover! Mmmmmm!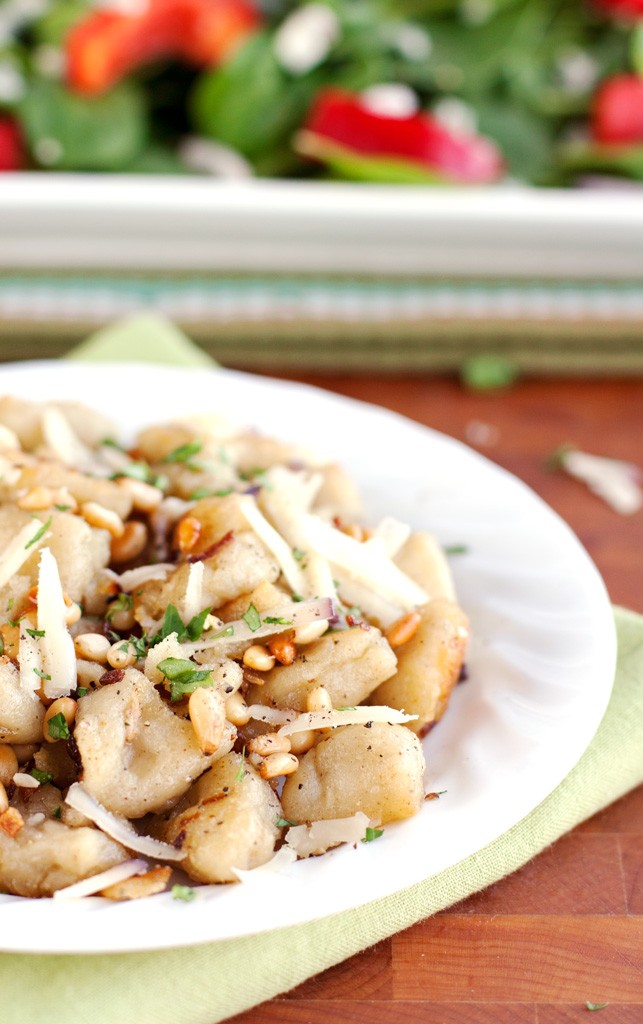 I decided to try my hand at being an Italian Grandmother but with a little added roasting  and my gnocchi turned out to be super delicious.  You can find my recipe, along with a step by step photo guide at: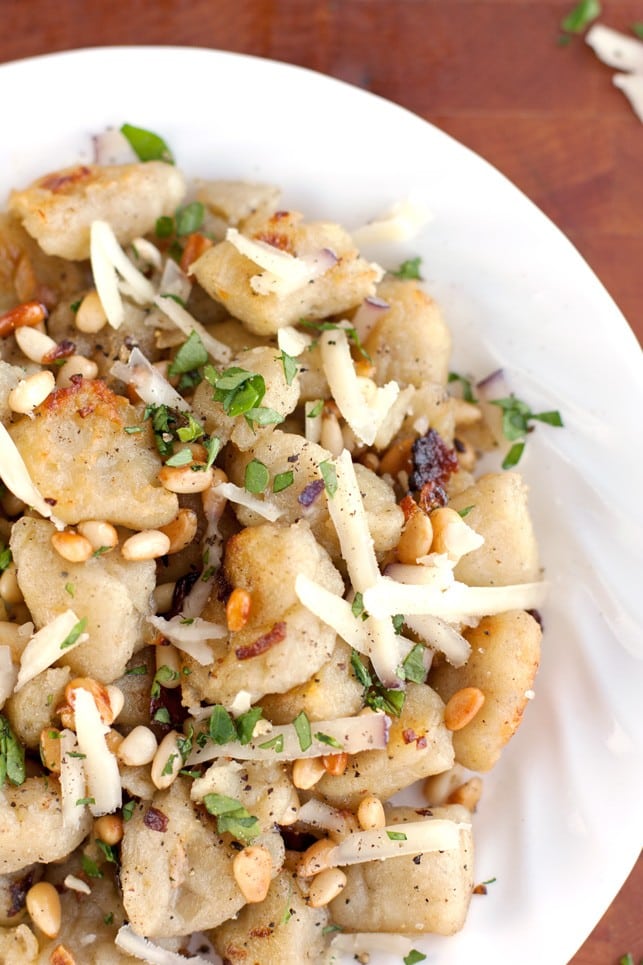 I would highly recommend the homemade gnocchi, but premade gnocchi will work deliciously as well. It's super easy, super yummy, and once you crisp it up with pine nuts and butter it will definitely not fail to impress your taste buds. Using premade gnocchi shouldn't change the cooking time since I cut my gnocchi into pieces about the same size, but keep an eye on the little guys just incase 🙂
I highly prefer crispy gnocchi to the traditional boiled method. The result is crispy, buttery, potato-y goodness. The texture and taste are absolutely delicious! It's like eating divine little fried potatoes, which makes sense since that's pretty much what they are 🙂
Enjoy!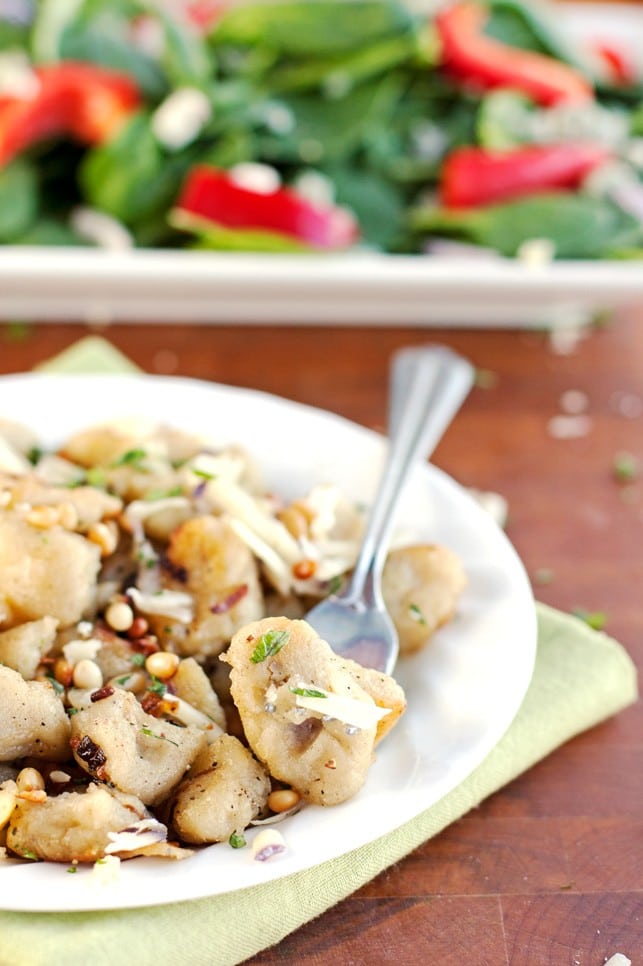 ---
Crispy Potato Gnocchi with Pine Nuts
Crispy, buttery potato gnocchi topped with toasted pine nuts and cheese
Ingredients
1

batch of homemade gnocchi or 32 ounces premade gnocchi

Garnish: grated parmesan

romano, or your favorite cheese and parsley
Instructions
Depending on the size of your skillet you may need to crisp the gnocchi in two batches. If this is the case divide butter, shallot, and pine nuts into two batches and repeat the steps below.

In a large (preferably cast iron) skillet melt butter on medium high. Sauté shallot until soft, about 2 minutes. Add gnocchi in a single layer and cook until side touching the skillet is golden brown, about 5 minutes. Add pine nuts, gently stir, and continue to cook until gnocchi until fully cooked and golden, about 5-7 minutes.

Garnish with cheese and parley. Serve immediately.
---
---
---