Cranberry Pecan Scones
February 13, 2014
1 Comment
Happy almost Valentine's Day everyone! After sharing a romantic dinner recipe earlier this week I thought I'd pass along another Valentine's day recipe winner, perfect for starting the special day off right! Rustic, hearty, nutty, tangy, and even healthy cranberry pecan scones!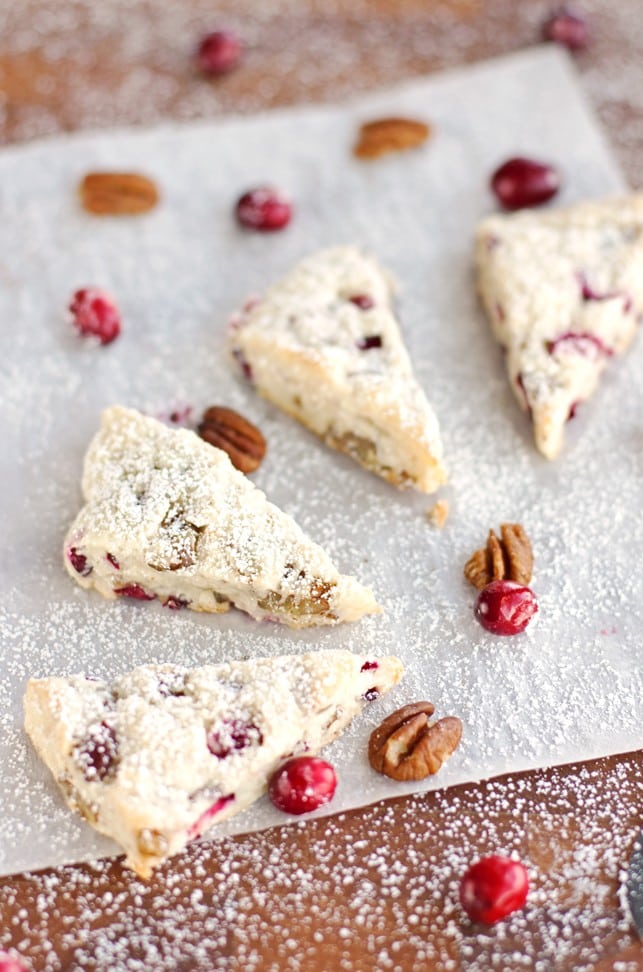 These scones are perfect for a Valentine's Day breakfast. The buttery pecans give them a hearty nutty texture while the cranberries add a tartness that will brighten your plate and your morning 🙂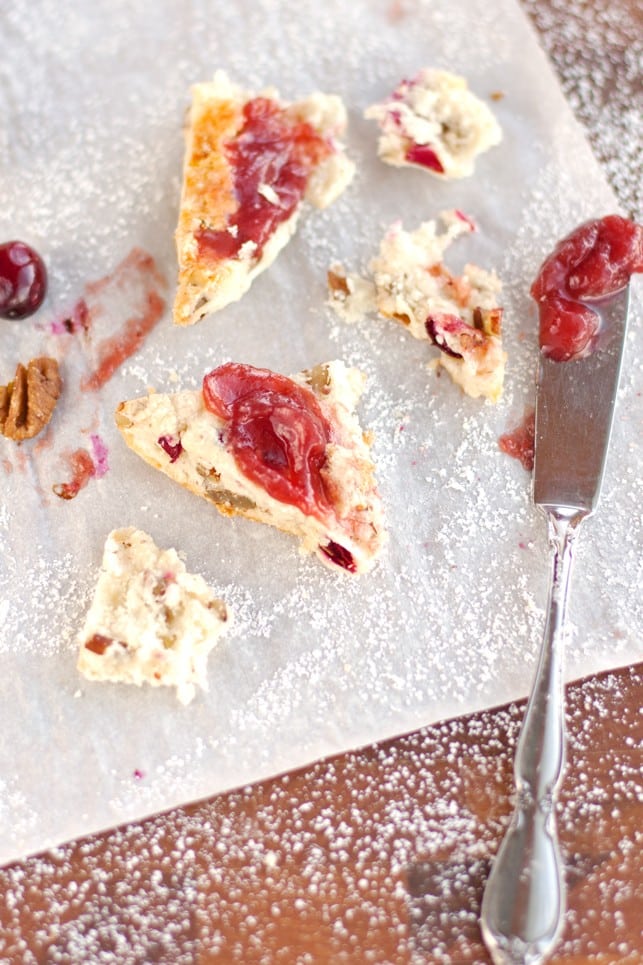 Just like my Lemon Rosemary Scones, I decided to make dense cream scones and not the cakier scones that contain eggs. I (still) wince at the idea of pouring a whole cup of heavy cream into the batter, and I use greek yogurt (thinned with a splash of milk) instead. That's 800 calories of heavy cream gone and only 80 calories of greek yogurt added. That means 720 calories vanish from the recipe with zero taste lost! 🙂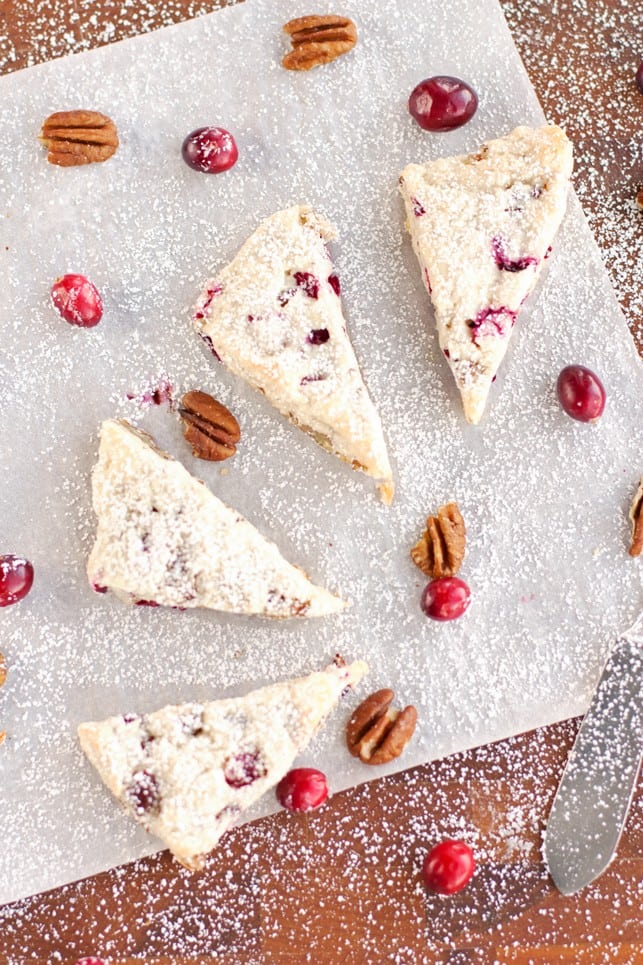 The scones themselves are not very sweet so I highly recommend dusting them generously with powdered sugar or (and!) smearing them with your favorite jam! I used a cranberry apple jam, but any red berry you love will be great!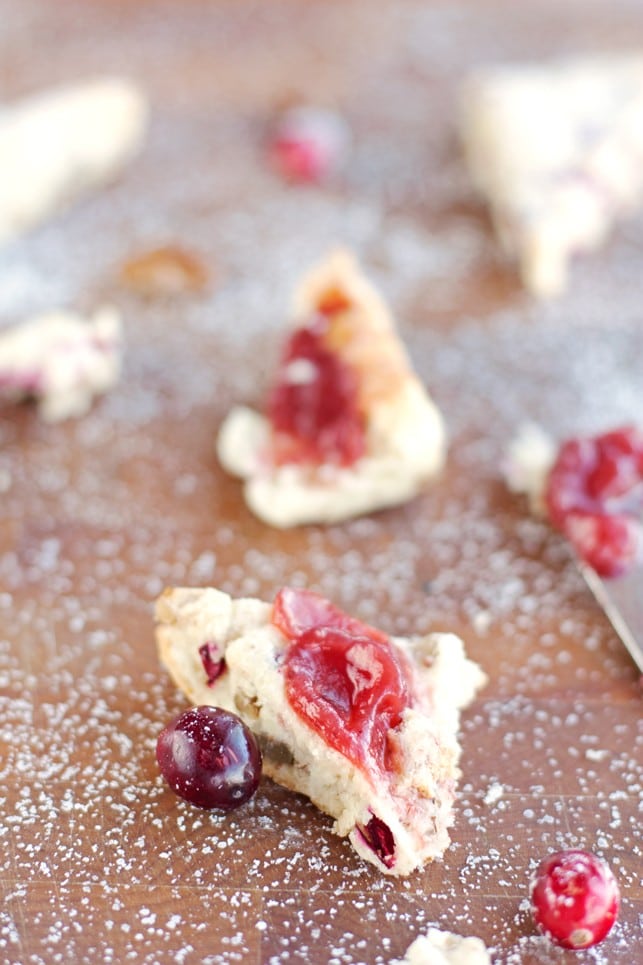 Pair these mini-scones with a steaming cup of coffee and you'll be sure to please your sweetheart, your family, or your fabulous self this Friday morning!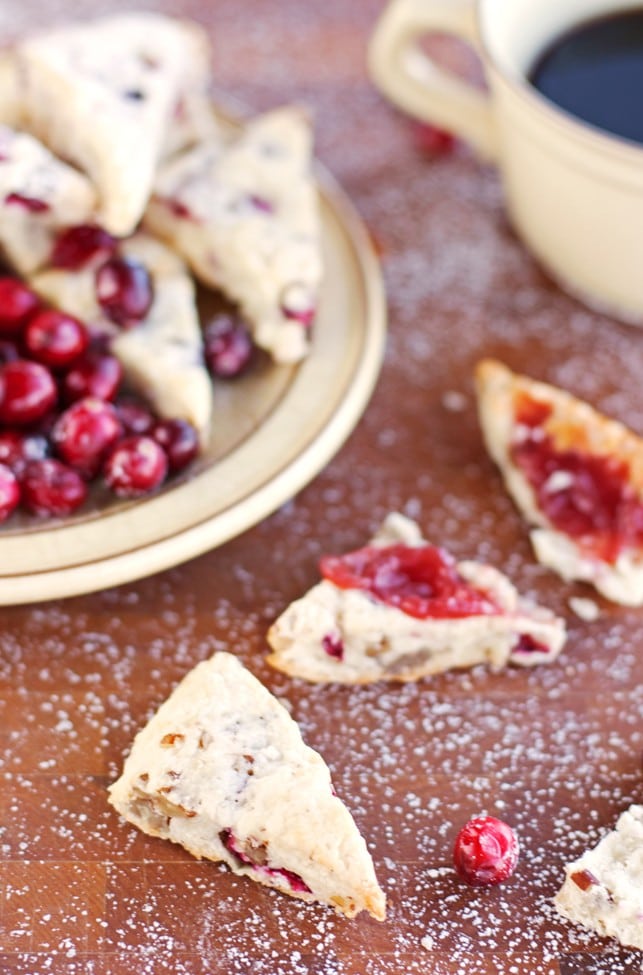 Also just a reminder that the Lunchbox Fundraiser is going on until Febraury 16th. Check out my Roasted Sweet Potato Taco post to learn all about the cause and what you can do to help!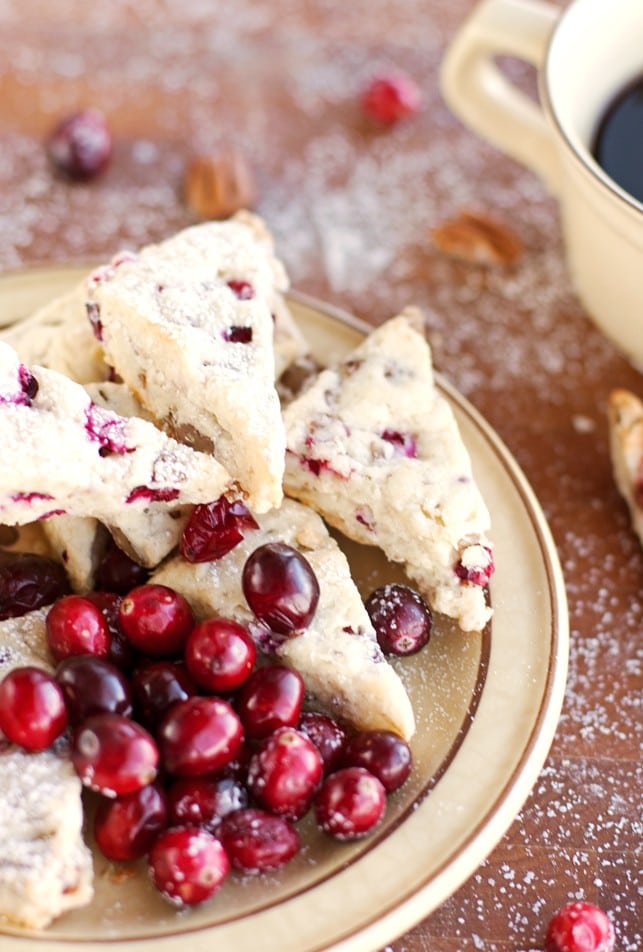 ---
Rustic healthy cream scones bursting with fresh cranberries and buttery pecans
Ingredients
1

tablespoon

baking powder

½

cup

fresh cranberries

coarsely chopped

2/3

cup

pecans

coarsely chopped

optional: powdered sugar for dusting and/or jam for spreading
Instructions
Cut butter into ¼" cubes, wrap in plastic wrap and freeze for 20 minutes.

Preheat oven to 350 degrees.

In a large bowl whisk together flour, baking powder, sugar and salt. Sprinkle flour mixture with frozen butter cubes. Cut butter into flour using a pastry cutter or two knives until mixture is crumbly. Whisk together yogurt and milk. Add yogurt-milk mixture to the flour-butter mixture. Stir until dough just starts to form, about 1 minute. Gently fold in pecans and cranberries.

Transfer dough to a clean countertop and kneed until sticky dough forms, about 2 minutes. Roll dough out and cut into desired shape. I rolled the dough out into a 8"x10" square, cut it into 20 2"x2" squares, then bisected them to create 40 triangles.

Arrange in a single layer on a cookie sheet and bake until tops are golden brown, about 15-18 minutes.

Once scones are completely cool, dust with powdered sugar, smear with jam, and enjoy!
---
---
---