Spaghetti Carbonara
February 7, 2014
2 Comments
Happy almost Valentine's Day everyone! The delicious (and of course romantic!) holiday is only one week away so today I thought I'd share a recipe that would be perfect to cook for your sweety, family, friends, or fabulous self on this special day. It's super romantic, super creamy, and SUPER EASY Spaghetti Carbonara!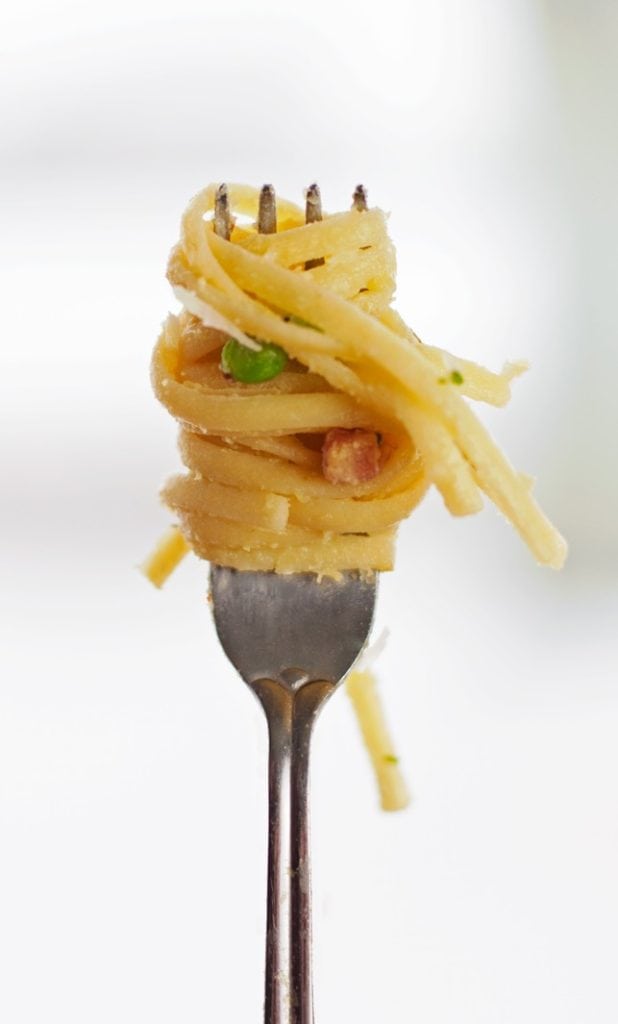 As an added bonus the spaghetti in this recipe is totally the perfect excuse you've been waiting for (I know I have!) to try a romantic lady and the tramp spaghetti kiss!
http://www.youtube.com/watch?v=1Er8wXuqdEY&w=420&h=75
Regardless of your pasta (and eating method) choice the real star of this recipe is the sauce. The eggs (think creamy custard not scrambled!), cheese, and cream make this recipe not only really creamy, but super thick. The result is rich, creamy goodness clinging to every noodle!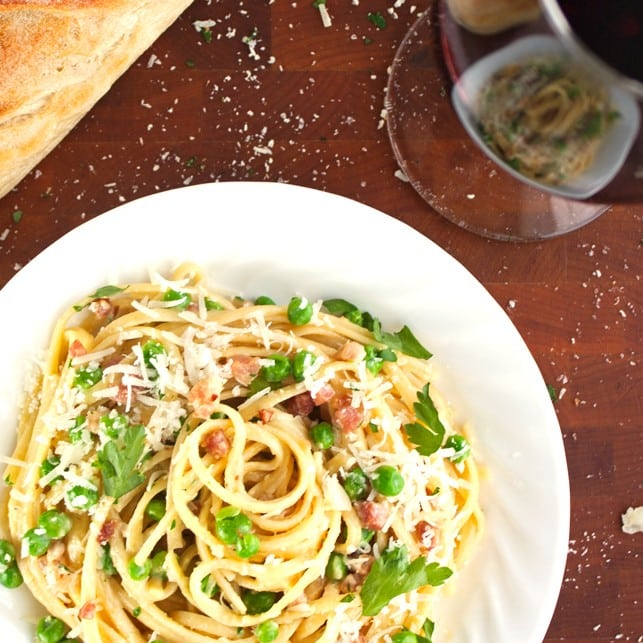 The pancetta (Italian bacon) and cheese are a must for carbonara giving the sauce it's distinctive rich salty flavor. Although not traditional to the recipe, the pinch of red pepper flakes added a surprising richness to the sauce giving it a subtle zing. Just like adding salt to caramel sauce makes it taste richer, the pepper flakes give this carbonara a subtle bite that brings out the creaminess all the more!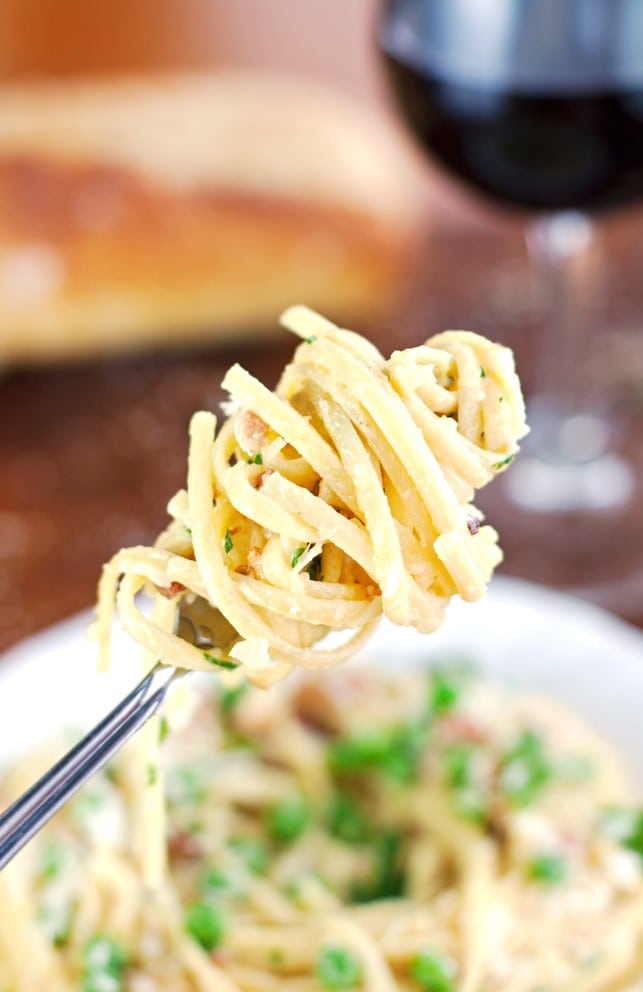 Traditional spaghetti carbonara definitely does not include peas, but I love the taste, texture, and color they add to the dish! So, I highly recommend you include them, but feel free to leave them out if you prefer a more traditional recipe or even add a different vegetable if you're feeling inventive. The whole point is to have fun and make a dish you're excited to share and enjoy 🙂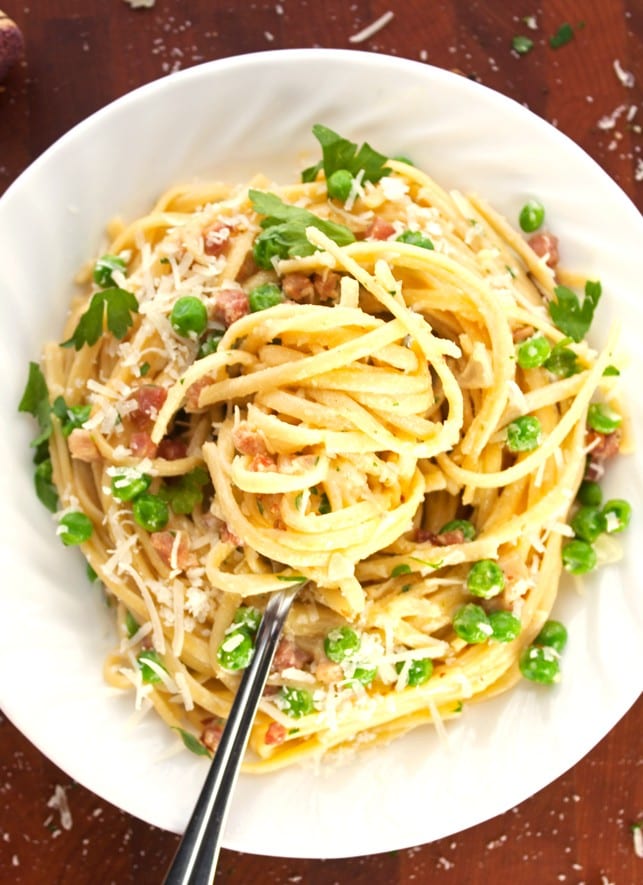 Pair this creamy, dreamy, spaghetti carbonara with a green salad, crusty bread, nice wine, and maybe even a few candles and Presto! A delicious Italian dinner fit for a fancy restaurant but easy enough to make at home!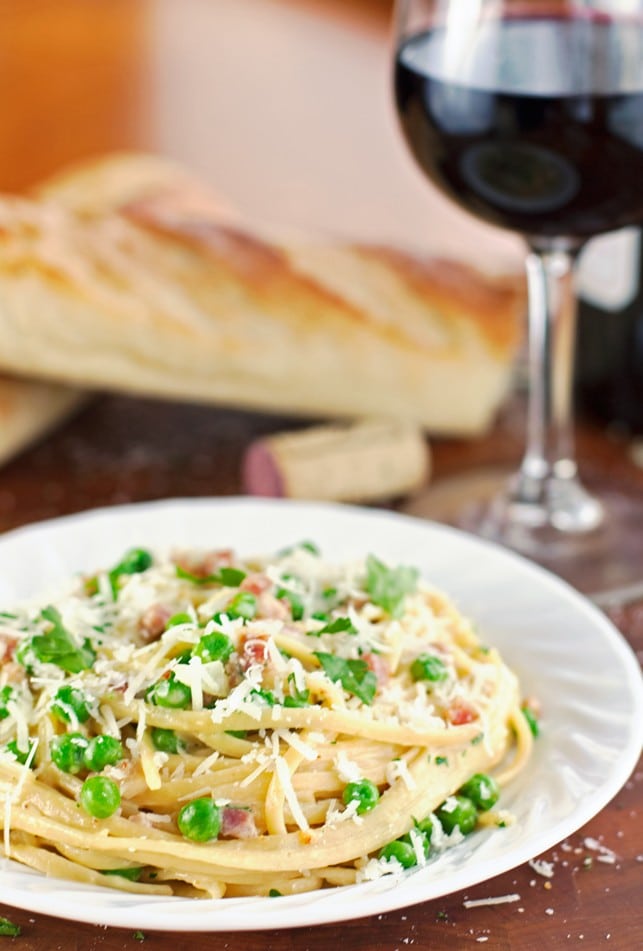 ---
Super thick, super creamy, super easy spaghetti carbonara packed with salty pancetta and fresh peas
Ingredients
¼

cup

cream or half and half

1

cup

shredded pecorino romano or parmesan cheese

2

tablespoons

fresh parsley

chopped

1

teaspoon

red pepper flakes

8

ounces

pancetta or bacon

diced

2

cloves

of garlic

minced

1

cup

peas

cooked and drained*
Instructions
In a large pot bring 2-4 quarts of salted water to a boil. Cook pasta according to directions to reach al dente. Drain, setting some of the pasta water aside. Place spaghetti back into cooking pot, toss with a little olive oil or butter, and set aside.

While pasta is cooking, sauté pancetta in a large skillet over medium heat until fully cooked, about 10 minutes. Add onion and garlic and cook until onion is translucent, about 5-10 minutes. Set aside.

In a large bowl whisk together eggs, cream, milk, cheese, parsley, red pepper flakes, and salt. Make sure peas are fully cooked and drained.

Turn burner containing pot full of cooked pasta on to low heat. Add pancetta-onion-garlic mixture and peas. Slowly pour egg-cream sauce over pasta while gently stirring constantly until fully heated through. This is the step where the eggs in the sauce are cooked. Stir constantly to make sure you don't get any scrambled egg pieces in your pasta! Thin sauce if necessary by adding a splash of the pasta water.

Serve immediately, garnished with extra parsley and cheese.
Recipe Notes
*I used frozen peas, which worked great.
**I recommend using spaghetti, linguini, or angle hair pasta, but feel free to try any pasta shape you'd like.
---
---
---