Print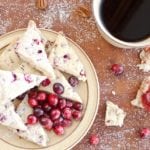 Cranberry Pecan Scones
Rustic healthy cream scones bursting with fresh cranberries and buttery pecans
Cut butter into ¼" cubes, wrap in plastic wrap and freeze for 20 minutes.

Preheat oven to 350 degrees.

In a large bowl whisk together flour, baking powder, sugar and salt. Sprinkle flour mixture with frozen butter cubes. Cut butter into flour using a pastry cutter or two knives until mixture is crumbly. Whisk together yogurt and milk. Add yogurt-milk mixture to the flour-butter mixture. Stir until dough just starts to form, about 1 minute. Gently fold in pecans and cranberries.

Transfer dough to a clean countertop and kneed until sticky dough forms, about 2 minutes. Roll dough out and cut into desired shape. I rolled the dough out into a 8"x10" square, cut it into 20 2"x2" squares, then bisected them to create 40 triangles.

Arrange in a single layer on a cookie sheet and bake until tops are golden brown, about 15-18 minutes.

Once scones are completely cool, dust with powdered sugar, smear with jam, and enjoy!