Lemon Rosemary Scones with Vanilla Bean Glaze
January 12, 2014
1 Comment
Happy Spring! Well happy no longer -52 degrees at least! Even if it is still below freezing I welcome the warm weather 🙂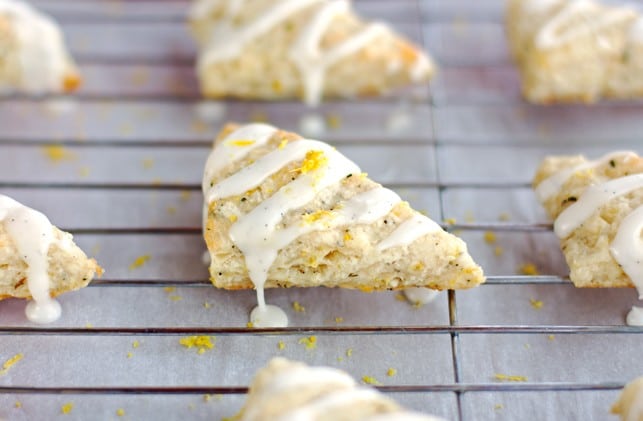 These lemon rosemary scones are prefect to brighten the weather and cut right through the cold temperatures. The lemony flavor tastes like a little bit of summer and the soul warming effect is multiplied when you pair them with a big mug of warm coffee.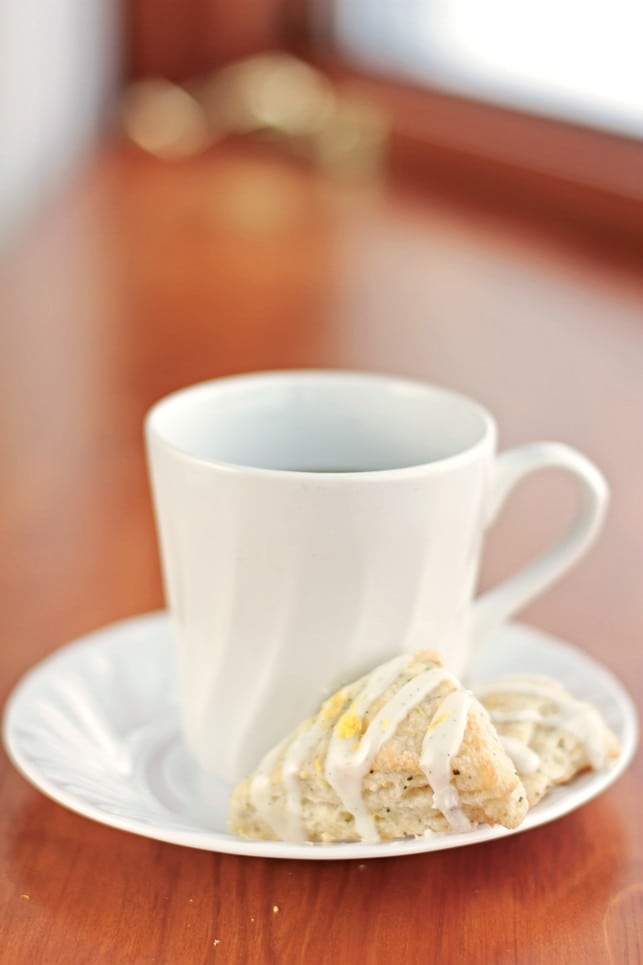 The scones themselves aren't very sweet, so I topped with a creamy vanilla bean glaze. It's sweet, it's creamy, it's vanillay, and it is yummy! Chris and his mom both declared it tasted like liquid gold! Mmmmm!

When it comes to scone recipes I was surprised to find a contentious debate between recipes with eggs vs. no-egg cream scones. The egg scones are airy and cakey, while the cream scones are dense and moist.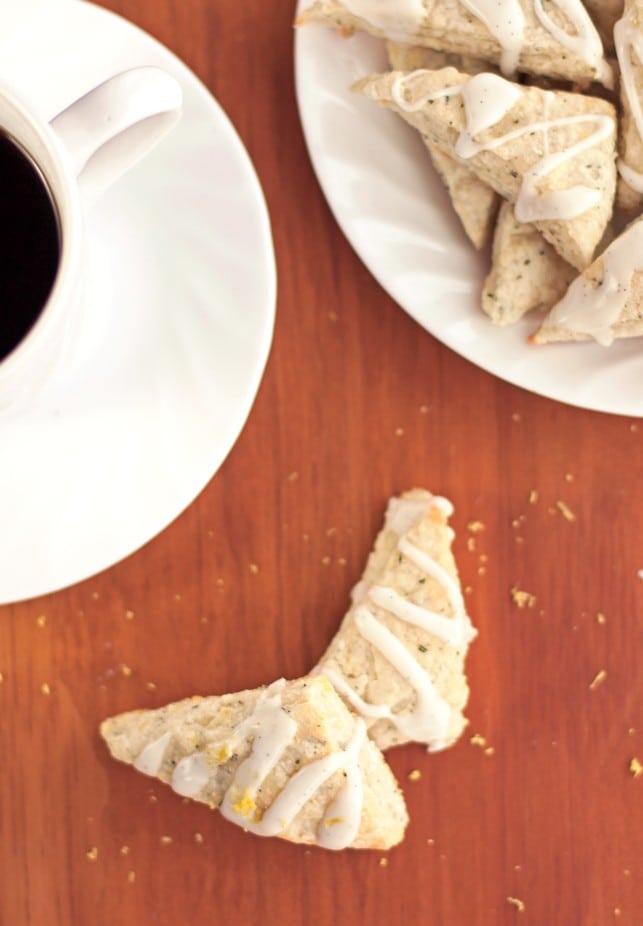 After deciding to make the cream (no-egg) scones, I winced at the idea of pouring a whole cup of heavy cream into the mix. Instead I substituted greek yogurt (thinned with a splash of milk) and it worked great! That's 800 calories of heavy cream gone and only 80 calories of greek yogurt added. That means 720 calories vanish from the recipe with zero taste lost! 🙂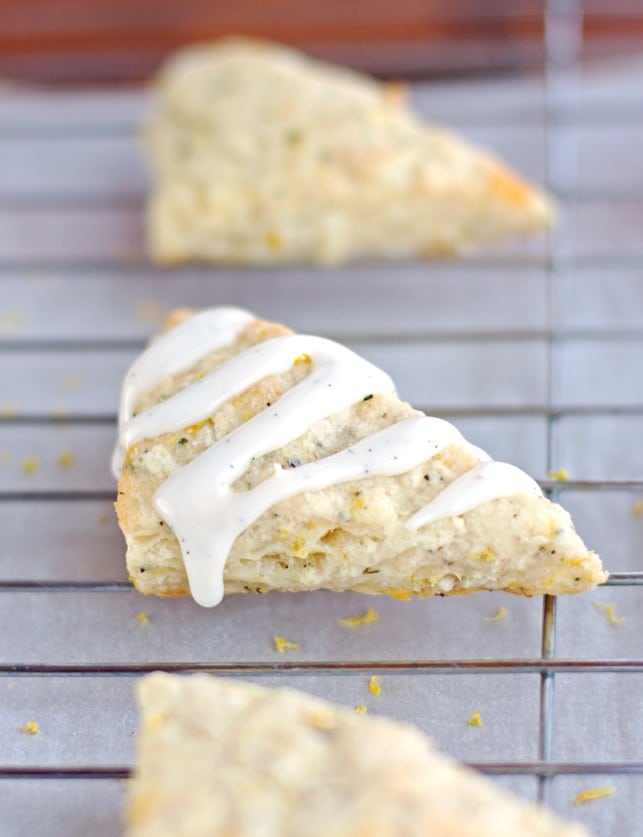 Cutting this recipe into mini-scones was perfect for me. I got to eat two of them instead of just one big one. Because the only thing better than having one yummy treat is having two!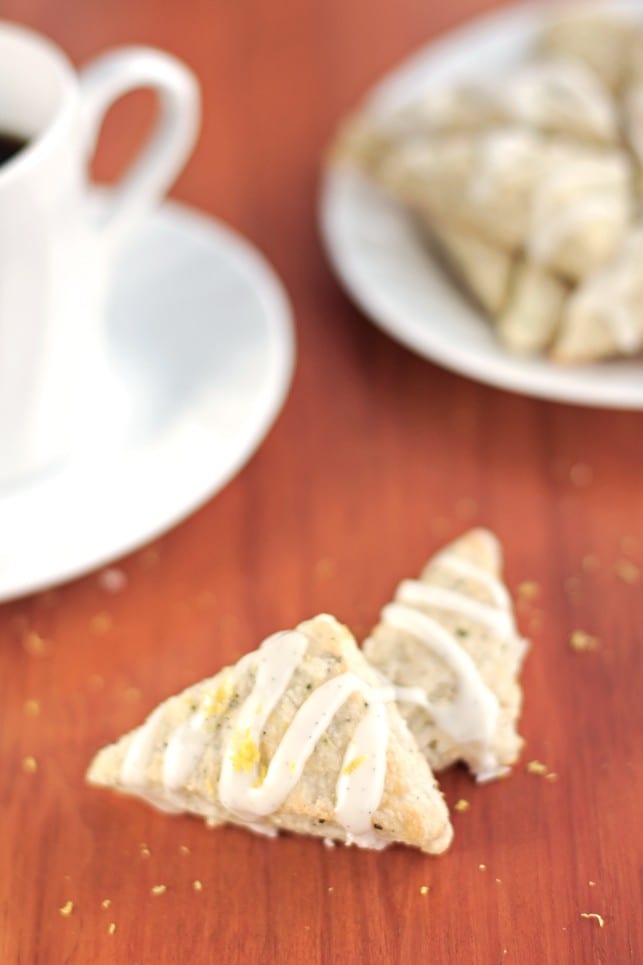 ---
Lemon Rosemary Scones with Vanilla Bean Glaze
Lemon rosemary mini-scones covered in rich vanilla bean glaze
Ingredients
SCONES
1

tablespoon

baking powder

1

tablespoon

lemon zest

about 2 lemons

1

tablespoon

fresh rosemary leaves

finely chopped
Instructions
Slice vanilla bean open and scrap out inside seeds*. Place seeds in whole milk and let sit in the refrigerator until scones have been baked and cooled.

Cut butter into ¼" cubes, wrap in plastic wrap and freeze for 20 minutes.

Preheat oven to 350 degrees.

In a large bowl whisk together flour, baking powder, sugar and salt. Sprinkle flour mixture with frozen butter cubes. Cut butter into flour using a pastry cutter or two knives until mixture is crumbly. Whisk together yogurt and milk. Add yogurt-milk mixture, lemon zest, and rosemary to the flour-butter mixture. Stir until dough just starts to form, about 1 minute.

Transfer dough to a clean countertop and kneed until sticky dough forms, about 2 minutes. Roll dough out on a lightly floured surface and cut into desired shape. I rolled the dough out into a 8"x10" rectangle, cut it into 20 2"x2" squares, then bisected them to create 40 triangles.

Arrange in a single layer on a cookie sheet and bake until tops are golden brown, about 15-18 minutes. Let scones cool completely before glazing.

Once scones are completely cool add powdered sugar to the vanilla bean milk until desired glaze thickness is reached. Add a dash of salt then drizzle glaze over scones or dunk scones in glaze. Serve and enjoy!
Recipe Notes
*A nice explanation can be found at TheKitchn
---
---
---