Baked Crab Cakes
December 31, 2017
No Comments
Baked crab cakes served with a yogurt sauce for a lighter and easier crab cake recipe.  A New Year's celebration classic!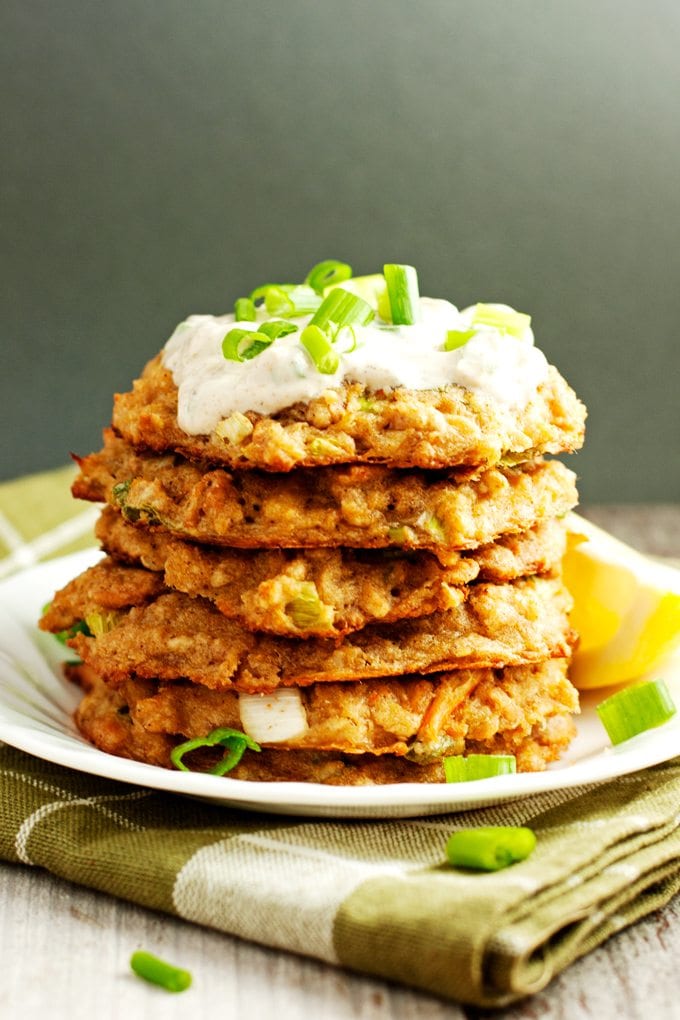 Tap any photo to Pin
Baked crab cakes, not fried, and still crispy
You can make fancy crab cakes at home! The crab cakes themselves are super easy — just mix everything together in a bowl, form into patties, and bake until done. When mixing, make sure you stir gently to keep the crabmeat from breaking up, as the larger pieces will be tender (see below for crab meat recommendations). The same goes with baking. Don't move the crab cakes around while they are baking, and resist the temptation to flip the cakes more than once. They are pretty fragile, and will fall apart if you disturb them too much.
You'll notice that this recipe doesn't pan fry the crab cakes in oil, baking them instead. This has two advantages:
Fewer calories. By not pan frying, you skip the extra fat and calories from the oil. The cakes instead get their brown, crispy exterior from the hot oven air.
Less mess. Pan frying always makes a spattering mess on my stovetop, and requires my constant attention. Baking in the oven is much cleaner, and I don't have to watch the cakes as closely.
I skip frying in favor of baking in many of my recipes. Here are few more to check out:

Lightened, protein-packed yogurt sauce
Rather than using a mayo-based sauce to top the crab cakes, this recipe features a lighter, yogurt based sauce. Not only does it have fewer calories, it also has more healthy protein. Plus it's creamy, thick, and delicious! Start the New Year right!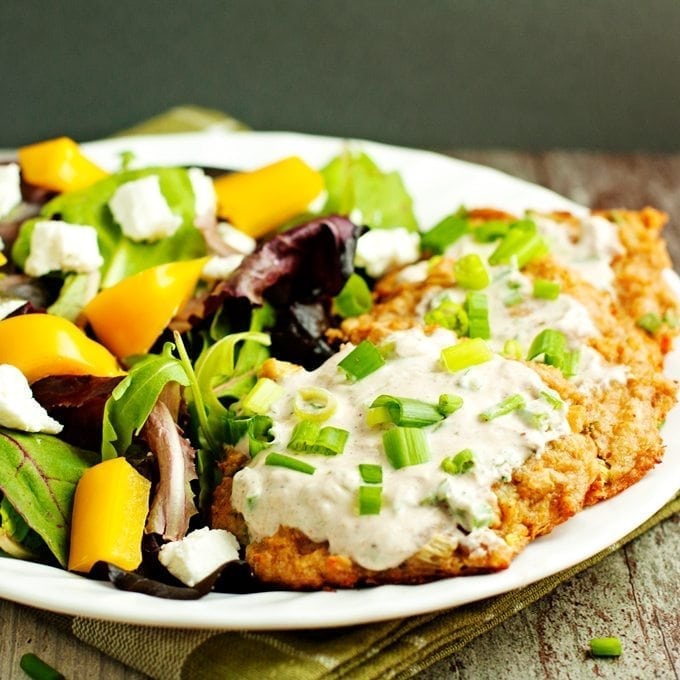 Crabmeat for baked crab cakes
The crabmeat is the star of the show here, so I recommend you use the best crab meat you can find. I've had good luck with both fresh crab (yum!), and canned crab. If using canned crab, try to find one labeled lump crabmeat, as it will contain larger, more tender pieces of crabmeat.
Happy New Year!
---
Baked crab cakes served with a yogurt sauce for a lighter and easier crab cake recipe.  A New Year's celebration classic!
Ingredients
Baked Crab Cakes
2

cups

about 4 servings, crushed crackers, such as Ritz

¼

cup

of greek yogurt

or another ¼ cup of mayonnaise

½

cup

finely chopped green onions

1

tablespoon

of worcestershire sauce

2

teaspoons

of old bay spice
Yogurt Sauce
½

teaspoons

old bay spice

1/2

cup

diced green onion

dash of soy sauce or salt
Instructions
Preheat oven to 375 degrees F.

Stir together all ingredients for the yogurt sauce. Set aside.

Place crackers in sandwich bag and crush with hands or rolling pin.

Make the crab cakes by whisking together mayonnaise, greek yogurt, mustard, worcestershire sauce, old bay spice, and salt. Whisk in the egg. Gently break up crab meat. Gently stir crab meat into the mixture. Gently stir in crushed crackers.

Spray a baking sheet with cooking spray. Form 8 crab cakes, arrange on baking sheet, and spray with cooking spray. Bake for 10 minutes, flip, then bake until golden brown, about an additional 5-10 minutes. Serve with yogurt sauce, lemons, and diced green onions.
---

SaveSave
SaveSave
SaveSave
SaveSave
---
---