Sweet Potato Egg Bake
December 24, 2017
2 Comments
This egg bake is easy to make and bursting with fun flavors and colors. This savory recipe takes eggs and packs them with sweet potatoes, mushrooms, onions, peppers, and cheese. Assemble the night before for a simple recipe that cooks while you visit with family and friends.
Tap any photo to Pin
Egg bake potatoes and veggies – choose your favorites!
This recipe is super versatile – you just need about 1 pound of potatoes and 4 cups of chopped veggies. I've used sweet potatoes, regular potatoes, shredded hash browns, and even tater tots in this recipe. I chose sweet potatoes this time to give the dish a flavor and color boost (like my pulled pork sweet potato hash). I use my tastebuds (and unused items left in my fridge) to guide which veggies to use in this egg bake. This particular version has peppers, onions, and mushrooms, but broccoli, squash, and spinach are delicious too! Just make sure the veggies are fully cooked before adding them to the egg bake.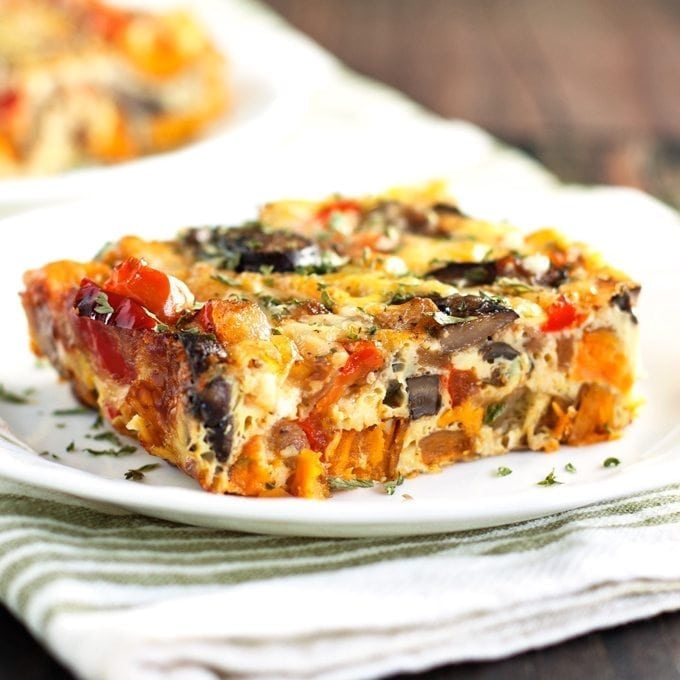 Egg bake cheese
To get that melty, pull apart texture, I like to use a good melting cheese in the egg bake: my favorites are cheddar, provolone, and swiss. You can also experiment with more strongly flavored cheeses like pepper jack or blue cheese to give the dish a spicy or tangy zing!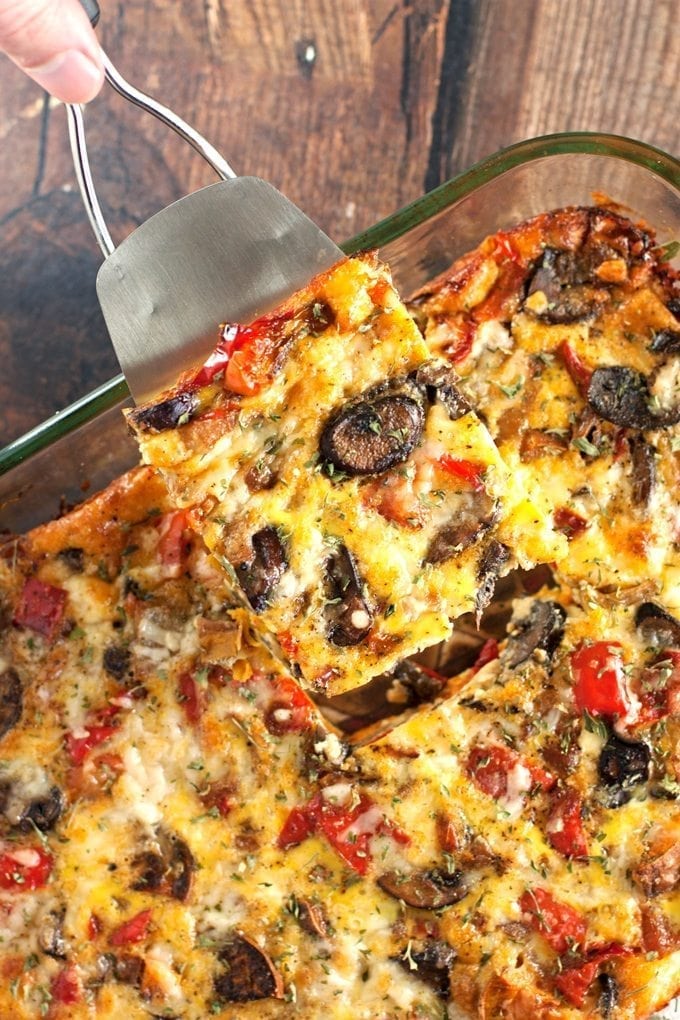 The make ahead option
One thing I love about this sweet potato egg bake is that it's impressive enough for family celebrations (like New Years or Christmas), and easy enough to make any day of the year. I like to assemble the egg bake the day before, refrigerate overnight, and then pop them in the oven the next morning. Set a timer and let the egg bake cook while you visit with family and friends. Everybody wins!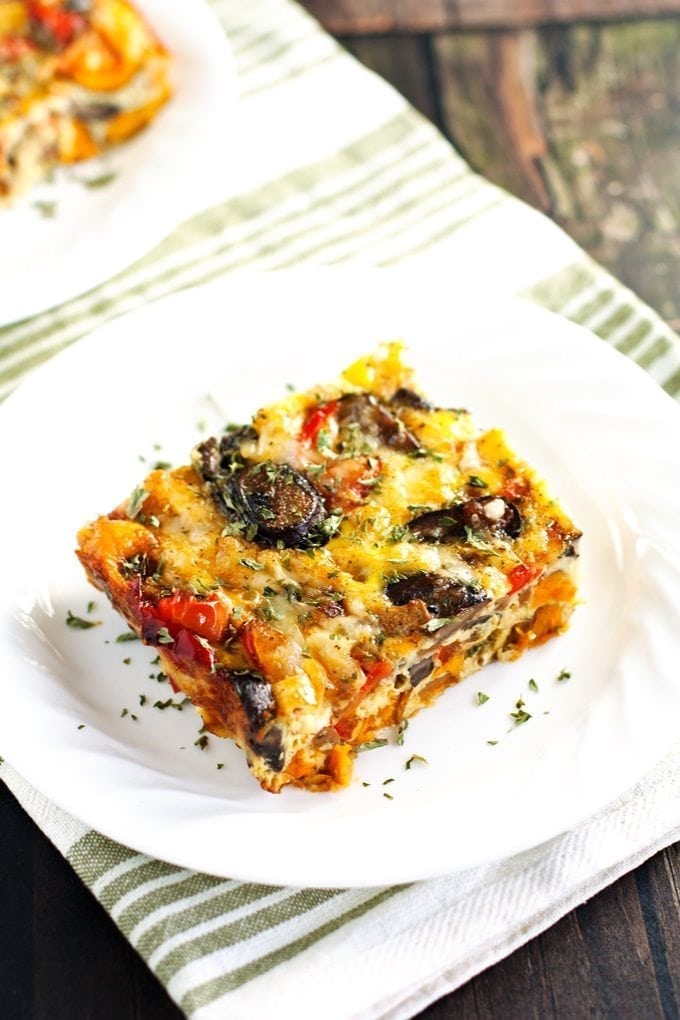 Egg Bake Toppings and Sides
When serving, I take the choose-your-own adventure approach, and set out a mixture of toppings for people. My personal favorites are hot sauce, salsa, sour cream, and extra cheese.
This egg bake also goes great with other breakfast favorites. I like to pair it with fresh fruit, bacon or sausage, and mimosas. For a festive seasonal option, try my cranberry champagne cocktails for a brunch that rings in the New Year (but not too loudly) in style! 😉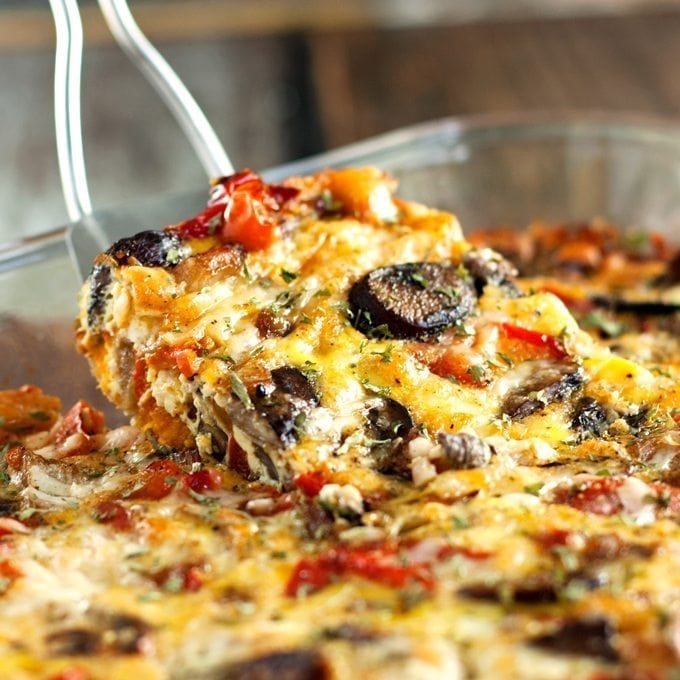 ---
Savory eggs packed with sweet potatoes, mushrooms, onions, peppers, and cheese - bursting with delicious flavors and beautiful colors! Assemble it the night before, for a simple recipe that cooks while you visit with family and friends.
Ingredients
1

lb

sweet potatoes

cut into bit sized pieces (regular potatoes or shredded hash brown potatoes can also be used)

2

tablespoon

olive oil

divided

8-10

ounces

sliced mushrooms

2

bell peppers

cut into bit sized pieces

3

cloves

of garlic

minced (optional)

½

cup

2 ounces by weight shredded cheese, divided (I've used cheddar, swiss, and pepper jack)
Instructions
Preheat oven to 450 degrees F.

Toss diced potatoes with 1 tablespoon olive oil and arrange in a single layer on a large baking sheet. Sprinkle potatoes with salt and pepper. Roast potatoes in oven until tender and golden brown, about 20 minutes. Set aside.

While potatoes are roasting, heat remaining tablespoon of olive oil in a large skillet over medium heat. Add mushrooms, bell peppers, onion, garlic, and 1 teaspoon salt and cook until all veggies are tender, about 10-15 minutes. Set aside.

Once the potatoes and veggies are done, grease a 9x13 baking dish.

In a large bowl, whisk together eggs, milk, and half of cheese. Pour half of egg mixture into baking dish. Equal distribute potatoes and veggies over egg mixture in the baking dish. Pour the remaining egg mixture on top. Sprinkle remaining cheese over dish. Sprinkle with salt and pepper.

At this point you can cover with plastic wrap and aluminum foil and either refrigerate overnight or freeze for up to 3 months. If you freeze it, allow it to thaw overnight in the refrigerator before baking. In either case, bring the dish to room temperature before proceeding.

Preheat oven to 375 degrees. Bake uncovered until toothpick inserted in the middle comes out clean and top is golden brown, about 45 minutes. Allow to cool for 10 minutes before slicing and serving. Top with hot sauce, salsa, guacamole, avocados, or any other topping you like with eggs. Enjoy!
---
---
---