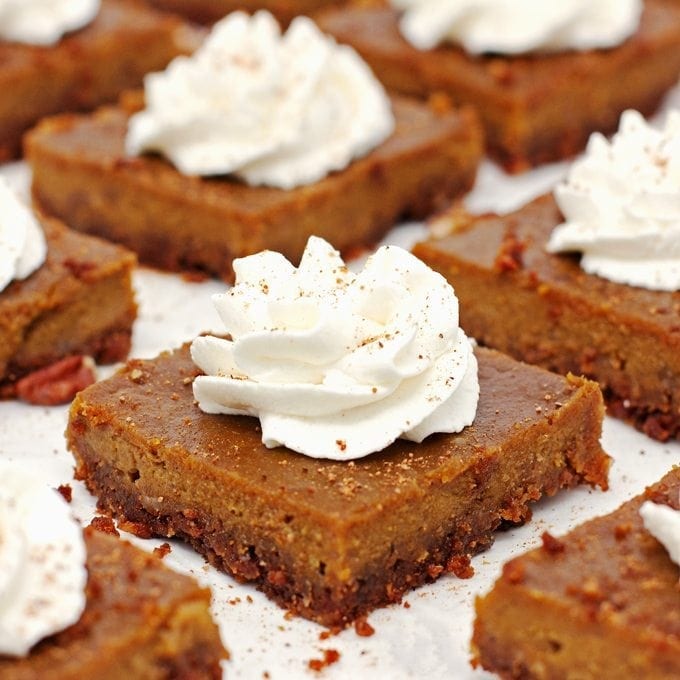 Click here to Pin this recipe
November is the month of pies! The hardest part about any pie (other than saving some for others) is the crust. I've put together some tips for making pie crusts, but sometimes the easiest crust is the one you don't make! This recipe is a delicious way of satisfying that pumpkin pie craving without the hassle of making a traditional pie crust.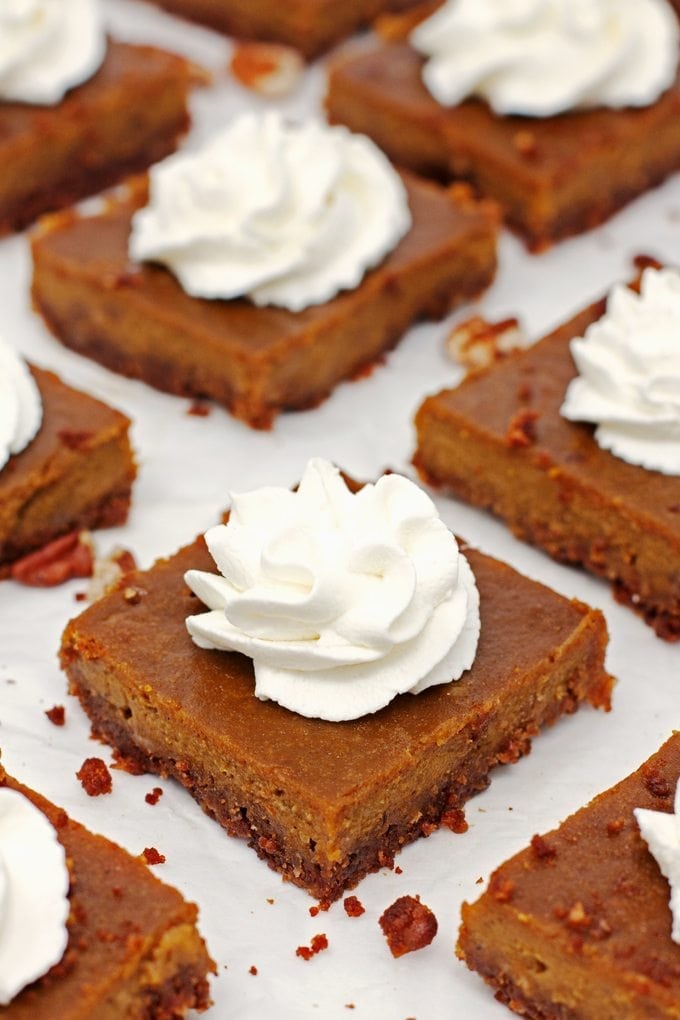 This recipe's crust is a combination of ginger cookies, pecans, and melted butter. Just mix some crushed cookies and nuts with the melted butter and viola! Delicious crust made. This crust has a gingery-ness that I adore, but if you don't like ginger as much as I do, using graham crackers instead of ginger cookies is also delicious. If pecans are not your thing, substitute another 1/2 cup crushed cookies/graham crackers.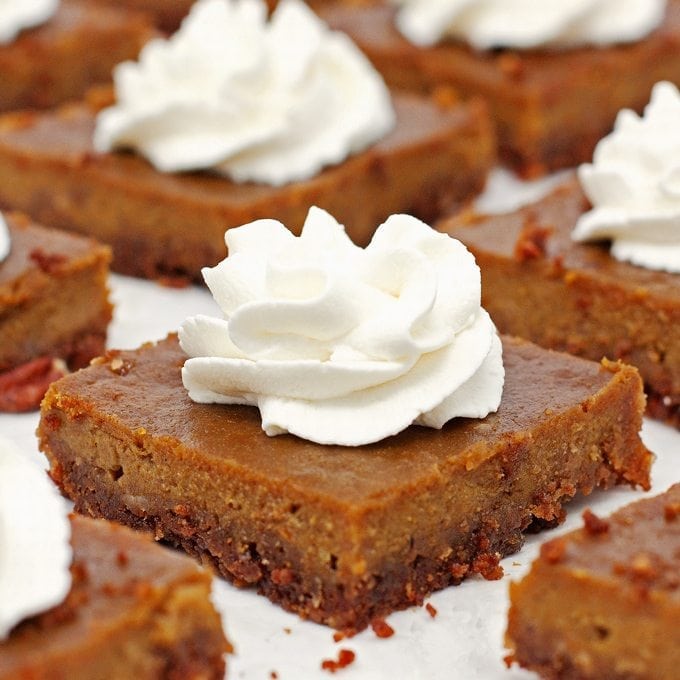 The secret sauce in this recipe is simmering the pumpkin mixture. Simmering concentrates the pumpkin flavors and enhances the spices. I find that its worth the little bit of extra effort. One thing to note — when you pour the filling on the crust, you'll need to pour very slowly so as not to break the crust.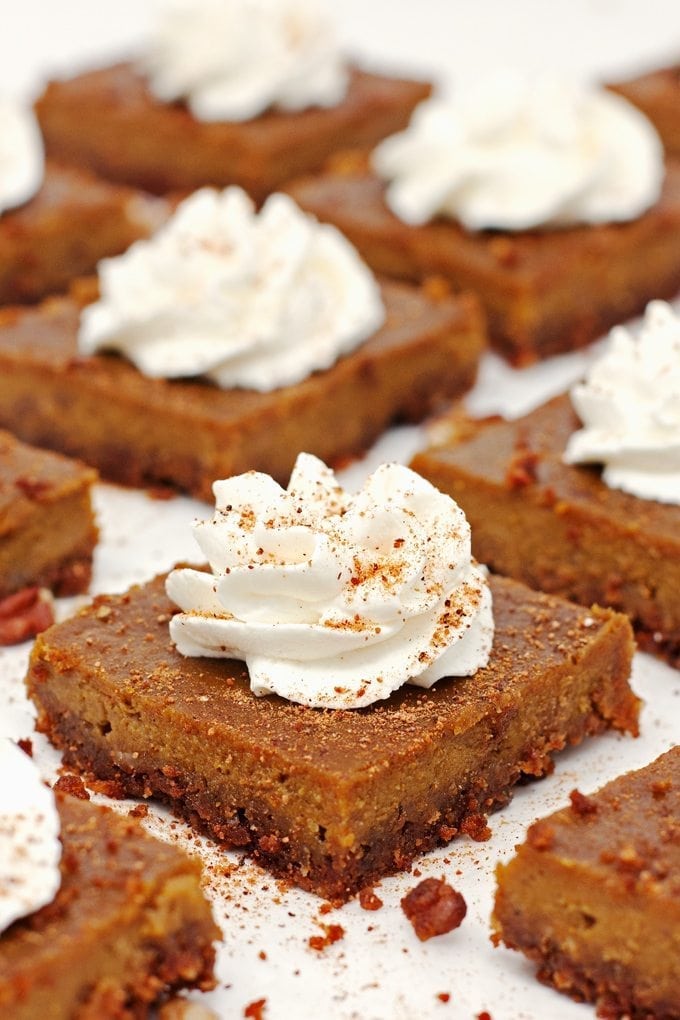 I like a lot of spice, so this recipe has generous amounts of cinnamon, ginger, nutmeg, allspice, and clove. If you walk on the milder side, I suggest halving all of the spices. If you are missing some of the spices, its totally fine to use a pumpkin pie spice (I won't tell :-)).

Pumpkin Pie Bars
Delicious pumpkin pie without the hassle of pie crust!
Ingredients
Crust
1½ cups crushed ginger cookies or graham crackers. This was about 3 cups uncrushed for me.
½ cup chopped pecans (or ½ cup additional cookies or crackers)
6 tablespoons butter
Filling
1 cup heavy cream
2 eggs
1 tablespoon cornstarch
1 teaspoon vanilla extract
2 cups pumpkin puree (15 ounce can or prepared fresh)*
¾ cup brown sugar
¼ cup maple syrup
1½ teaspoons ground cinnamon**
1 teaspoon ground nutmeg**
1 teaspoon ground ginger**
½ teaspoon ground allspice**
½ teaspoon ground clove**
½ teaspoon salt
Toppings
whipped cream
chopped pecans
cinnamon
nutmeg
Instructions
Preheat oven to 350 degrees F.
Pulse cookies and pecans in blender or food processor until they are crumbs. Melt butter (I did this by microwaving for 30 seconds) and mix together crumbs and butter. Press mixture into bottom of the baking pan and bake for about 10 minutes.
While crust is baking, whisk together milk, eggs, cornstarch, and vanilla in medium bowl. Set aside.
Combine pumpkin, sugar, maple syrup, spices, and salt in a large sauce pan. Heat on medium heat, stirring frequently, until thick and shiny, about 10-15 minutes. Remove from heat and stir in cream mixture until combined.
Slowly pour filling over warm crust, being careful not the disrupt the crust.
Bake until center is no longer jiggly, about 40 minutes. Let cool completely on wire rack. Cover and cool in refrigerator for at least 1 hour. Slice, top with whipped cream, pecans, and spices. Enjoy!
Notes
*Do not use pumpkin pie mix
**All spices can be replaced with 1½ tablespoons Pumpkin Pie Spice