Beef Teriyaki Meatballs
February 4, 2018
6 Comments
Juicy, flavorful, beef teriyaki meatballs. A fun twist on two classic dishes. Serve over rice for an easy and delicious dinner.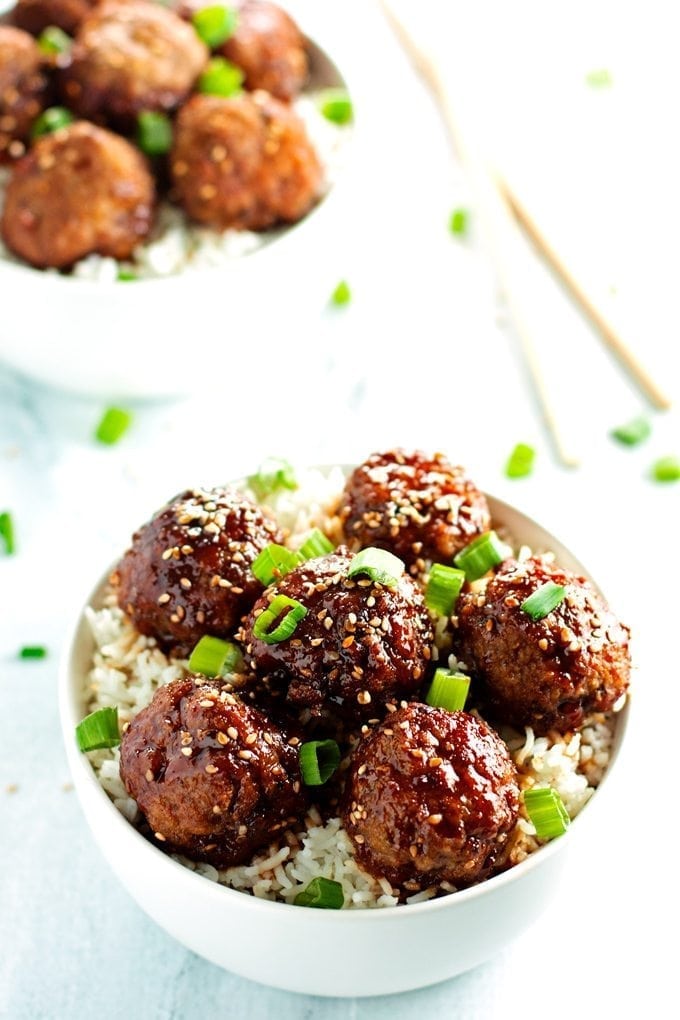 Tap any photo to Pin
I love meatballs; they're delicious, satisfying, and comfort food at its finest. My favorites are classic meatballs and barbecue meatballs, but these beef teriyaki meatballs have a Japanese twist that I adore.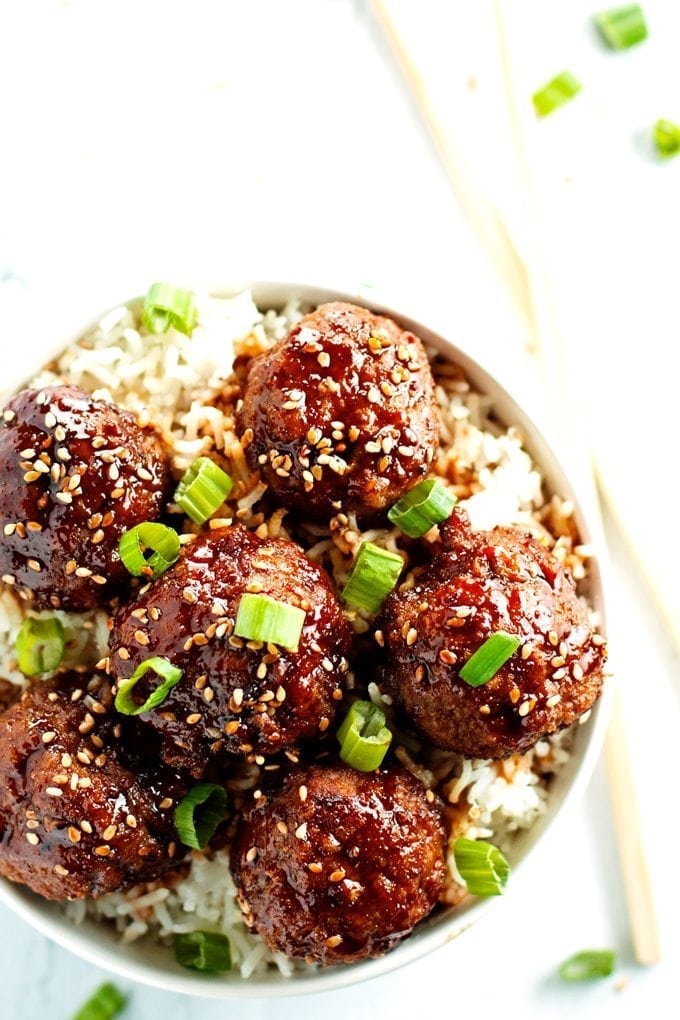 The secret to tender beef teriyaki meatballs
Letting breadcrumbs sit in milk for 5 minutes creates what's called a "panade," which is a paste made of milk and bread. Panade is wonderful in meatballs, meatloaf, and even some burger recipes. In meatballs, the panade coats the ground beef pieces for an incredible moist and tender texture.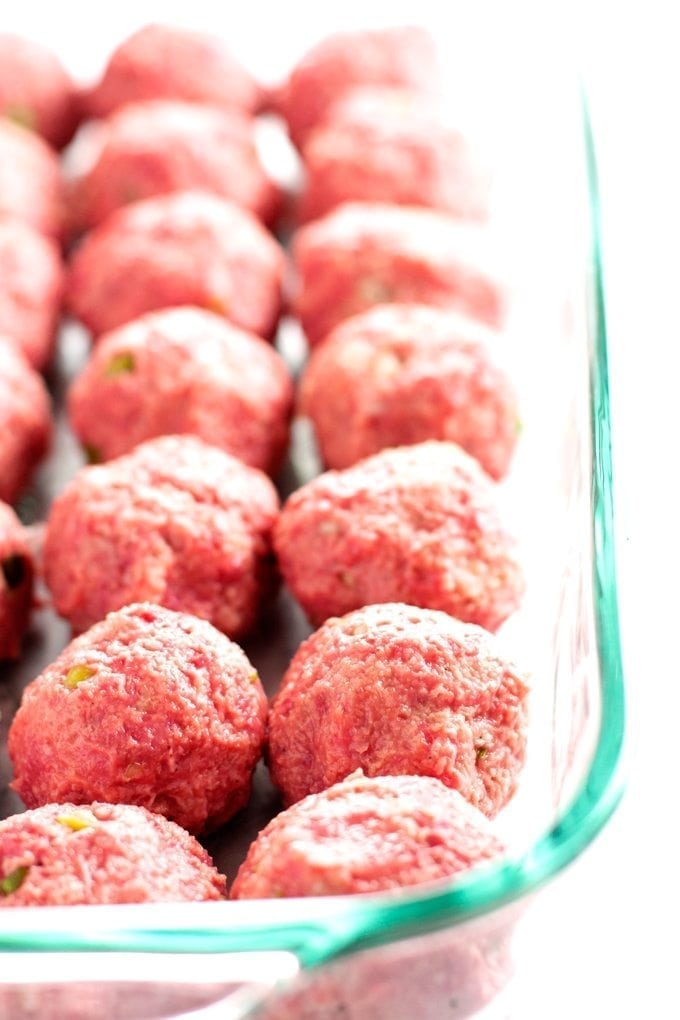 How to get the perfect beef teriyaki meatball texture
To add to the tender texture of the beef teriyaki meatballs, I also picked up a trick (thanks The Pioneer Woman!) to lightly dust the meatballs in flour and sear them in a cast iron skillet. Searing adds a wonderfully yummy outer crust, and seals in the moisture. Although not strictly necessary, I think this step is well worth the extra effort.
Quick tip: before searing I pop the meatballs into the freezer for a few minutes. This helps them hold their shape, making the coating and searing steps much easier.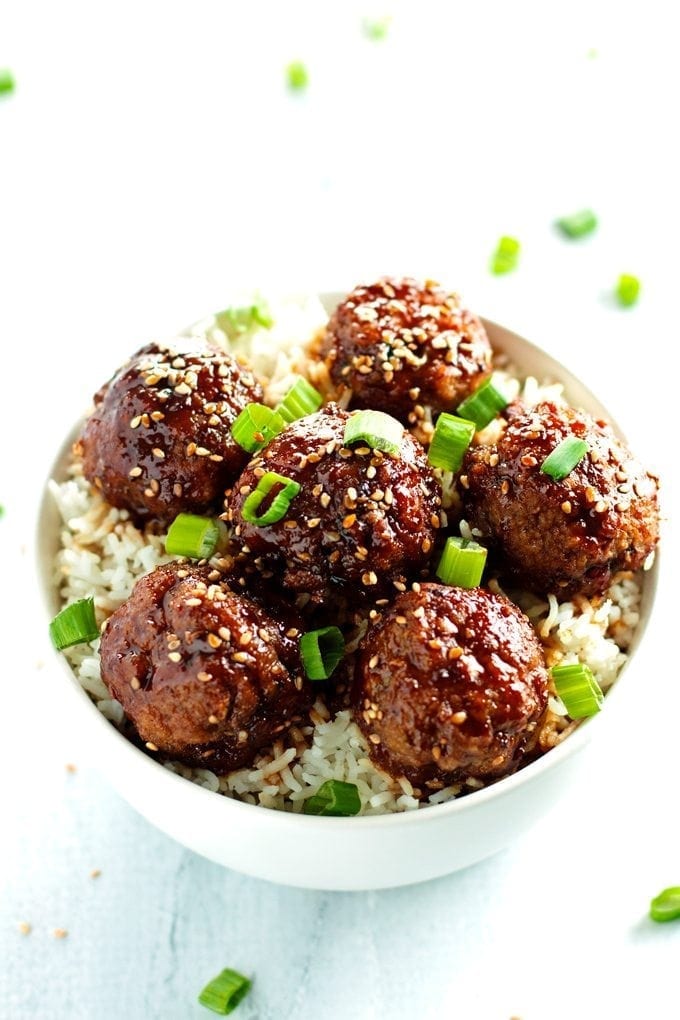 Make beef teriyaki meatballs a complete meal
Serve these beef teriyaki meatballs over white rice, brown rice, or even cauliflower rice! These go perfect with a side of broccoli, a colorful salad or even sautéed bok choy (if you're feeling ambitious 😉 )
I usually eat these with a fork, but for those of you with nimble fingers they are also fun to eat with chop sticks. They also make great appetizers — stick them with toothpick and arrange fetchingly 🙂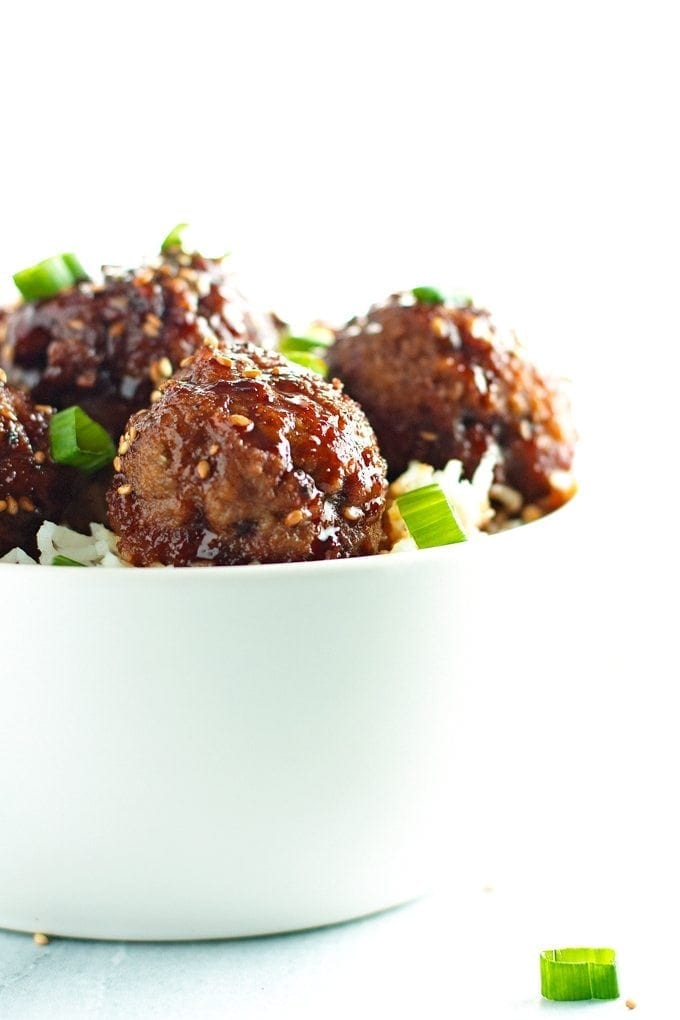 ---
Juicy, flavorful beef teriyaki meatballs. A new twist on two classic dinner dishes. Serve over rice for an easy and delicious dinner.
Ingredients
Meatballs
3

cloves

of garlic

minced or 1 teaspoon garlic powder

1/2

teaspoon

ground pepper
Teriyaki Sauce - can substitute 2 1/4 cups (about a 21-24 oz jar) of teriyaki sauce
1

tablespoon

sesame seeds

2

teaspoons

ground ginger

1/2

teaspoon

garlic powder

1

tablespoon

cornstarch

if you like your teriyaki sauce on the thicker side (optional)
Option items for serving
2

cups

dried rice

cooked according to package
Instructions
Preheat oven to 350 degrees.

Combine breadcrumbs and milk in a large bowl and let sit for 5 minutes.

Add beef, egg, onion, garlic, ginger, soy sauce, and pepper. Mix with hands until combined. Form into meatballs using about 2-3 tablespoons of meat for each. I made approximate 20 meatballs. Arrange meatballs in a single layer in baking dish*. If you are not searing meatballs, skip next step.

Place meatballs in freezer for 10 minutes. After 10 minutes has passed, heat a ¼" - ½" layer of oil in a cast iron skillet on medium heat. Coat meatballs in flour and place in oil. Brown meatballs on all sides, about 1-2 minutes per side. Arrange meatballs in a single layer in baking dish.

Whisk together all teriyaki sauce ingredients and pour over meatballs. Bake until meatballs are fully cooked, about 40-45 minutes. Let sit for 5-10 minutes.

Serve over rice with extra green onions and sesame seeds on top!
Recipe Notes
*I used the same baking dish that I later baked the meatballs in.
---
SaveSave
SaveSave
SaveSave
SaveSave
SaveSave
SaveSave
SaveSave
SaveSave
---
---