Roasted sweet potato, caramelized onion, and gorgonzola quiche
October 4, 2013
3 Comments
The past two weeks have been perfect fall weather in Connecticut!  Chris and I have been enjoying a number of different nearby hiking trails; seeing the first leaves start to change colors.  I absolutely love fall weather and I absolutely love fall food!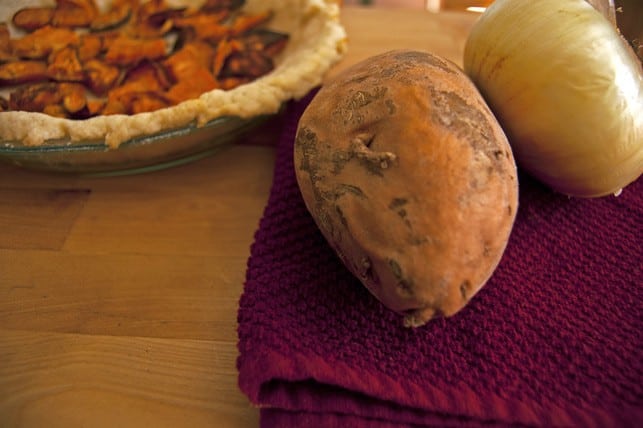 After one of our hikes we both were craving a delicious pumpkin pie, but since we are still eating chocolate chip cookies, I decided to make a savory fall pie instead.  I found this amazing quiche recipe from Naturally Ella.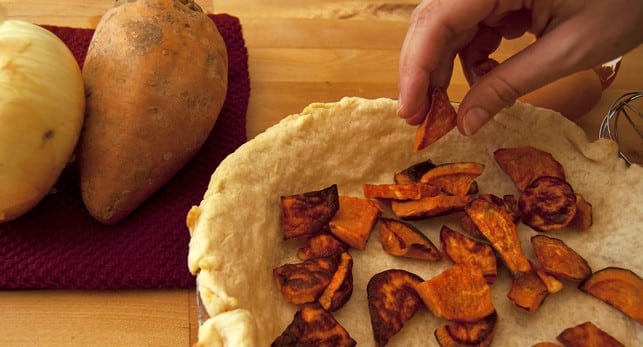 I tweaked the recipe a little, including roasting extra sweet potatoes and caramelizing extra onions so I was sure every bite would have the perfect amount of onion-sweet potato goodness!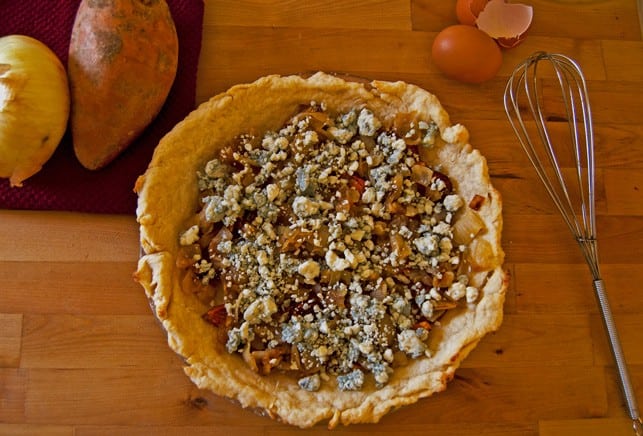 I also froze the butter for the crust to help keep the dough cold while I was combining all the ingredients. I cut the stick of butter into ~½" cubes, wrapped them in plastic wrap, then put them (along with my blender) in the freezer for 30-60 minutes before I cut the butter into the flour using the blender.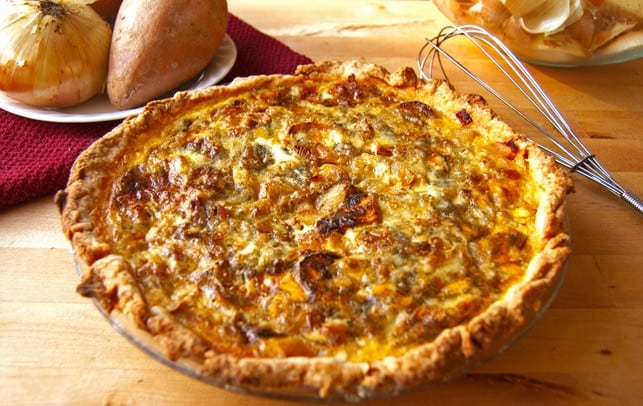 The crust came out light and buttery and every bit exploded with the goodness of fall flavors!  This quiche was definitely a perfect way to end to our fall day!
---
Roasted sweet potato, caramelized onion, and gorgonzola quiche
A delicious quiche recipe highlighting seasonal fall flavors!
Prep Time
1
hour
30
minutes
Total Time
2
hours
25
minutes
Ingredients
Can substitute with 1⅓ cups all-purpose flour + 3 tablespoons cornstarch

½

cup

cold butter

cubed (frozen)

2

large sweet potatoes

peeled and cut into ¼" slices

4-5

large onions

cut into ¼" slices

½-1

cup

crumbled gorgonzola cheese
Instructions
Cut butter into ½" cubes, wrap in plastic wrap, place in freezer for at least 30 minutes. Once butter has chilled, combine dry ingredients for crust and cut butter into dry ingredients (using blender or pastry cutter) until the butter is broken down into pea-sized pieces. Add water to the mixture and knead until the dough just comes together when pressed between your fingers. Roll dough out on a floured surface and gather into a disc. Wrap disc in plastic wrap and place in refrigerator for at least 20 minutes to chill. Once dough has chilled, preheat oven to 425 degrees and roll out dough to fill pie pan. Bake crust until light brown, about 10-15 minutes. Set aside to cool.

Caramelize onions by melting butter in sauce pan over medium-low heat and stirring in sliced onions. Cook onions on medium-low heat until soft and caramelized, stirring occasionally (this will take about 60-75 minutes, add salt 15-20 minutes into cooking). Set caramelized onions aside.

Toss sliced sweet potatoes in olive oil and roast in 425 degree oven until they are soft and begin to brown, about 15-20 minutes.

After the crust, onions, and sweet potatoes are done, reduce or preheat oven to 375 degrees.

Layer the sweet potatoes along the bottom of the crust, cover in onions and gorgonzola cheese. Whisk eggs, milk, salt, pepper, and nutmeg together. Pour egg mixture into pie crust until pan is filled (you may have some egg mixture leftover)

At this point you can cover the quiche, place in refrigerator, and let sit for up to a day before baking.

To bake, place quiche pan on a baking sheet (to avoid spilling in oven). Bake for 45-55 minutes until filling appears firm. Remove from the oven and let sit for at least 10 minutes before serving.
Recipe Notes
The crust, onions, and sweet potatoes can all be made at the same time
---
---
---