Print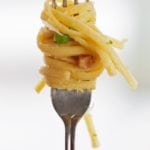 Spaghetti Carbonara
Super thick, super creamy, super easy spaghetti carbonara packed with salty pancetta and fresh peas
In a large pot bring 2-4 quarts of salted water to a boil. Cook pasta according to directions to reach al dente. Drain, setting some of the pasta water aside. Place spaghetti back into cooking pot, toss with a little olive oil or butter, and set aside.

While pasta is cooking, sauté pancetta in a large skillet over medium heat until fully cooked, about 10 minutes. Add onion and garlic and cook until onion is translucent, about 5-10 minutes. Set aside.

In a large bowl whisk together eggs, cream, milk, cheese, parsley, red pepper flakes, and salt. Make sure peas are fully cooked and drained.

Turn burner containing pot full of cooked pasta on to low heat. Add pancetta-onion-garlic mixture and peas. Slowly pour egg-cream sauce over pasta while gently stirring constantly until fully heated through. This is the step where the eggs in the sauce are cooked. Stir constantly to make sure you don't get any scrambled egg pieces in your pasta! Thin sauce if necessary by adding a splash of the pasta water.

Serve immediately, garnished with extra parsley and cheese.
*I used frozen peas, which worked great.
**I recommend using spaghetti, linguini, or angle hair pasta, but feel free to try any pasta shape you'd like.