Sausage, Mushroom, and Spinach Quiche
January 15, 2015
10 Comments
Happy New Years everyone! Does anybody have any resolutions they'd like to share? One of my resolutions this year is to hold more brunches! Chris and I are getting a good start this weekend. We have some lovely friends visiting us for the weekend, and there will be brunch!
Quiche is a staple for any delicious brunch, and this one is fantastic. I've included the recipe to make your own crust – it's not too hard I promise. I cube refrigerated butter, and then put the cubes in the freezer for 30 minutes. This makes cutting them into the dough without melting them much easier. After the cubes have firmed up in the freezer, toss the dry ingredients for the crust into a bowl. I use a pastry cutter (like this one) to cut the butter into the dough. Don't let that scare you. Basically, you want the butter to be about the size of peas (here's why).
Then you need to add water to the dough and knead it with your hands until it just sticks together. Gather the dough into a disc, wrap it in plastic wrap and chill it in your fridge for another 20 minutes. Once the dough has chilled, preheat your oven, remove the plastic wrap, and roll the dough out on your counter into a pie shape. Carefully place the dough in the pie pan or cast iron skillet and bake (empty or with pie weights) until golden brown, about 10-15 minutes.
The quiche filling is delicious. This could even make a great dinner. Pair it with a salad and voila!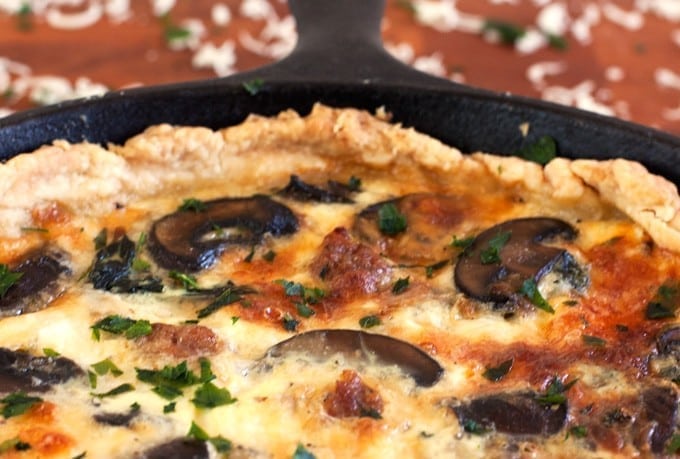 I used sweet Italian sausage, onions, mushrooms, garlic, baby spinach and cheese, but you could swap these out for you own personal favorites too. I brown the onions in oil first, so that great onion flavor gets into everything I brown later. Then I add the mushrooms and garlic and cook all the water out of the mushrooms. Finally, add the baby spinach and cook until it just warms up – it will shrink a ton! Remove the vegetables and sauté the bite-size sausage pieces until they are fully cooked, which is when their internal temperature reaches 160 degrees.
In a separate bowl, whisk together the eggs, milk, salt, and pepper. When everything is ready, put the sausage and vegetables into the pie crust, and then pour the egg mixture over everything. Bake until the filling is set, let sit for 10 minutes, and enjoy!
Friends and Brunch – I can't think of a better way to start the new year!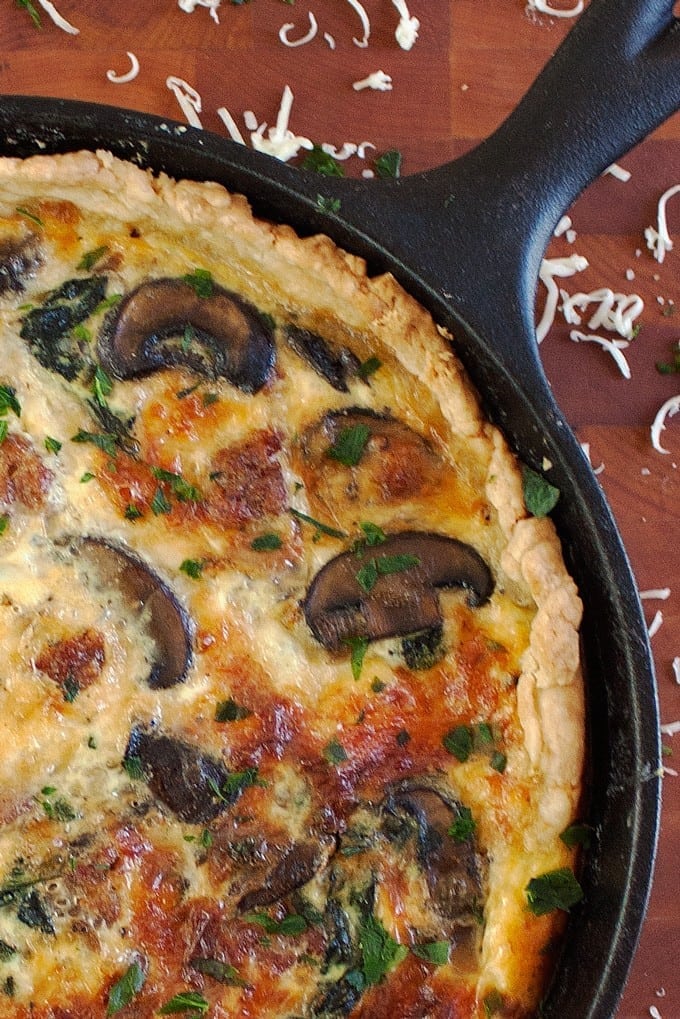 ---
Sausage, Mushroom, and Spinach Quiche
Start off your New Year with brunch and quiche!
Ingredients
Crust
1½

cups

pastry flour

or make your own with 1⅓ cups all-purpose flour + 3 tablespoons cornstarch
Filling
½

sweet or spicy Italian sausage

if using links remove from casing

8

ounces

mushrooms

sliced

3

cloves

of garlic

minced

1

cup

or 4 ounces by weight shredded cheese

swiss or mozzarella work great
Instructions
Cut butter into 1/2" cubes, wrap in plastic wrap, place in freezer for at least 30 minutes. Once butter has chilled, combine dry ingredients for crust and cut butter into dry ingredients (using blender or pastry cutter) until the butter is broken down into pea-sized pieces.

Add water to the mixture and knead until the dough just comes together when pressed between your fingers. Gather into a disc, wrap disc in plastic wrap, and place in refrigerator for at least 20 minutes to chill. Once dough has chilled, preheat oven to 425 degrees and roll out dough to fill pie pan. Bake crust until light brown, about 10-15 minutes. Set aside to cool.

Heat oil in sauce pan over medium heat and stir in onions. Cook onions on medium heat until soft, about 5 minutes. Add mushrooms, garlic and a generous amount of salt and sauté until all the water released from mushrooms has evaporated, about 10-15 minutes. Stir in baby spinach and cook until heated through, about 1-3 minutes. The spinach will shrink up a lot during this step. Remove from heat and set aside.

Break sausage up into bit sized pieces and brown in skillet over medium heat until fully cooked, about 10-15 minutes. The internal temperature should reach at least 160 degrees F.

Layer the sausage and mushroom-onion-spinach mixture along the bottom of the crust, cover with cheese. Whisk eggs, milk, salt, and pepper together. Pour egg mixture into pie crust until pan is filled (you may have some egg mixture leftover).

At this point you proceed to the next step and bake the quiche or you can cover the quiche, place in refrigerator, and let sit for up to a day before baking.

Once you are ready to bake the quiche, preheat the oven to 350 degrees F and place quiche pan on a baking sheet (to avoid spilling in oven). Bake until filling appears firm, about 45-55 minutes. Remove from the oven and let sit for at least 10 minutes before serving. Enjoy!
---
---
---