Honey Roasted Balsamic Strawberry Yogurt Parfait
January 29, 2015
2 Comments
It's nearly the end of January! How are your New Year's resolutions holding up? Here's a healthy little snack that can help keep you on track – even if your New Year's resolution is just to clear out those frozen strawberries from the freezer 🙂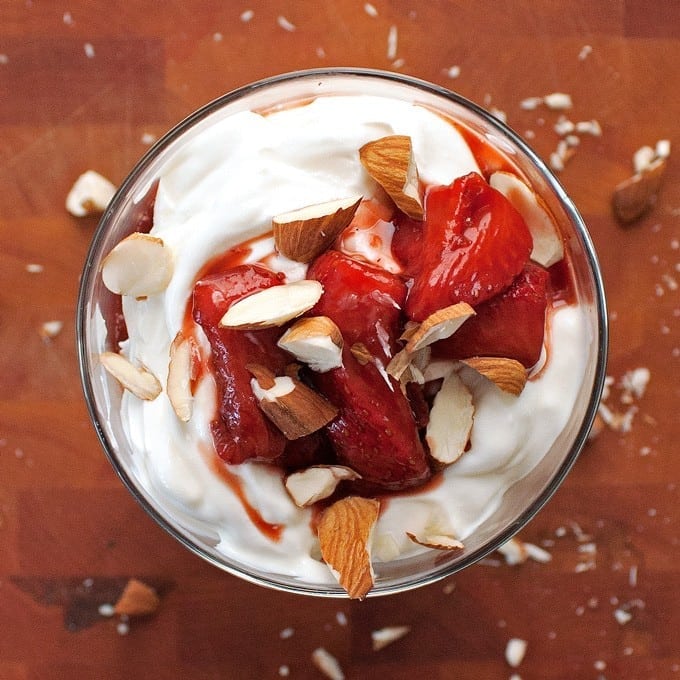 Learning how to roast vegetables changed the way Chris and I ate dinner, basically forever. So why not try roasting fruit as well?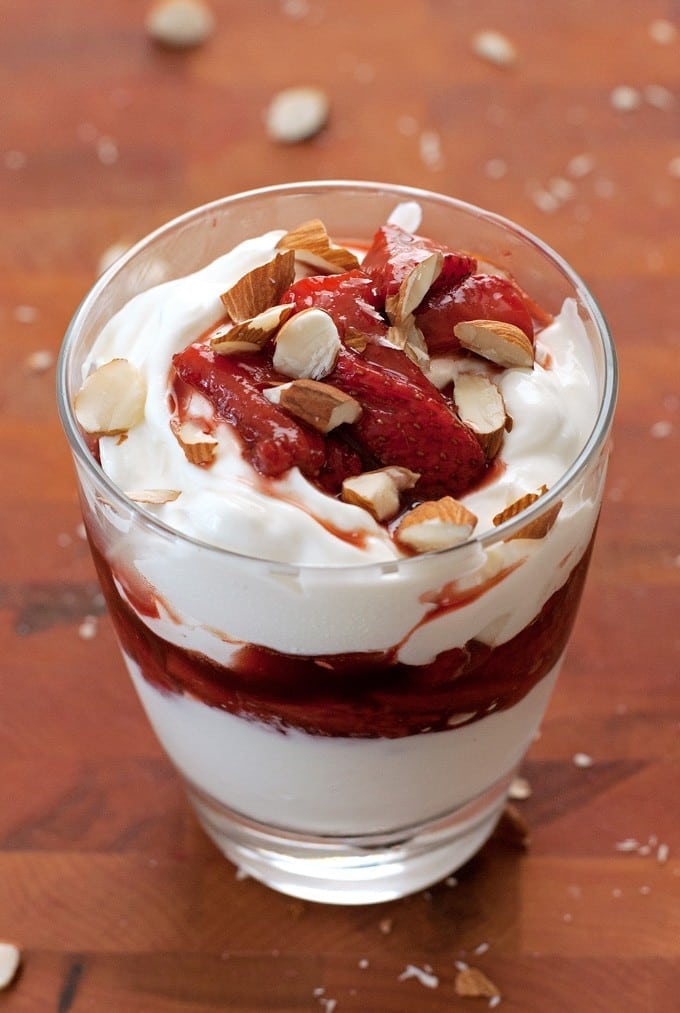 Turns out it's just as awesome.
And easy. I like to toss the strawberries in both honey and balsamic vinegar. The honey makes them sweet. The vinegar makes them tart. Definitely a win-win flavor combination!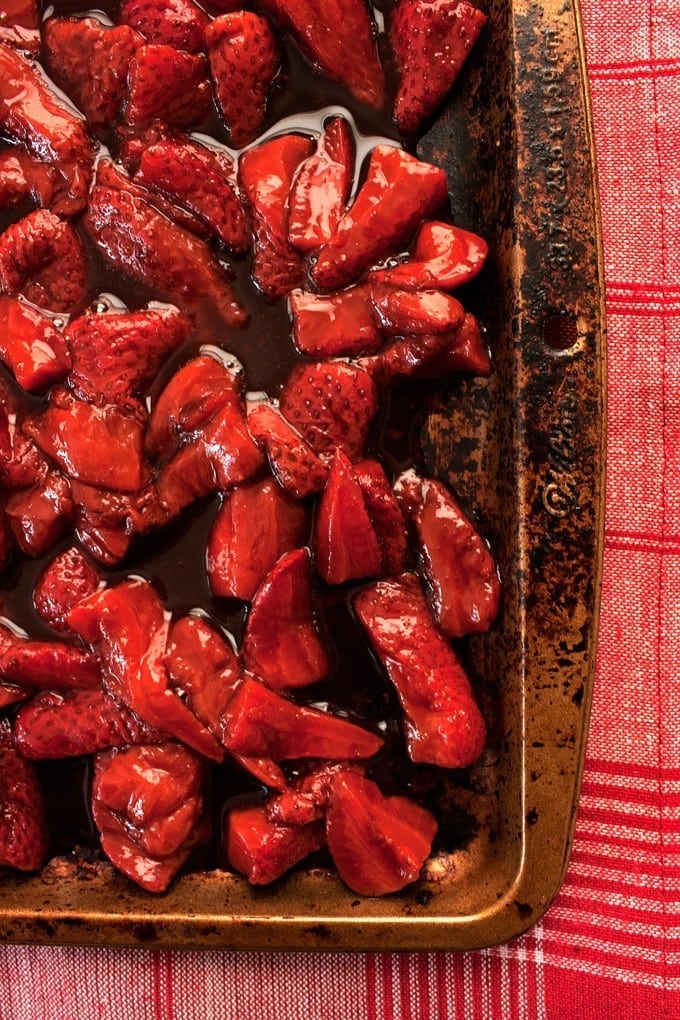 After you've tossed them, pour the whole mixture onto a baking sheet. You can line the baking sheet with parchment paper for easier clean-up, but it's really not too hard to throw the baking sheet in the dishwasher. Or, since we don't have a dishwasher, to get Chris to wash it 🙂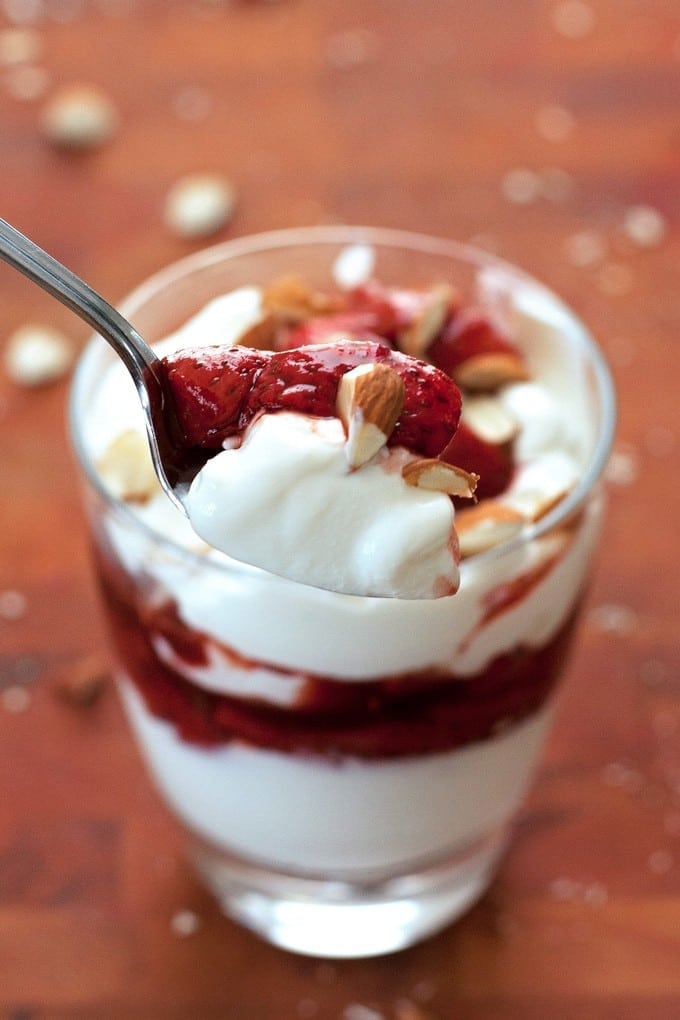 The strawberries look gorgeous mixed with the dark balsamic vinegar. I love to layer this beautiful mixture with creamy yogurt or ice cream. The contrasting colors really make everything pop. Plus, it tastes delicious with the sweetness of the ice cream or the tanginess of the yogurt. You really can't go wrong.
If you like, a sprinkle of granola, almonds, or other nuts add a satisfying crunch.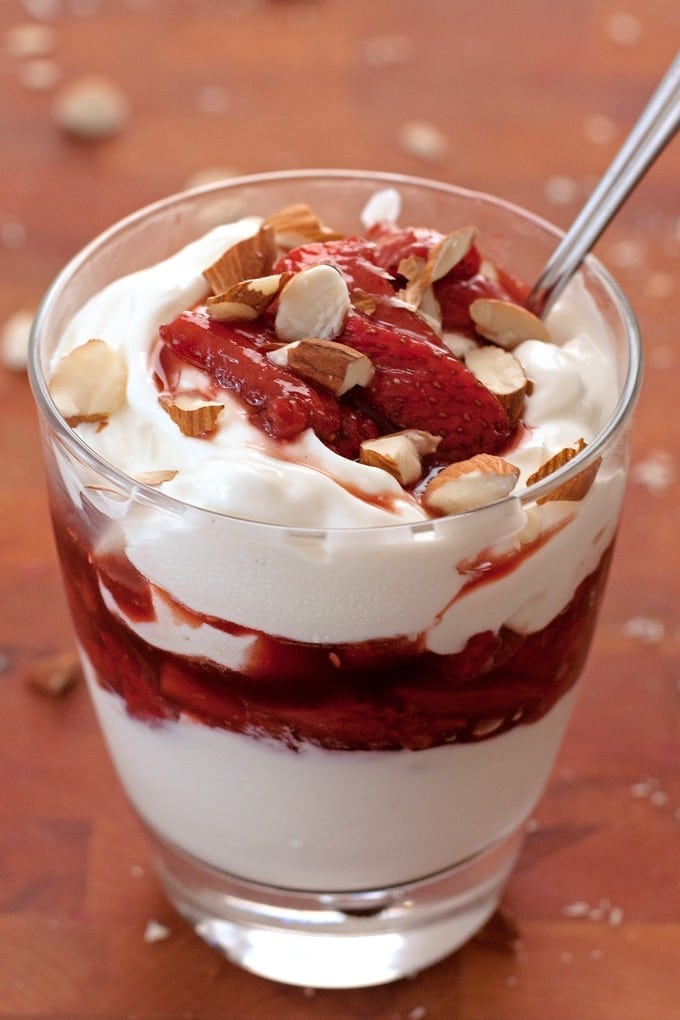 ---
Honey Roasted Balsamic Strawberry Yogurt Parfait
Spice up your yogurt or ice cream with roasted strawberries sweetened with honey and jazzed up with balsamic vinegar.
Ingredients
1

pound

strawberries

sliced

2

tablespoons

balsamic vinegar

*almonds

granola, optional for garnish
Instructions
Preheat oven to 350 degrees F.

Toss strawberries in honey and balsamic vinegar. Spoon the mixture onto the baking sheet (you can line the baking sheet with parchment paper for easier cleanup). Roast until strawberries are soft, 25-30 minutes, stirring once halfway through. Let cool completely.

Layer strawberry mixture with yogurt (or ice-cream!), sprinkle with almonds (optional) and serve!
---
---
---