Sausage Sage Stuffed Acorn Squash
October 4, 2014
16 Comments
Like many dishes that have "stuffed" in their name, the filling is the highlight of this dish. The filling starts with a rich base of butter and spices. I melt the butter in a saucepan with the spices, and then add browned sausage, nuts, green onions, and pieces of bread. Sausages are rich in flavor and they have a great texture when browned as pieces. I like sweet Italian sausages for the filling. They aren't too spicy but have a nice little zing to them.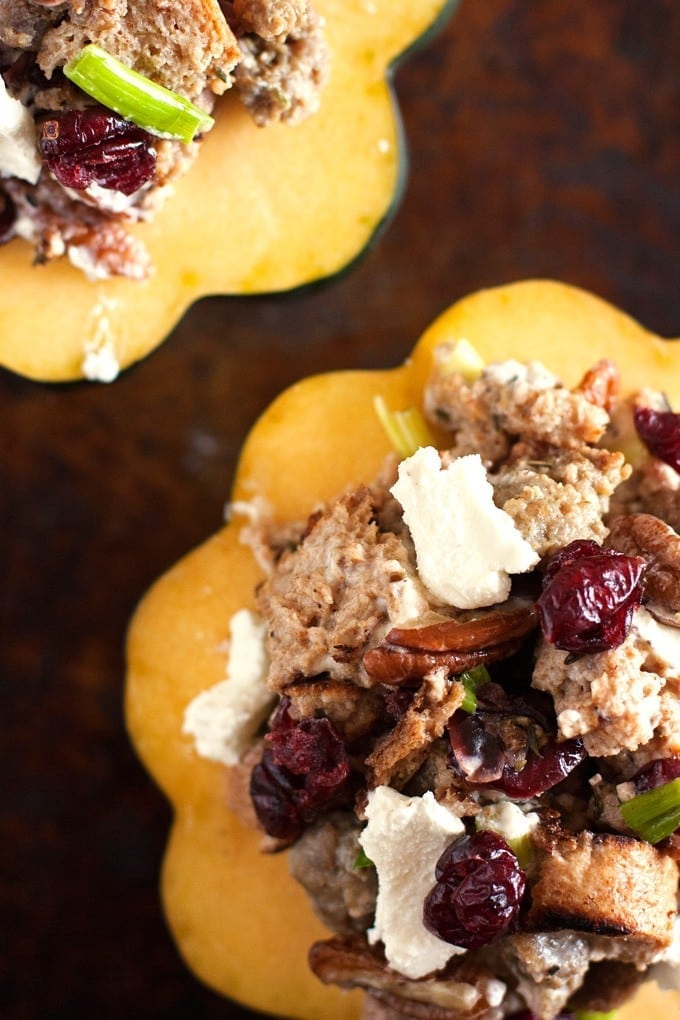 I love to use sage with squash. Like everyone's favorite couple, sage and squash simply belong together. The sage adds a warm, earthy flavor to the sweet squash. Rub two pieces of sage together in your hands, and you'll really be able to smell the strong earth flavor that complements the squash and stands up to the hearty spices in the sausage.
I discovered this when I ordered (my first!) pumpkin pasta dish. I don't remember the name of the restaurant, but I remember the dish! It was a sausage and cheese ravioli, served in one of those big wide white bowls they have at Italian restaurants. The ravioli was covered with a creamy pumpkin sauce. And there were these amazing little pieces of sage in the sauce. I was surprised at how well I could taste the sage, and how well it tied the sausage and the pumpkin together! I just loved it. The best part is, it works with other fall squash too! Like this stuffed acorn squash.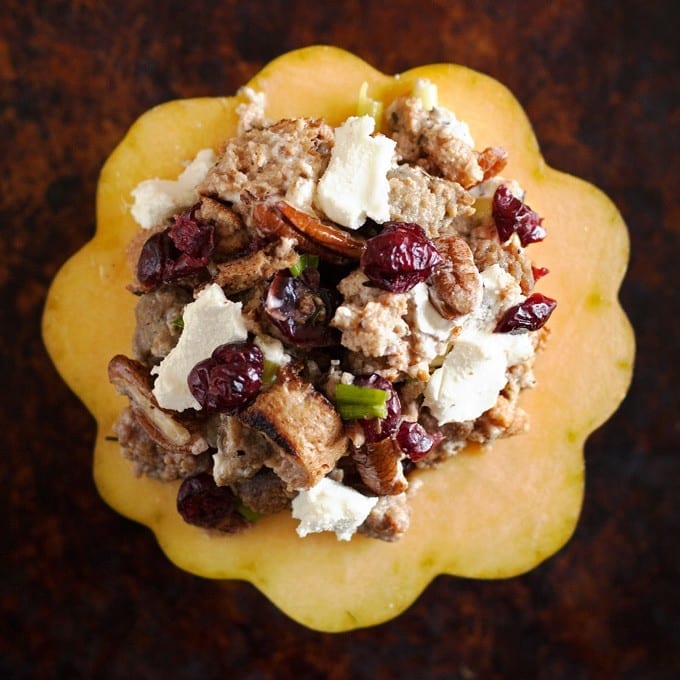 This stuffed squash recipe is bursting with sage and sausage, along with some other exciting ingredients, like cranberries, pecans, and goat cheese! The cranberries add little bursts of juiciness, and pecans add a great nutty texture and deep flavor. I don't always use it, but I really like the goat cheese in this dish because it keeps in line with the creamy texture, but adds delicious little pockets of tanginess.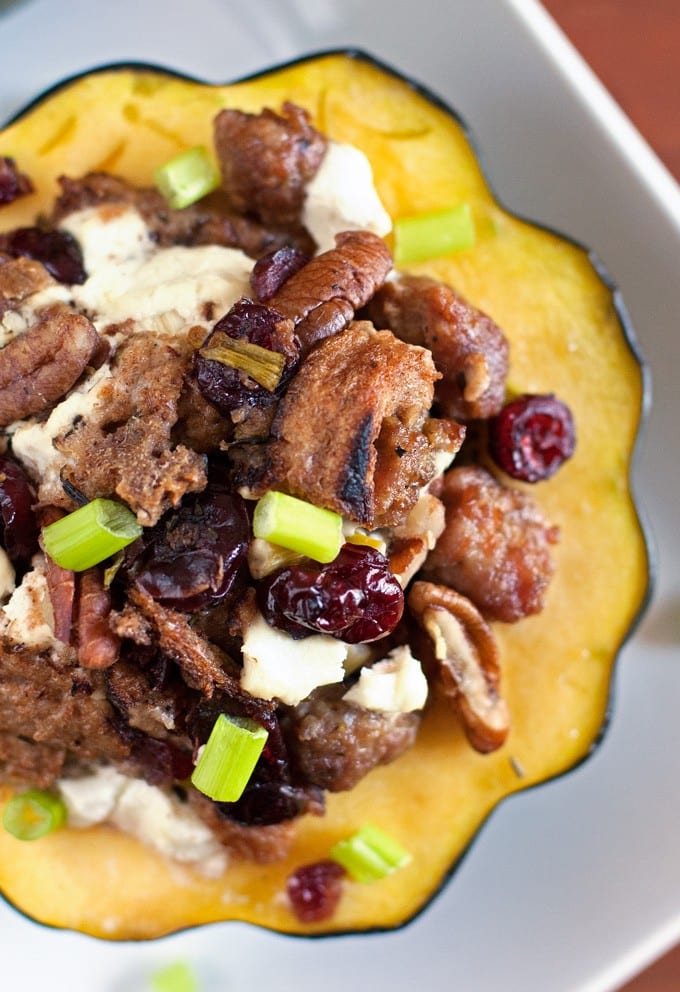 Stir everything together and generously stuff the acorn squash halves. Wrap them in foil and bake them in the oven to cook the squash. Then uncover until the tops of the stuffing are golden. Top with extra pecans, cranberries, green onions, and if you want to be fancy you can even use crispy sage leaves. Happy October!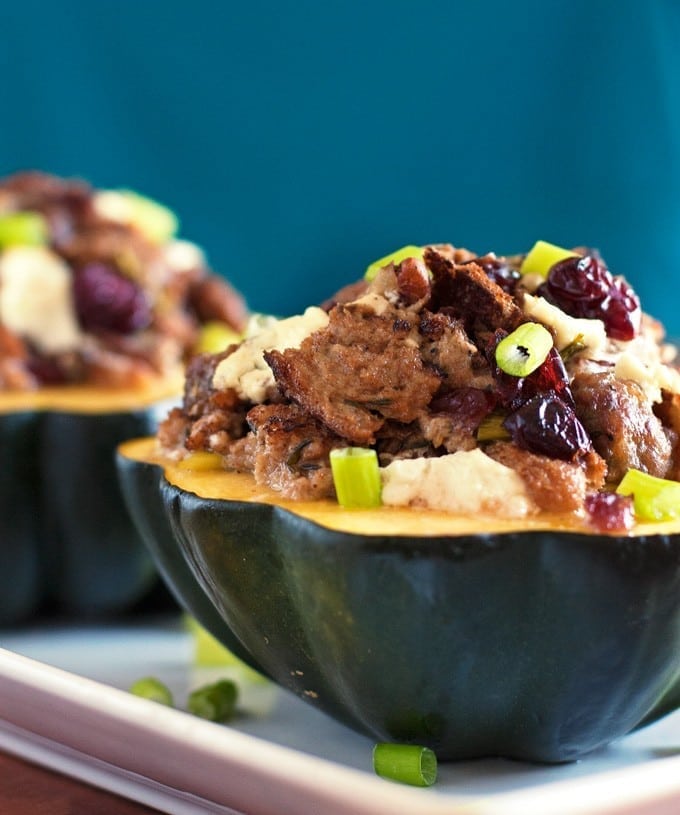 ---
Sausage Sage Stuffed Acorn Squash
Acorn squash stuffed with Italian sausage, earthy sage, juicy cranberries, nutty pecans, and tangy goat cheese.
Ingredients
1

acorn squash

halved with seeds removed

2

slices

of bread

toasted and ripped up

¼

cup

chopped green onions
Instructions
Preheat oven to 375 degrees F.

Remove sausage from casing (if applicable), break up into small pieces and brown in skillet over medium heat until fully cooked, about 10 minutes.

Heat water, butter, sage, salt and pepper in a small saucepan until butter is melted.

Stir in bread, sausage, pecans, cranberries, and green onions until everything is slightly moist. Crumble cheese over mixture and gently stir.

Stuff each acorn squash half, wrap in foil, and bake until squash is tender, about 60-75 minutes. If top of stuffing is not browned, unwrap, place back in oven, and cook until browned, an additional 5-10 minutes. Let stuffed squash sit for about 5 minutes. Dig in!
---
---
---