Chewy Chocolate Chip Cookies
October 2, 2013
5 Comments
Yesterday our friends Adam and Mary set out on an 18 hour drive straight from New Haven, Connecticut to Madison, Wisconsin!  With cat and fish tank in tow they headed back to the Midwest, which both of them have always called home.  Chris and I have known Adam and Mary for the past 5 years, starting when Adam and Chris began the same program in the geology department.  Adam is from Wisconsin and Mary is from Kansas, and they are eager to be reunited with the greener mid-western pastures of Madison.
I made some delicious chocolate chip cookies for their going away party on Sunday!  The recipe is from Pinch of Yum, a food blog I recently discovered.  It's a fantastic site that I've been taking some hints on food photography from, but I'll wait to elaborate on this more in another post soon!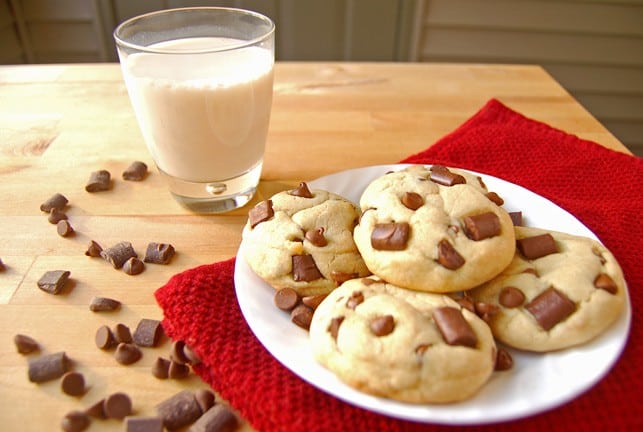 I figured homemade chocolate chip cookies were a fitting "welcome home and farewell" gift.  They invoke the memory of smelling fresh homemade cookies as you walk through your front door as kid, while also taking into account that you are packing and moving and you don't want to have to pack anything else.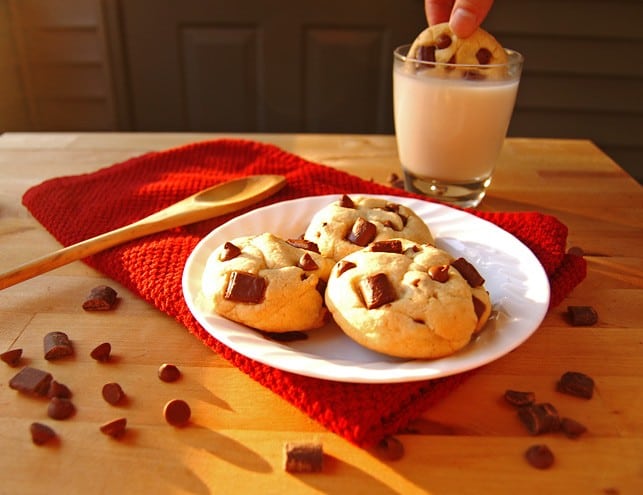 Plus, if the cookies don't get finished before you leave they will make a delicious snack for the car ride!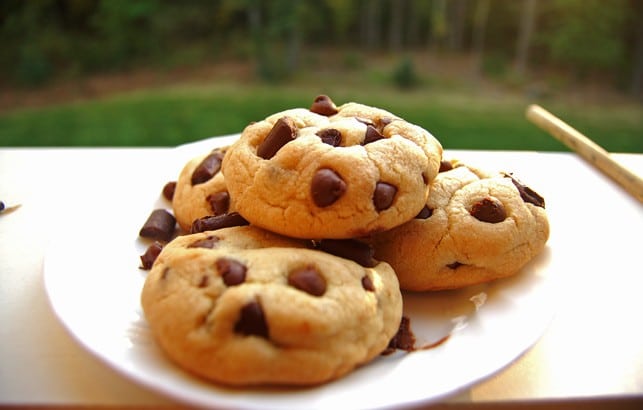 We will certainly miss having Adam and Mary in Connecticut, but are very happy and excited for them as they embark on this next chapter of their life!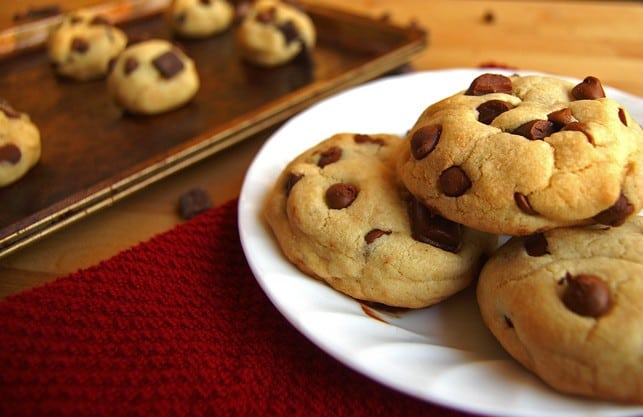 ---
Chewy Chocolate Chip Cookies
Chewy homemade chocolate chip cookies with two types of chips!
Prep Time
1
hour
30
minutes
Total Time
1
hour
45
minutes
Ingredients
7

tablespoons

salted butter

1

tablespoon

packed brown sugar

1½

cup

all purpose flour

use 1¼ to start, but plan to add a few tablespoons

1½

– 2 cups mixed varieties of chocolate chips
Instructions
Turn the oven on to 350 degrees and put the butter in the oven in an oven-safe bowl until butter is about one third melted (this will take about 5-10 minutes).

Turn the oven off. Let the butter come back to room temperature for at least 30 minutes.

Combine butter with the sugar and vanilla, and cream with electric mixer until well mixed and lightly fluffy.

Add the egg and beat until incorporated.

Measure in 1¼ cups flour, baking soda, and salt, and slowly mix with the electric mixer on low speed, scraping the sides, until all the flour is incorporated. Add extra flour one tablespoon at a time until the dough feels dry and sticks together in one large ball.

Stir in the chocolate chips with a wooden spoon.

Roll ¼ cup dough into high, round balls with chocolate chips at the top. Place on a baking sheet a few inches apart.

Slide cookie tray into the refrigerator for at least 30 minutes to cool dough and prevent cookies from becoming flat in the oven.

When you are ready to start baking the cookies, preheat the oven to 350 degrees.

Bake for about 10-15 minutes, until the cookies just begin to brown on the tops and edges. Let stand on cookie tray for 2 minutes before removing to cool on a plate or to eat immediately!
---
---
---