Blackened Chicken with Orange Glaze
October 29, 2014
4 Comments
This blackened chicken makes a great one-dish weeknight dinner. I like to use my cast-iron skillet, because, somehow cast iron makes everything taste just a little better. But any oven-safe pan will work. If you don't mind two dishes, you could even do the browning in a pan and the baking on a baking sheet.
The secret to this recipe is the browning in the pan. Oh how I love those little black burned bits.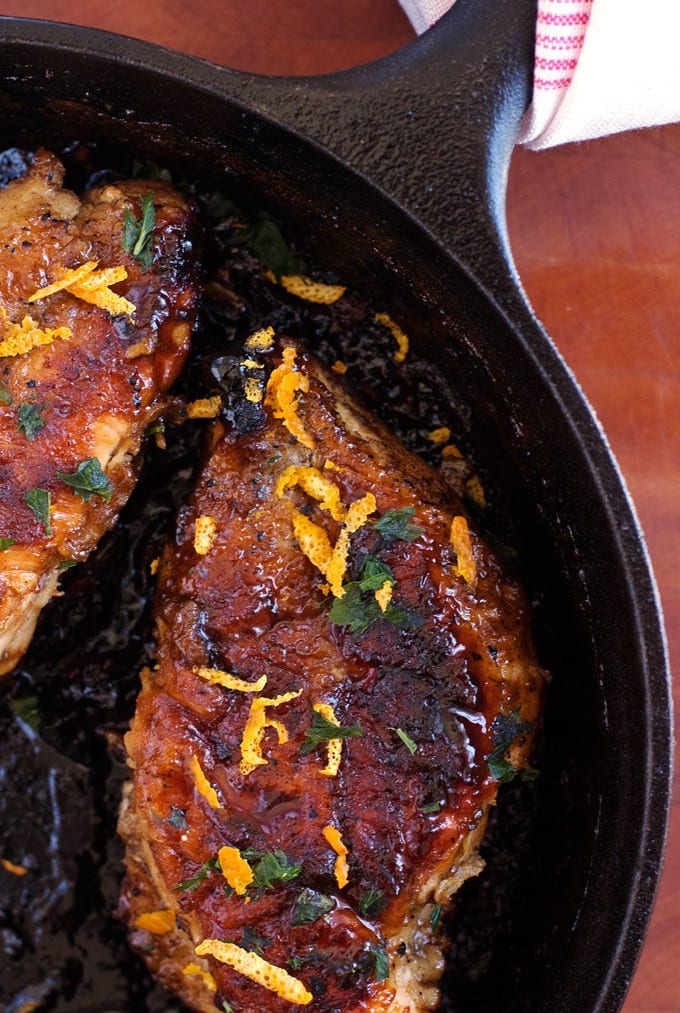 I give the chicken a light dusting of flour to help make things crispy. Then place it in a hot, oiled pan and let it cook until it just starts to burn. Just a little. Those little black and brown bits are chock-full of flavor.
Now that the you've got the chicken just a little bit burned, take the chicken out of the pan and place it on a plate. Now it's time to make the glaze!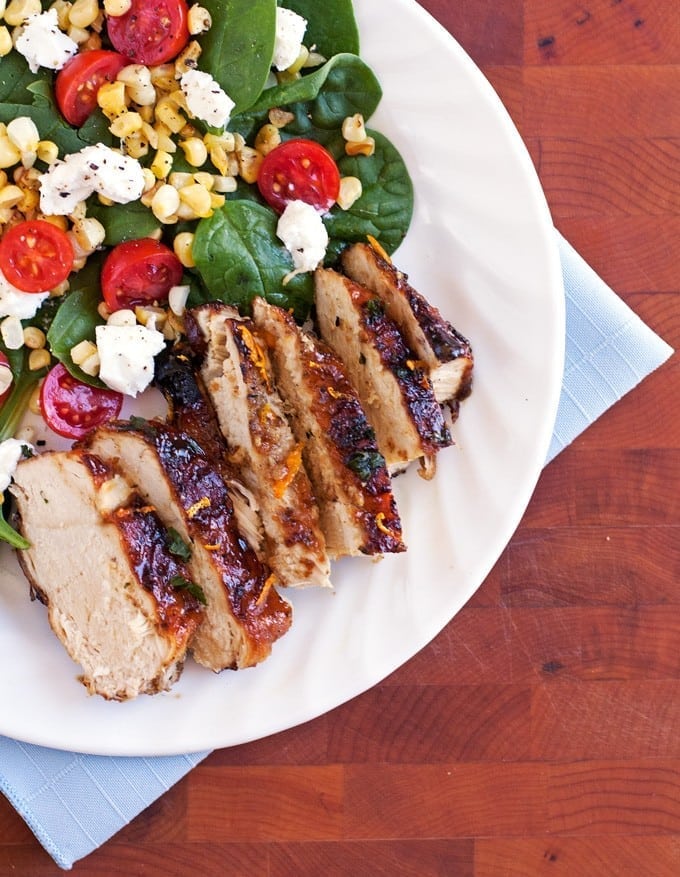 I used an orange-glaze for this chicken – packed with orange juice, honey, mustard, spices, a touch of brown sugar, and a little bit of vinegar. The glaze is pretty forgiving, so substituting similar ingredients for anything you don't have is not a problem. I bet switching up the orange juice for apple cider would give the glaze a warm and spicy note, perfect for fall.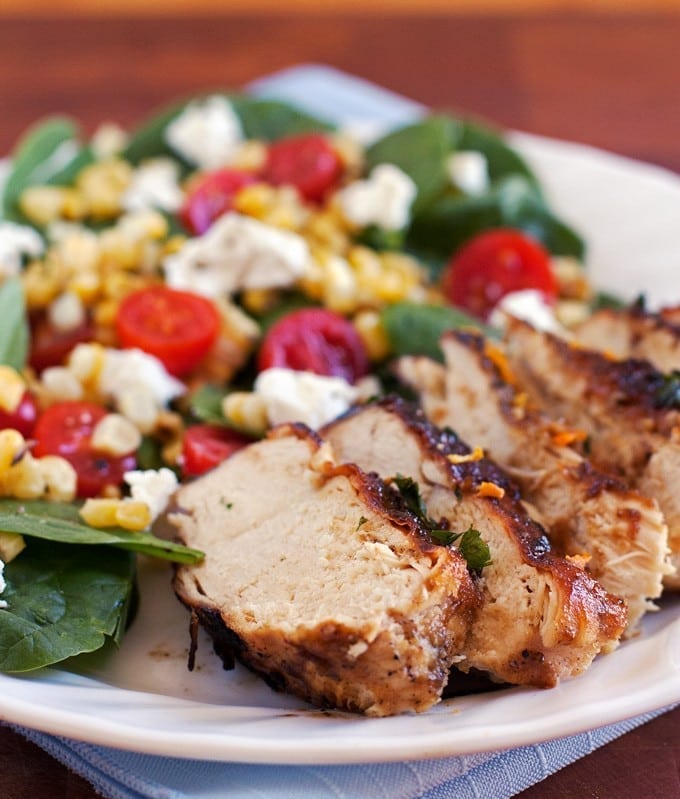 Let all your ingredients simmer down to a nice thick glaze. Turn the burner off, then put the chicken back in the pan, covering it with that deliciously thick glaze. Put the whole pan in the oven and let the chicken bake until cooked through.
Pair it with a delicious side and voila! Dinner is served 🙂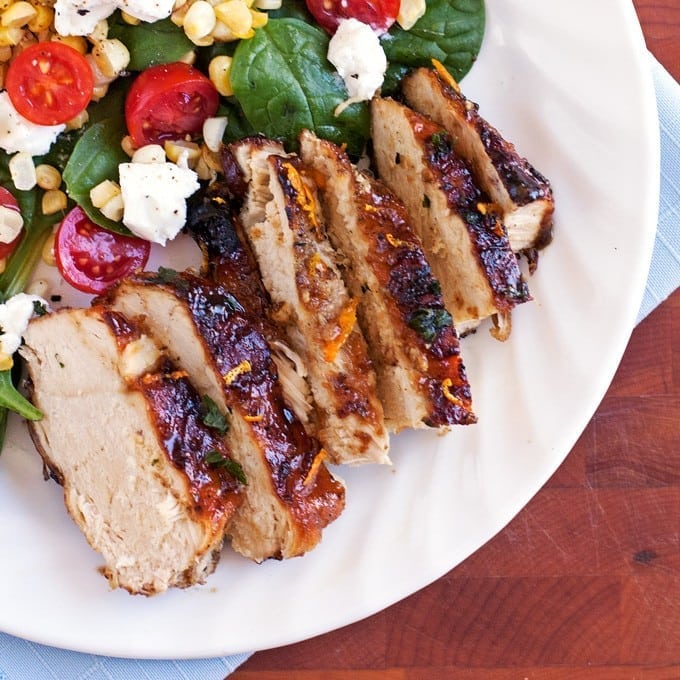 ---
Blackened Chicken with Orange Glaze
Moist, blackened chicken breasts covered in a thick, tangy orange glaze sauce
Ingredients
CHICKEN
1-1 ½

pounds

chicken breasts

juice of 2-3 oranges + enough water to fill 1.5 cups

1

cup

flour

approximately
ORANGE GLAZE
1

tablespoon

white vinegar
Instructions
Preheat oven to 375 degrees F.

Trim fat off of chicken breasts and pat dry with a paper towel. Salt and pepper. Coat chicken with flour and pat them gently to shake off any excess.

Heat olive oil in cast iron (or oven safe) skillet until it just starts smoking. Place chicken in skillet and cook over medium heat until outside browns, about 5 minutes per side. Remove from pan and place on plate.

To make glaze, combine orange juice and enough water to make a total of 1.5 cups of liquid (or use all orange juice). In another bowl whisk together honey, mustard, white vinegar, brown sugar and cayenne pepper. If there are a lot of drippings in the pan, drain some off until about 1 tablespoon remains. Brown garlic in pan, then add juice-water and honey-spices mixtures to pan. Simmer, stirring occasionally until mixture thickens, about 10 minutes.

Place chicken back in the skillet and cover with the glaze. Bake in oven until chicken is done (internal temperature reads 160 degrees F), about 15-20 minutes.
---
---
---