Polenta Cakes w/ Red Wine Mushrooms
October 31, 2013
6 Comments
2Teaspoons is road tripping to the Midwest!  We are heading to Minnesota to visit Chris' family.  We are in Ohio right now enjoying barbequed ribs while watching the red sox win the world series.  The drive is long, but we are visiting family and friends along the way and it has been great!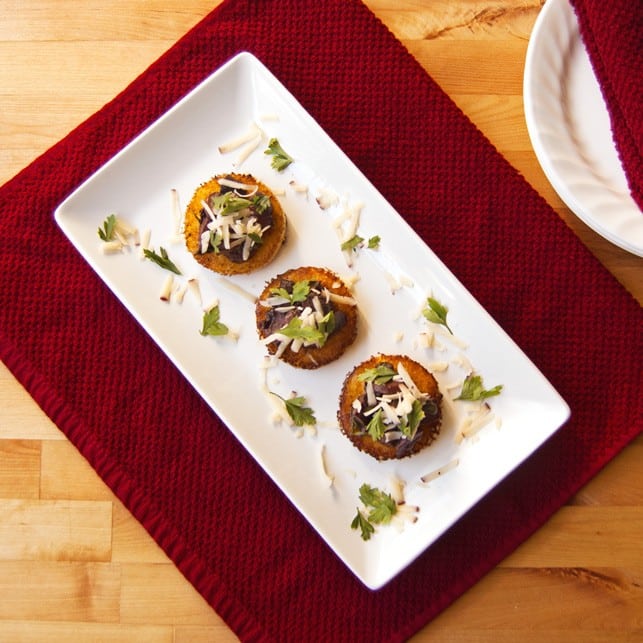 In honor of going to the heartland, I'm posting a recipe that uses delicious cornmeal – polenta cakes :-).  I topped them with red wine mushrooms and some shredded cheese to up the deliciousness!  At first I was weary of polenta, but now I'm totally hooked on it's creamy texture and slightly sweet taste!  For this recipe I used premade polenta (gasp!) and it turned out great (gasp again!)!  I was worried about cooking polenta, but I found out that it's pretty simple to make and I'm eager to try make these little guys from scratch (homemade polenta recipe is included below). I'm sure it will only up the amazingness of the recipe 🙂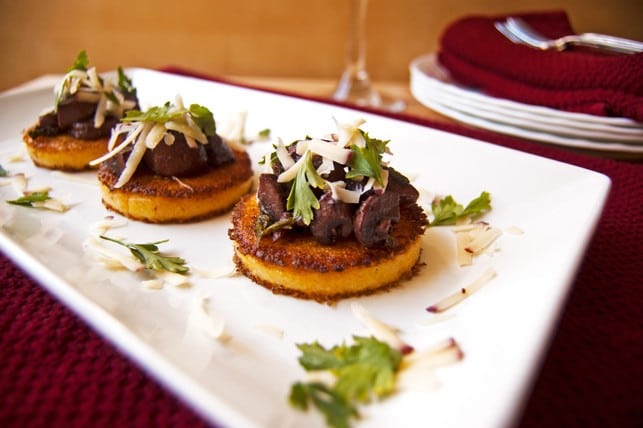 To ease all of your (and my) polenta worries, here's a little bit about what polenta is and how simple it is to make:
What is Polenta?
Polenta is a delicious creamy comfort food made of cornmeal similar to southern grits.  Corn from the Americas was brought back to Italy and made into delicious polenta by Italian wives, mothers, and grandmothers 🙂
How is Polenta made?
Making polenta from scratch is simple, but it takes a little foresight (about 1 hour to make and at least 2 hours more to cool in the refrigerator to cut into cakes).  Once set into cakes, polenta keeps for about 2 days in the refrigerator so it can be made a day or two before you're ready to eat it!  Then just grill the cakes right before they are served!  I've included a basic recipe for making polenta in the recipe card.  It's super simple!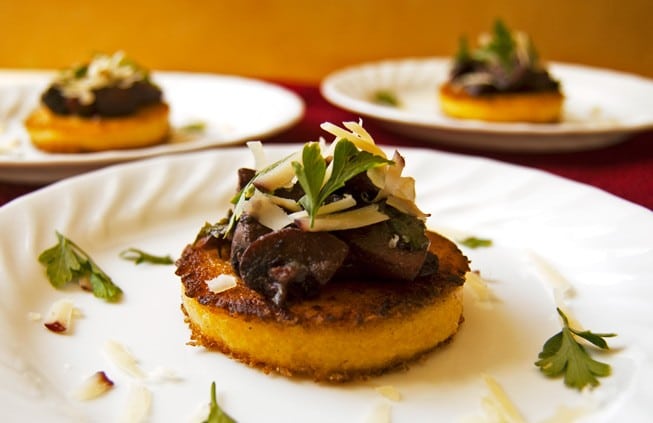 I topped these delicious polenta cakes with a red wine mushroom sauce I found on the The Pioneer Woman, but they are super versatile and you can use just about any delicious sauce you like, as the polenta will soak it all right up. I hear a spicy tomato sauce or a basic cream sauce are divine (aren't all cream sauces :-))  I'd love to know what you try – send me a message or leave it in the comments below!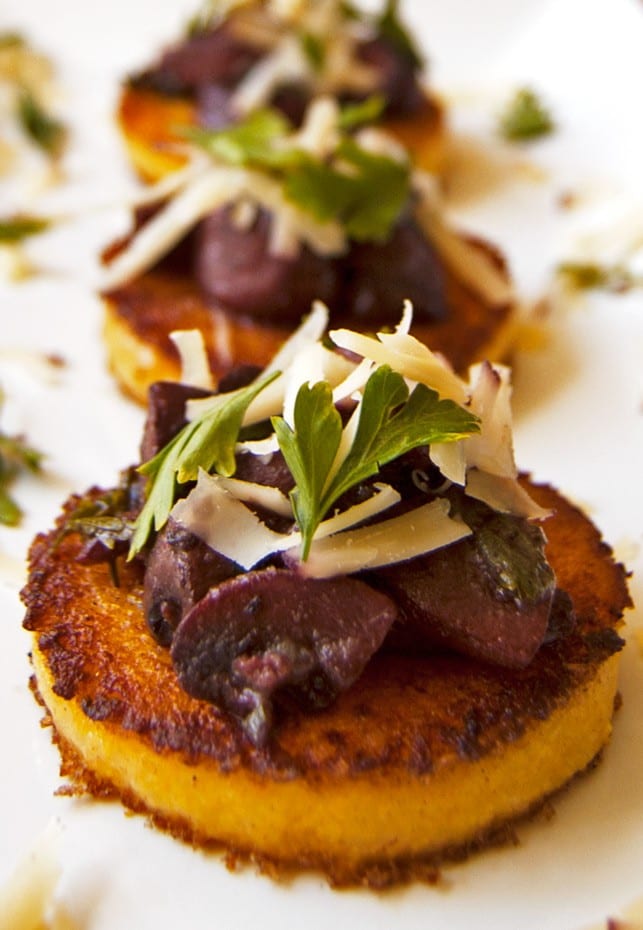 Thinking of you all as I drive past more cornstalks than I could ever imagine!
Ciao and Happy Halloween!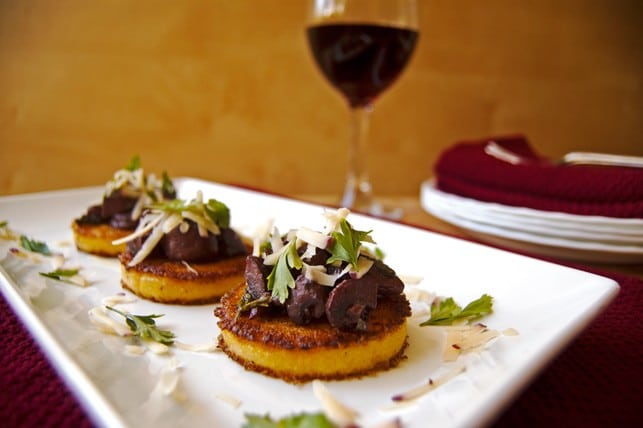 ---
Polenta Cakes w/ Red Wine Mushrooms
Creamy, slightly sweet, grilled polenta cakes topped with rich red wine mushrooms and shredded cheese!
Ingredients
½

stick + 1 tablespoon butter

1

lb

cremini or white mushrooms

sliced

1-1/2

cup

red wine: Burgundy

Merlot, Cab, Etc.

fresh parsley

minced, to taste

8

polenta cakes

prepackaged or from recipe

shredded cheese of your delicious choosing! Cheddar or parmesan cheese would work great! I used a Syrah soaked Toscana cheese from Trader Joe's to up the red wine factor 🙂
Instructions
Polenta cakes*: Bring water and salt to a boil. Gradually sprinkle in cornmeal, whisking continuously until all cornmeal has been added. Simmer until mixture becomes thick, about 30-40 minutes, stirring occasionally with a wooden spoon to keep cornmeal from sticking to bottom, about every 5-10 minutes. If polenta gets too thick to stir during cooking, add in a little extra water. Once mixture is done cooking, pour it into a lined baking sheet/jelly roll pan, making sure polenta is at least ½" thick. Wrap it in plastic wrap and place it in the refrigerator to set for at least 2 hours (up to 2 days).

Pioneer woman's red wine mushrooms: Melt 1/2 stick of butter in a large skillet over high heat. Add mushrooms, garlic and green onions and stir occasionally until mushrooms are golden brown, about 10 minutes. Add wine and scrape bottom of pan. Simmer until sauce is desired thickness, about 5-10 minutes. Stir in one tablespoon of butter then add parsley, salt, and pepper to taste.

Slice polenta into 8 cakes. Melt 1 tablespoon of butter and place 4 polenta cakes in a (preferably cast iron) skillet**. Grill cakes for 5 minutes, until the pan-side is golden brown. Flip and grill until other side is golden brown, about 4-5 minutes. Remove from skillet and repeat with remaining polenta cakes.

Once all polenta cakes are grilled, top with a generous amount of mushrooms and shredded cheese. Buon appetito!!! 🙂
Recipe Notes
*If using prepackaged polenta skip to next step
**Directions for grilling polenta cakes assume your skillet will only fit 4 at a time (like mine!). If you have a skillet big enough for all 8, melt 2 tablespoons of butter and cook all of them at the same time.
---
---
---