Lemon and Toasted Hazelnut Spaghetti
November 4, 2014
6 Comments
This pasta is full of surprises. Toasted breadcrumbs combine with ground hazelnuts and butter to add texture. Pasta water and egg yolks add a carbonara-esque creaminess. Sautéed anchovies and garlic add richness of flavor, and a squirt of lemon juice keeps everything light and fresh. This all adds up to one tasty pasta dish!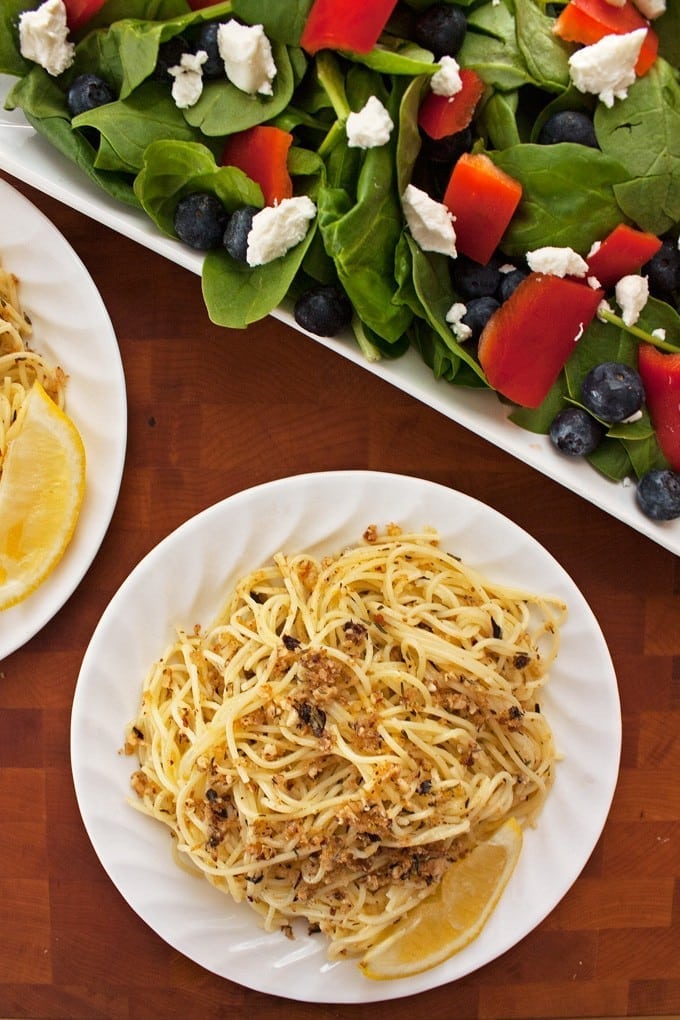 The anchovies are my favorite addition. The pasta does not taste fishy, but that's the secret of anchovies. They don't taste fishy. I think of them more as a spice, because they appear – unexpectedly to me – in unfishy places like Worcestershire sauce and Caesar salad dressing. In this pasta, they add a rich saltiness to the pasta that's almost meaty.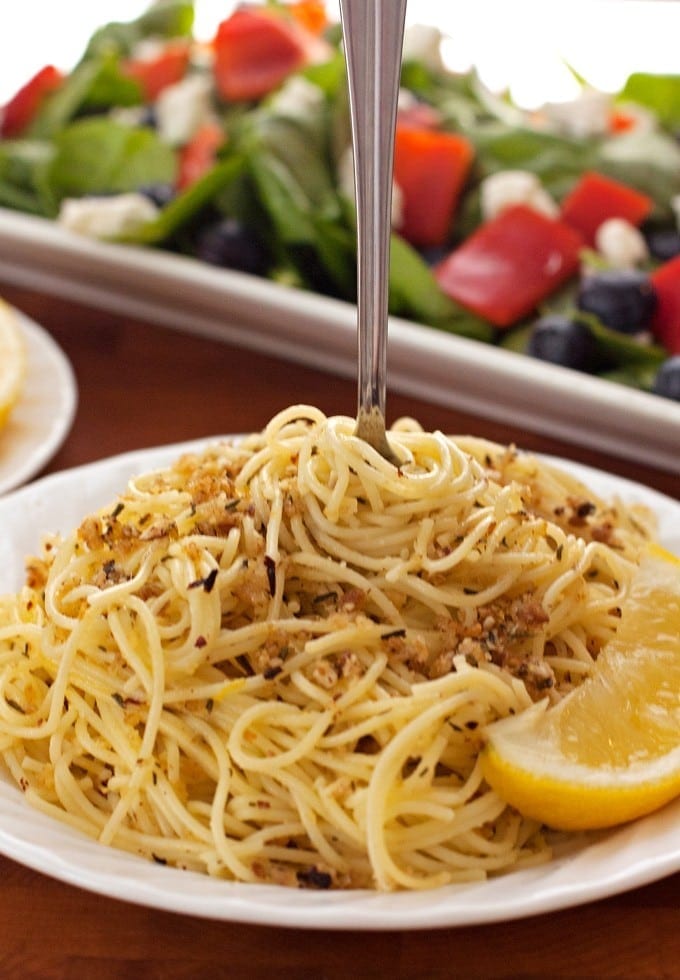 If you are wondering how to buy anchovies, just make sure you get some that have been filleted and packed in oil. I'm not picky about which brand of anchovies I buy, and the tin can you are picturing works wonderfully (the 2 oz cans are exactly the right amount for this recipe). If you are looking for more advice, here's a thorough brand-by-brand breakdown.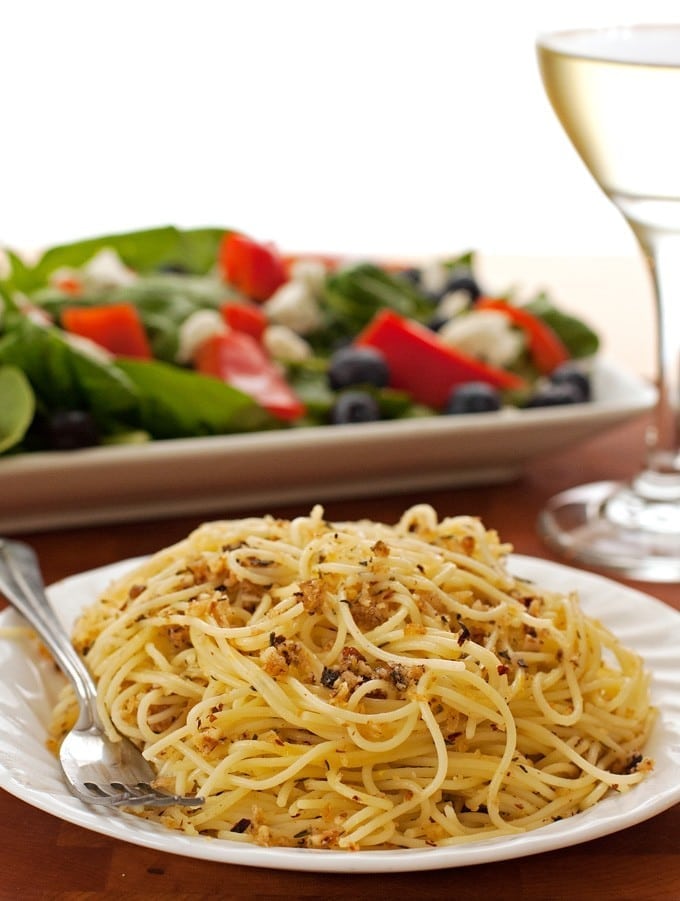 Begin by sautéing garlic and anchovies in a large skillet with butter. Add in the breadcrumbs and ground hazelnuts and keep toasting for another 10 minutes. At this point in the recipe, I always burn my tongue on the breadcrumb mixture. I know it's hot, but it's so delicious I just can't resist tasting it! Once they're all toasty, toss them in a little lemon zest and thyme. Mmmm!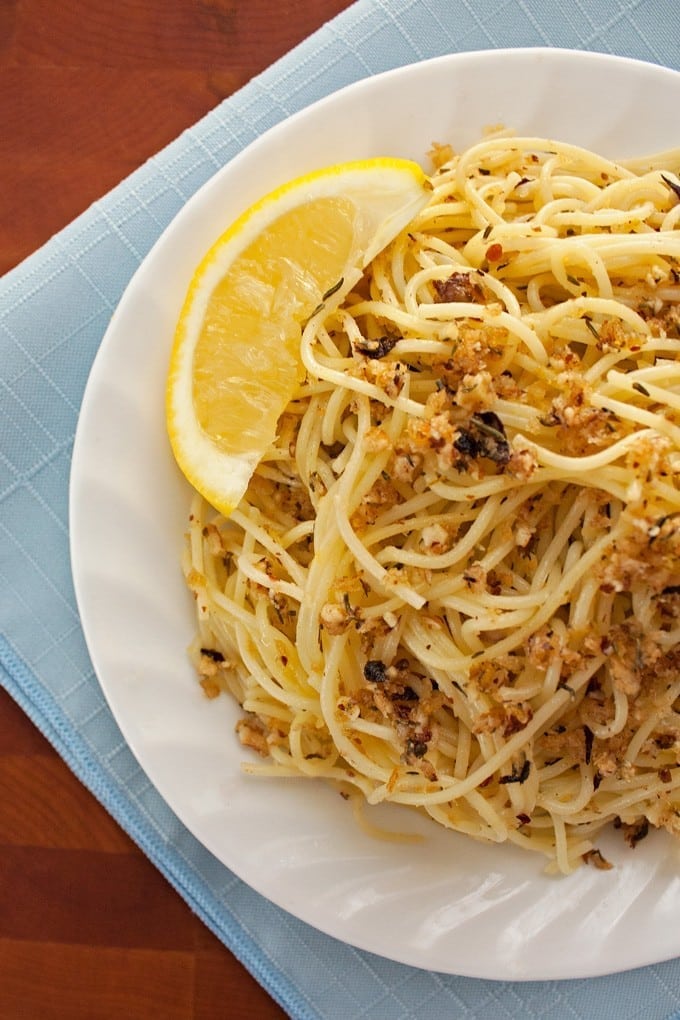 Boil the pasta as usual, but reserve about 2 cups of the water when you drain it. The starches in the pasta water make the sauce stick to the pasta instead of creating a watery mess on your plate. Once you drain the pasta and return it to the pot, stir-in the egg-yolks (don't let them scramble!) and the lemon juice. Slowly add the pasta water until you like the consistency of the pasta. I usually don't need the full 2 cups. Then stir in most of the breadcrumbs, plate, and top with extra breadcrumbs, a drizzle of olive oil and squirt of lemon juice. A little lemon wedge on the side is a nice touch. Serve immediately and enjoy!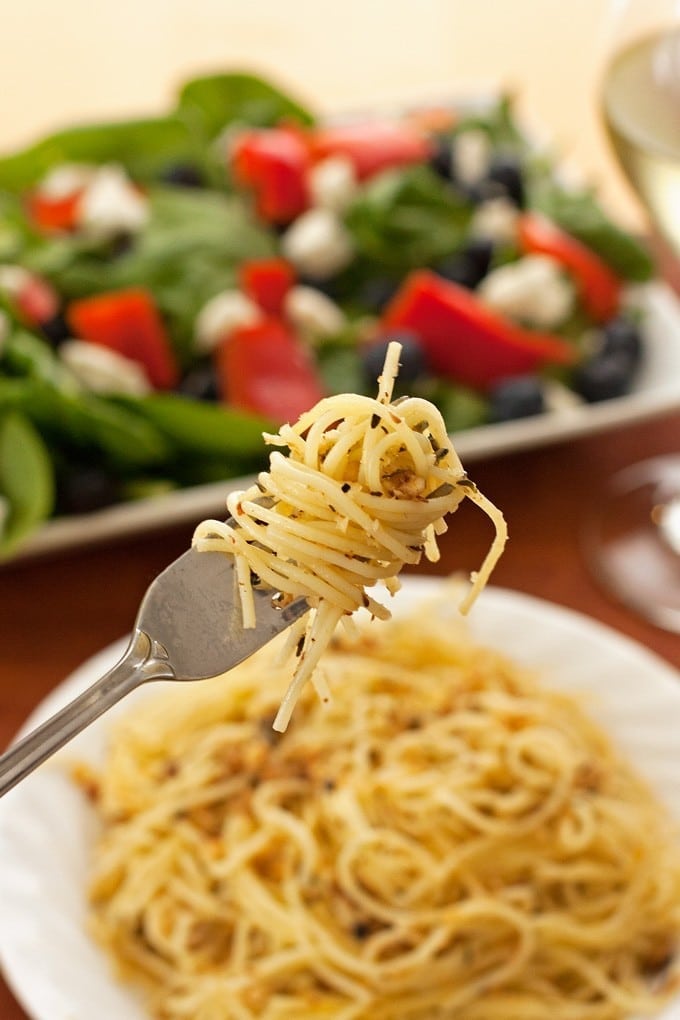 ---
Lemon and Toasted Hazelnut Spaghetti
Rich anchovies, garlic and thyme flavored hazelnut breadcrumbs tossed with creamy, lemony pasta!
Ingredients
Breadcrumbs
1/4

cup

+ 2 tablespoons butter

12

anchovies

2 oz can (chopped/diced)

½

cup

ground hazelnuts

about 2.5 oz by weight

¼

cup

fresh thyme

chopped (or 1 tablespoon dried thyme)
Pasta
1/2

pound

pasta

spaghetti, angel hair
Instructions
Grind hazelnuts in food processor and toss with breadcrumbs

Heat butter and oil in large skillet on med-low, and sauté garlic and anchovies until fragrant, about 1 minute. Stir in breadcrumbs and hazelnuts to coat with oil. Continue toasting, stirring constantly until breadcrumbs are golden brown, about 10 minutes. Remove from heat. Toss with lemon zest and thyme. Set aside.

Bring pasta and water to a boil and cook pasta until al dente, about 6 minutes. Drain pasta, reserving 2 cups pasta water. Place drained pasta back in the hot pot. Slowly pour in lemon juice and egg yolks, stirring constantly to coat. Pour in reserved pasta water until desired moisture is reached. Toss with most of the breadcrumbs.

Plate and serve immediately with extra breadcrumbs, a drizzle of olive oil and lemon wedges.
---
---
---