Print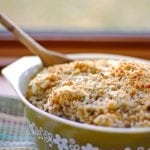 Homemade Tuna Noodle Casserole
Homemade Tuna Noodle Casserole, made without canned soup. A delicious upgrade to the creamy, comforty, casserole you enjoyed as a kid!
CASSEROLE:
12

ounces

egg noodles

1

medium onion

finely chopped

8-10

* ounces cremini or white button mushrooms

finely chopped

1

stalk of celery

finely chopped

4

tablespoons

butter

1

teaspoon

chopped fresh thyme or 1/2 teaspoon dried thyme

6

tablespoons

all-purpose flour

4

cups

whole milk

2 5

ounce

cans of tuna

drained and fluffed into small pieces

2

cups

frozen peas

6

ounces

shredded cheddar cheese

Salt and pepper to taste
TOPPING:
1 ½

cups

panko breadcrumbs

3

tablespoons

butter

Salt and pepper to taste
Preheat oven to 375 degrees. Butter two 1 ½ quart baking dishes or one 13x9-inch baking dish.**

Cook noodles: Bring a large pot of salted water to a boil. Add egg noodles and cook until tender, about 5 minutes. Drain, rinse with cold water, and set aside.

Heat milk in microwave or on stove top until just warm then set aside.

Heat 4 tablespoons of butter in a large skillet over medium heat. Add onion, mushrooms, and celery with a generous amount of salt, and cook until all the water from the veggies has evaporated, about 15 minutes. Add thyme and cook stirring constantly until fragrant, just a few seconds. Add flour and cook stirring constantly for about 1 minute. At this point everything should be coated in flour and mixture may be very dry.

Slowly pour in milk, whisking until there are no clumps. Stir constantly until sauce thickens then turn off heat. Salt and pepper to taste.

Cook peas: Microwave peas until defrosted, about 2 minutes.

Toast breadcrumbs: Melt 3 tablespoons butter in a large skillet on low heat. Add breadcrumbs and stir slowly and constantly until toasted, 5-10 minutes.

Assemble casserole: Pour the sauce, peas, and tuna over the noodles and stir until everything is fully coated in sauce. Add cheese and stir until cheese is pretty equally distributed. Pour noodles into casserole dishes and top with breadcrumbs.

Cook and enjoy: Bake until casserole is fully heated and bubbly, about 20 minutes for half a batch or 30 for full batch. Let sit for 5-10 minutes before serving. Enjoy!
*I used an entire 10 ounce package of mushrooms, but I've seen some packages come in 8 ounces, which I'm sure would work great too.
**I used two 1 ½ quart baking dishes, baking one casserole that day for dinner then baking the second fresh the next day. If you'd like to bake the entire recipe in one dish it will fit into a 13x9-inch baking dish.